Yield, Quality, Antioxidants and Elemental Composition of New Leek Cultivars under Organic or Conventional Systems in a Greenhouse
1
Agrochemical Research Center, Federal Scientific Center of Vegetable Production, Odintsovo District, Vniissok, Selectsionnaya 14, Moscow 143072, Russia
2
Federal Research Centre of Nutrition, Biotechnology and Food Safety, Ustinsky pr., 2/14, Moscow 109240, Russia
3
Department of Horticulture Technology, University of Agriculture Sciences and Veterinary Medicine, 3 M. Sadoveanu, 700490 Iasi, Romania
4
Department of Agricultural Sciences, University of Naples Federico II, 80055 Portici, Naples, Italy
*
Author to whom correspondence should be addressed.
Received: 15 October 2018 / Revised: 30 October 2018 / Accepted: 31 October 2018 / Published: 12 November 2018
Abstract
Leek (
Allium porrum
) is known for its high antioxidant activity and the ability to accumulate significant amounts of potassium and iron. We assessed yield, quality indicators, antioxidants and elemental composition of nine leek cultivars grown in greenhouses under organic or conventional systems in the Moscow region. The management system did not affect yield, which attained the highest value with the cultivar Giraffe and the lowest with Premier and Cazimir. Pseudo-stem dry matter and sugars were higher with organic management, whereas nitrate concentration was higher with conventional management. The cultivars Vesta and Summer Breeze showed the highest dry matter and total sugar content, whereas Goliath had the highest antioxidant, selenium and potassium concentrations. Among the antioxidants, ascorbic acid attained higher values with organic management. The antioxidant system of leek was characterized by highly significant positive correlations between: Se and polyphenols, Se and ascorbic acid, Se and K, ascorbic acid and polyphenols, ascorbic acid and K, polyphenols and K (r = 0.94, 0.94, 0.95, 0.94, 0.95, 0.96, respectively, at
P
≤ 0.001). Negative correlations were recorded between leaf and pseudo-stem Se and between leaf and pseudo-stem polyphenols (r = −0.922 and −0.976, respectively, at
P
≤ 0.001). Among the mineral elements, only K was significantly affected by the management system, showing a higher content in organically grown pseudo-stems. Varietal differences in pseudo-stem element composition showed strong positive correlations of: Al with As, Co, Li, Pb and V; Cr with I, Mg, Si, Ca; V with As, Co and Fe; negative correlations of Se with Cr and I. Compared to related species such as garlic (A. sativum), leek accumulated levels equal to garlic of K, Mg, P, Cd, Cu, Mn, Se, Zn, lower levels of Si and significantly higher amounts of Ca, Na, Al, As, Cr, Ni, Pb, Sr, V, Sn, B, Co, Fe, I, Li. The strong relationships between quality, antioxidant and mineral components in leek plants may give wide possibilities in breeding programs for both conventional and organic management systems in greenhouses.
View Full-Text
►

▼

Figures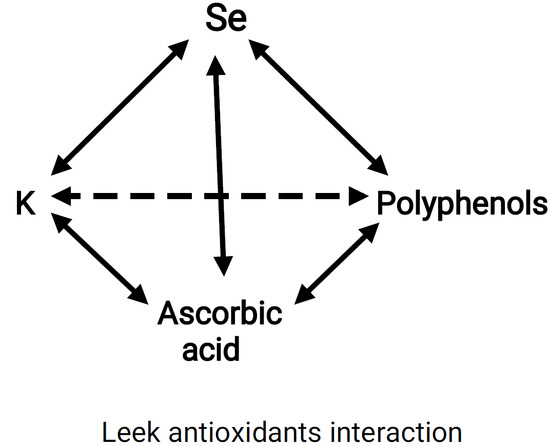 Graphical abstract
This is an open access article distributed under the
Creative Commons Attribution License
which permits unrestricted use, distribution, and reproduction in any medium, provided the original work is properly cited (CC BY 4.0).

Share & Cite This Article
MDPI and ACS Style
Golubkina, N.A.; Seredin, T.M.; Antoshkina, M.S.; Kosheleva, O.V.; Teliban, G.C.; Caruso, G. Yield, Quality, Antioxidants and Elemental Composition of New Leek Cultivars under Organic or Conventional Systems in a Greenhouse. Horticulturae 2018, 4, 39.
Note that from the first issue of 2016, MDPI journals use article numbers instead of page numbers. See further details here.
Related Articles
Comments
[Return to top]