The Effect of Ethephon, Abscisic Acid, and Methyl Jasmonate on Fruit Ripening in Rabbiteye Blueberry (
Vaccinium virgatum

)

1

Department of Horticulture, Miller Plant Sciences, University of Georgia, Athens, GA 30602, USA

2

Department of Plant Pathology, Miller Plant Sciences, University of Georgia, Athens, GA 30602, USA

*

Author to whom correspondence should be addressed.

Received: 18 July 2018 / Revised: 15 August 2018 / Accepted: 24 August 2018 / Published: 1 September 2018
Abstract
Ripening in blueberry fruit is irregular and occurs over an extended period requiring multiple harvests, thereby increasing the cost of production. Several phytohormones contribute to the regulation of fruit ripening. Certain plant growth regulators (PGRs) can alter the content, perception, or action of these phytohormones, potentially accelerating fruit ripening and concentrating the ripening period. The effects of three such PGRs—ethephon, abscisic acid, and methyl jasmonate—on fruit ripening were evaluated in the rabbiteye blueberry (
Vaccinium virgatum
) cultivars 'Premier' and 'Powderblue'. Application of ethephon, an ethylene-releasing PGR, at 250 mg L
−1
when 30–40% of fruit on the plant were ripe, accelerated ripening by increasing the proportion of blue (ripe) fruit by 1.5–1.8-fold within 4 to 7 days after treatment in both cultivars. Ethephon applications did not generally alter fruit quality characteristics at harvest or during postharvest storage, except for a slight decrease in juice pH at 1 day of postharvest storage and an increase in fruit firmness and titratable acidity after 15 days of postharvest storage in Powderblue. In Premier, ethephon applications decreased the proportion of defective fruit at 29 days of postharvest storage. Abscisic acid (600–1000 mg L
−1
) and methyl jasmonate (0.5–1 mM) applications did not alter the proportion of ripe fruit in either cultivar. These applications also had little effect on fruit quality characteristics at harvest and during postharvest storage. None of the above PGR applications affected the development of naturally occurring postharvest pathogens during storage. Together, data from this study indicated that ethephon has the potential to accelerate ripening in rabbiteye blueberry fruit, allowing for a potential decrease in the number of fruit harvests.
View Full-Text
►

▼

Figures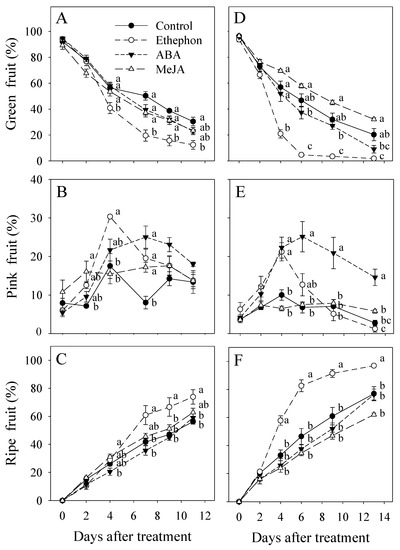 Figure 1
This is an open access article distributed under the
Creative Commons Attribution License
which permits unrestricted use, distribution, and reproduction in any medium, provided the original work is properly cited (CC BY 4.0).

Share & Cite This Article
MDPI and ACS Style
Wang, Y.-W.; Malladi, A.; Doyle, J.W.; Scherm, H.; Nambeesan, S.U. The Effect of Ethephon, Abscisic Acid, and Methyl Jasmonate on Fruit Ripening in Rabbiteye Blueberry (Vaccinium virgatum). Horticulturae 2018, 4, 24.
Note that from the first issue of 2016, MDPI journals use article numbers instead of page numbers. See further details here.
Related Articles
Comments
[Return to top]