Open Access This article is
freely available
re-usable
Review
Long Non-Coding RNAs in the Regulation of Gene Expression: Physiology and Disease
Laboratório de Fisiologia de Tripanossomatídeos, Instituto de Biociências, Departamento de Fisiologia, Universidade de São Paulo, São Paulo 05508-090, Brazil
*
Author to whom correspondence should be addressed.
Received: 20 December 2018 / Accepted: 12 February 2019 / Published: 17 February 2019
Abstract
:
The identification of RNAs that are not translated into proteins was an important breakthrough, defining the diversity of molecules involved in eukaryotic regulation of gene expression. These non-coding RNAs can be divided into two main classes according to their length: short non-coding RNAs, such as microRNAs (miRNAs), and long non-coding RNAs (lncRNAs). The lncRNAs in association with other molecules can coordinate several physiological processes and their dysfunction may impact in several pathologies, including cancer and infectious diseases. They can control the flux of genetic information, such as chromosome structure modulation, transcription, splicing, messenger RNA (mRNA) stability, mRNA availability, and post-translational modifications. Long non-coding RNAs present interaction domains for DNA, mRNAs, miRNAs, and proteins, depending on both sequence and secondary structure. The advent of new generation sequencing has provided evidences of putative lncRNAs existence; however, the analysis of transcriptomes for their functional characterization remains a challenge. Here, we review some important aspects of lncRNA biology, focusing on their role as regulatory elements in gene expression modulation during physiological and disease processes, with implications in host and pathogens physiology, and their role in immune response modulation.
Keywords:
long non-coding RNA; gene expression; nuclear architecture; chromosome; microRNA; physiology; infectious diseases; biomarkers
2. Gene Expression Regulation Levels
The regulation of gene expression in eukaryotes is complex and compartmentalized [
52
]. It can occur in multiple steps, such as in the chromatin organization, transcription machinery recruitment, mRNA processing and its delivery to the cytoplasm, mRNA half-life, translation, and posttranslational processes, which can be interfered with by lncRNAs [
31
,
53
], as represented in
Figure 2
. These molecules can also be secreted within extracellular vesicles, modulating the gene expression in its environment [
54
].
3. Physiological Conditions and Disease
The roles of lncRNAs in genome integrity and gene expression have demonstrated the relevance of these molecules for physiological and pathological conditions [
96
,
97
,
98
]. Here, we review the involvement of lncRNAs in chromosomal compensation, imprinting, chronic diseases, immune response process, and in some pathogens.
3.1. X Chromosome Dosage Compensation
A classic example of chromatin structure regulation mediated by lncRNA, described in the 1990s, is the dosage compensation of the X chromosome in females during embryogenesis, since one of them is inactivated equalizing the dosage as in XY males [
99
,
100
]. XIST is expressed exclusively from the inactivated X chromosome (Xi), producing a lncRNA that binds directly to polycomb repressive complexes 1 and 2 (PRC1 and PRC2, respectively) [
76
]. This mechanism leads to the formation of heterochromatin with the recruitment of histone methylases of the H3K27me3 type [
101
]. Additionally, a repressive nuclear environment is formed by the depletion of TFs, RNA polymerase II, splicing factors, and nascent RNAs, mainly in the pericentromeric region [
102
]. The specificity and recognition motifs of XIST to the Xi chromosome have been extensively studied, but it was not possible to determine consensus domains, suggesting that these lncRNAs can act through multiple interactions [
103
]. Colocalization studies demonstrated ligation mainly in repetitive regions of the X chromosome, which are not coding genes, and long interspaced elements (LINEs), abundant in the X chromosome [
104
]. Ectopic expression of XIST in autosomal chromosomes can lead to heterochromatin formation [
105
]. The female heterochromatinization of the X chromosome is complex and depends on nuclear architecture, epigenetic modifications, and non-coding RNAs [
106
].
In
Drosophila melanogaster
, the dosage compensation is performed via male X chromosome hyperactivation through histone acetylation [
107
,
108
,
109
]. This mechanism is also mediated by lncRNAs, the roX1 and roX2 that play redundant functions and act together with a complex of five proteins exclusive to males, and are essential for survival [
110
,
111
].
3.2. Imprinting
In mammals, epigenetic markers can regulate maternal or paternal chromosomes expression; this phenomenon of exclusive or differential expression is called imprinting and can be mediated by lncRNAs. The genes
Air
(antisense Igf2r RNA) and
Kcnq1ot1
(lincRNA from
Kcnq1
gene) are transcribed from the paternal chromosome and recruit G9a methylase for histone modification silencing exclusively in the maternal genes [
112
]. The regulation can occur in
cis
via Air binding to the promoter region of the paternal
Igf2r
gene, silencing its expression by inhibiting the recruitment of RNA pol II [
113
]. Besides the potential for chromatin silencing by lncRNAs, these molecules can act as enhancers, for example, the lncRNA HOTTIP (HOXA distal transcript antisense RNA) interacts directly with components of the histone activation machinery through H3K4me3 modifications [
94
].
3.4. Immune Response Against Infectious Diseases
Little is known about the mechanism of these lncRNAs during infections, and many models, mainly parasitic and protozoan infections, have not yet been investigated, providing an interesting field of research.
4. Long Non-Coding RNA Expression in Pathogens
Some studies have provided new insights into pathogen genome and transcriptome data. These data describe pathogens with tightly-tuned regulation, whereas the regulatory elements themselves are still largely uncharacterized.
lncRNA description in eukaryotic pathogens is poorly annotated, probably due to insufficient genome investigation and annotations, mostly because of complex genomic arrangements. However, the characterization of these molecules could improve the knowledge of fungi and parasite biology, genomic organization, and transcriptional expression and regulation, possibly providing potential drug targets.
5. Novel Perspectives
lncRNAs comprise a field of study that has gained visibility and has become attractive to the scientific community. Findings have evidenced the complexity of mechanisms of action of these molecules and that their functions surpass those initially described. Many complicating factors have been added to the study of these molecules, including the protein coding potential of some molecules annotated as non-coding. This has attracted those interested in gene expression regulation. The clinical importance of these findings is being exploited to find novel biomarkers and drug targets due to both the specificity of lncRNA expression and the potential for plasma localization when secreted in extracellular vesicles (EVs).
5.1. Long Non-Coding RNAs as Biomarkers
The importance of understanding lncRNA mechanisms extends beyond the description of gene regulation and can be used as diagnostic markers or drug targets as well as prognostic markers. One potential diagnosis marker is the prostate cancer-associated transcript 1 (PCAT-1), which can be identified in the urine of prostate cancer patients [
196
]. Still on prognosis, the lncRNAs named CAT104, LINC01234, and STXBP5-AS1 have clinical significance in predicting survival of breast cancer [
197
]. lncRNAs have been proposed as therapeutic targets, and difficulties reside within complete understanding of their mechanism of action [
198
,
199
].
Many cancer models were demonstrated to release EVs containing different sets of ncRNAs, such as miRNAs and lncRNAs (
Figure 2
). Some specific transcripts are abundant in EVs, indicating that they may play a role in neighboring cells. This was shown in a colorectal cancer model where miRNA [
200
], lncRNA [
201
], and circRNA [
202
] were selectively exported to EVs and were shown to be not simply correlated with cytosolic RNA pool levels. During hypoxia, hepatocellular cancer cells contained the linc-RoR (regulator of reprogramming), thus decreasing miR-145 and hypoxia-inducible factor 1 alpha (HIF-1α) in recipient cells [
203
]. This feature demonstrates the potential for lncRNAs as biomarkers, as shown in liver cancer [
204
].
5.2. Micropeptides
The postulate that lncRNAs do not codify proteins was questioned by the description of functional peptides codified by small ORFs. Once the presence of initiation codons followed by stop codons of translation is frequent in a genome, it was necessary to apply appropriate techniques to the identification of peptides codified by small ORFs [
205
]. Some studies demonstrated the translation and functionality of peptides from the sequencing of RNA fragments bound to ribosomes, followed by the identification of micropeptides through mass spectrometry together with an evolutive analysis, demonstrating the conservation of these sequences [
206
,
207
]. This discovery evidenced the importance of verifying the translation potential in these molecules. The products are called micropeptides, small peptides (sPEPs), or peptides of small ORFs (smORFs), and their role in physiological and pathological processes demonstrated their biological importance.
Some studies detailed mechanisms of regulation of muscular function, characterized by contraction and relaxing mechanisms, by micropeptides codified by lncRNAs. Myoregulin (MLN) interacts with the sarcoendoplasmic reticulum calcium transport ATPase SERCA, preventing calcium uptake (Ca
2+
) to the sarcoplasmic reticulum in skeletal muscle and; therefore, knockout mice with this gene have a higher potential of muscular function [
208
]. The micropeptide DWORF increases SERCA activity by withdrawing the inhibitors phospholamban, sarcolipin, and myoregulin. Knockout mice manipulated by CRISPR/Cas9 showed a reduction in SERCA activity and retarded relaxation of muscle fibers [
209
]. The lncRNA LINC00961 produces a polypeptide named SPAR (small regulatory polypeptide of amino acid response) that inhibits mTORC1 activation, which is important in muscle regeneration [
210
,
211
].
6. Concluding Remarks
The central dogma of biology changed with the discovery of functional ncRNA molecules, such as rRNAs and tRNAs. After many observations were initially treated with distrust by the scientific community, the importance of these ncRNAs was demonstrated by their functionality, mainly in gene expression regulation.
The study of ncRNAs involved in gene expression regulation started with the discovery of small RNAs capable of binding to the 3' UTR region of mRNAs, thus controlling protein production. The well-known miRNAs are associated with physiological processes, chronic pathologies, and infectious diseases. The emergence of long RNAs without an apparent ORF soon confirmed the presence of lncRNAs, involved in some of the same processes as miRNAs. In this context, many studies rapidly evaluated the regulatory functions shared by these molecules in signaling or metabolic pathways. Many studies demonstrated the interaction and regulation between these molecules and provided a new perspective on the ncRNA world. lncRNAs revealed their complexity when they were described as able to interact simultaneously with diverse macromolecules, controlling different points of gene expression flux. We encourage the study of different subsets of ncRNA in different models given the importance of their coregulation.
However, the annotation of these lncRNAs as non-coding is controversial. New studies have demonstrated that some can be translated into micropeptides that exert biological functions. The complexity of these molecules involves the capacity to interact with many types of molecules within the cell, and then the possibility of translation into peptides, increasing the regulatory capacity. Both forms are active and seem to be part of a regulatory network not yet completely described. We still need to understand how cellular components, or the molecule itself, are capable of controlling the timing of its translation.
In describing the variety of lncRNAs classes, the complexity exceeds the description of their chromosomal loci, used as the default in classification. lncRNAs can also be related to their ability to interact with different molecules, defining their involvement in the regulation of gene expression. The ability to acquire secondary structures mediates these interactions, such as the formation of circular structures, highlighting the multifunctional characteristics of these molecules. For much of the transcriptomic data deposited in databanks, no attempt has yet been made to analyze lncRNA regulation. Therefore, groups with interest in this area are encouraged to use pipelines developed to perform this analysis [
212
], for prospecting and further validating their functionality in different models.
Author Contributions
J.C.R.F., S.M.M., and J.I.A. wrote the original article; J.C.R.F. and S.M.A. designed the figures; S.M.M., J.I.A., J.C.R.F., S.M.A., and L.M.F.-W. revised and approved the final version of this review.
Funding
This work was supported by grants from the Conselho Nacional de Desenvolvimento Científico e Tecnológico (CNPq,
http://www.cnpq.br
: 406351/2018-0.) and Fundação de Amparo à Pesquisa do Estado de São Paulo (FAPESP,
http://www.fapesp.br
: 2014/50717-1, 2016/19815-2, 2018/24693-9). FAPESP fellowship: J.C.R.F. (2017/21906-9), S.M.A. (2017/23519-2), and J.I.A. (2016/03273-6). L.M.F.-W. received a research fellowship from CNPq (307587/2014-2).
Conflicts of Interest
The authors declare no conflicts of interest.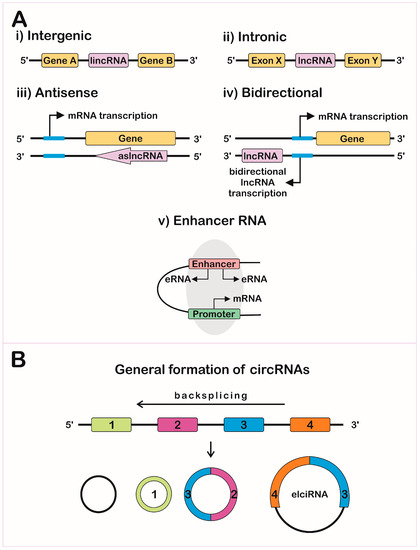 Figure 1. Schematic representation of the genomic loci of different long non-coding RNA (lncRNA) and circular RNA (circRNA) biogenesis. (A) lncRNA classification depends on the genomic position: (i) intergenic RNAs (lincRNAs) are located between two protein coding-genes, (ii) intronic lncRNAs are positioned within an intronic region of a protein coding-gene, (iii) antisense lncRNAs (aslncRNAs) are transcribed from complementary strands, (iv) bidirectional lncRNAs originate from bidirectional transcription of protein-coding genes, and (v) enhancer RNAs (eRNAs) originate from enhancer regions and mediate transcription factor positioning into protein coding-genes promoters. (B) circRNAs are lncRNAs that undergo back splicing and can originate from transcripts containing only intronic, one or more exonic, or both intronic and exonic fragments (elciRNAs).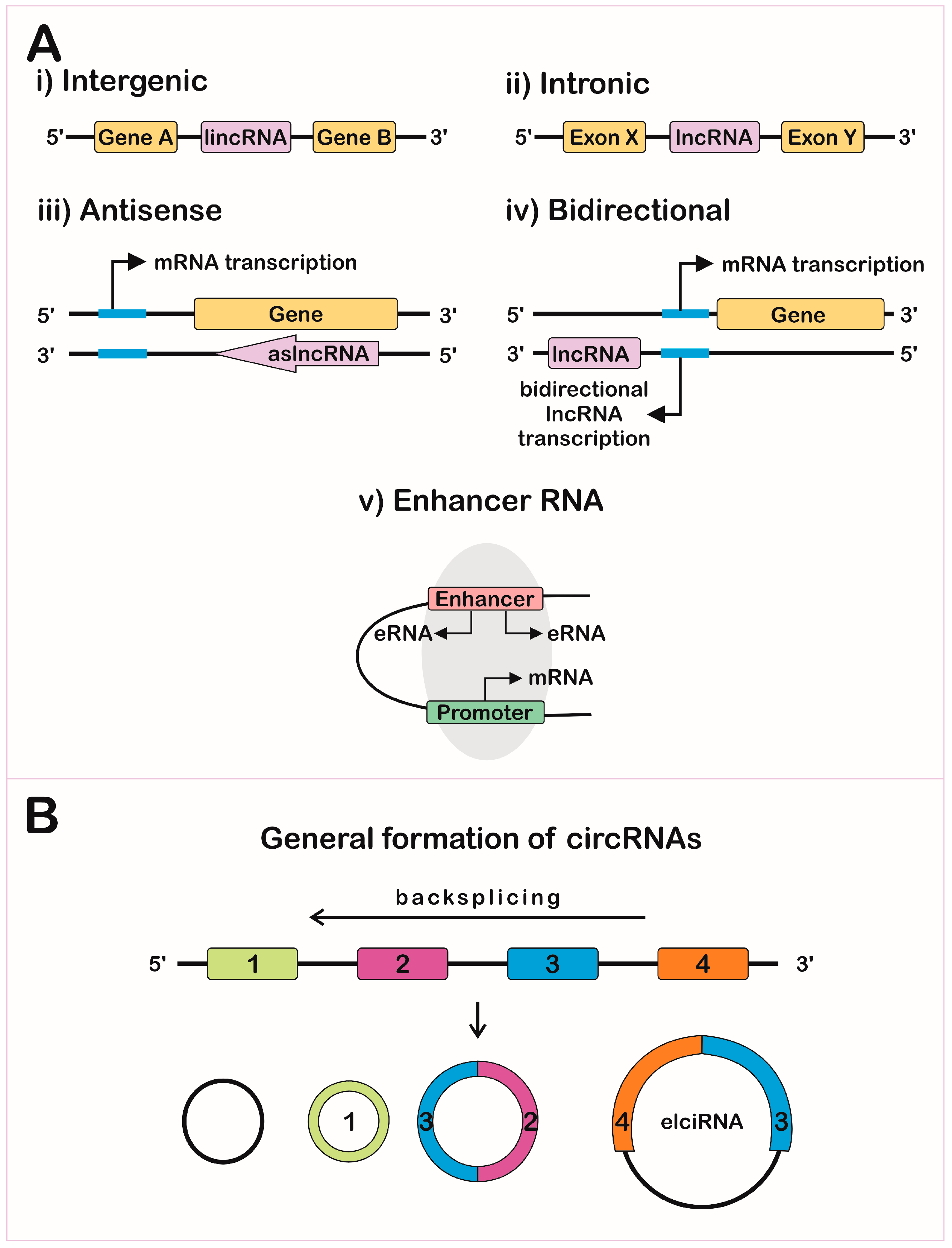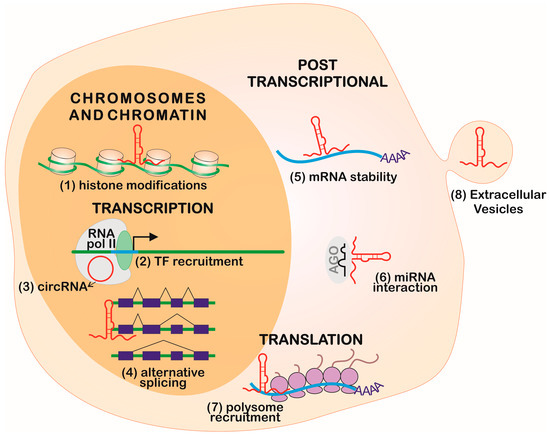 Figure 2. LncRNA participation in gene expression regulation. Many types of lncRNA controls can occur to regulate gene expression, such as: (1) chromatin and chromosome condensation through histone modifications, (2) transcription factors (TF) direct recruitment, (3) binding to RNA polymerase (pol) II, (4) alternative splicing, (5) mRNA stability, (6) miRNA availability, (7) polysomes recruitment, and (8) modulation of gene expression in neighbor cells through packaging into extracellular vesicles.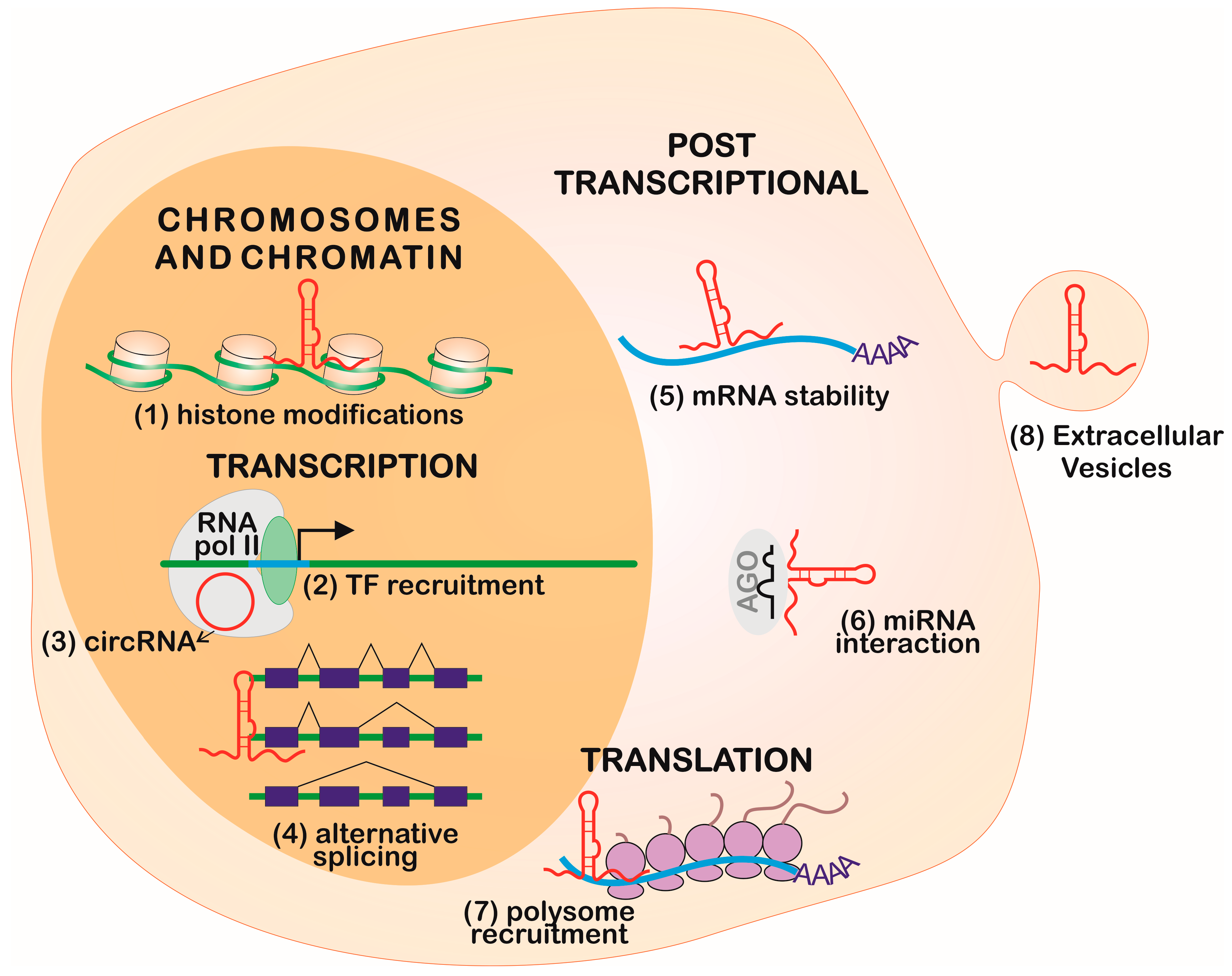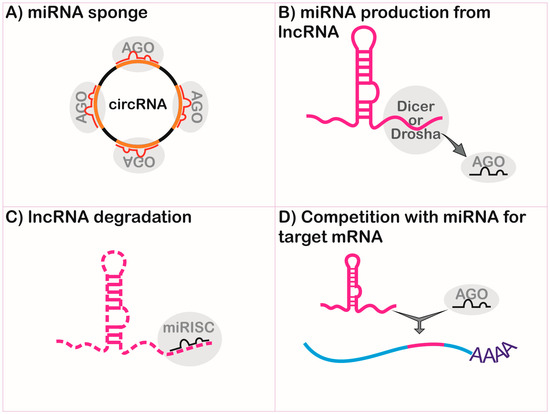 Figure 3. Interaction between microRNAs (miRNAs) and lncRNAs. (A) lncRNAs can act as miRNA sponges in both linear or circular forms, thus reducing interaction between miRNA-target mRNA; (B) lncRNA can harbor miRNA precursors, producing mature miRNAs after Dicer and/or Drosha cleavage; (C) miRNA can target lncRNA for degradation, similar to 3' untranslated region binding to mRNAs; and (D) lncRNA–miRNA competition for the mRNA binding site. circRNA—circular lncRNA; AGO—argonaute proteins; miRISC—miRNA-induced silencing complex; Dicer—endoribonuclease; Drosha—endoribonuclease.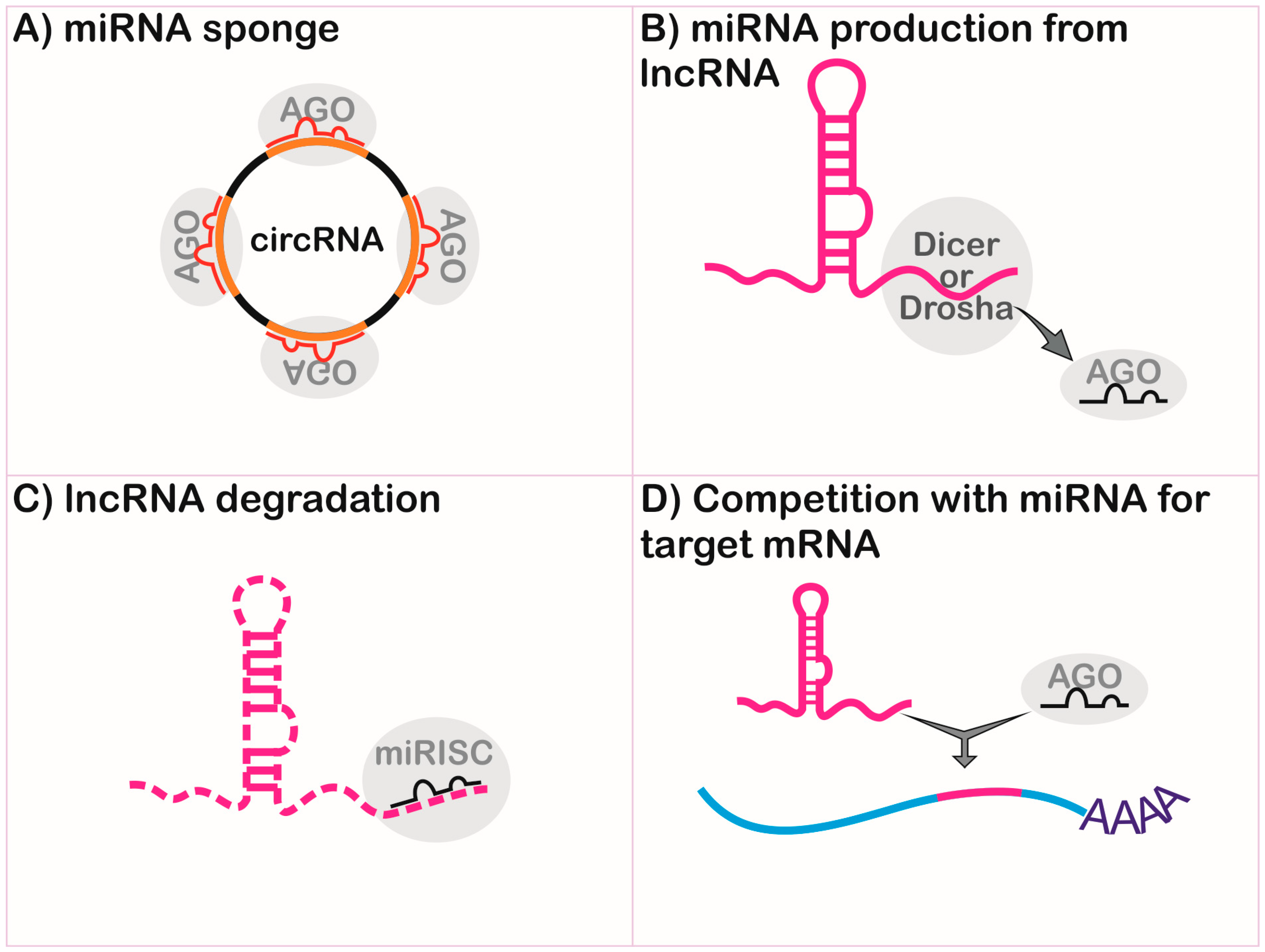 Figure 4.
Patho-physiological implications of lncRNAs expression in a time- and infection-dependent manner. (
A
) Expression of HOTAIR complexed with PRC2 and LSD1 leads to trimethylation of the histone 3 at the lysine 27 and demethylation of the lysine 4, controlling gene expression during embryonic development, but leading to breast cancer metastasis when expressed in adult breast tissue; (
B
) disruption of the NRON lncRNA expression in T CD4+ lymphocyte by the HIV Nef protein leads to NFAT translocation to the nucleus and LTR transcription. Abbreviations: HOTAIR—
Hox
transcript antisense intergenic RNA; PRC2—polycomb repressive complex; LSD1—lysine-specific histone demethylase 1; Me—methyl groups; H—histone; K—lysine; NEF—negative regulatory factor, NRON—non-coding repressor of NFAT; NFAT—nuclear factor of activated T-cells; HIV—human immunodeficiency virus; LTR—long terminal repeat; T CD4—CD4 T lymphocytes.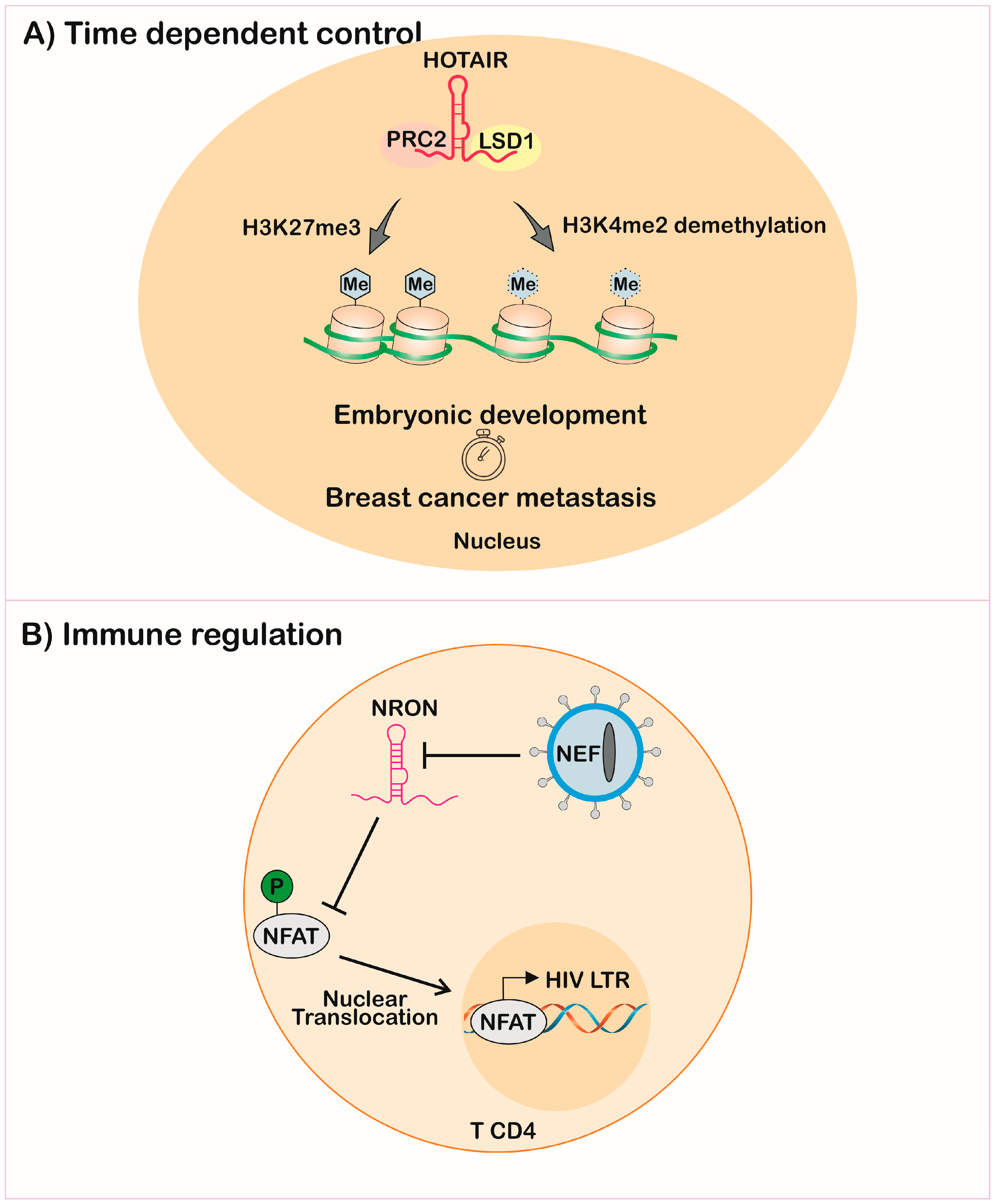 © 2019 by the authors. Licensee MDPI, Basel, Switzerland. This article is an open access article distributed under the terms and conditions of the Creative Commons Attribution (CC BY) license (http://creativecommons.org/licenses/by/4.0/).