Open Access This article is
freely available
re-usable
Article
Assembly of a Tripeptide and Anti-Inflammatory Drugs into Supramolecular Hydrogels for Sustained Release
1
Chemical & Pharmaceutical Sciences Department, University of Trieste, Via L. Giorgieri 1, 34127 Trieste, Italy
2
Materials Synthesis Department, Jožef Stefan Institute, Jamova 39, 1000 Ljubljana, Slovenia
†
These authors contributed equally to this work.
*
Author to whom correspondence should be addressed.
Received: 19 July 2017 / Accepted: 30 July 2017 / Published: 3 August 2017
Abstract
:
Supramolecular hydrogels offer interesting opportunities for co-assembly with drugs towards sustained release over time, which could be achieved given that the drug participates in the hydrogel nanostructure, and it is not simply physically entrapped within the gel matrix.
d
Leu-Phe-Phe is an attractive building block of biomaterials in light of the peptide's inherent biocompatibility and biodegradability. This study evaluates the assembly of the tripeptide in the presence of either of the anti-inflammatory drugs ketoprofen or naproxen at levels analogous to commercial gel formulations. Fourier-transformed infrared (FT-IR), circular dichroism, Thioflavin T fluorescence, transmission electron microscopy (TEM), and oscillatory rheometry are used. Drug release over time is monitored by means of reverse-phase high performance liquid chromatography, and shows different kinetics for the two drugs.
Keywords:
peptides;
d
-amino acids; chirality; hydrogels; drugs; release; self-assembly; co-assembly; naproxen; ketoprofen
Supplementary Materials
Supplementary materials can be found at
www.mdpi.com/1422-0067/3/3/29/s1
. Figure S1: Amide region of FT-IR spectra of drugs alone (
a
,
b
) and included in the peptide hydrogels (
c
,
d
).
Acknowledgments
The authors would like to acknowledge funding from the Italian Ministry of University and Research (MIUR) through the Scientific Independence of young Researchers (SIR) program ("HOT-SPOT" project, personal research grant n. RBSI14A7PL for Silvia Marchesan), Ramón Areces Foundation (Ana M. Garcia's fellowship), European Social Fund Operational Programme 2014–2020 (Axis 3-Education and Training, Specific Programmen. 26-TALENTS3-Slavko Kralj's fellowship), and Beneficentia Stiftung Fundation. The authors also acknowledge the use of equipment in the Center of Excellence on Nanoscience and Nanotechnology at Jožef Stefan Institute.
Author Contributions
Marina Kurbasic, Chiara D. Romano, Ana M. Garcia and Slavko Kralj performed the experiments and analyzed the data; Silvia Marchesan conceived and designed the experiments, analyzed the data, and provided resources. All authors wrote the paper.
Conflicts of Interest
The authors declare no conflict of interest.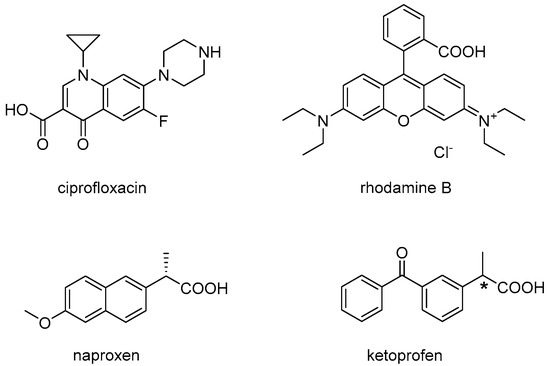 Figure 1.
Chemical structures of drug model compounds evaluated for co-assembly with the peptide
d
Leu-Phe-Phe in previous studies (
top
) and this study (
bottom
).
*
denotes the chiral centre of the racemic mixture that composes ketoprofen.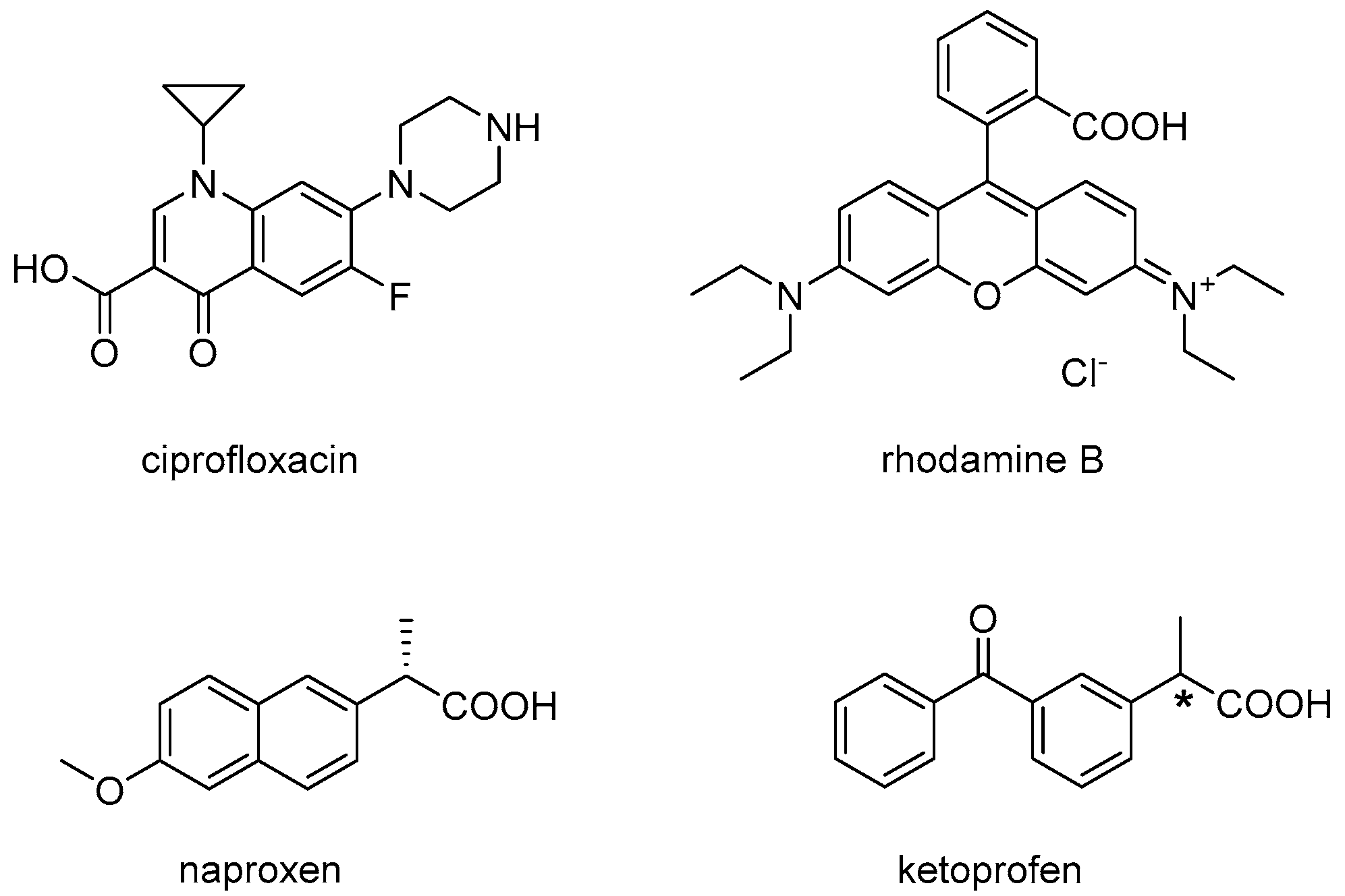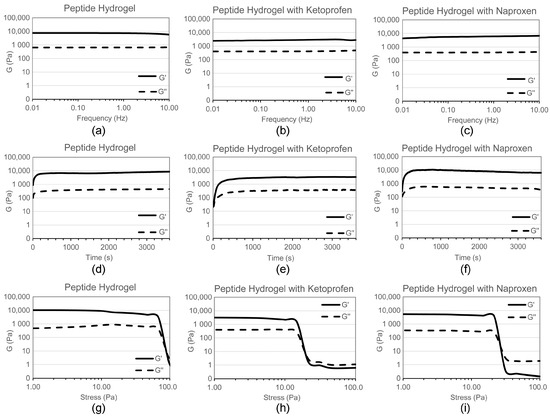 Figure 2. Oscillatory rheometry analysis of hydrogels (a–c) frequency sweeps; (d–f) time sweeps; (g–i) stress sweeps.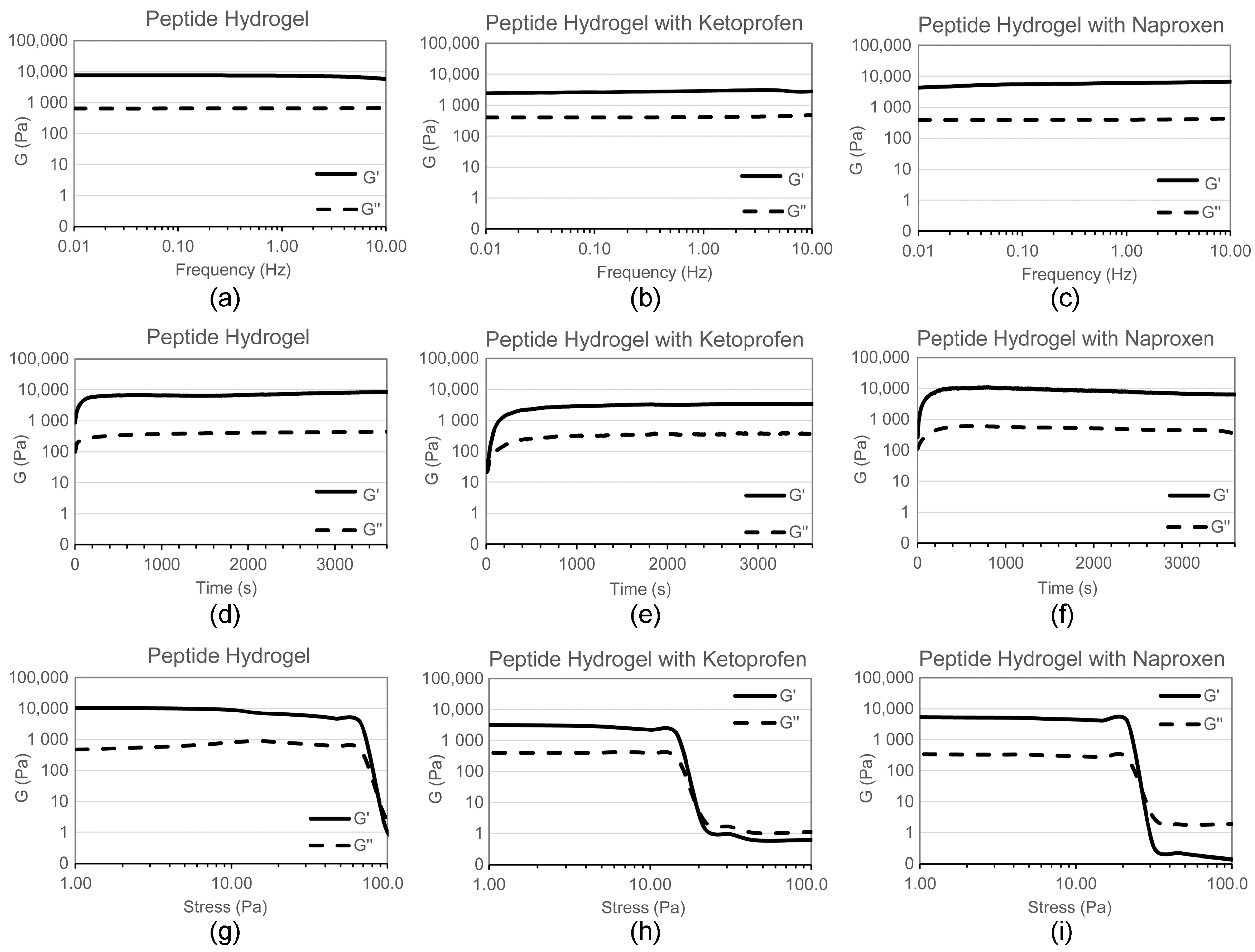 Figure 3. TEM micrographs of (a) peptide hydrogel, (b) peptide hydrogel with ketoprofen, and (c) peptide hydrogel with naproxen. Scale bar = 50 nm.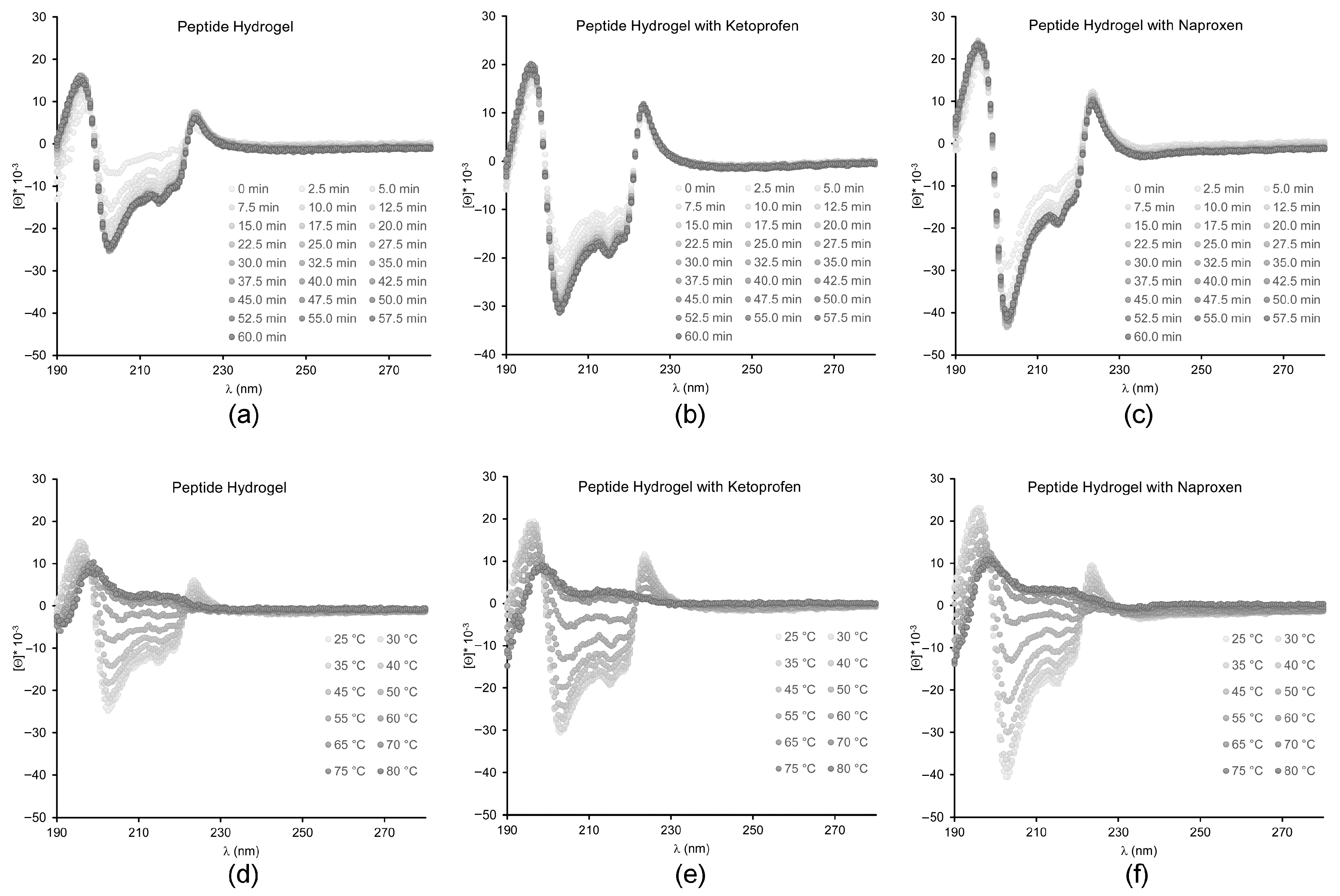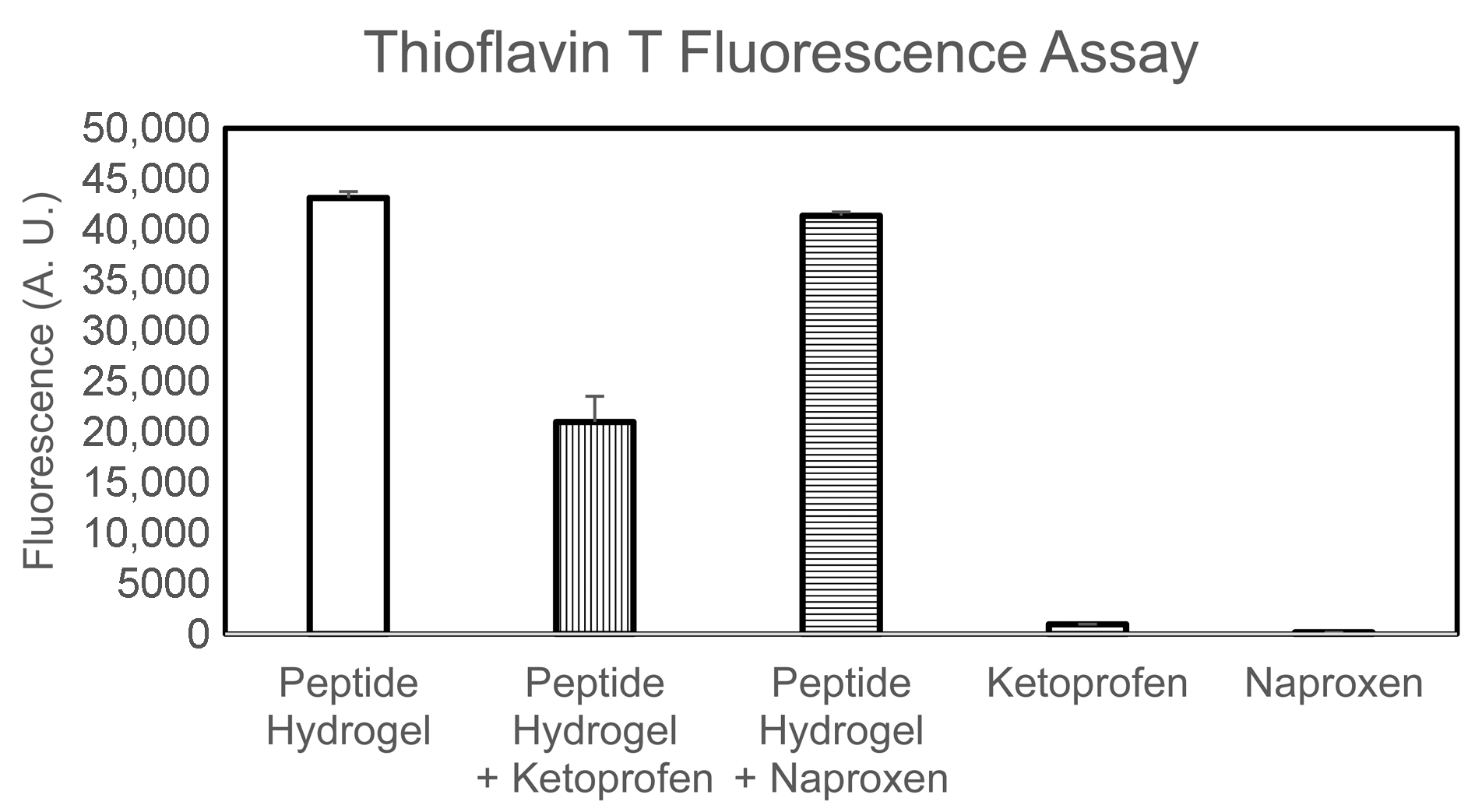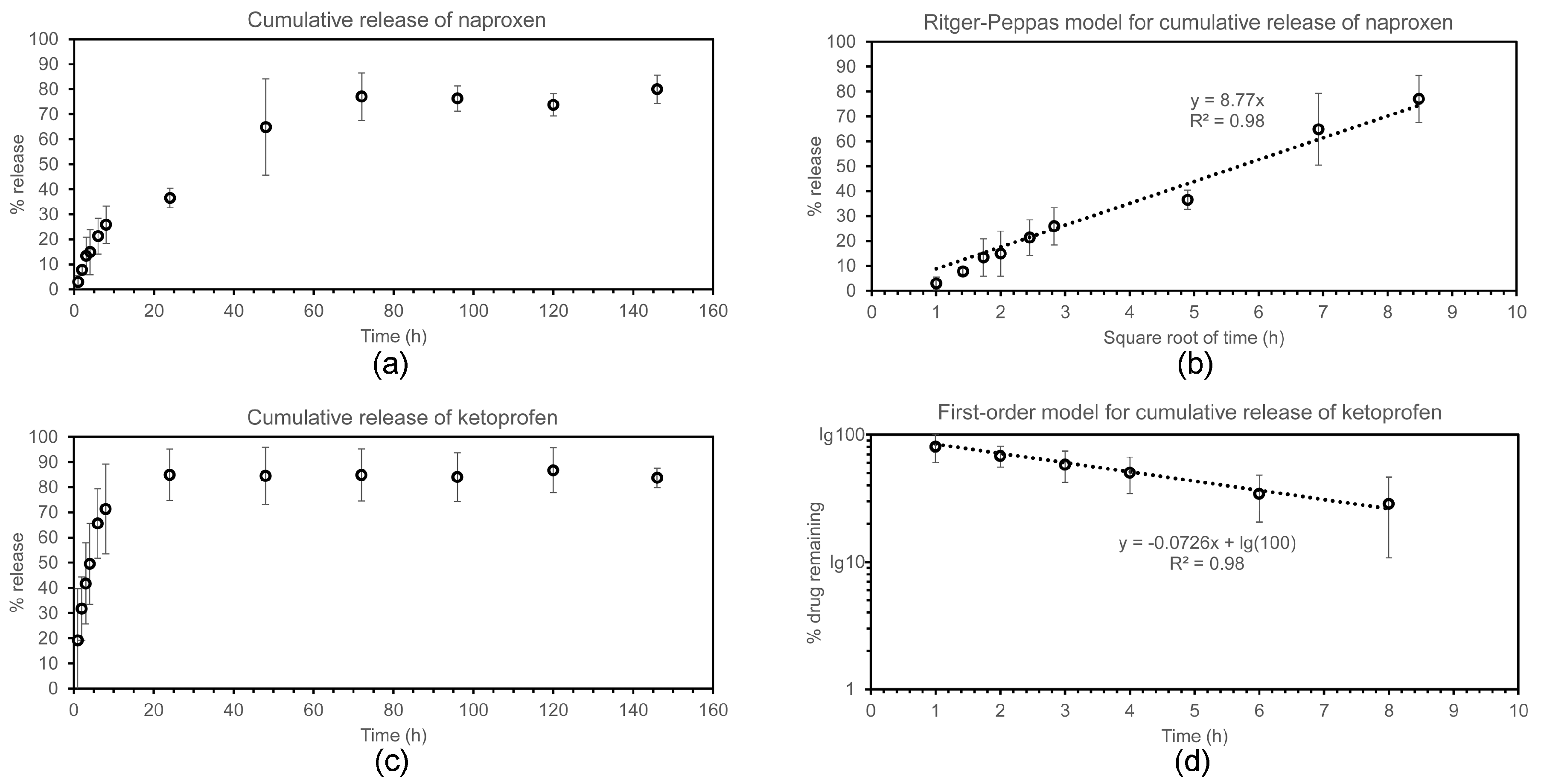 © 2017 by the authors. Licensee MDPI, Basel, Switzerland. This article is an open access article distributed under the terms and conditions of the Creative Commons Attribution (CC BY) license (http://creativecommons.org/licenses/by/4.0/).