Controlled Release of Vascular Endothelial Growth Factor from Heparin-Functionalized Gelatin Type A and Albumin Hydrogels
1
Institute of Interfacial Process Engineering and Plasma Technology IGVP, University of Stuttgart, Nobelstraße 12, 70569 Stuttgart, Germany
2
Fraunhofer Institute for Interfacial Engineering and Biotechnology IGB, Nobelstraße 12, 70569 Stuttgart, Germany
*
Author to whom correspondence should be addressed.
†
These authors contributed equally to this work.
Received: 18 August 2017 / Revised: 21 September 2017 / Accepted: 29 September 2017 / Published: 9 October 2017
Abstract
Bio-based release systems for pro-angiogenic growth factors are of interest, to overcome insufficient vascularization and bio-integration of implants. In this study, we investigated heparin-functionalized hydrogels based on gelatin type A or albumin as storage and release systems for vascular endothelial growth factor (VEGF). The hydrogels were crosslinked using carbodiimide chemistry in presence of heparin. Heparin-functionalization of the hydrogels was monitored by critical electrolyte concentration (CEC) staining. The hydrogels were characterized in terms of swelling in buffer solution and VEGF-containing solutions, and their loading with and release of VEGF was monitored. The equilibrium degree of swelling (EDS) was lower for albumin-based gels compared to gelatin-based gels. EDS was adjustable with the used carbodiimide concentration for both biopolymers. Furthermore, VEGF-loading and release were dependent on the carbodiimide concentration and loading conditions for both biopolymers. Loading of albumin-based gels was higher compared to gelatin-based gels, and its burst release was lower. Finally, elevated cumulative VEGF release after 21 days was determined for albumin-based hydrogels compared to gelatin A-based hydrogels. We consider the characteristic net charges of the proteins and degradation of albumin during release time as reasons for the observed effects. Both heparin-functionalized biomaterial systems, chemically crosslinked gelatin type A or albumin, had tunable physicochemical properties, and can be considered for controlled delivery of the pro-angiogenic growth factor VEGF.
View Full-Text
►

▼

Figures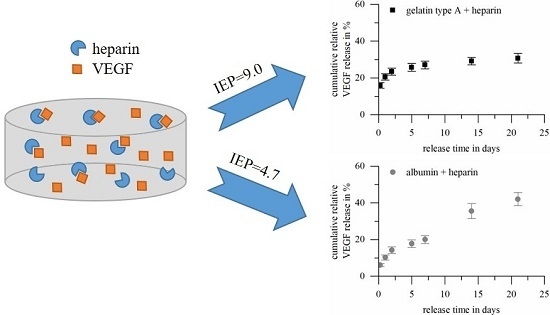 Graphical abstract
This is an open access article distributed under the
Creative Commons Attribution License
which permits unrestricted use, distribution, and reproduction in any medium, provided the original work is properly cited (CC BY 4.0).

Share & Cite This Article
MDPI and ACS Style
Claaßen, C.; Sewald, L.; Tovar, G.E.M.; Borchers, K. Controlled Release of Vascular Endothelial Growth Factor from Heparin-Functionalized Gelatin Type A and Albumin Hydrogels. Gels 2017, 3, 35.
Note that from the first issue of 2016, MDPI journals use article numbers instead of page numbers. See further details here.
Related Articles
Comments
[Return to top]