Open Access This article is
freely available
re-usable
Article
Minimising Stress for Patients in the Veterinary Hospital: Why It Is Important and What Can Be Done about It
College of Public Health, Medicine and Veterinary Science, James Cook University, Townsville, QLD 4811, Australia
Academic Editor: Patrick Butaye
Received: 27 December 2016 / Accepted: 18 March 2017 / Published: 13 April 2017
Abstract
:
Minimising stress for patients should always be a priority in the veterinary hospital. However, this is often overlooked. While a "no stress" environment is not possible, understanding how to create a "low stress" (sometimes called "fear-free") environment and how to handle animals in a less stressful manner benefits patients, staff and the hospital alike. Many veterinary practitioners believe creating a low stress environment is too hard and too time consuming, but this need not be the case. With some simple approaches, minimising patient, and hence staff, stress is achievable in all veterinary practices. This article provides a background on why minimising stress is important and outlines some practical steps that can be taken by staff to minimise stress for presenting and hospitalised patients. Useful resources on recognising signs of stress in dogs and cats, handling, restraint, behaviour modification, medications, and hospital design are provided.
Keywords:
stress; low stress handling; behaviour modification; behavioural management medications; animal welfare; hospital design
2. The Relationship between Fear and Anxiety
Fear and anxiety are not the same, and it is important that veterinary staff understand the distinction in order to reduce the incidence of fear in the clinic (and in the client's home). Tynes (2014, [
7
]) has written a useful article on the physiologic effects of fear: Fear and anxiety share many similar physiologic responses and an animal that experiences fear and anxiety frequently, and is unable to escape from the stimuli, will suffer from stress and its effects. Fear is a normal behaviour. It is an emotional response that occurs when an animal
perceives
that a situation is dangerous, and is adaptive when it helps an animal escape from a situation that is truly dangerous. Anxiety, on the other hand, is
anticipation
of future danger that may be unknown, imagined or real. Chronic anxiety is considered to be an abnormal behaviour and can be a serious welfare concern for an animal in a continual state of anxiety.
Tynes (2014 [
7
]) also provides some useful definitions of
stress
and
phobia
. Stress is defined as "…any chemical, physical, or emotional force that threatens an organism's homeostasis"—where the physiologic response (autonomic arousal and stimulation of the hypothalamic–pituitary–adrenal axis and accompanying release of stress hormones) may ultimately result in increased susceptibility to disease secondary to suppression of the immune system. Phobias are "...persistent and excessive fears of certain things or situations that are usually out of proportion to the actual threat that they present". An animal's responses to stimuli can range from mild signs of anxiety to extreme panic/catatonia; severely panicked animals can be seriously injured by chewing or charging through doors and windows in an attempt to escape the frightening stimuli. When a stimulus is intensely unpleasant, a single exposure can be enough to induce a fearful response in the future (known as "one-event (trial) learning"). This theory, promoted by American psychologist Edwin Guthrie (Landsberg, Hunthausen and Ackerman, 2013 [
18
]), supports Tynes (2014 [
7
]) assumption that some animals are so frightened by their experiences at the veterinary clinic that their responses on subsequent visits could be defined as phobic.
3. Recognising Stress in Animals
Non-human animals do not perceive the world as we see it. They see, hear, smell and experience their environment in different ways, yet veterinary hospitals are usually designed with humans in mind and not necessary the patients. Keeping these crucial differences in mind can help greatly when it comes to designing a low-stress environment.
In general, the factors that worsen fear and elicit aggression in dogs also apply to cats. Dogs and cats can experience extreme stress through being separated from their owners and kept in a cage (Dybdall, Strasser, and Katz, 2007 [
19
]). These animals undergo physiological changes such as increased heart rate and release of cortisol—both of which may be associated with negative feelings such as fear and anxiety (Gregory, 2004 [
20
]). In addition, stressed animals may not eat or drink adequately, which can delay recovery (Hewson, 2008 [
1
]). Recognising stress is particularly important in an emergency situation as stressed patients can be difficult to handle, and dog/cat bites and cat scratches are the most common cause of injury to personnel in the veterinary hospital (Jeyaretnam, Jones, and Phillips, 2000 [
21
]). Recognising signs of stress in the veterinary hospital is also important as the stress response may hinder accurate diagnosis by affecting the results of samples collected (Tynes, 2014 [
7
]) and lead to increased anaesthetic and sedation risk (AVSAB, 2016 [
8
]). Furthermore, every time an animal has a bad experience in the veterinary hospital, it is more likely that it will be more fearful and difficult to handle on its next visit due it making an association between the experience and the environment/personnel (classical conditioning). Accepting that dogs and cats are generally afraid in the hospital environment makes it more difficult to recognise the pathologically fearful or anxious animal (Tynes, 2014 [
7
]).
How an animal behaves in a given situation depends on its genetic predisposition, previous experience and the environment it is in (Steimer, 2002 [
22
]). Frightened animals may attempt to run away, freeze or become aggressive; pressurising fearful animals in uncertain situations is likely to lead to bites. Taking a few minutes to assess just how fearful a pet is, and altering staff behaviours and the environment can go a long way to encourage patient cooperation. Yin (2009 [
3
]) has written a useful book with accompanying DVD to help veterinary staff take a more humane approach to companion animal care in the veterinary hospital, with much of this information being freely available on-line at
https://drsophiayin.com/
.
3.1. Signs of Fear in Dogs
Signs of a fearful dog may include cowering, leaning away with low head/tail and a tense, trembling body. The dog may avert its gaze and show the distinctive "whale eye" (exposed whites of eyes). Ears may be flat against the head and the brow furrowed (
Figure 1
). Yin (2009 [
3
]) emphasises the importance of personnel not interpreting fearful postures (designed to keep others from coming closer) as submissive behaviour. If veterinary staff assume the dog is being subordinate, they may reach for the dog and the dog may become fearfully aggressive. More subtle signs of fear/anxiety include scanning the room for danger (hypervigilance), yawning, panting, lip licking, refusing treats, salivating (in the absence of food), looking/acting sleepy (when not tired) or distracted, sniffing, and possible escalation to urination and defecation. A list of non-specific signs of anxiety in dogs can be found in Overall (2013 [
23
] (p. 47)) or accessed on-line (Overall, 2014 [
24
]).
3.2. Signs of Fear in Cats
Similar to dogs, fearful cats are tense and make themselves appear smaller by lowering their heads and leaning back (
Figure 2
). Signs of stress in cats also includes looking sleepy and exhibiting hypervigilance—although cats tend to move the direction of their ears rather than their heads. Agitated cats twitch their tails, and may act defensively if scared. Defensive cats appear to become even smaller, might hug a wall if available, move their ears down/back, and may hiss and react aggressively if unable to run away. Some cats appear to look bigger when alarmed and adopt the classic "Halloween cat" posture of standing on tippy-toes, with a straight tail (down or up) and arched back (
Figure 3
). The accompaniment piloerection (involuntary erection or bristling of hairs) in reactive cats is a physiologic response to stimulation of the sympathetic nervous system, and looking bigger is a secondary consequence of this reflex. The consequences of looking bigger is understudied, but the profile of a reactive cat should and can be recognised by humans (Kendall and Ley, 2006 [
25
]) and other animals. It is important for veterinary staff to be aware that a cat rolling on to its side when under duress is more likely preparing to defend itself than requesting a belly rub. The AAFP (American Association of Feline Practitioners) and the ISFM (International Society of Feline Medicine) feline-friendly handling guidelines (Rodan et al., 2011 [
16
]) illustrate the progressive signs of fear and anxiety in cats from early to late stages.
Useful protocols to help veterinary staff quickly assess the level of pain and stress in dogs and cats, and create a more "behaviour-centred" practice can be found in the Manual of Clinical Behavioral Medicine for Dogs and Cats (Overall, 2013 [
23
]) and accompanying DVD.
Figure 4
shows the Clinic Dog Stress Scale, from 0 to 5, on: entry to the clinic; weigh-in; and entering the exam room (Overall, 2013 [
5
]). Dogs with zero scores are calm and dogs with a score of 5 are distressed and need help. Other scales available for assigning a stress value to dogs include: examination; blood sampling; diagnostic radiological procedures; and nail trimming (Overall, 2013 [
23
] (pp. 760–763)). By recording the animals' responses at each visit, veterinary staff (and clients) can measure changes in the animals' behaviour to help maximise patient care, as well as reducing the levels of relinquishment/euthanasia of problem dogs and cats. If the patient is extremely distressed and the exam is not medically urgent, it may be better to delay further evaluation and discuss anti-anxiety medications and behaviour modification with the client before the next visit. Working with the help of a legitimate trainer who uses "positive" training methods is likely to achieve the best outcomes. A handout, published by the American Veterinary Society of Animal Behavior (AVSAB) on choosing a trainer can be accessed from
https://avsab.org/wp-content/uploads/2016/08/How_to_Choose_a_Trainer_AVSAB.pdf
.
4. Preparation for Visits to the Hospital
If possible, preparation of and for the patient before its visit will help to prevent anxiety accumulating and alleviate stress on arrival at the hospital (Yin, 2009 [
3
]). Dogs and cats quickly learn to associate frightening or painful experiences with the hospital and staff through classical conditioning. The Bayer veterinary care usage study (Volk et al., 2011 [
12
]) indicated that many cats hid when the cat carrier appeared, became aggressive when put in the carrier, and cried during the journey to the veterinary hospital. This undesirable association can be lessened by classically conditioning a different association (classical counter-conditioning). For example, a fearful cat or dog can be trained to associate the "veterinary experience" including the carrier and the journey to the hospital with something pleasurable such as food. This approach could also be useful for patients presenting as emergencies, as training could be done pre-emptively, which may decrease stress during a subsequent emergency visit. The AAFP and the ISFM feline-friendly handling guidelines (Rodan et al., 2011 [
16
]) can help prepare clients and cats from the journey to the hospital to the journey home. Practical steps on crate training dogs and cats, and training for car rides can be found in Yin (2009 [
3
], Chapter 6) or on-line (Yin, n.d. [
26
]), and are also illustrated in Rodan et al. (2011 [
16
]). It would also behove pet owners to bring their pets to the hospital somewhat hungry, so that the pet is more likely to accept treats in the hospital setting. A favourite toy might also be efficacious in reducing stress.
5. Greeting Behaviour of the Veterinary Staff
Research shows that dogs are very good at reading and responding to signals of human intention (e.g., pointing) (Kirchhofer, Zimmermann, Kaminski, and Tomasello, 2012 [
27
]) and have large vocabularies of human words (Pilley and Reid, 2011 [
28
]). However, although humans recognise extreme states of stress and distress in dogs, they tend to misread more subtle signs (Mariti et al., 2012 [
29
]). In addition to learning what dogs and cats are trying to communicate to humans through movements of their eyes, ears and whiskers, their weight shifts, and body postures, veterinary personnel can also use their own body language to show pets that one is not a threat. Firstly, to minimise stress, care should be taken when initially greeting these animals. Avoid leaning over or reaching for an animal, as this can be construed as menacing (Yin, 2009 [
3
], 2012 [
30
]). Similarly, avoid squatting down with one's face close to the animal; rather, squat (or sit) from further away and avoid facing head on. Squatting, sitting or standing sideways is less threatening than looming over an animal. Very fearful dogs can be approached by the person moving sideways before squatting down or sitting on a chair and turning obliquely. Direct eye contact should also be avoided (use peripheral vision). It is also important to allow the animal to gradually get used to personnel, even after a successful greeting. Slow, smooth movements, allowing the animal the opportunity to move away, and awareness of the animal's body language will help to minimise stress.
A free poster on how to greet a dog can be downloaded from
http://info.drsophiayin.com/greeting-poster
. Useful information on preparing to greet a cat and interacting with the cat in the veterinary environment (including opening the carrier to access the cat) can be found in the AAFP and ISFM feline-friendly handling guidelines (Rodan et al., 2011 [
16
]).
6. Handling and Restraint
7. Medications for Behavioural Management
8. Creating a Pet-Friendly Environment: Hospital Design
The design of the hospital is very important to put patients and clients at ease. Research has shown that cats in shelters become highly distressed when they saw or heard dogs (McCobb, Patronnek, Marder, Dinnage, and Stone, 2005 [
46
]), probably because the cats had no way of escaping from the dogs and no means of hiding within their cages. Thus, it is important that feline contact with dogs be minimised within the veterinary environment (Lloyd, 2008 [
47
]). A student report (Hernander, 2008 [
48
]) found that dogs that had recently visited the veterinary clinic had higher levels of stress than those that had not visited recently. These findings have profound implications for the treatment provided by veterinary staff, as perceived by the dogs and cats.
8.1. The Waiting Room
Hernander (2008 [
48
]) reported that dogs that had waited in waiting rooms that were not chaotic, and had sufficient time to calm down were less stressed than dogs that were moved quickly. The Bayer veterinary care usage study (Volk et al., 2011 [
12
]) showed that cats also displayed signs of stress and fear in the veterinary clinic waiting room, particularly when unfamiliar dogs were present. Yin (2009 [
3
]) advocates setting up the hospital so that the first thing the pet sees on arrival is a reception desk and not other animals. Visual barriers in the waiting rooms provide species-specific areas, and cat carriers can be placed in raised and enclosed areas. Tasty treats should be placed in strategic positions such as the reception desk or near the weighing scale.
Hernander's (2008 [
48
]) study discovered that dogs found being weighed (on scales) to be more stressful than sitting in the waiting room. Fear of being weighed may be reduced by allowing the dogs more control over their participation in the process. Dogs that are not afforded some measure of choice have less chance to develop self-control and autonomy (Lloyd and Roe, 2012 [
49
]), and may be more reactive in the veterinary environment. Thus, dogs could be trained to not fear being weighed by being rewarded for making desirable behaviour choices (positive reinforcement), and by placing the scales in the floor area, rather than in corners where dogs may be more reluctant to go. Dogs have dichromatic colour vision (further discussed below) and can discern the colour blue (Neitz, Geist, and Jacobs, 1989 [
50
]), hence it may be beneficial to paint floor scales in this colour to demarcate it from the surrounding floor area. Cats should be weighed in the exam room, and can be weighed in the crate (carrier) (with the weight of the crate/towel being subtracted later). An underused technique described by Overall (2014 [
34
]) is for cats that have already been clicker-trained to jump onto and stand on a scale—a technique that is easiest to use with bold cats/kittens and one that the clients enjoy. Client comfort should also be kept in mind, as relaxed owners help to keep their pets calm. The use of synthetic pheromones, and other calming agents, to reduce stress are discussed below.
8.2. The Exam Room
Exam rooms should be made as inviting as possible by having comfortable chairs for clients and soft, non-slip rugs/towels for pets. A variety of tasty treats and toys (washable) should also be available. Giving animals time to habituate to the environment, as described above (Hernander, 2008 [
48
]) can go a long way to reduce stress. Along with witnessing staff who project caring attitudes, pet-friendly acoustic and other sensory environments (described below) are also likely to appeal to the client, who may feel better about leaving his/her pet in the hospital.
8.3. Cages and Housing
Kennels and treatment areas (discussed below) are potentially areas that cause high stress. Cats should be housed separately from dogs, and both should be kept in kennels that face walls rather than other animals to decrease visual contact. The natural instinct of a cat when exposed to a threatening situation is to retreat, however if this is not possible then it will attempt to conceal itself from view (Kry and Casey, 2007 [
51
]). Providing cats with hiding places, such as a cardboard box (that they can also use as an elevated platform should they choose) allows cats to perform this coping behaviour, possibly affording a sense of control/autonomy over the environment, and alleviates stress (Kry and Casey, 2007 [
51
]). The simple act of partially draping a towel over the cage door makes cats less exposed, thus reducing stress. Indeed, some cats will not eat or use their litter tray in full view of veterinary staff. In Canada, the British Columbia SPCA has developed the Hide, Perch & Go™ box to help reduce stress in shelter cats. The box is made of plasticised cardboard and enables the cat to exhibit natural behaviours of perching on top in a shallow tray or hiding inside. The box also serves as a cat carrier; hence the owner can take a newly adopted cat home in a familiar and scent-stable environment. The box has been adapted for use in veterinary hospitals and isolation areas where cats may spend a large amount of time in a potentially stressful environment (Lloyd, 2008 [
47
]). While there is no supporting scientific evidence, the box also appears to be beneficial for rabbits by providing hiding, perching and scent-marking opportunities (
Figure 5
). Dogs and cats, and other animals, could be given the option to spend quality time working for their food, for example, by eating from a stuffed KONG toy to alleviate boredom. This type of toy can be filled in advance with wet food (or, where appropriate, a small amount of peanut butter or processed cheese sauce as a treat) and frozen for later use; frozen contents take longer to eat, thus enhancing the environmental enrichment.
8.4. The Acoustic and Olfactory Environment
8.5. Colour and Lighting
It may behove veterinarians to paint or decorate their practice in colours that are positively perceived by dogs and cats. Architect Heather Lewis is currently working on what colours and lighting might be calming for dogs and cats in the veterinary environment. Dogs have dichromatic vision, see better in low light than humans can, and can see into the ultraviolet UVB spectrum. Cats also see into the UVB spectrum and in low-light situations, and although they are not believed to see colours with as much precision as humans do, they have trichromatic vision (Lewis, 2015 [
59
]). The ability to see the UVB spectrum means that some materials are likely to appear fluorescent to dogs and cats, including organic material such as urine that contains phosphorous. Bright white, man-made materials such as paper, plastic and white fabrics are likely to be visually jarring—"Your professional-looking white doctor's coat could be lighting up like a Christmas tree to your patients" (Lewis, 2015 [
59
]). Lewis (2015 [
59
]) suggests that "fear free" colours for dogs and cats include hues in the soft yellow to violet range, avoiding oranges and reds, and dark colours. Because dogs and cats do not see well in low light, using lighter colours in darker areas are likely to make them feel more at ease, as dark colours make it harder to see and comprehend their surroundings. A "visually comfortable" colour palate for dogs and cats can be found on-line (Lewis, 2015 [
59
]).
9. Creating a Pet-Friendly Environment: Other Calming Agents and Techniques
In addition to affording animals more control over their environment and consideration of hospital design, other measures can be used to alleviate stress and anxiety. The use of pheromones and techniques that utilise pressure touch, and aromatherapy may be useful to decrease arousal in the veterinary setting.
10. Conclusions
Minimising stress must be a standard of care. Continual stress in the veterinary environment is undesirable for welfare reasons, as well as for adverse effects on immune function, rate of recovery, and increased risk of injury to staff. Benefits of creating pet-friendly, low stress experiences are numerous. By identifying a puppy or kitten that is fearful or anxious early in life, and minimising the role of veterinary care in inducing and maintaining fear, staff can positively affect the patients' well-being. Client confidence is improved, as patients are more settled and staff project a caring attitude. Staff increase their skills in handling animals, resulting in better job satisfaction and fewer bites and scratches. The hospital also benefits by clients being more likely to bring their pets back, and increased staff efficiency due to less time spent on restraining animals. Last but by no means least, the patients are likely to be more relaxed and compliant on their next visit.
Acknowledgments
The author has utilised many excellent resources to write this manuscript on developing pet-friendly practices, which are referred to throughout the text. Some of the material used has been adapted from Yin (2009 [3]) and the accompanying Low Stress Handling of Dogs and Cats DVD (Yin, 2012 [30]). The author would like to acknowledge and express gratitude for the vast contribution made by the late Sophia Yin, veterinarian, applied animal behaviourist, animal trainer, author and lecturer, to veterinary behavioural medicine.
Conflicts of Interest
The author declares no conflict of interest.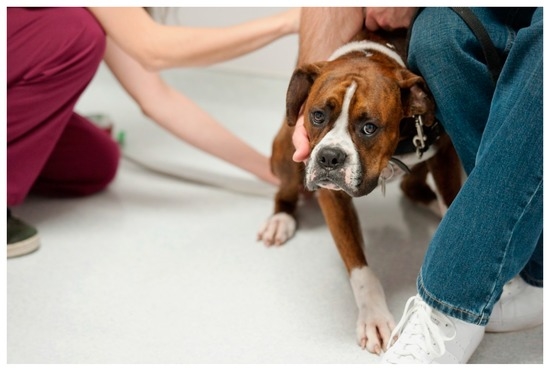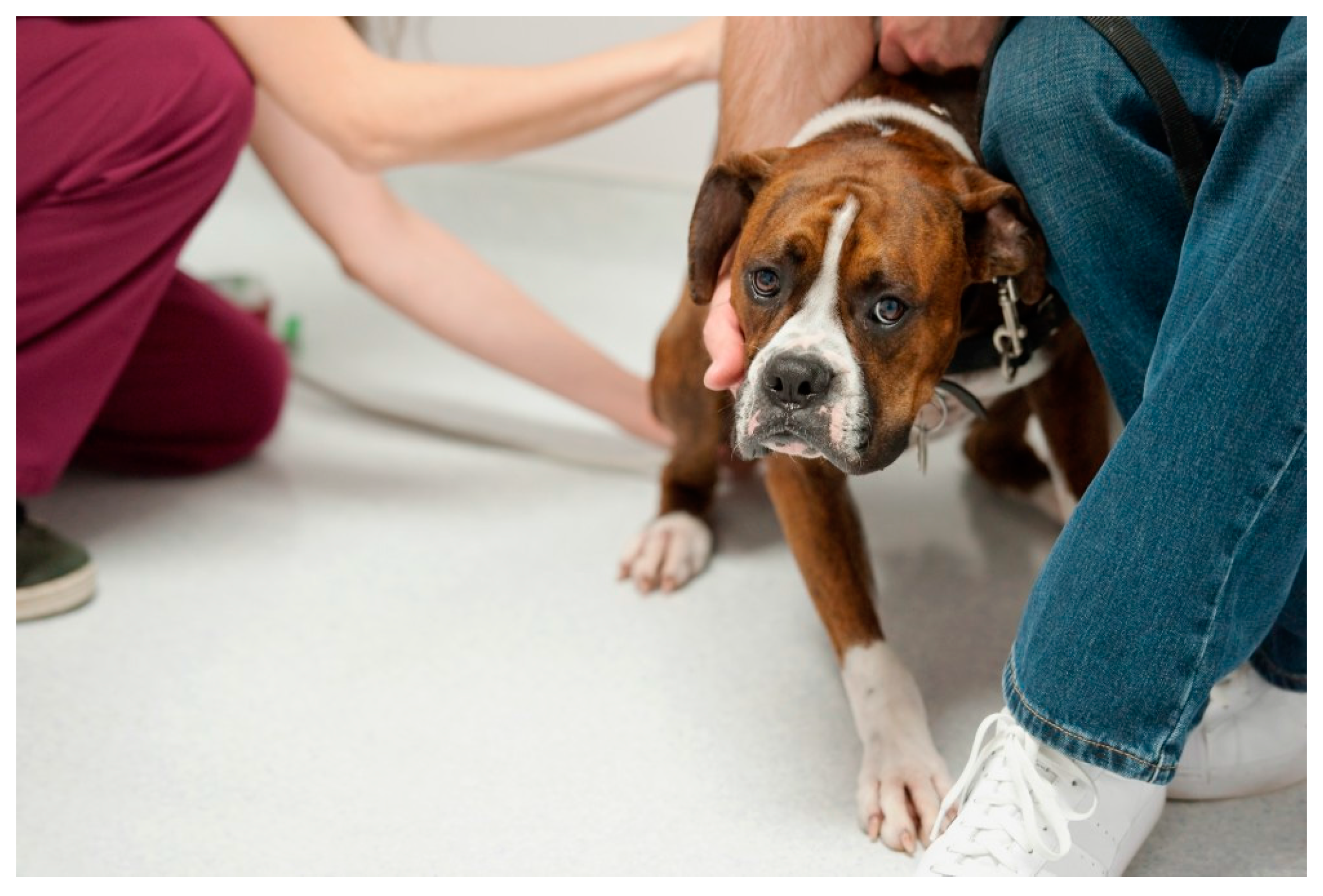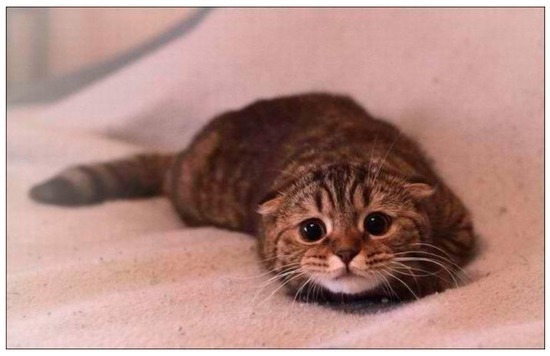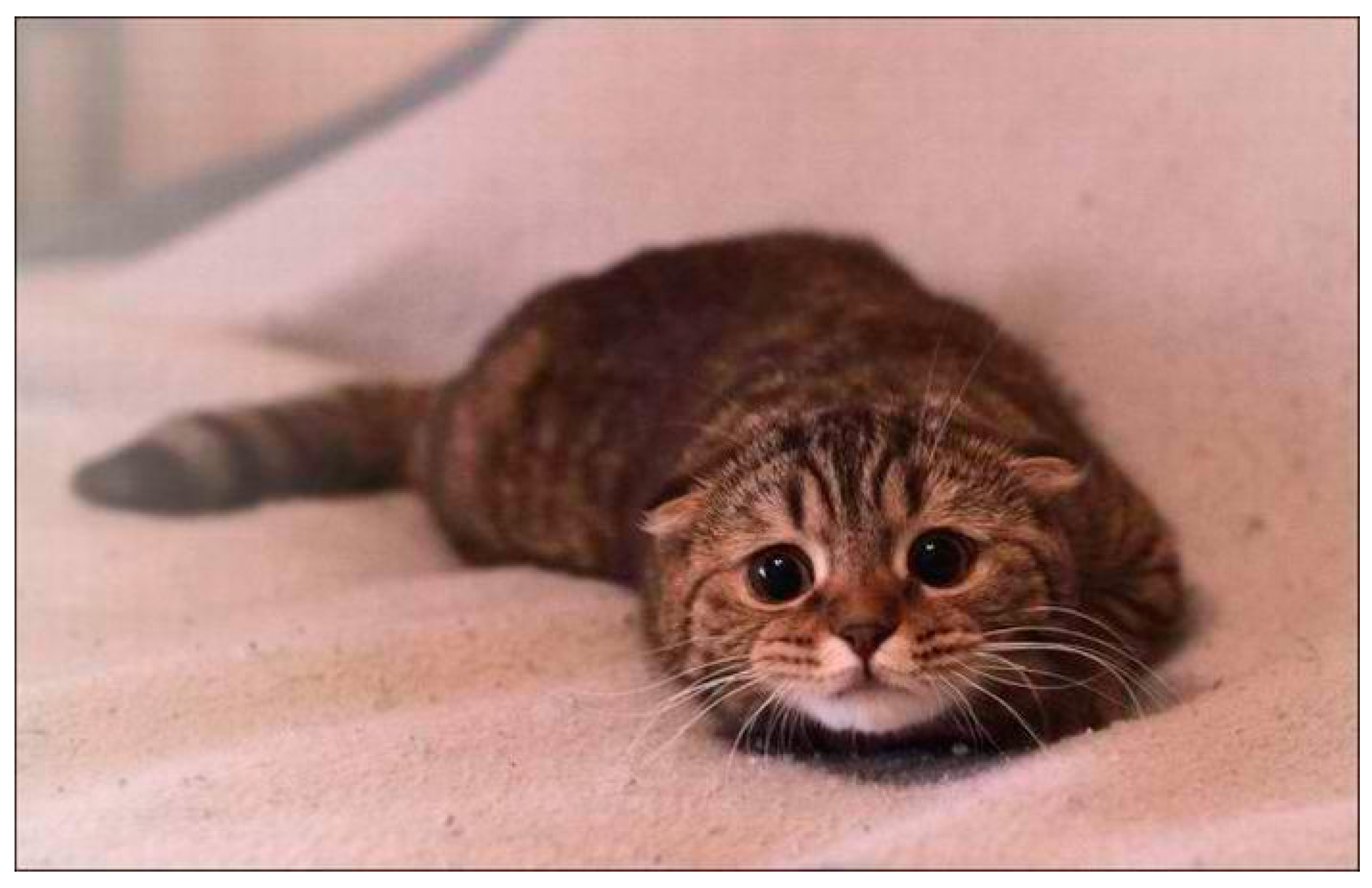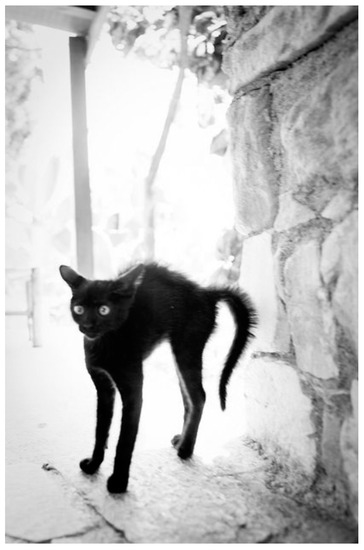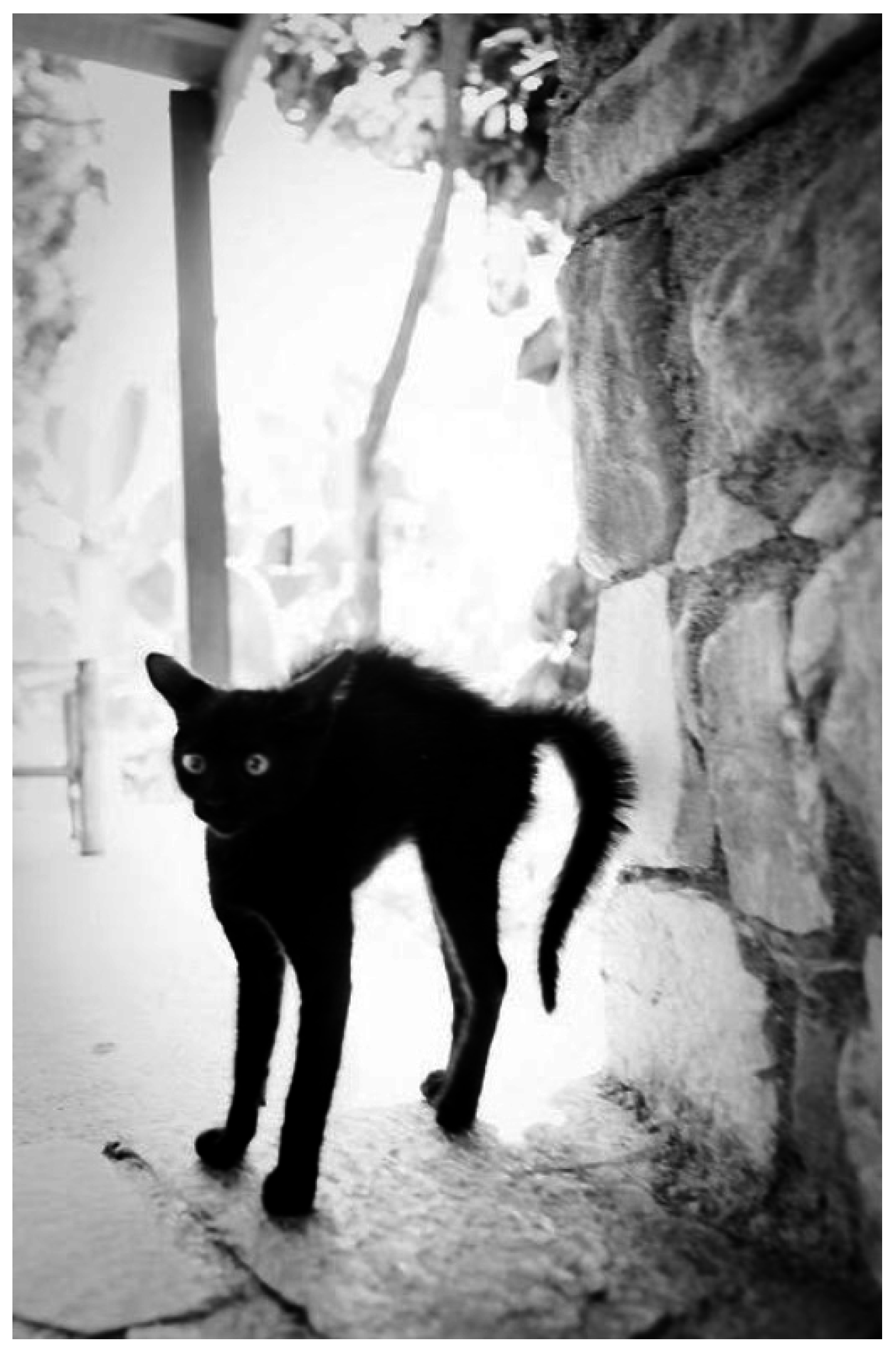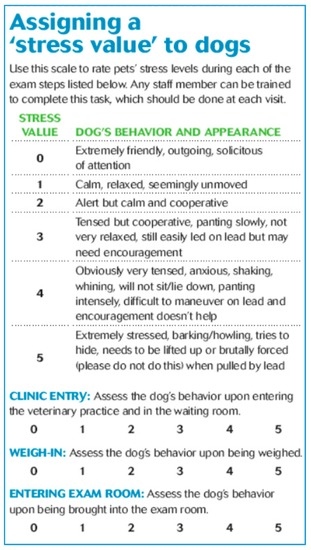 Figure 4.
Clinic dog stress scale, from zero to five, on entry to the clinic, weigh-in and entering the exam room. Source: Overall, 2013 [
5
]. (Reprinted with Permission from dvm360, Oct. 2013, Facing fear HEAD ON by Karen Overal, M.A., VMD, PhD, DACVB, CAAB. dvm360 is published by Advanstar Communications, Inc. dba UBM.)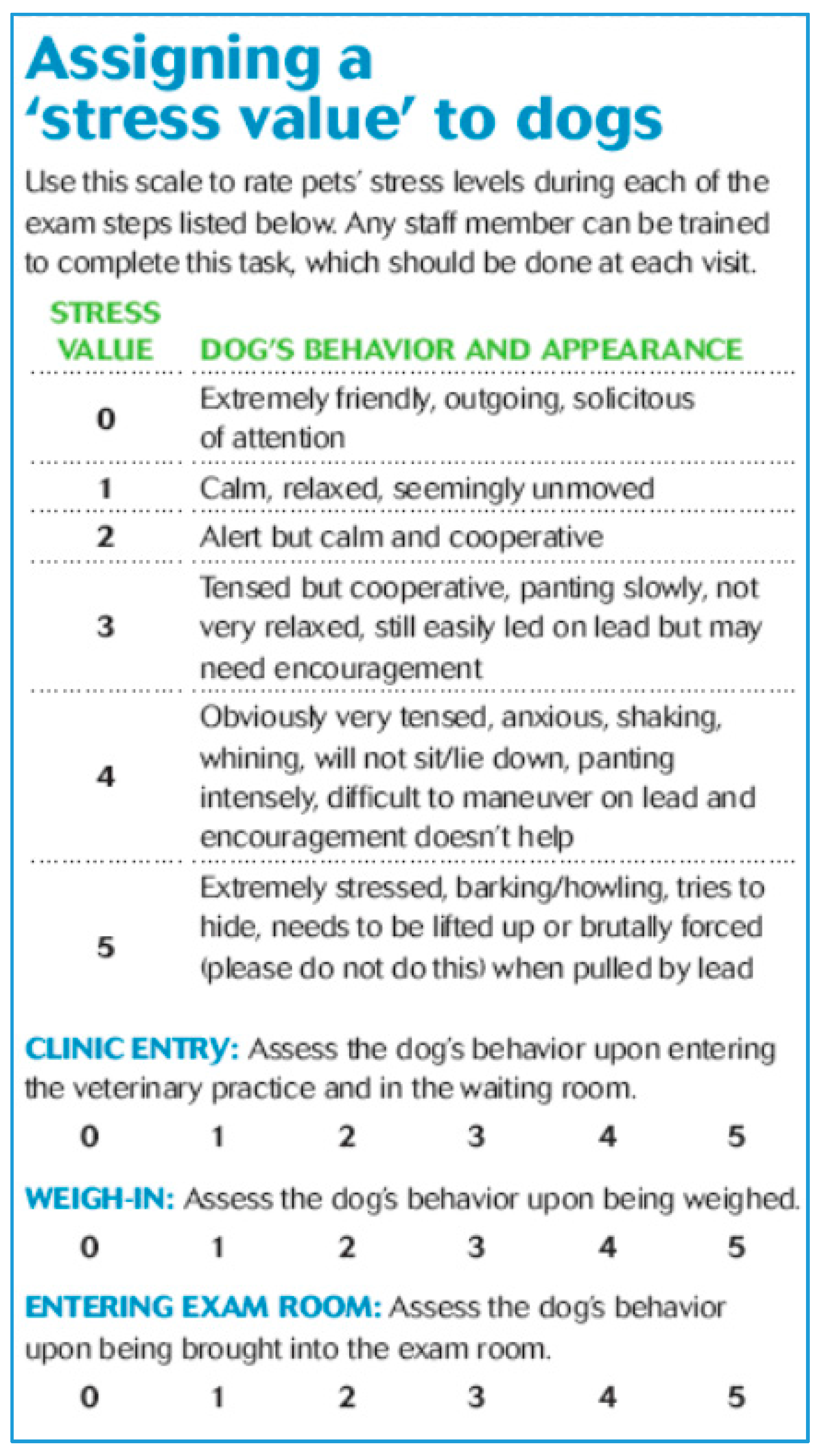 Figure 5. The Hide, Perch & Go™ box providing hiding, perching and scent-marking opportunities for a rabbit. Reproduced with kind permission from the British Columbia Society for the Protection of Cruelty to Animals, Vancouver, Canada.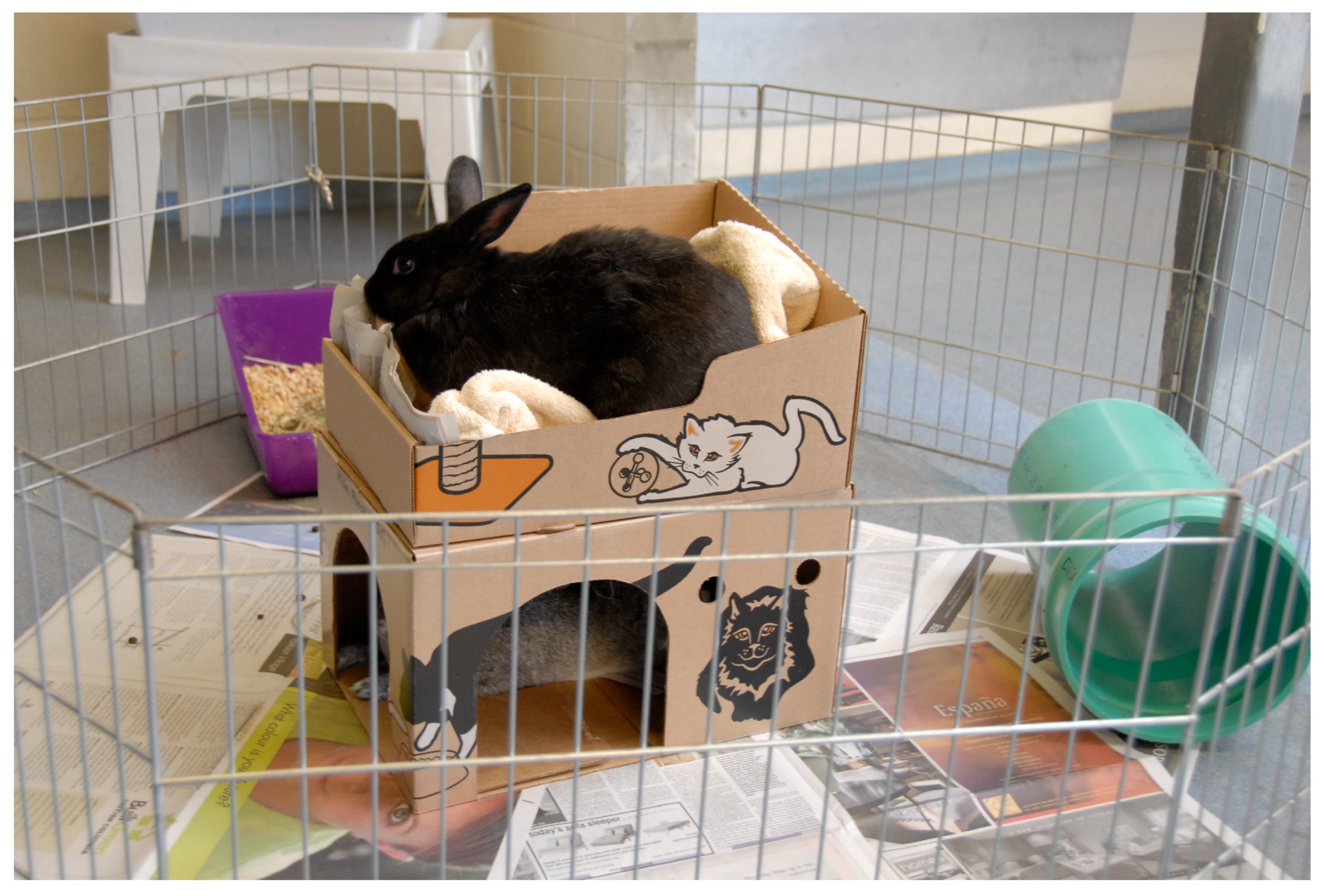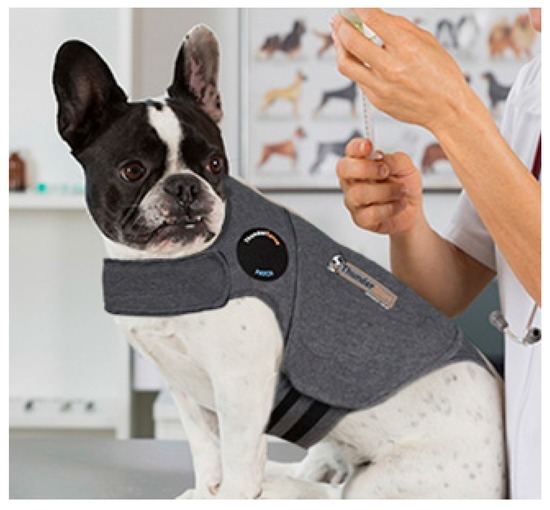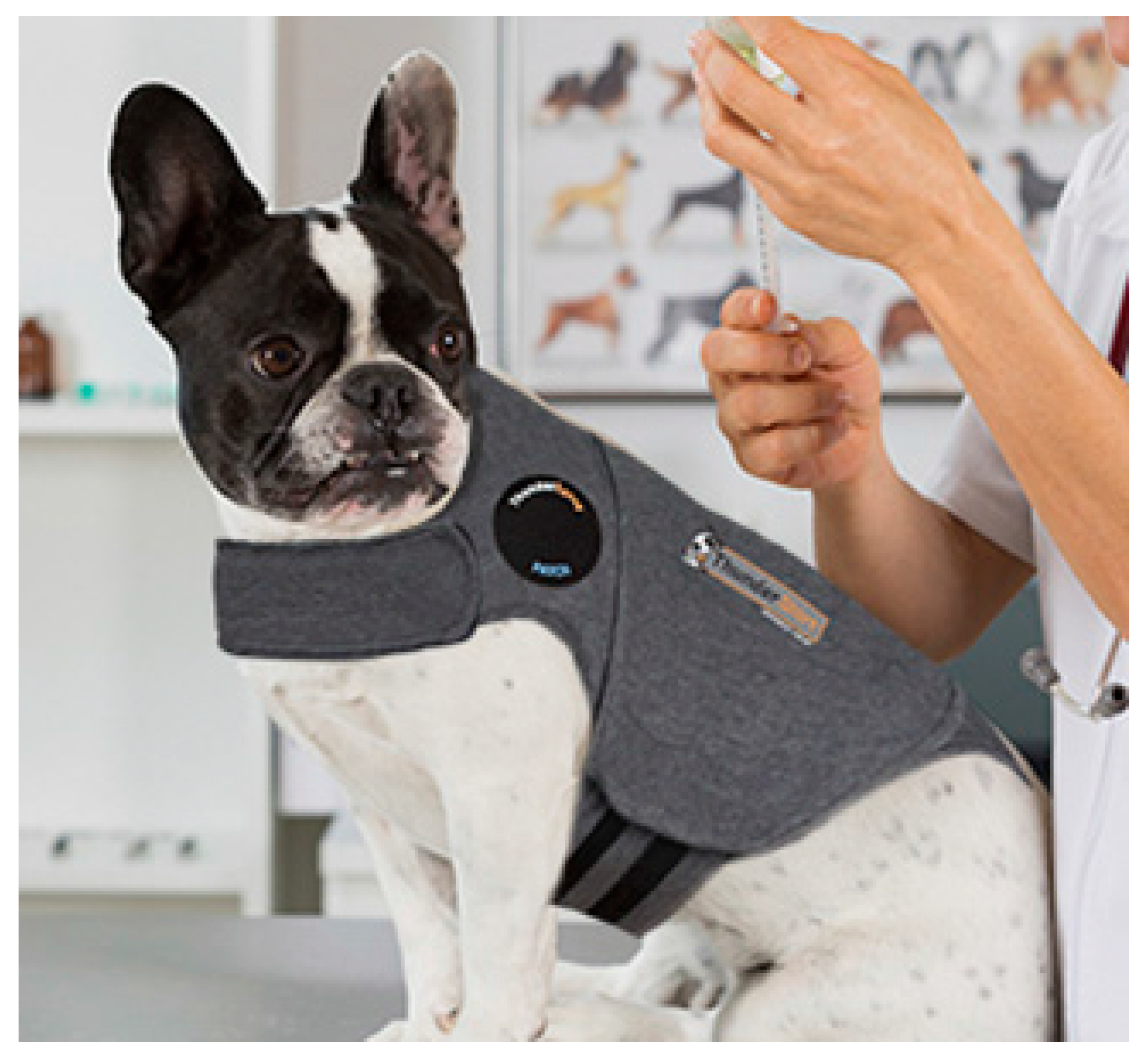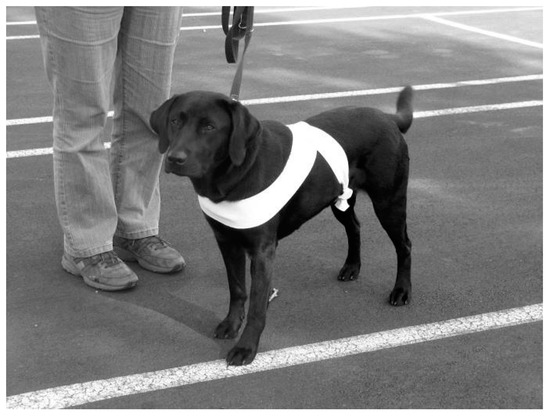 Figure 7.
Application of an elastic bandage in a figure of eight (half wrap). The inherent stretch in the fabric provides a light sensation of localised pressure against the body, and is used with the intent of calming excitable or fearful dogs. Photo courtesy of Lloyd and Roe (2014 [
62
]).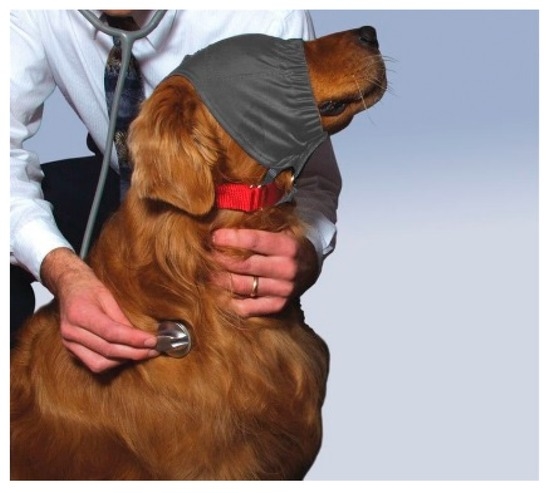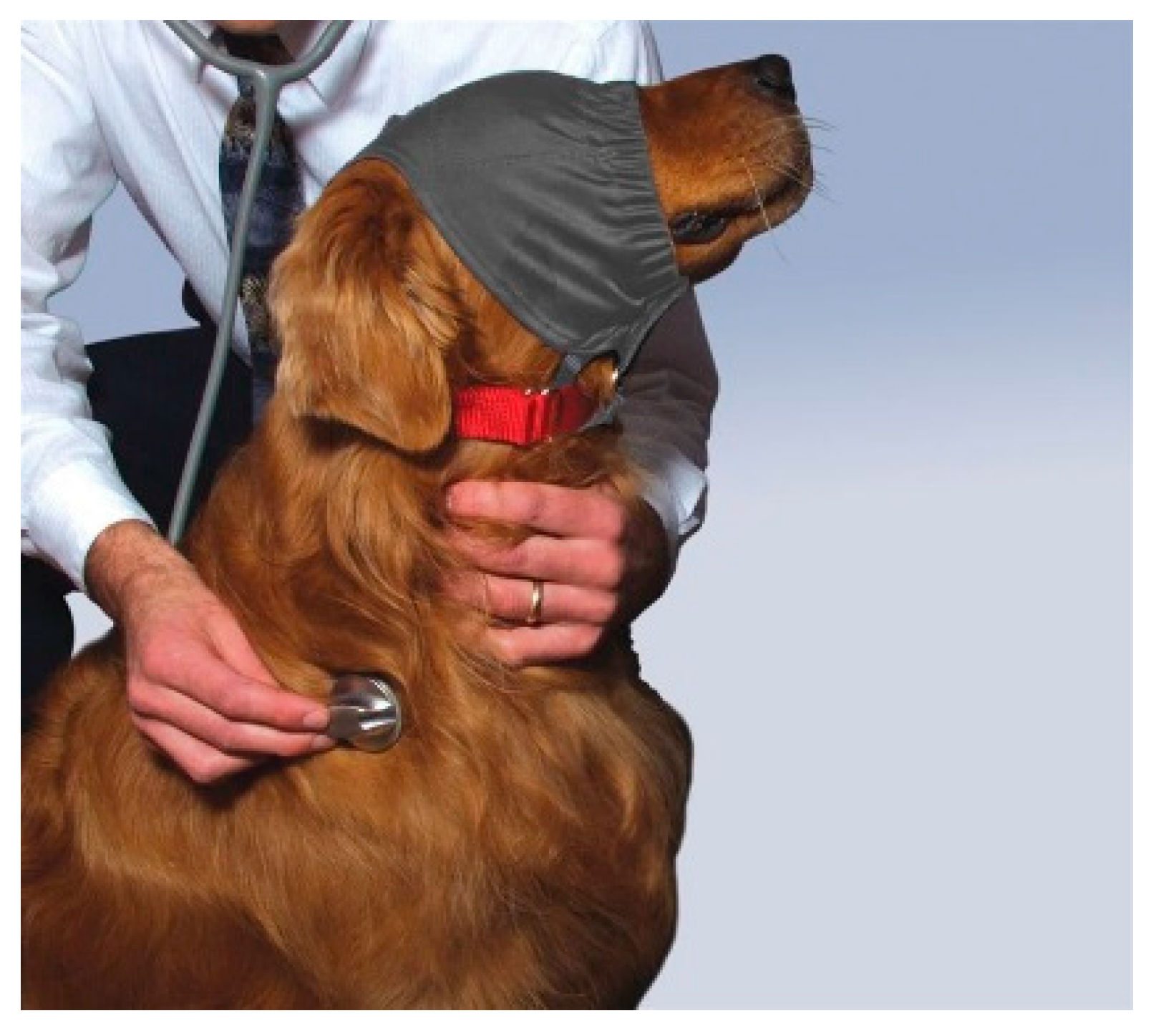 © 2017 by the author. Licensee MDPI, Basel, Switzerland. This article is an open access article distributed under the terms and conditions of the Creative Commons Attribution (CC BY) license (http://creativecommons.org/licenses/by/4.0/).