Open Access This article is
freely available
re-usable
Review
Grape Infusions: The Flavor of Grapes and Health-Promoting Compounds in Your Tea Cup
1
CQ-VR, Department of Biology and Environment, School of Life Sciences and Environment, Enology Building, Chemistry Research Centre, University of Trás-os-Montes and Alto Douro (UTAD), 5000-801 Vila Real, Portugal
2
CITAB, Department of Biology and Environment, School of Life Sciences and Environment, Centre for the Research and Technology of Agro-Environmental and Biological Sciences, University of Trás-os-Montes and Alto Douro, 5000-801 Vila Real, Portugal
*
Author to whom correspondence should be addressed.
Received: 8 May 2019 / Accepted: 4 July 2019 / Published: 1 August 2019
Abstract
:
Traditionally, tea, a beverage made from the processed leaves of the tea plant,
Camellia sinensis
, and herbal infusions have been primarily consumed for their pleasant taste. Nowadays, they are also consumed because they contain nutraceutical compounds, such as polyphenols. Grapes and grape/wine sub-products such as non-fermented/semi-fermented or fermented grapes, skins, and seeds are a rich source of health-promoting compounds, presenting a great potential for the development of new beverages. Therefore, these grape/wine sub-products are used in the beverage sector for the preparation of infusions, tisanes, and decoctions. Besides polyphenols, fermented grapes, skins, and seeds, usually discarded as waste, are enriched with other health-promoting/nutraceutical compounds, such as melatonin, glutathione, and trehalose, among others, which are produced by yeasts during alcoholic fermentation. In this review, we summarize the benefits of drinking herbal infusions and discuss the potential application of some grapevine fermentation waste products in the production of healthy beverages that we can call grape infusions.
Keywords:
infusions; tea; tisanes; grape sub-products valorization; nutraceutical properties; human health
1. Introduction
1.1. Plant Infusions
Plant infusions, commonly called teas or tisanes, are the most popular form of herbal medicine in the world, used for thousands of years. The habit of consuming teas and herbal infusions is increasingly embedded in the routine of Americans and Europeans [
1
] due to their potential health benefits, attractive flavor and taste, and relatively low retail price [
2
].
However, most people do not know how to distinguish tea from infusions, tisanes, and decoctions. An infusion is produced by pouring boiling water over a certain amount of the plant of interest (roots, flowers, leaves, seeds, twigs, or other), letting it rest for a few minutes, and then straining it [
3
]. The resulting liquid is called infusion. The term "decoction" designates a plant infusion obtained by a different method, using, especially, its fibrous parts, such as stems, roots, barks, seeds, rhizomes, and woods. The method consists in immersing a part of the plant in cold water and heating up to boiling, which is maintained for 3 to 10 min. During the cooling period, the container should remain covered [
4
]. An infusion prepared from two or more different plants is named a "tisane" [
5
]. The term "tea" should be used exclusively to designate infusions obtained from the leaves of
Camellia sinensis
, a member of the Theaceae family; however, this denomination is commonly used to describe an infusion prepared from any plant.
1.2. Tea and Other Herbal Infusions
1.3. Infusions and Health
1.4. Nutraceutical Value of Food and Beverages
Although the term
Nutraceutical
(from 'Nutrition' and 'Pharmaceutical') was suggested in the late 1980s by Stephen De Felice, Founder and Chairman of the Foundation for Innovation in Medicine [
36
], it is in Ancient Greece that the idea of the beneficial relationship between food and health first appeared, as shown by the words of Hippocrates (460–377 BC):
Let food be your medicine and medicine your food
[
37
]. In fact, the concept of nutraceuticals is not new, and functional foods are part of a new food concept, launched in Japan in the 1980s through a government program that aimed to develop healthy foods for the aging population that had a long-life expectancy [
38
]. Since then, this concept has evolved considerably. The term nutraceutical was initially defined as
a food or part of a food that has medical or health benefits, including disease prevention and treatment
; however, nowadays, the term nutraceutical lacks an accurate definition, although nutraceuticals represent a growing area of the biomedical research [
39
]. According to Santini and coworkers [
40
] and Daliu [
36
], this is due to the absence of a clear categorization of products such as food supplements, phytotherapeutics, pre- and probiotics, functional foods, and fortified foods. Despite the wide range of definitions for this term, there are two essential requirements for a particular food to be a nutraceutical: to contribute to the prevention and/or treatment of a particular disease (physiological benefits) and to reduce the onset of chronic diseases [
41
,
42
]. Considering the definition of nutraceuticals by Dudeja and Gupta, reported above [
42
], products such as dietary supplements, genetically engineered "designer" foods, herbal products such as herbal infusions and tea, processed foods [
42
], dietary fibers, polyunsaturated fatty acids, proteins, peptides, amino acids, minerals, antioxidant vitamins, and other antioxidants [
43
] are included in the designation of nutraceuticals.
The growth of the nutraceutical sector is encouraged by the interest in improving physical and mental well-being and health and in the ability to regulate bodily functions in order to help protect against diseases such as hypertension, diabetes, cancer, osteoporosis, and coronary diseases [
44
] and to compensate for an incorrect lifestyle [
44
,
45
]. It is estimated that nutraceuticals products are used in 50–70% of the developed countries and women use more nutraceuticals than men [
46
].
As a result of interdisciplinary research and collaboration between academic researchers and industry, new products with nutritional potential, safety, and therapeutic effects appear daily in the market. Tea and other herbal infusions are the nutraceuticals products more consumed in all world and their health therapeutic benefits are well known. However, the demonstration of the beneficial properties and reduced secondary effects of nutraceuticals, including tea and other herbal infusions, still needs more support from scientific studies.
2. Grapes and Vine Leaves Composition, Anatomy, and Histology
The grapevine (
Vitis
spp.) is a climbing plant considered one of the oldest in the world, having been found in fossils that preceded the existence of
Homo sapiens
[
47
]. Indeed, the grapevine is one of the most important fruit crops in the world. For centuries, the therapeutic benefits of grapes and other byproducts from the vineyards have been empirically used for medical purposes such as the treatment of bleeding, pain, inflammation, nausea, diarrhea, gastroenteritis, or skin diseases. Nowadays, consumers are increasingly demanding products with high nutritional quality that are beneficial to health. Thus, studies have been conducted on several foods with the aim of satisfying the population's demand. Grapes and vine leaves are considered a rich source of phenolic compounds and have a tremendous potential for the development of new foods and beverages. Indeed, in addition to grape or wine, studies have shown that vine byproducts, such us jam, grape juice, jelly, molasses, raisins, and leaves, also have therapeutic properties [
48
]. In some European countries,
Vitis vinifera
leaves have traditionally been used as food [
49
,
50
], while in others they are considered a waste and thus discarded, rather than valorized [
51
].
A study comparing 10 grape cultivars grown in southern Georgia, USA, showed that the concentration of phenolic compounds (phenols, anthocyanins, and flavonols) is different in the various plant structures constituting leaf and berry, being higher in the seed (2178.8 mg/g gallic acid equivalents), followed by the skin (374.6 mg/g), and finally the leaf (351.6 mg/g) [
52
]. Flavonoids and proanthocyanidins (procyanidins and prodelphinidins) are mostly found in the seeds and skin of grapes. Grape seed proanthocyanidins comprise only (+)-catechin, (−)-epicatechin, and procyanidins [
53
], whereas grape skin proanthocyanidins comprise both prodelphinidins and procyanidins. The prodelphinidins monomers are [(+)-catechin, (−)-epicatechin, (+)-gallocatechin, and (−)-epigallocatechin] units and were only found in grape skin [
54
]. However, other compounds such as sugars (glucose, fructose, and sucrose), organic acids (malic, tartaric, and citric acid), and aroma precursors (volatiles and non-volatiles) are present at different concentrations in the grape berry tissue layers [
55
].
Besides the berry, also the leaf is an important source of phenolic compounds, although their concentrations depend on the vegetative development of the leaf, with a higher total phenol concentration in September (3339 mg GAE/L) than in May (2911 mg GAE/L) [
56
]. The gallic acid is a dominant phenolic acid in the vine leaf, but other constituents contribute to the beneficial properties of its extract [
57
], proving that grape leaves are an optimal material for the manufacture of new foods and beverages. Indeed, flavanols [
58
], caftaric acid [
59
], hydroxycinnamoyl tartaric esters, catechin, quercetin, rutin, and kaempferol [
48
] are other compounds that can be found in vine leaves. According to Sat and coworkers [
60
], significant amounts of vitamins, minerals, and crude fiber can also be found in the leaves of various
V. vinifera
varieties. In
Figure 4
, the ultrastructure of both grape berries and leaves of
V. vinifera
can be observed. The vine fruit is a berry with a rounded shape, stratified in three different tissue layers: (a) the skin or outer exocarp (6–8-cell layer), a heterogeneous region constituted by cuticle, epidermis, and hypodermis [
61
,
62
]; (b) the median mesocarp, formed by cells larger than those of the epidermis, mainly presenting a polygonal shape, thin cell walls, and large vacuoles; and (c) the inner endocarp, composed of crystal-containing cells where the seeds are found [
63
].
Leaves' texture and ultrastructure have great importance when choosing the most suitable varieties that can be used in food preparation. For instance, a
V. vinifera
variety whose leaves are rich in calcium oxalate crystals is not recommended for human consumption.
The
V. vinifera
leaf is a typical mesomorphic leaf [
64
], commonly large, alternate, petiolate with palmate lobes that may appear to be shaped like a hand. The color difference between the upper surface (dark green) and the lower surface (clear green) is evident and due fundamentally to the uneven distribution of chlorophyll pigments in the two layers, a greater quantity being present in the upper layer [
62
]. Although the structure of the vine leaf is different from cultivar to cultivar, it generally has a hand-like shape with three loops [
65
,
66
,
67
] (
Figure 4
). The leaf shows dorsoventrally anatomy with different parenchyma structure on the upper and lower page. It is surrounded by an outer protective tissue, the epidermis, with stomata fundamentally present in the lower epidermis surface. The mesophyll is heterogeneous and asymmetric due to the presence of a palisade parenchyma in the upper surface, characterized by rod-shaped cells with a lot of chloroplasts and a few intercellular air spaces, and a spongy parenchyma in the lower surface, characterized by isodiametric cells with an irregular contour and wide lacunas [
68
]. In the mesophyll, it is still possible to find a vascular system, composed of xylem (where water and minerals are transported) and phloem (where organic substances formed during photosynthesis are transported), and mechanical support tissues [
62
].
3. Infusions as a Valorization of Vineyards By-Products
4. Grape Infusions as an Alternative to Drug Treatment
5. Final Remarks
Herbal infusions are the most popular form of herbal medicine in the world, having been used for thousands of years, and are even more ancient than tea. Their consumption is promoted by their medicinal properties due to their nutraceutical content. The chemical components of plants are of great interest, particularly with regard to health.
In the beverage sector, dried non-fermented/semi-fermented and fermented grapes, skins, and seeds are used in the preparation of infusions or tisanes. This is a way of valorizing grape/wine sub products, which are considered waste products after the process of fermentation during wine production.
The process to obtain "grape infusions" is easy, and its economic cost is mainly due to the electricity needed to dry the wet material. These infusions, besides being pleasant drinks, can provide health-promoting compounds which act as nutraceutical compounds.
In conclusion, herbal infusion/tisanes are, in general, an important vehicle for introducing health-promoting compounds into our diet, and those made with semi-fermented or fermented-grapes also allow a healthy environmental use of grape fermentation sub-products.
Acknowledgments
This research was funded by [CQ-VR, FCT—Portugal and COMPETE] grant number [PEst-OE/QUI/UI0616/2014] and by [CITAB, FCT-Portugal] grant number [UID/AGR/04033/2019]. Additional thanks to the IBERPHENOL project (Red Cooperativa de investigación en el ámbito de polifenoles y sus aplicaciones industriales).
Conflicts of Interest
The authors declare no conflict of interest.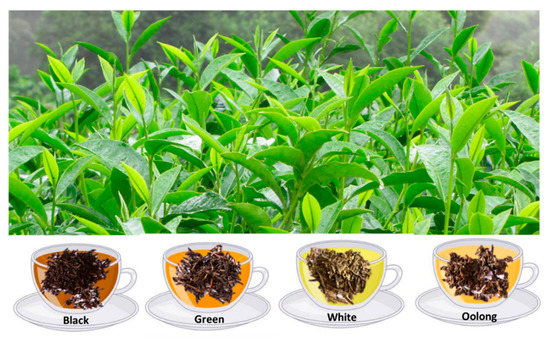 Figure 1.
The
Camellia sinensis
plant and the different types of tea that can be produced from its leaves. Photo adapted from Forest & Kim Starr-Jardim Botânico UTAD, 2019 [
6
].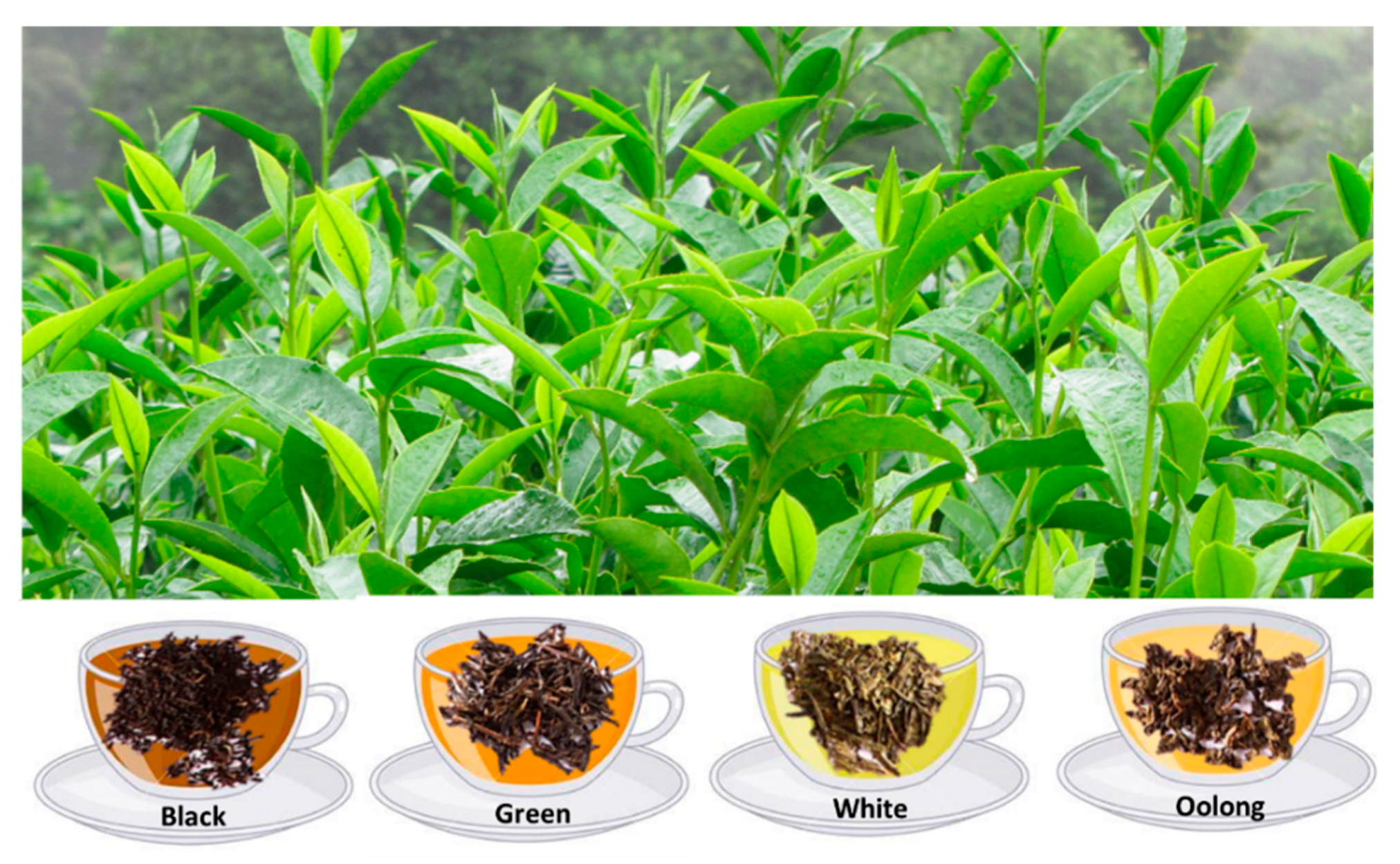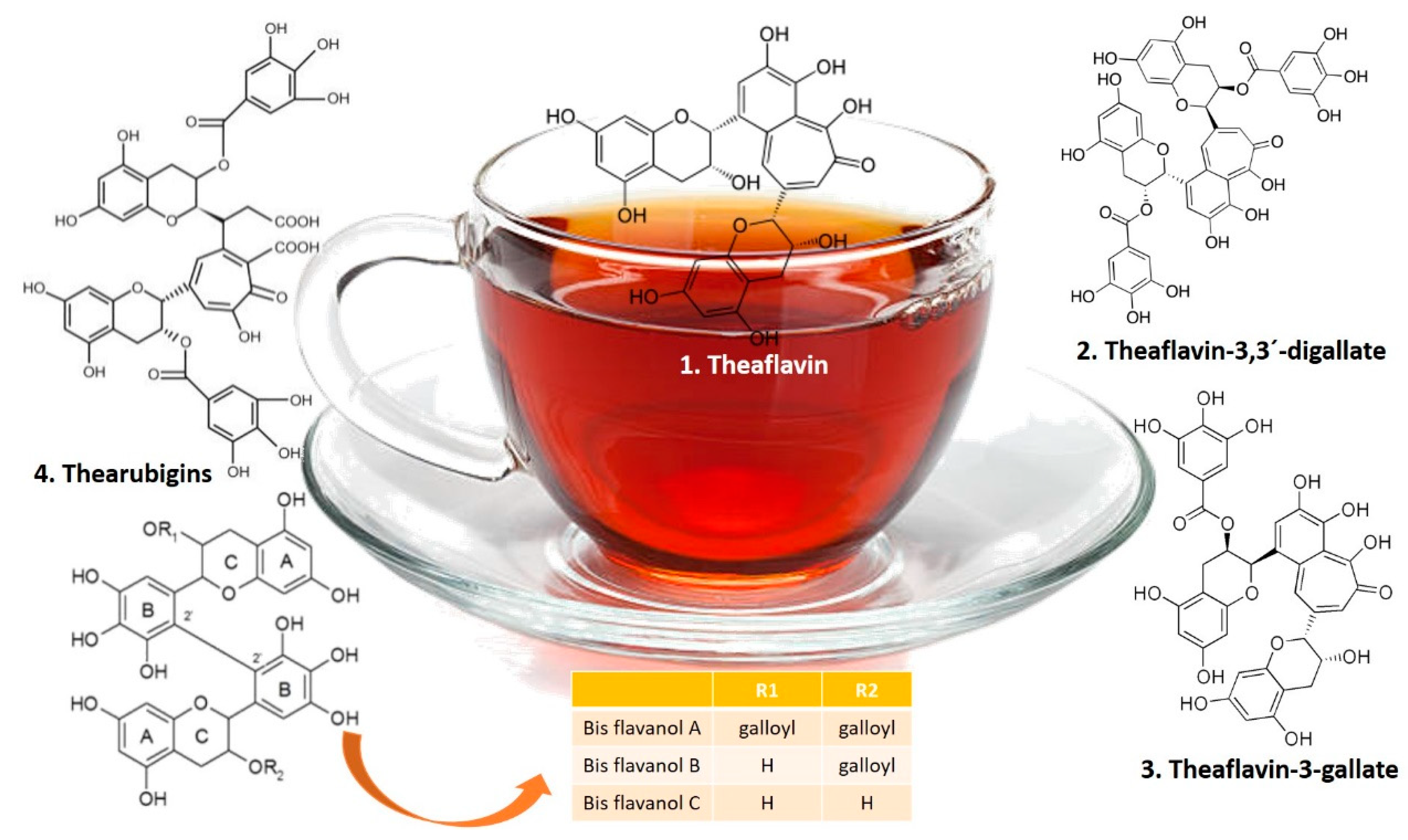 Figure 5. Dried (A) and triturated (B) non-fermented grapes, containing skins and seeds, of Moscatel Galego Portuguese grape variety; infusion prepared with grapes dried at 80 °C (C) and 60 °C (D).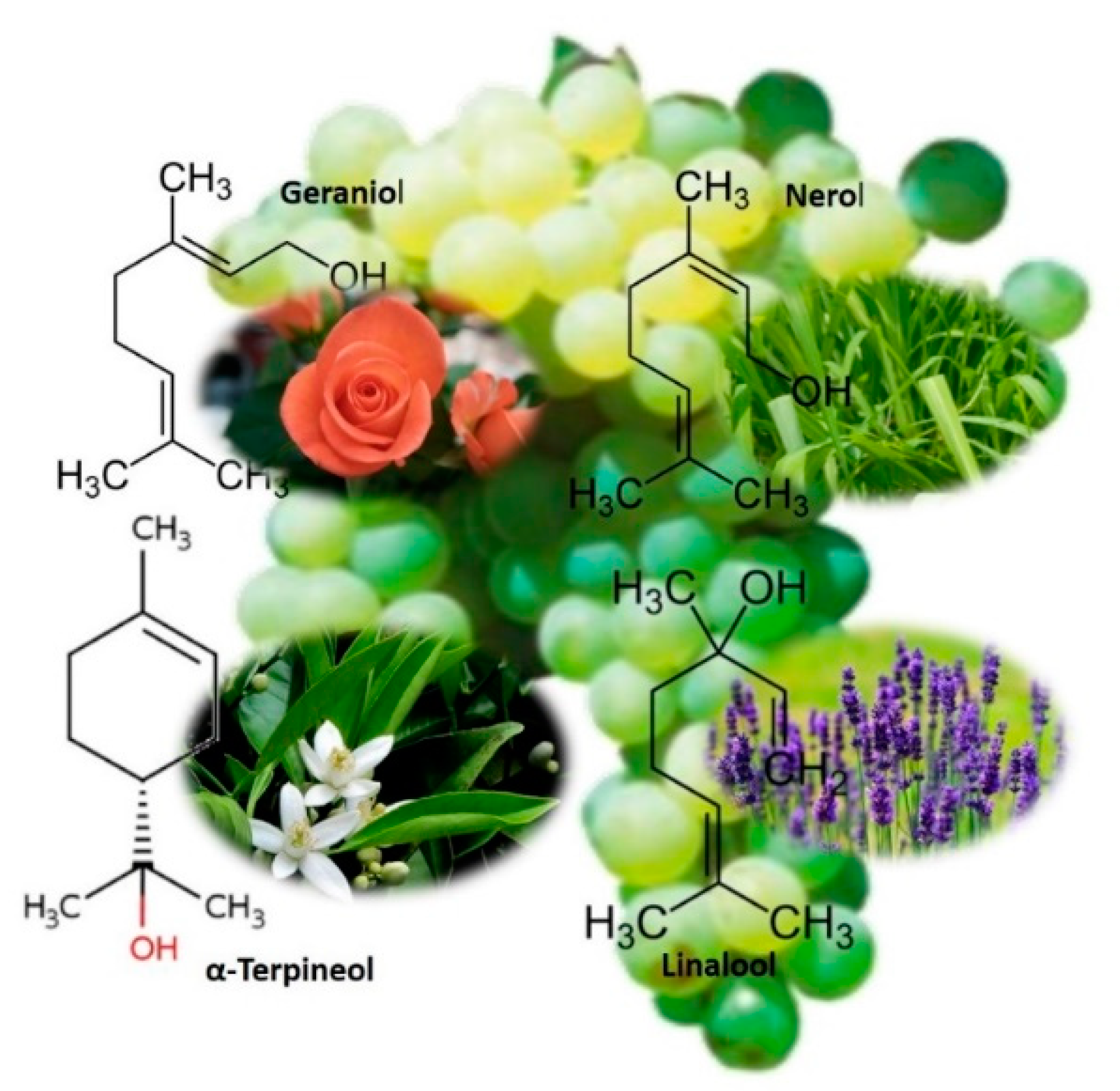 Table 1.
Botanical names, families, medicinally used parts, and health benefits of various aromatic and medicinal plants. Adapted from Herrera et al. [
19
].
Health Benefits
Herbal Infusions
Scientific Name
Family
Tissues Used for Infusion
Nervous System
Lemon balm

Melissa officinalis

L.
Lamiaceae
Stems, leaves, and flowers
Linden

Tilia platyphyllos

Scop.
Malvaceae
Inflorescences
Passion flower.

Passiflora incarnata

L.
Passifloraceae
Leaves and flowers
St. John's Wort

Hypericum perforatum

L.
Clusiaceae
Flowers
Valerian

Valeriana officinalis

L.
Caprifoliaceae
Roots, rhizomes, and stolons
Digestive System
Boldo

Peumus boldus molina

Monimiaceae
Leaves and cortex
Chamomile

Matricaria chamomilla

L.
Asteraceae
Flower heads
Fennel

Foeniculum vulgare

M.
Apiaceae
Fruits, seeds, root, leaves
Green Fruits

Pimpinella Anisum

L.
Apiaceae
Fruits
Pennyroyal

Mentha pulegium

L.
Lamiaceae
Leaves
Senna

Cassia Angustifolia

Vahl
Fabaceae
Leaves and fruits
Cardiovascular System
Lemon verbena

Aloysia citrodora

P.
Verbenaceae
Leaves
Hawthorn

Crataegus oxyacanthal

Rosaceae
Floral tops, leaves, fruits, and cortex
Horsetail

Equisetum arvense

L.
Equisetaceae
Stem
Olive Tree

Olea europaea

L.
Oleaceae
Leaves and fruits
Rosemary

Rosmarinus officinalis

L.
Lamiaceae
Leaves, stems, and flowers
Thyme

Thymus vulgaris

L.
Lamiaceae
Leaves and flowers

© 2019 by the authors. Licensee MDPI, Basel, Switzerland. This article is an open access article distributed under the terms and conditions of the Creative Commons Attribution (CC BY) license (http://creativecommons.org/licenses/by/4.0/).