Open Access This article is
freely available
re-usable
Review
Wine-Derived Phenolic Metabolites in the Digestive and Brain Function
Institute of Food Science Research (CIAL), CSIC-UAM, C/Nicolás Cabrera 9, Campus de Cantoblanco, 28049 Madrid, Spain
*
Author to whom correspondence should be addressed.
Received: 21 December 2018 / Accepted: 4 January 2019 / Published: 11 January 2019
Abstract
:
Wine, and specifically red wine, is a beverage with a great chemical complexity comprising a particular combination of phenolic compounds which are directly associated with its health-promoting properties. Wine polyphenols could induce changes in the composition of intestinal microbiota that would affect the production of physiologically active phenolic metabolites modifying the content and phenolic profile at the systemic level. In addition, in the human population, it seems that different "metabotypes", or patterns of metabolizing wine polyphenols, exist, which would be reflected in the different biological fluids (i.e., plasma, urine and feces) and tissues of the human body. Moreover, wine polyphenols might change the composition of oral microbiota by an antimicrobial action and/or by inhibition of the adhesion of pathogens to oral cells, thus contributing to the maintenance of oral health. In turn, polyphenols and/or its metabolites could have a direct action on brain function, by positively affecting signaling routes involved in stress-induced neuronal response, as well as by preventing neuroticism-like disorders (i.e., anxiety and depression) through anti-inflammatory and epigenetic mechanisms. All of this would condition the positive effects on health derived from moderate wine consumption. This paper reviews all these topics, which are directly related with the effects of wine polyphenols at both digestive and brain level. Further progresses expected in the coming years in these fields are also discussed.
Keywords:
wine polyphenols; oral and gut microbiota; phenolic metabolites; brain function; neurodegenerative disorders
1. Introduction
In the last decade, the focus of the scientific community on the health properties of wine has been expanded to other human organs systems and, particularly, its interaction with gut microbiota and the consequences for health has gathered their attention. Gut microbiota catabolizes dietary polyphenols and modulates their activity, but the relationship between microbial ecology and host health continues to be a matter of investigation. Indeed, phenolic metabolic fate and mechanisms of action are more complex than previously expected. Inter-individual variations in metabolites' production might also be relevant, although there is little evidence so far.
2. Metabolism and Bioavailability of Wine Polyphenols
Regarding the microbial catabolism of flavonols, this consists of the breakdown of quercetin-3-O-glucoside, which becomes transformed into dihydroquercetin. The product of this reaction will be 3-(3,4-dihydroxyphenyl) propionic acid, which will originate from protocatechuic and 2-(3,4-dihydroxyphenyl) acetic acids. In the case of anthocyanins, the molecule is cleaved into two structures, formed by A- and B-ring, respectively. The B-ring will generate different phenolic acids (benzoic acid derivatives), whereas the A-ring will be transformed into phloroglucinol. Differentially, the catabolism of stilbenes and ellagitannins will produce different compounds than flavan-3-ols, such as dihydroresveratrol or urolithins, respectively.
3. Effects of Wine Polyphenols and Wine-Derived Metabolites at Oral and Intestinal Level
During red wine consumption, there is a long journey before its components can exert any health-promoting effect. As is described above, they must pass through the oral cavity and the gastrointestinal tract, undergoing the actions of microbiota and metabolic reactions, passing cellular barriers, and possibly triggering a biological action. Dietary polyphenols and/or their metabolites may generate beneficial effects at a local level, directly during their passage through the oral cavity and gastrointestinal tract, and at a systemic level, after being absorbed [
8
,
40
].
3.1. Implications in Oral Health
3.2. Interactions with Intestinal Microbiota and Its Functional Metabolic Activity
4. Role of Wine and Polyphenols in Brain Function
4.1. Neurodegenerative Disorders
4.2. Neuroticism as Indicator of Cognitive Disorders: Polyphenols as Genetic Modulators
Mental disorders are behavioral and psychologically altered patterns that are normally associated with a present distress. Neuroticism is a personality trait which reflects the propensity to negative emotions and emotional instability, and it is used as a predictive tool for the most common mental disorders, including anxiety, depression or anhedonia [
94
]. Furthermore, high levels of neuroticism negatively influence the development of physical diseases, such as cardiovascular disease [
95
]. More than 30% of neuroticism cases are derived from altered gene expression [
96
], and a pleiotropic contribution of those genes to the development of neuroticism occurs. Neuroinflammation is also triggered in neuroticism-related events.
One of the diseases directly related to the neuroticism trait and neuroinflammation is depression. Major depressive disorder (MDD) is intimately associated with chronic stress and provokes a continuous activation of the sympathetic nervous, inducing the secretion of monoamines (epinephrine and norepinephrine), and subsequent decrease of acetylcholine. This imbalance increases peripheral levels of pro-inflammatory cytokines, which increases the permeability of blood brain barrier (BBB). Once in the brain, these molecules cause neurotoxic effects affecting the brain regions associated with emotions [
97
]. The immune system is also an essential part of this process, and in consequence, a close relationship between stress, depression and neuroinflammation has been established. However, little is known about the molecular mechanisms through which inflammation can cause depression, or if, on contrary, depression induces inflammation [
98
].
The consideration of polyphenols as natural anti-depressive agents, mainly due to their antioxidant and anti-inflammatory potential, are results of high novelty. Adult hippocampal neurogenesis (AHN) is negatively affected by stress, aging, anxiety and depression, and conversely is enhanced by diet modifications such as polyphenols intake from grape, blueberries and others. This is due to their antioxidant, neuroprotective and cognitive properties. Also, it has been shown that some polyphenols reduce the risk of developing age-related neurodegenerative diseases that reduce reactive oxygen species (ROS) [
99
]. However, other mechanisms of action have been proposed for these compounds, such as interaction with benzodiazepine receptors (i.e., GABA-A), inhibition of monoamine oxidases (MOAs), inhibition of prostaglandins, regulation of adrenocorticotrophic hormone and modulation of gene expression such as BDNF or cAMP response element binding protein (p-CREB) [
99
]. Anxiolytic action has been reported for chlorogenic acid [
100
], epigallocatechin-3-gallate [
101
] and blueberry anthocyanins [
102
], among others, whereas anti-depressant effects have been described for quercetin, kaempferol and trans-resveratrol [
103
,
104
]. These facts are in agreement with the results of Tomic and co-workers, who observed a reduction of depression and anxiety-like behaviors in rats supplemented with berry juice containing cyanidins, proanthocyanidins and chlorogenic acids [
105
]. Also, when Wistar rats subjected to chronic mild stress were fed with resveratrol [
106
], an improvement in oxidative parameters (decrease in lipid peroxidation, and activation of superoxide dismutase) was observed. Also, a restoration of the activation of Akt/mTOR route, previously reported to be diminished in the prefrontal cortex of depressed patients [
107
], was perceived.
4.3. Role of Inflammatory Processes in Stress-Induced Depression: Polyphenols as Preventive Agents
5. Conclusions and Future Directions
Outstanding advances have been made over the last two decades in the knowledge of wine polyphenols bioavailability. The in vitro action of many representative polyphenols has been reported; nevertheless, their beneficial effects and their role in modulating the risk of high-prevalence diseases are difficult to demonstrate due to the wide variability of polyphenol structures and bioactive actions. In particular, the focus of the scientific community on their metabolism by the human body and interindividual variability in the polyphenol gut microbiota metabolism in each metabotype has gathered great attention. An emerging feature of the biological effects of polyphenols is related to their action on the microbial population in the healthy mouth. However, whether effects are because of specific phenolic compounds/metabolites and/or their role on the associated multiple factors involved in these alterations deserves further research.
On the other hand, the results of previously discussed investigations suggest that wine polyphenols can be considered as a potential strategy for the prevention/treatment of mental disorders, since they are able to interact at genetic and protein levels, but more studies are needed in this promising field. Connections between effects at intestinal and brain levels (the known "gut-brain axis") will be particularly investigated for polyphenols. Relevant progress should be expected in the coming years, favored by the use of the omics approaches (especially transcriptomics and metabolomics) in combination with novel computational strategies enabling the identification of potential targets of polyphenols, and thus gaining a better understanding of the therapeutic effects exerted by polyphenols, including their synergistic interactions among themselves or with other dietary bioactive components.
Author Contributions
I.Z.-P., A.E.-F., D.G.d.L., B.B., and M.V.M.-A. have contributed equally to the conceptualization, investigation, writing, review and editing of this manuscript.
Funding
Research in our lab is funded by Grants AGL2015-64522-C2-R (Spanish Ministry of Economy and Competitiveness), ALIBIRD-CM 2013 S2013/ABI-2728 and ALIBIRD-CM 2020 P2018/BAA-4343 (Comunidad de Madrid).
Conflicts of Interest
The authors declare no conflict of interest.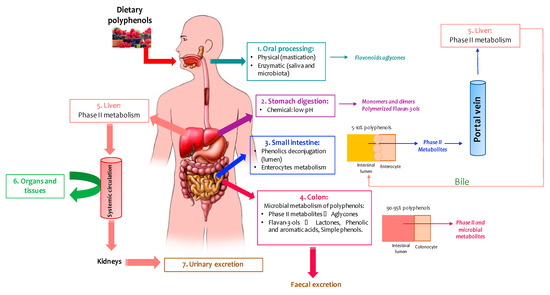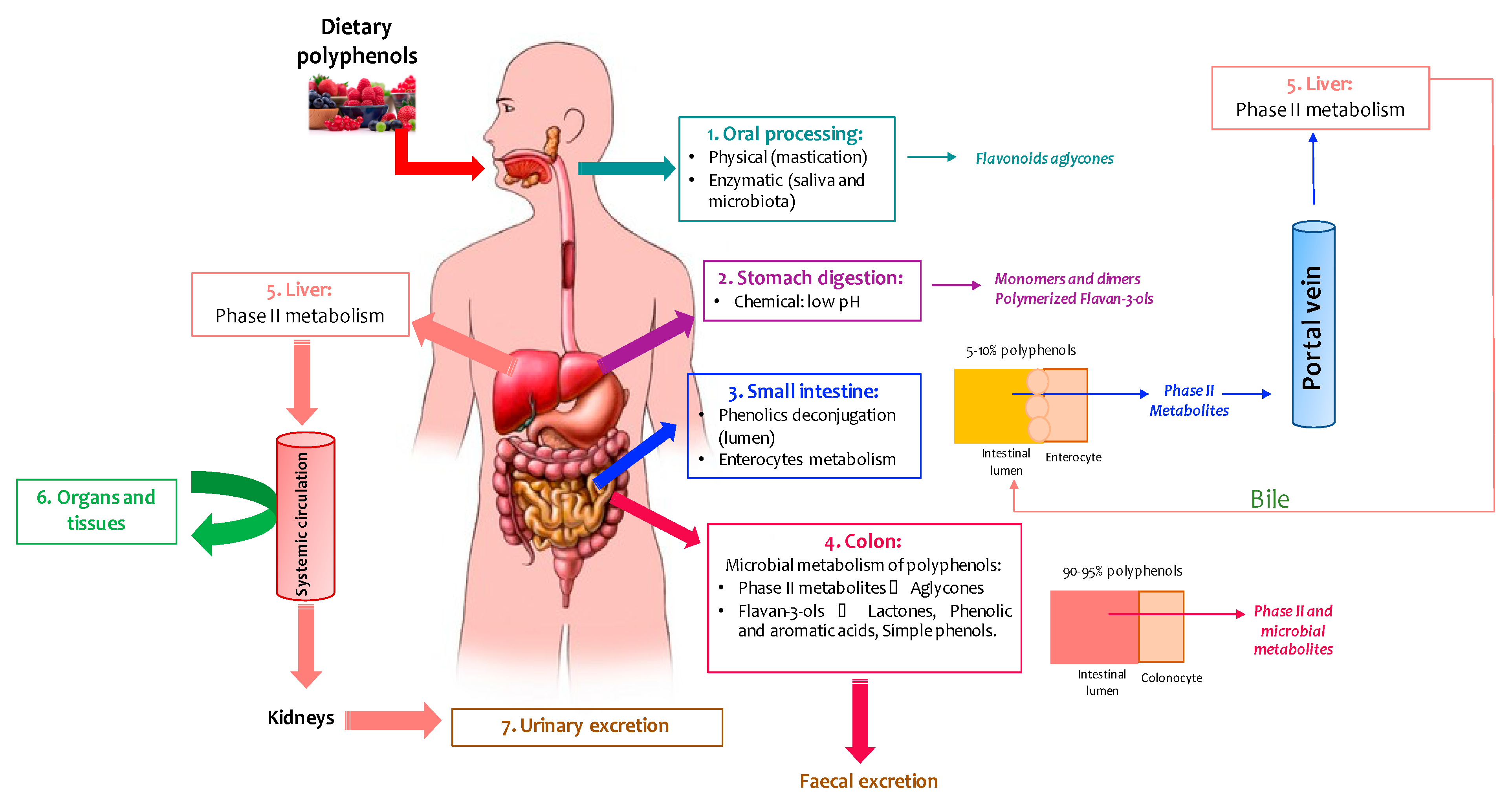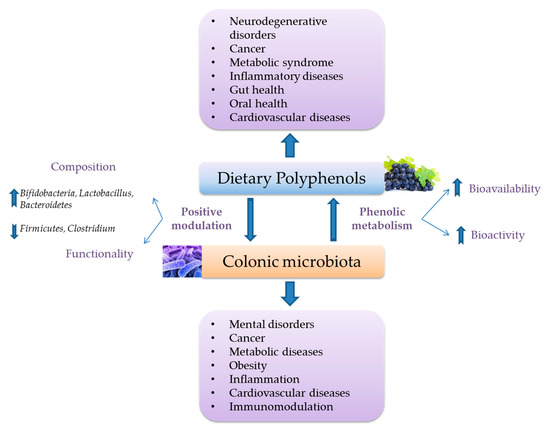 Figure 2. Scheme of the health effects implied from the two-ways interaction between polyphenols and intestinal microbiota.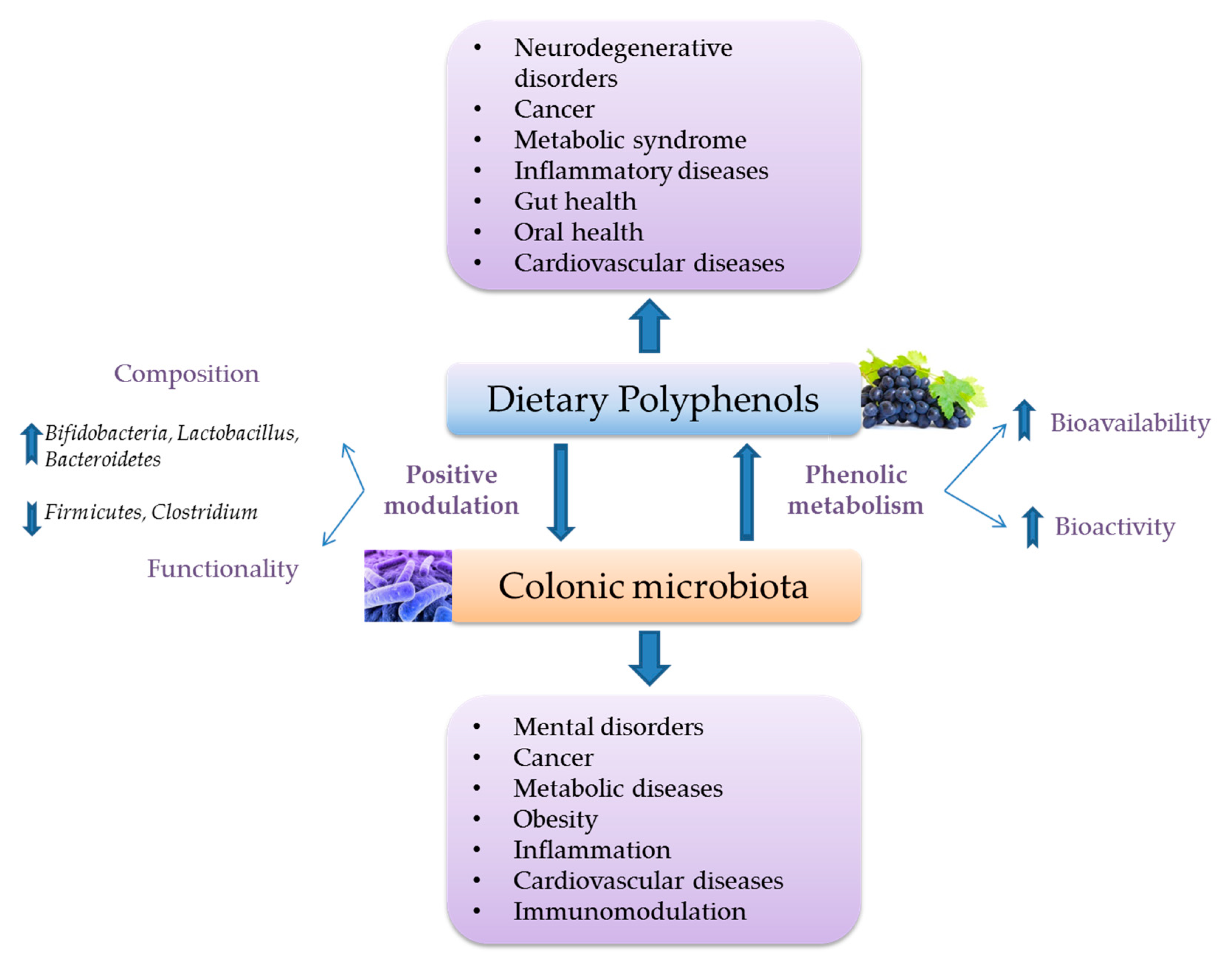 © 2019 by the authors. Licensee MDPI, Basel, Switzerland. This article is an open access article distributed under the terms and conditions of the Creative Commons Attribution (CC BY) license (http://creativecommons.org/licenses/by/4.0/).