Origanum syriacum

Essential Oil Chemical Polymorphism According to Soil Type

1

Unité de Chimie Environnementale et Interactions sur le Vivant (UCEIV), Université du Littoral Côte d'Opale, SFR Condorcet FR CNRS 3417, F-62228 Calais CEDEX, France

2

Oxidative Stress and Antioxidants Group, Doctoral School of Sciences and Technologies, Lebanese University, Hadath B.P. 1500, Lebanon

3

Institut Jean-Pierre Bourgin, Agro Paris Tech, INRA, Université Paris-Saclay, RD 10, Route de Saint-Cyr, 78026 Versailles, France

4

Department of Agricultural and Environmental Sciences, Milan State University, via G. Celoria 2, 20133 Milan, Italy

5

Department of Agricultural Sciences, Holy Spirit University of Kaslik, Kaslik, Jounieh B.P. 446, Lebanon

6

Faculté de Santé Publique, Université La Sagesse, Furn-El-Chebak, Beyrouth B.P. N° 50-501, Lebanon

7

Laboratoire Géoressources, Géosciences et Environnement—Equipe Sedre: Sol, Eau, Déchets et Ressources, Faculté des Sciences, Université Libanaise, Fanar B.P. 1200, Lebanon

*

Authors to whom correspondence should be addressed.

†

Imad El-Alam and Raviella Zgheib are co-first authors.

Received: 7 February 2019 / Revised: 23 February 2019 / Accepted: 27 February 2019 / Published: 5 March 2019
Abstract
Background:
Origanum syriacum
L. is an aromatic plant growing wild in Lebanon. This species is highly used in Lebanese traditional medicine and is a staple food in Lebanese gastronomy. Due to the over-harvesting, this species has become a cultivated crop rather than being collected from the wild. This study aims to evaluate the chemical polymorphism according to soil type. Methods: Plant samples were cultivated in different soil types including manure, potting mix, professional agriculture mixture, vegetable compost, nursery soils, and natural agricultural soil inoculated with arbuscular mycorrhizal fungi. After 16 weeks of culture, fresh shoot biomass was measured. Root colonization rate was evaluated and foliar biomasses were used for essential oil (EO) extraction. EO yield was calculated and the identification of the main chemical compounds of EO samples was performed by gas chromatography (GC) and gas chromatography–mass spectrometry (GC/MS). Results: Our findings revealed that the soil type affects the
O. syriacum
chemotype. Indeed, the EO samples could be divided into two groups: thymol chemotype group including manure and vegetable compost soils and non-sterilized non-inoculated EO samples, and the thymol/carvacrol chemotype including potting mix, professional agriculture mixture, nursery mixture, sterilized non-inoculated, non-sterilized inoculated, and sterilized inoculated EO samples. These results showed that manure and vegetable compost soils promoted thymol synthesis, whereas potting mix, professional agriculture mixture, and nursery mixture soils were thymol/carvacrol chemotype. Moreover, mycorrhizal inoculation increased carvacrol and reduced thymol productions in comparison to non-inoculated conditions. Additionally, mycorrhizal inoculation showed significant enhancements in mycorrhizal rates and shoot biomass production with respect to the non-sterilized soil. Conclusions: These variations confirm the influence of the edaphic conditions on the chemical components biosynthesis pathways of oregano plants. The results of this investigation could be used for determining optimal soil type, leading to a good quality herb production.
View Full-Text
►

▼

Figures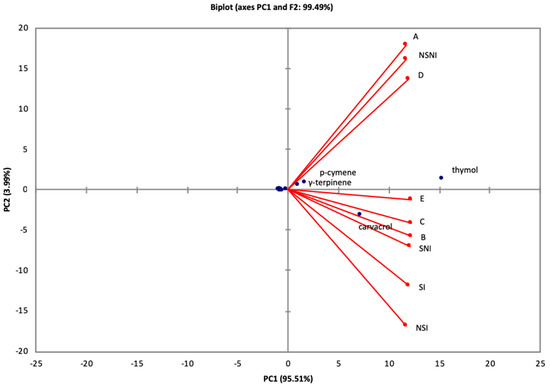 Figure 1
This is an open access article distributed under the
Creative Commons Attribution License
which permits unrestricted use, distribution, and reproduction in any medium, provided the original work is properly cited (CC BY 4.0).

Share & Cite This Article
MDPI and ACS Style
El-Alam, I.; Zgheib, R.; Iriti, M.; El Beyrouthy, M.; Hattouny, P.; Verdin, A.; Fontaine, J.; Chahine, R.; Lounès-Hadj Sahraoui, A.; Makhlouf, H. Origanum syriacum Essential Oil Chemical Polymorphism According to Soil Type. Foods 2019, 8, 90.
Note that from the first issue of 2016, MDPI journals use article numbers instead of page numbers. See further details here.
Related Articles
Comments
[Return to top]