Round Faces Are Associated with Sweet Foods: The Role of Crossmodal Correspondence in Social Perception
1
Institute of Development, Aging and Cancer, Tohoku University, Sendai 980-8575, Japan
2
Japan Society for the Promotion of Science, Tokyo 102-0083, Japan
3
Smart-Aging Research Center, Tohoku University, Sendai 980-8575, Japan
4
International Research Institute of Disaster Science, Tohoku University, Sendai 980-8575, Japan
*
Author to whom correspondence should be addressed.
Received: 14 February 2019 / Revised: 13 March 2019 / Accepted: 17 March 2019 / Published: 19 March 2019
Abstract
In retail settings, social perception of other peoples' preferences is fundamental to successful interpersonal interactions (e.g., product recommendations, gift-giving). This type of perception must be made with little information, very often based solely on facial cues. Although people are capable of accurately predicting others' preferences from facial cues, we do not yet know how such inferences are made by crossmodal correspondence (arbitrary sensory associations) between facial cues and inferred attributes. The crossmodal correspondence literature implies the existence of sensory associations between shapes and tastes, and people consistently match roundness and angularity to sweet and sour foods, respectively. Given that peoples' faces have dimensions characterized by roundness and angularity, it may be plausible that people infer others' preferences by relying on the correspondence between facial roundness and taste. Based on a crossmodal correspondence framework, this study aimed to reveal the role of shape–taste correspondences in social perception. We investigated whether Japanese participants infer others' taste (sweet/sour) preferences based on facial shapes (roundness/angularity). The results showed that participants reliably inferred that round-faced (vs. angular-faced) individuals preferred sweet foods (Study 1). Round-faced individuals and sweet foods were well matched, and the matching mediated the inference of other person's preferences (Study 2). An association between facial roundness and inference of sweet taste preferences was observed in more natural faces, and perceived obesity mediated this association (Study 3). These findings advance the applicability of crossmodal correspondences in social perception, and imply the pervasiveness of prejudicial bias in the marketplace.
View Full-Text
►

▼

Figures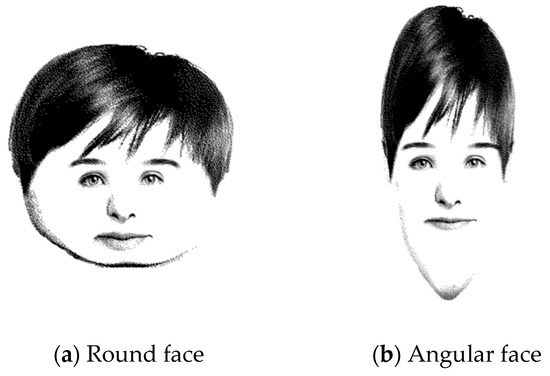 Figure 1
This is an open access article distributed under the
Creative Commons Attribution License
which permits unrestricted use, distribution, and reproduction in any medium, provided the original work is properly cited (CC BY 4.0).

Share & Cite This Article
MDPI and ACS Style
Motoki, K.; Saito, T.; Nouchi, R.; Kawashima, R.; Sugiura, M. Round Faces Are Associated with Sweet Foods: The Role of Crossmodal Correspondence in Social Perception. Foods 2019, 8, 103.
Note that from the first issue of 2016, MDPI journals use article numbers instead of page numbers. See further details here.
Related Articles
Comments
[Return to top]