Swiss Cheese Flavor Variability Based on Correlations of Volatile Flavor Compounds, Descriptive Sensory Attributes, and Consumer Preference
Department of Food Science and Technology, The Ohio State University, 2015 Fyffe Road, Columbus, OH 43210, USA
*
Authors to whom correspondence should be addressed.
Received: 28 January 2019 / Revised: 13 February 2019 / Accepted: 14 February 2019 / Published: 19 February 2019
Abstract
Minimizing flavor variation in cheeses without perceived flavor defects in order to produce a consistent product is a challenge in the Swiss cheese industry. This study evaluated flavor variability based on correlations of volatile flavor compounds and sensory attributes. The headspace concentrations of volatile compounds were analyzed using selected ion flow tube-mass spectrometry (SIFT-MS), while the sensory attributes were evaluated using descriptive sensory analysis and consumer testing. The important discriminating volatile compounds were classified into five functional groups: sulfur-containing compounds (methyl mercaptan, hydrogen sulfide, dimethyl disulfide, dimethyl trisulfide, and methional), organic acids (propanoic acid, acetic acid, 3-methylbutanoic acid), aldehydes (3-methylbutanal, butanal, and 2-methylpropanal), a ketone (2,3-butanedione), and an ester (ethyl hexanoate). Correlations were identified among volatile compounds and between volatile compounds and sensory attributes. Only a small number of volatile compounds strongly correlated positively or negatively to a specific sensory attribute. Nutty malty, milkfat lactone, salty, umami, and sweet positively correlated to overall liking and nutty flavor liking of Swiss cheese. Evaluation of cheese flavor using correlations between volatile compounds and sensory attributes provided further understanding of the complexity of flavor and flavor variability among Swiss cheeses manufactured from different factories that can be used to improve flavor consistency of Swiss cheeses.
View Full-Text
►

▼

Figures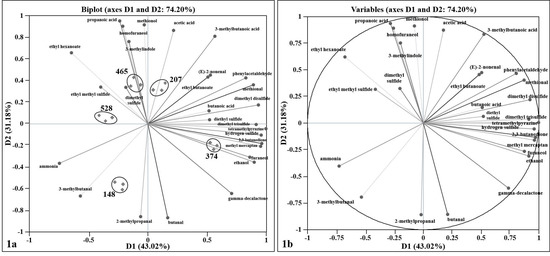 Figure 1
This is an open access article distributed under the
Creative Commons Attribution License
which permits unrestricted use, distribution, and reproduction in any medium, provided the original work is properly cited (CC BY 4.0).

Share & Cite This Article
MDPI and ACS Style
Castada, H.Z.; Hanas, K.; Barringer, S.A. Swiss Cheese Flavor Variability Based on Correlations of Volatile Flavor Compounds, Descriptive Sensory Attributes, and Consumer Preference. Foods 2019, 8, 78.
Note that from the first issue of 2016, MDPI journals use article numbers instead of page numbers. See further details here.
Related Articles
Comments
[Return to top]