Inkjet Printed Interdigitated Biosensor for Easy and Rapid Detection of Bacteriophage Contamination: A Preliminary Study for Milk Processing Control Applications
1
Department of Information Engineering, University of Padova, via G. Gradenigo 6b, 35131 Padova, Italy
2
Microbion srl, via Monte Carega 22, 37057 Verona, Italy
3
ARC–Centro Ricerche Applicate srl, via J. Da Montagnana 49, 35132 Padova, Italy
4
Department of Biotechnology, University of Verona, Strada Le Grazie 15, 37134 Verona, Italy
*
Author to whom correspondence should be addressed.
Received: 29 November 2018 / Revised: 7 February 2019 / Accepted: 8 February 2019 / Published: 18 February 2019
Abstract
Bacteriophages are responsible for significant material and time losses in the dairy industry. This because these viruses infect the selected lactic starter cultures used for milk fermentation, i.e., the first stage toward cheese production. Standard detection techniques are time- and labor-consuming, causing huge costs related to production plant sanitation and product wasting. A new type of biosensor for early detection of bacteriophage contamination is highly demanded by the milk processing market, and inkjet-printed electrochemical sensors could be the answer. Inkjet printing is a well-known technology that has been revisited in recent years, using silver nanoparticle (AgNP) based inks for low-cost and easy fabrication of sensing and biosensing systems on flexible and eco-compatible substrates. In this research, we studied inkjet printing for the manufacturing of both interdigitated electrodes arrays (IDEAs), and a versatile system to monitor bacterial cultures by electrochemical impedance spectroscopy (EIS). In particular, we studied this biosensing system for the detection of bacteriophages by comparing its performance with standard microbiological methods. We performed electrical and morphological characterizations of the devices produced with a consumer-use inkjet printer with commercial AgNPs ink on flexible substrates, such as office paper, polyethylene (PET), and photo paper. We used light microscopy optical analysis, profilometry, atomic force microscopy (AFM), and scanning electron microscopy (SEM) imaging to define the objects resolution, their real dimensions, and thickness. We also investigated the devices' conductivity and layout, by EIS measurements with a standard buffer solution, i.e., phosphate buffered saline (PBS). Finally, we tested our system by monitoring
Lactococcus lactis
cultures and bacteriophage infection. We compared the results to those obtained by two standard microbiological methods in terms of response time, proving that our technique requires less than half the time of other methods and no specialized personnel.
View Full-Text
►

▼

Figures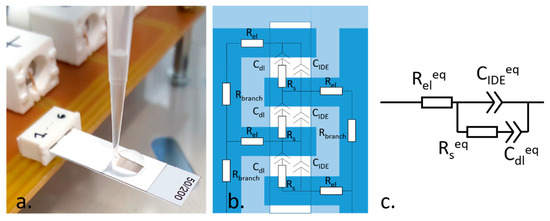 Figure 1
This is an open access article distributed under the
Creative Commons Attribution License
which permits unrestricted use, distribution, and reproduction in any medium, provided the original work is properly cited (CC BY 4.0).

Share & Cite This Article
MDPI and ACS Style
Rosati, G.; Cunego, A.; Fracchetti, F.; Del Casale, A.; Scaramuzza, M.; De Toni, A.; Torriani, S.; Paccagnella, A. Inkjet Printed Interdigitated Biosensor for Easy and Rapid Detection of Bacteriophage Contamination: A Preliminary Study for Milk Processing Control Applications. Chemosensors 2019, 7, 8.
Note that from the first issue of 2016, MDPI journals use article numbers instead of page numbers. See further details here.
Related Articles
Comments
[Return to top]