Open Access This article is
freely available
re-usable
Article
Raman Spectroscopy as an Assay to Disentangle Zinc Oxide Carbon Nanotube Composites for Optimized Uric Acid Detection
Chemistry Department, Middle Tennessee State University, Murfreesboro, TN 37130, USA
*
Author to whom correspondence should be addressed.
Received: 26 October 2018 / Accepted: 6 December 2018 / Published: 12 December 2018
Abstract
:
Refluxed zinc oxide (ZnO) nanoparticles (NPs) were prepared and attached to carboxylic acid functionalized multi-walled carbon nanotubes (COOH-MWNTs) via sonication. Practical optimization of electrocatalysts using sonication to disentangle a carbon nanotube composite for monitoring uric acid (UA) is shown. Monitoring UA is important for the management of medical disorders. Selection of sonication time is a crucial step in producing the desired composite. We report, for the first time, the practical use of Raman spectroscopy to tune the sonication involved in tethering ZnO NPs to the multi-walled carbon nanotube (MWNT) surface. Maximum current for detecting UA, using chronoamperometry and cyclic voltammetry, correlated with the highest sp2-hybridized carbon signal, as seen in the integrated Raman G band peak areas denoting maximum COOH-MWNT disentanglement. An array of ZnO/COOH-MWNT composites were prepared ranging from 60 to 240 min sonication times. Optimum sonication (150 min) corresponded with both maximum measured current and MWNT disentanglement. The sensor was able to quantitatively and selectively measure UA at clinically relevant concentrations (100–900 μM) with rapid current response time (< 5 s).
Keywords:
Raman spectroscopy; electrochemical sensing; zinc oxide nanoparticles; multi-walled carbon nanotubes; chronoamperometry; cyclic voltammetry
1. Introduction
Uric acid (UA) is a byproduct of purine metabolism and its monitoring is important for management of medical disorders. Its overproduction, that is, hyperuricemia, often signals kidney dysfunction. Elevated serum UA concentrations have been strongly linked to hypertension [
1
,
2
], coronary heart disease [
2
], kidney stones [
3
], gout [
4
], Lesch-Nyhan syndrome [
5
], cardiovascular and kidney disease via impairment of endothelial integrity and function [
2
,
6
,
7
], and is one of the most reliable predictors of diabetes. An increase in UA levels typically precedes the development of both insulin resistance and Type 2 diabetes [
7
]. It has been shown that lowering uric acid in blood serum to levels at least below 6 mg/dL results in the disappearance of the clinical features of gout [
8
,
9
]. Gout patients, whose conditions result from elevated UA in blood [
9
,
10
], are susceptible to cardiovascular risk factors [
2
,
10
,
11
,
12
].
Conventional UA assaying methods, for example, liquid chromatography mass spectrometry (LC-MS) and high performance liquid chromatography (HPLC) [
13
], often require time-consuming analysis of blood and urine, during which many of these pathologies can escape diagnosis. Hence, improved methods for rapid, accurate UA concentration monitoring are needed. The development of electrochemical electrode composites for improved UA sensing is an active area of research [
14
,
15
,
16
,
17
,
18
,
19
,
20
]. The state-of-the-art UA sensing composite employs precious metals in its fabrication [
21
]. Due to limitations of resources, sensors employing earth-rich materials that can be facilely fabricated are desirable. One such type of material is zinc oxide (ZnO). ZnO is an n-type semiconductor. Because of its wide band gap (3.37 eV), relatively high conductivity, excitation binding energy (60 eV), and high breakdown strength, the material is an attractive candidate for biosensing applications [
22
,
23
], and has been shown to be effective in the quantitative detection of UA. A detailed review of UA sensors is given elsewhere [
24
].
Carbon nanotube composites offer new avenues for practical electrocatalyst preparation. Multi-walled carbon nanotubes (MWNTs) have been shown to serve as effective supports for tethering electrocatalytically active nanoparticles (NPs), thereby improving even distribution for a host of electrochemical sensing applications [
14
]. Cavitation offered by sonication is often employed to maximize the even distribution of electrocatalytically active NPs [
25
,
26
]. A challenge in optimizing carbon nanotube based electrocatalysts is controlling the degree of dispersion and uniformity of the tethered ZnO NPs to maximize redox signal. The composite's relatively less-defined morphology as a result of carbon nanotube entanglement affects the degree of exposed electroactive surface area. Too little sonication and the NPs sparsely attach to the MWNT sidewalls and remain insufficiently distributed. Excessive sonication results in surface damage to carboxylic acid (COOH) acid moiety tethering points that would result in agglomeration of the NPs, leading to reduced electrocatalytic activity [
27
]. Our laboratory has applied this same principle of optimized sonication for tethering ZnO NPs for various analyte sensing applications [
16
,
28
].
An overlooked variable for material preparation is adjusting the MWNT surface entanglement itself, which can be achieved via adjusting sonication time. We show in this report, for the first time, the utility of Raman spectroscopy for assaying various ZnO/COOH-MWNT composites produced by varying sonication times, in particular, to optimize the sensitivity of the ZnO/COOH-MWNT composite for detecting UA. Rapid D-to-G band ratio monitoring permits facile identification of the optimum sonication time for electrocomposite preparation to achieve maximum sensing performance. This monitoring technique may prove to be universally applicable to optimize a host of electrochemical sensors (to detect and measure any analyte) that employ the attachment of nanoparticles to COOH-functionalized carbon nanotube surfaces for its fabrication. In this study, the Raman G band integrated peak areas are used to quantify the degree of exposed sp2-hybridized carbon, denoting carbon nanotube disentanglement affecting the electrocatalyst's sensitivity for UA sensing.
2. Materials and Methods
2.1. Materials
Bamboo structure COOH-MWNTs (95% purity, 30 nm diam) were purchased from Nanolab, Inc. (Waltham, MA, USA), and were used as received. Reagent grade (99% purity) UA, phosphate buffer solutions (PBS, pH = 7.0), dopamine (DA), acetaminophen (AP), zinc nitrate hexahydrate (98% purity), L-ascorbic acid (AA) (99%) and folic acid (FA) were all purchased from Sigma-Aldrich (St. Louis, MO, USA). Hydrogen peroxide (H2O2) (30 wt. %) and NaOH were purchased from Fischer Scientific (Fair Lawn, NJ, USA). Absolute anhydrous ethyl alcohol (AAEA) was obtained from Pharmco-AAPER (Shelbyville, KY, USA). Nafion™ binder was purchased from Ion Power, Inc. (New Castle, DE, USA). All solutions were prepared using Millipore water (18 MΩ·cm).
2.2. Nanocomposite Synthesis
A series of nanocomposites incorporated onto glassy carbon electrode (GCE) surfaces for electrochemical analysis of UA via Nafion film were synthesized using two steps: (i) refluxed synthesis of ZnO nanostructures, followed by (ii) attachment to COOH-MWNTs. Refluxed ZnO NPs were synthesized following a procedure developed by Fang et al. [
29
]. A 20-mL volume of 1 M NaOH was added into a round bottle flask. A separatory funnel containing 0.5 M of 20 mL of Zn(NO
3
)
2
·6H
2
O was attached to the flask. The NaOH solution was heated to 100 °C, while Zn(NO
3
)
2
·6H
2
O was added dropwise for 60 min under continuous stirring (with a magnetic stirrer) under inert N
2
atmosphere to obtain the ZnO NPs. Refluxing under these conditions continued for an additional 2 h at 100 °C. After obtaining white precipitation, ZnO was filtered and washed with Millipore water. After several washings, the obtained NPs were dried in a desiccator overnight. The ZnO NPs were dried in an oven for one hour at 65 °C. To fabricate the ZnO/COOH-MWNT electrocatalyst composite, 2.0 mg of the refluxed ZnO and 2.0 mg of the COOH-MWNTs in 1.0 mL AAEA solvent were placed in a polyethylene tube and sonicated at preselected times. An array of ZnO/COOH-MWNT composites were produced, varying sonication times at 60, 90, 120, 150, 165, 180 and 240 min, for each electrocatalyst. A direct reduction of electroactive surface area was measured with reduced G band intensity to validate this correlation (vide infra). The resulting ZnO nanostructures were tethered to the COOH groups as verified by the disappearance of the carboxylate symmetric and asymmetric peaks in the ATR-IR [
16
], also observed in our laboratory with other NPs [
27
]. Each ZnO/COOH-MWNT nanocomposite was drop-casted onto glassy carbon electrodes (GCE), 5 mm in diam. A 10-μL colloidal aliquot of the composite as a colloidal suspension was pipetted onto the GCE surface. The GCE was then placed into the oven for 15 min at 80 °C. After drying, a second 10-μL aliquot of 2% Nafion solution was added on top, and dried in an oven at 80 °C for additional 15 min to obtain the Nafion/ZnO/COOH-MWNTs/GCE sensor.
2.3. Characterization
Cyclic voltammetry (CV) and chronoamperometry (CA) were performed using WaveNano™ potentiostat software (Pine Instruments, Inc.; Durham, NC, USA). Electrochemical experiments were performed in a 3-electrode electrochemical cell system consisting of a Pt wire auxiliary electrode, an Ag/AgCl (3.5 M KCl) reference electrode, and a glassy carbon electrode modified with a ZnO/COOH-MWNT composite as the working electrode. The electrochemistry medium was PBS (pH = 7.0). All experiments were performed in a deoxygenated electrolyte solution prepared by bubbling 99.9% purity N
2
gas flow (Air Gas Products, Radnor, PA, USA) through the solution for 15 min prior to each measurement. The solution was bubbled with N
2
at room temperature (22 ± 1 °C) inside a copper-grid Faraday cage. CVs were carried out between potentials ranging from −1.00 to +1.00 V at a scan rate of 50 mV·s
−1
. Raman spectroscopy was performed using an Enwave Optronics ProRaman-L spectrometer with a 500 mW Class 3B laser (λ = 785 nm). Raman samples were prepared by pipetting colloidal suspensions of the ZnO/COOH-MWNTs in absolute anhydrous ethanol onto Si(100) wafers. X-ray photoelectron spectroscopy (XPS) was carried out using a Perkin-Elmer PHI 560 spectrometer with a double-pass cylindrical mirror analyzer operated at 225 W and 13 kV using a Mg Kα (hν = 1253.6 eV) anode, with narrow scans acquired using a 50 eV pass energy. The optimized composite sample was analyzed as a solid applied to double-sided electrically conductive tape (Ted Pella Inc., Redding, CA, USA), which was outgassed via a turbo-pumped antechamber. TEM was carried out using a Hitachi H-7650 microscope operated at 100 kV, applying the colloidal samples to a 200-mesh copper grids. The procedure of isoelectric point measurements, involving pH measurements with a spear-tipped electrode, have been described elsewhere for experiments involving carbon nanomaterial composites [
30
,
31
,
32
,
33
,
34
,
35
]. Briefly, pH solutions varying in values from 1 to 12 were prepared, to which 2.0 mg of the solid material were introduced. After 16 h equilibration periods, the final pH was measured, resulting in observed plateaus in the initial versus final pH plots that denote the isoelectric points for each solid. Plots of initial versus final pH revealed plateaus, denoting the point-of-zero (PZC) charge of the electrocatalyst.
3. Results and Discussion
A suggested preparation protocol would be to Raman scan an array of ZnO/COOH-MWNT composites prepared at different sonication times and the one yielding the largest G band would denote the optimum prepared composite for UA sensing. This approach of employing Raman analysis for electrocatalysis may well be universal for preparing various sensors for detecting and quantifying a host of other similar, pharmacologically related analytes.
Supplementary Materials
The following are available online at
https://www.mdpi.com/2227-9040/6/4/65/s1
, Figure S1: CV of 10 mM UA using only ZnO NPs, Figure S2: CVs and RS plot of 10 mM UA with 60 min composite, Figure S3: CVs and RS plot of 10 mM UA with 90 min composite, Figure S4: CVs and RS plot of 10 mM UA with 120 min composite, Figure S5: CVs and RS plot of 10 mM UA with 150 min composite, Figure S6: CVs and RS plot of 10 mM UA with 165 min composite, Figure S7: CVs and RS plot of 10 mM UA with 180 min refluxed composite, Figure S8: CVs and RS plot of 10 mM UA with 240 min composite.
Author Contributions
Conceptualization, C.C.C.; Data Curation, S.C.D., T.D. and R.R.P.; Software, C.C.C.; Validation, S.C.D. and R.R.P.; Formal Analysis, S.C.D., T.D. and C.C.C.; Investigation, S.C.D.; Resources, C.C.C.; Writing—Original Draft Preparation, S.C.D.; Writing—Review and Editing, S.C.D., R.R.P., T.D. and C.C.; Visualization, R.R.P. and C.C.C.; Supervision, C.C.C.; Project Administration, C.C.C.; Funding Acquisition, C.C.C.
Funding
This research received no external funding.
Acknowledgments
We gratefully acknowledge support for this work from the Faculty of Research and Creative Activity Committee (FRCAC), the Molecular Biosciences (MOBI) PhD program and the Office of Research Services (ORS) of Middle Tennessee State University. We thank Joyce Miller for assistance in obtaining the TEM data. S.C.D. thanks Mulugeta B. Wayu for helpful discussions that inspired this work.
Conflicts of Interest
The authors declare no conflict of interest.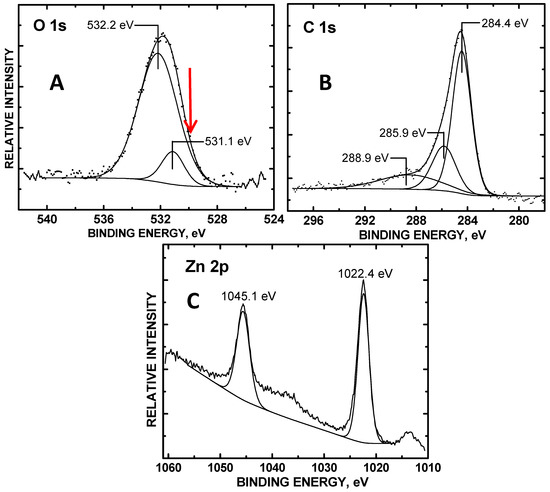 Figure 1. XPS narrow scans of the (A) O 1s, (B) C 1s, and (C) Zn 2p orbitals of the 150 sonicated refluxed ZnO/carboxylic acid functionalized multi-walled carbon nanotube (COOH-MWNT) composite. The red arrow in (A) denotes the BE position of ZnO oxidation state.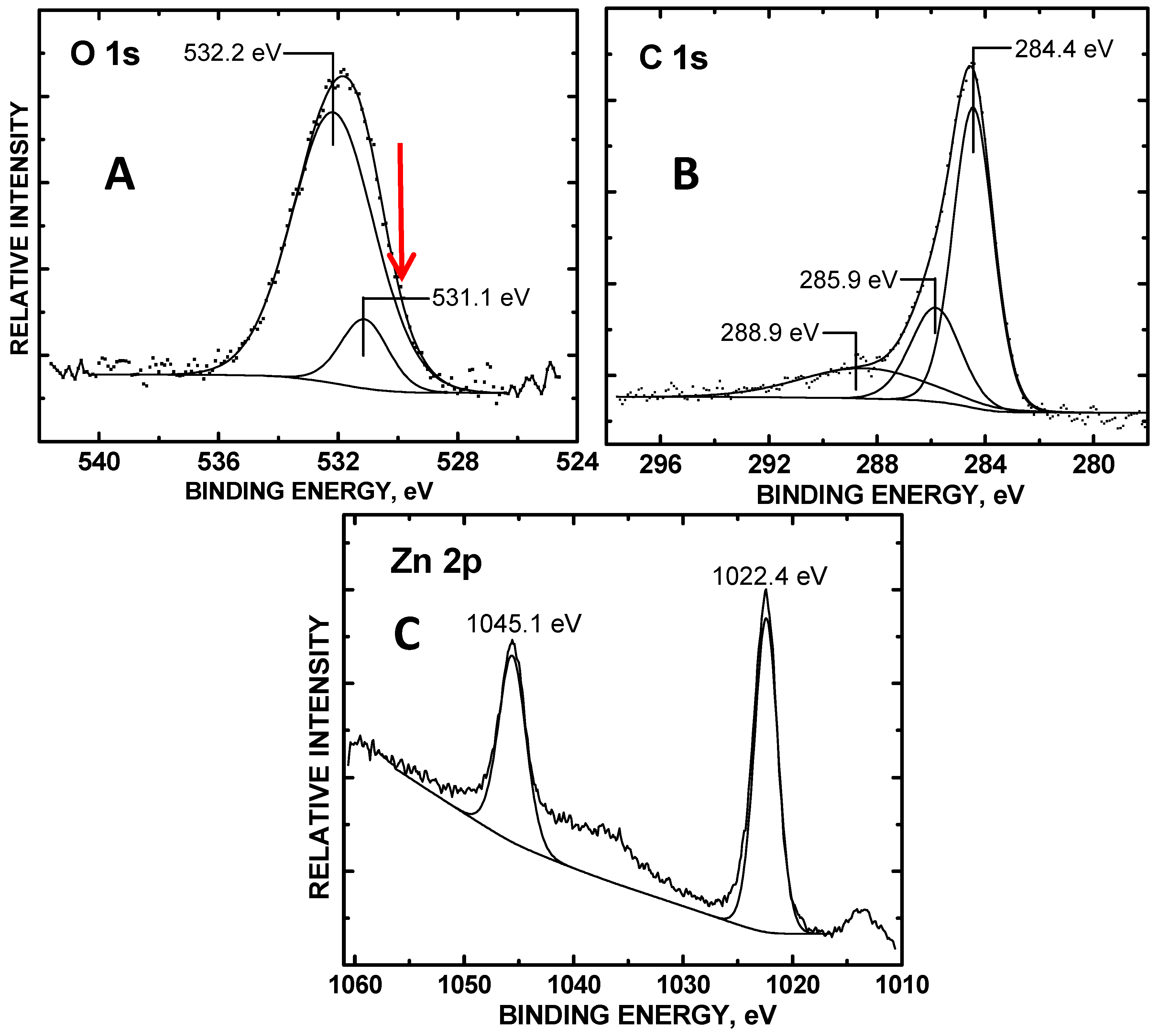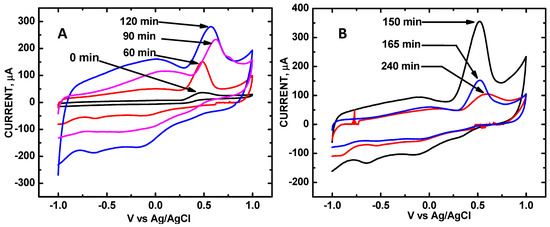 Figure 2. Cyclic voltammetry (CV) of 10 mM UA in PBS (pH = 7.0) from ZnO/COOH-MWNT composites produced at sonication times of (A) 0 (control), 60, 90, and 120 min; and (B) 150, 165, and 240 min. Scan rate: 50 mV·s−1.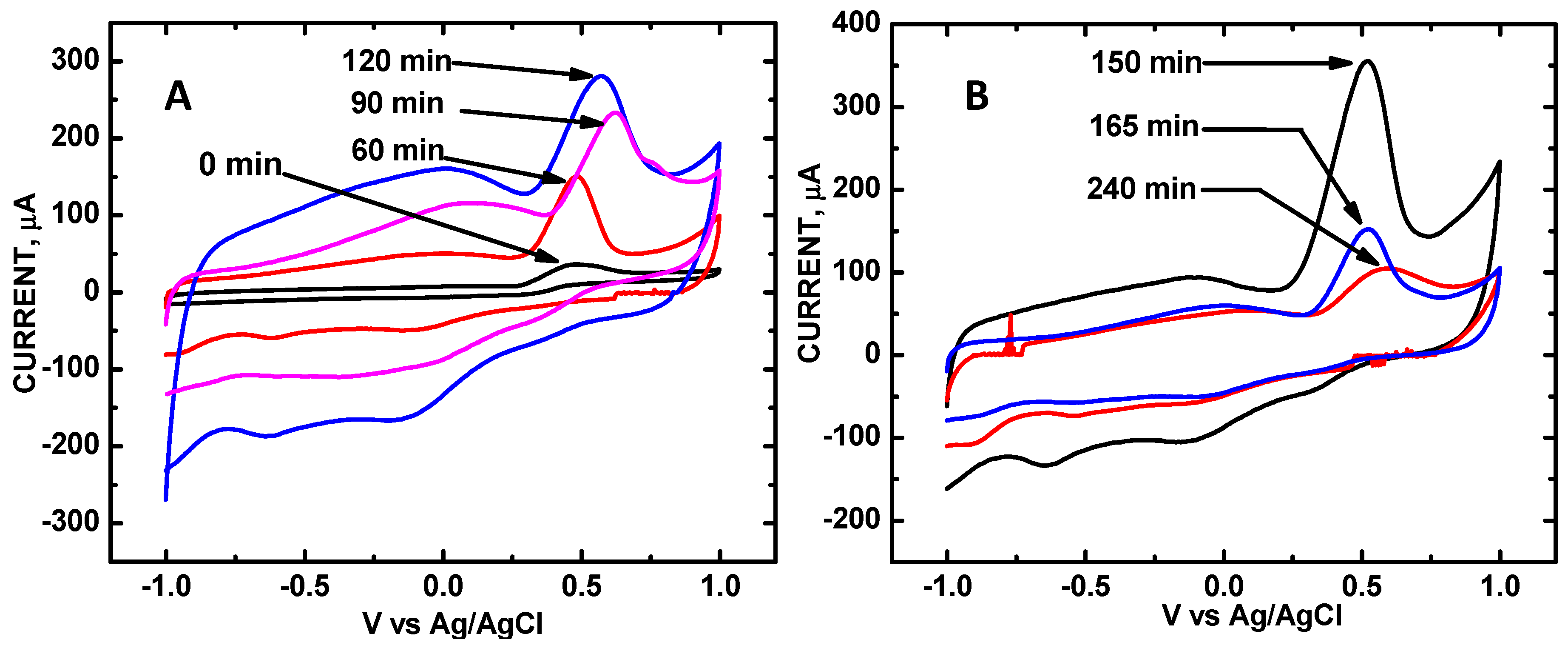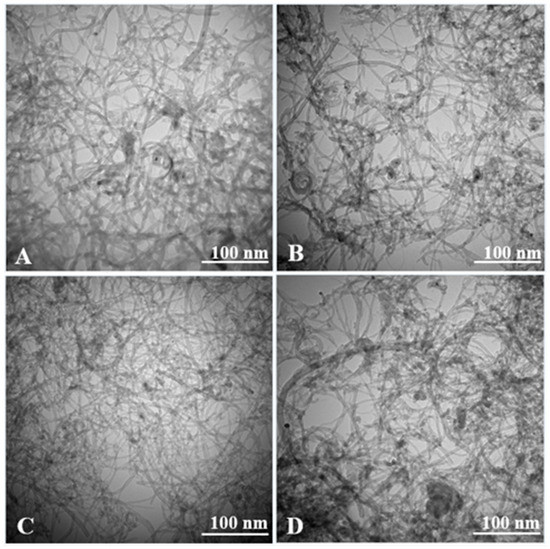 Figure 3. TEM images of refluxed ZnO/COOH-MWNTs nanocomposites produced at (A) 60, (B) 120, (C) 150, and (D) 165 min sonication times. The scale bar denotes a 100 nm length.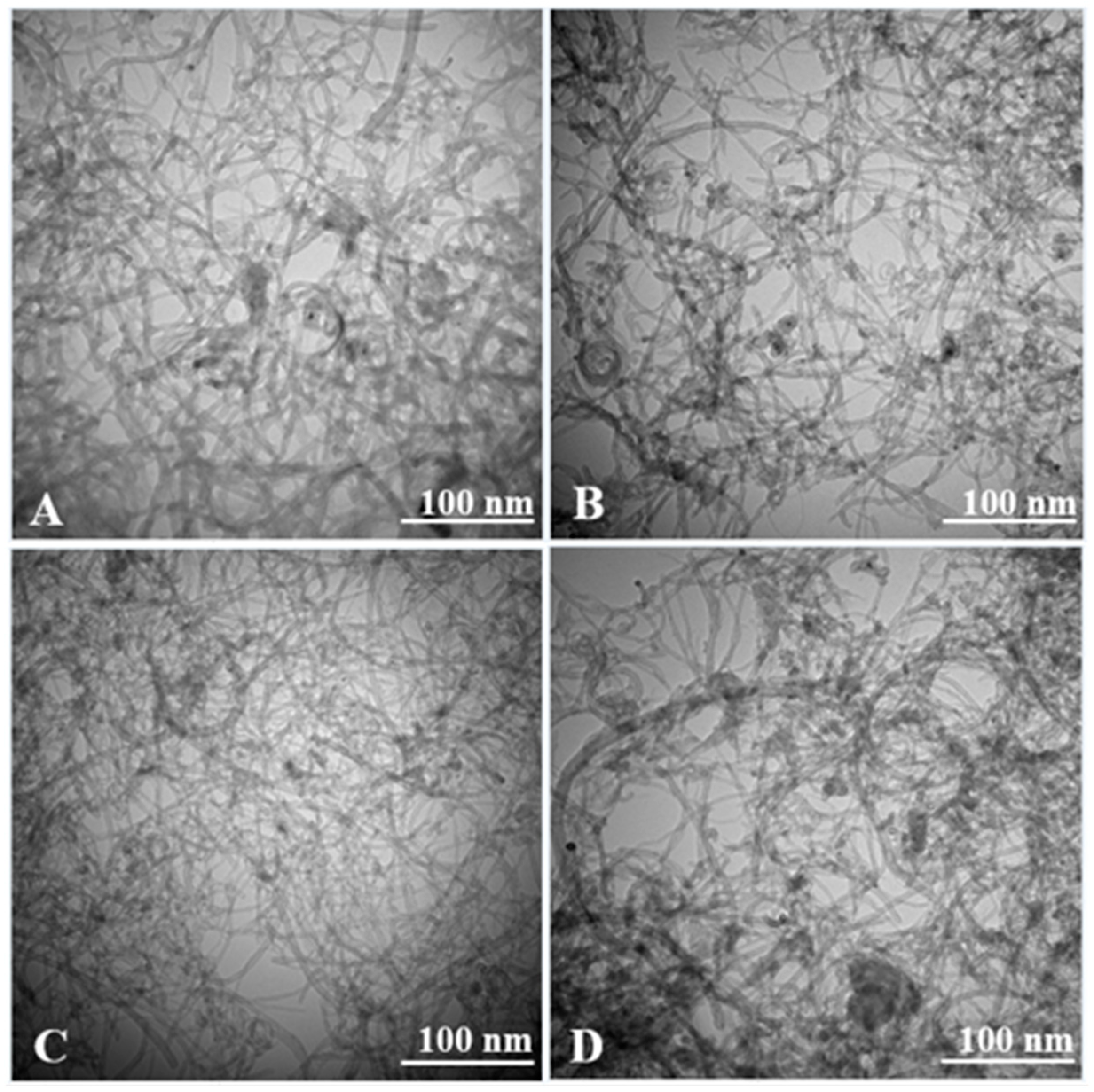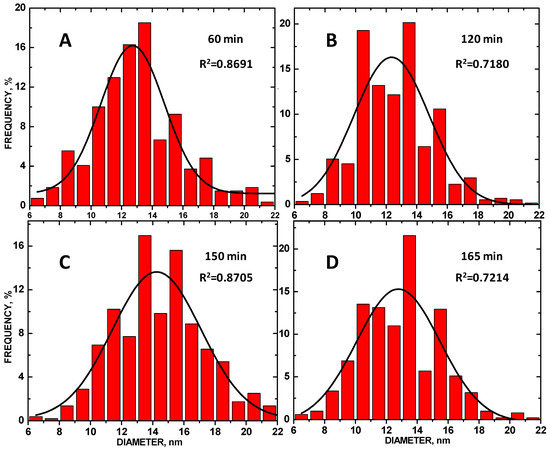 Figure 4. Size histograms of tethered ZnO NPs tethered to the COOH-MWNT surface of the MWNTs, produced at (A) 60, (B) 120 min, (C) 150, and (D) 165 min sonication times.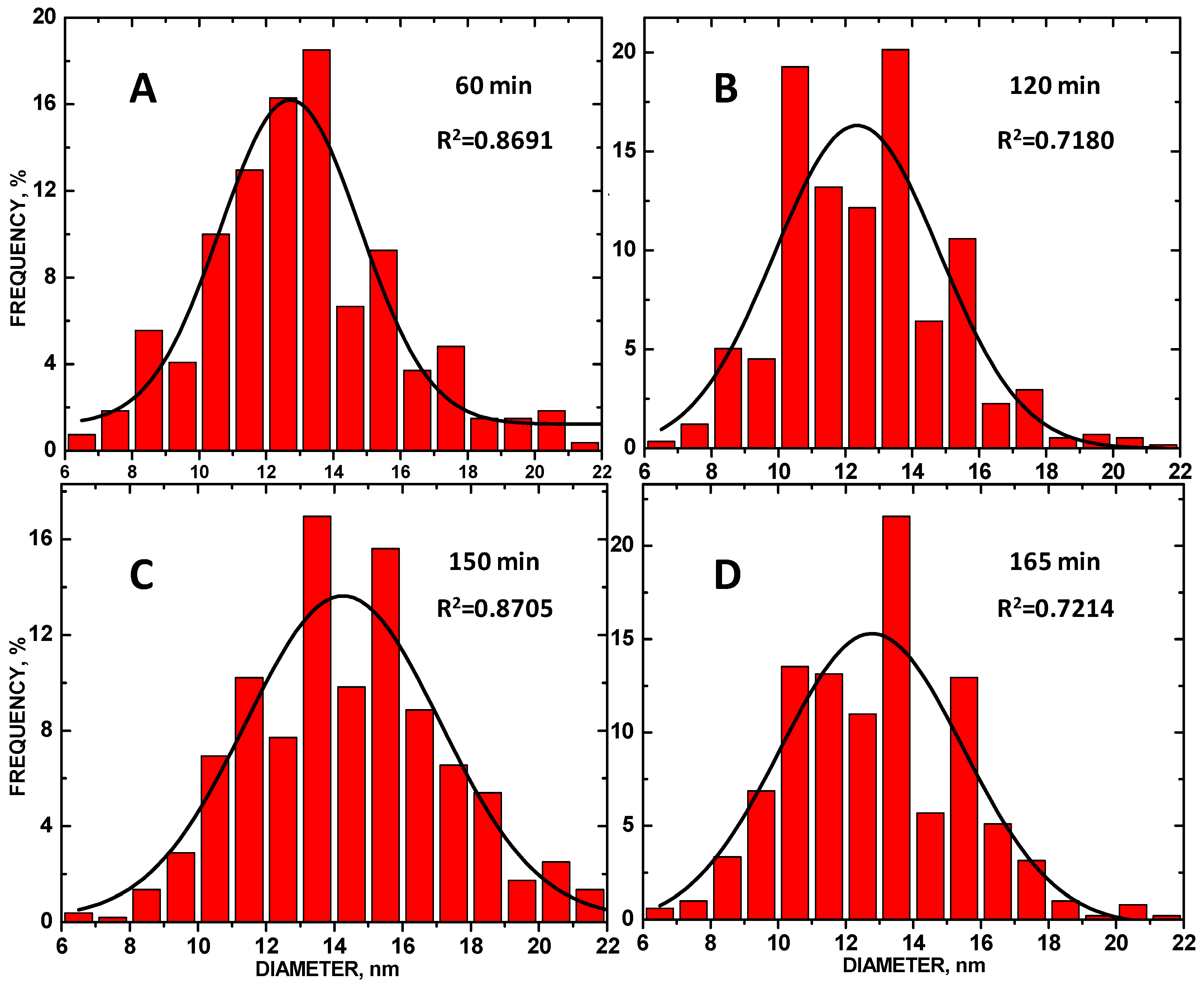 Figure 5. (A) Stack plot of Raman (raw) data with offset for 60, 120, 150 and 165 min showing diamond D and G bands, respectively; (B) potentiostat current of 10 mM UA in PBS (pH = 7.0) from CVs at +0.577 V vs. Ag/AgCl (left-hand axis) and Raman G band integrated peak area (right-hand axis).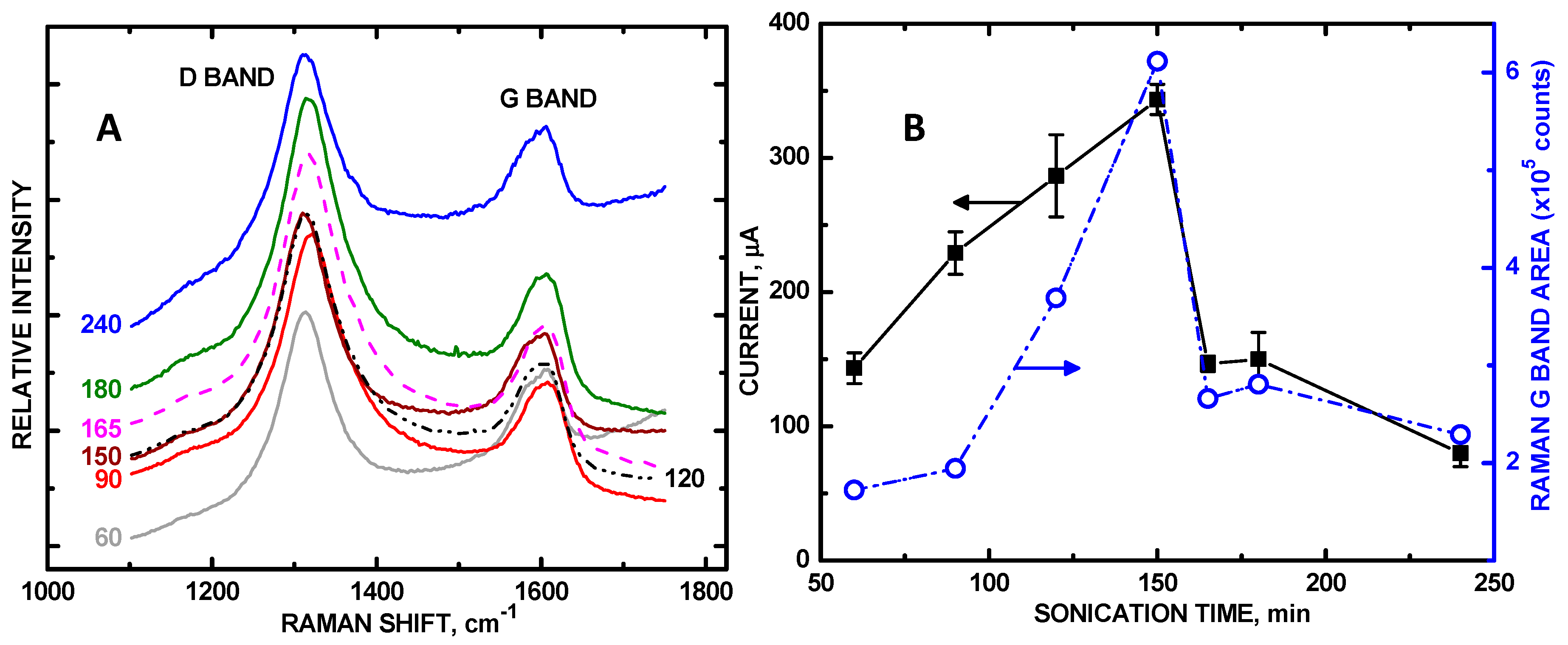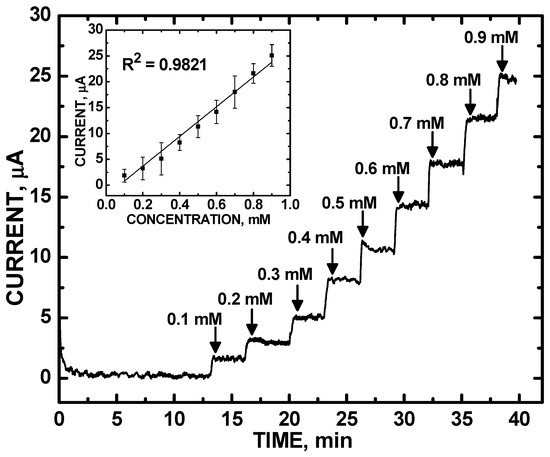 Figure 6. CA response of ZnO/COOH-MWNTs in phosphate buffer solutions (PBS), upon addition of UA from 100–900 μM; inset shows calibration curve.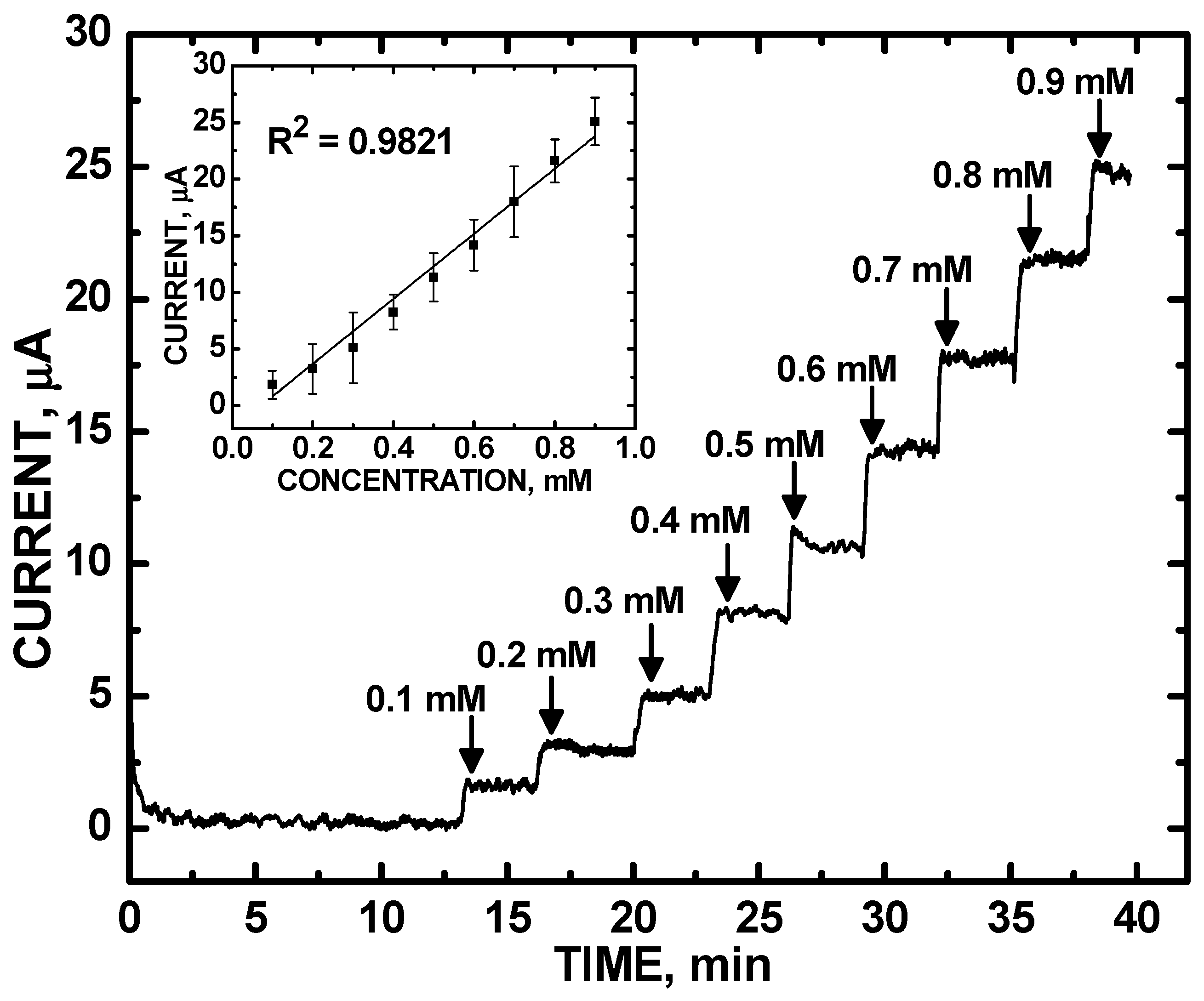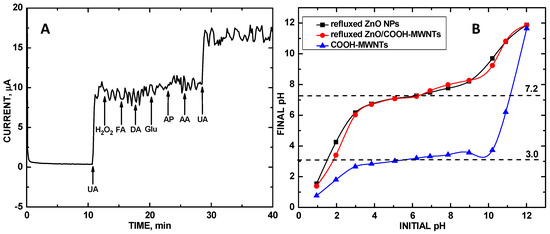 Figure 7. (A) CA response of the Nafion/ZnO/COOH-MWNTs/GCE at 0.577 V vs. Ag/AgCl electrode upon 100 μM additions of UA, FA, AA, DA, H2O2, AP, and UA, respectively; (B) point-of-zero (PZC) values of refluxed ZnO NPs (-■-), refluxed ZnO/COOH-MWNTs (-●-) and COOH-MWNTs (-▲-).
Sonication Time, min
0
60
90
120
150
165
180
240
V
0.500
0.499
0.623
0.571
0.524
0.520
0.534
0.524
μA
relative area
36
0
149
1.00
233
1.56
281
1.87
355
2.38
153
1.07
133
0.892
106
0.698

© 2018 by the authors. Licensee MDPI, Basel, Switzerland. This article is an open access article distributed under the terms and conditions of the Creative Commons Attribution (CC BY) license (http://creativecommons.org/licenses/by/4.0/).