In Situ

Metalorganic Deposition of Silver Nanoparticles on Gold Substrate and Square Wave Voltammetry: A Highly Efficient Combination for Nanomolar Detection of Nitrate Ions in Sea Water

1

Laboratoire de Chimie de Coordination, UPR 8241 CNRS, 205 Route de Narbonne, 31077 Toulouse Cedex 4, France

2

RTRA "Sciences et Technologies pour l'Aéronautique et l'Espace", F-31030 Toulouse, France

3

Université Paul Sabatier, UT III, 118 route de Narbonne, 31062 Toulouse Cedex 9, France

4

Laboratoire de Génie Chimique, UMR CNRS 5503, 118, route de Narbonne, 31062 Toulouse CEDEX 9, France

5

Laboratoire d'Analyse et d'Architecture des Systèmes (LAAS), 31400 Toulouse, France (CNRS)

6

Laboratoire de Chimie Agro-industrielle (LCA), Université de Toulouse, INRA, INPT, 31030 Toulouse Cedex 4, France

*

Authors to whom correspondence should be addressed.

Received: 13 August 2018 / Revised: 29 October 2018 / Accepted: 29 October 2018 / Published: 6 November 2018
Abstract
The electro-reduction of nitrate ions in artificial sea water was investigated at a gold substrate (E
Au
) functionalized by silver nanoparticles (AgNPs). These AgNPs were generated
in situ
on the gold substrate by the direct decomposition of the metalorganic N,N′-diisopropylacetamidinate silver precursor [Ag(Amd)] in the liquid phase. Very small and well dispersed AgNPs were deposited on the gold electrode and then used as working electrode (E
Au/AgNPs
). Square wave voltammetry (SWV) was successfully employed to detect nitrate ions (NO
3
−
) with a detection limit (LOD) of 0.9 nmol∙L
−1
in artificial sea water (pH = 6.0) without pre-concentration or pH adjustment.
View Full-Text
►

▼

Figures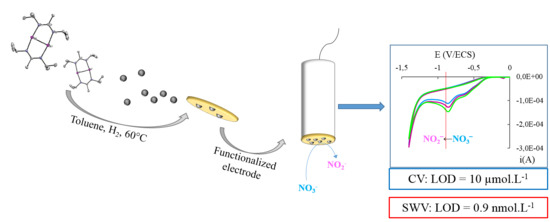 Graphical abstract
This is an open access article distributed under the
Creative Commons Attribution License
which permits unrestricted use, distribution, and reproduction in any medium, provided the original work is properly cited (CC BY 4.0).

Share & Cite This Article
MDPI and ACS Style
Lebon, E.; Fau, P.; Comtat, M.; Kahn, M.L.; Sournia-Saquet, A.; Temple-Boyer, P.; Dubreuil, B.; Behra, P.; Fajerwerg, K. In Situ Metalorganic Deposition of Silver Nanoparticles on Gold Substrate and Square Wave Voltammetry: A Highly Efficient Combination for Nanomolar Detection of Nitrate Ions in Sea Water. Chemosensors 2018, 6, 50.
Note that from the first issue of 2016, MDPI journals use article numbers instead of page numbers. See further details here.
Related Articles
Comments
[Return to top]