Open Access This article is
freely available
re-usable
Review
Modelling and Development of Electrical Aptasensors: A Short Review
1
Department of Mathematics and Physics "E. De Giorgi", University of Salento, Via Arnesano, I-73100 Lecce, Italy
2
Department of Innovation Engineering, University of Salento, Via Arnesano, I-73100 Lecce, Italy
*
Author to whom correspondence should be addressed.
Received: 14 March 2018 / Accepted: 25 April 2018 / Published: 27 April 2018
Abstract
:
Aptamers are strands of DNA or RNA molecules, chemically synthetized and able to bind a wide range of targets, from small molecules to live cells, and even tissues, with high affinity and specificity. Due to their efficient targeting ability, they have many different kinds of applications. Particularly attractive is their use in biotechnology and disease therapy, in substitution of antibodies. They represent a promising way for early diagnosis (aptasensors), but also for delivering imaging agents and drugs and for inhibiting specific proteins (therapeutic aptamers). Starting by briefly reviewing the most recent literature concerning advances in biomedical applications of aptamers and aptasensors, the focus is on the issues of a theoretical/computational framework (proteotronics) for modelling the electrical properties of biomolecules. Some recent results of proteotronics concerning the electrical, topological and affinity properties of aptamers are reviewed.
Keywords:
aptamer; aptasensor; electrical properties; networks; proteotronics
1. Introduction
Nucleic acids are of great importance in encoding, transmitting and expressing genetic information [
1
]. Specific sequences of nucleic acids, referred to as aptamers, possess very high binding affinity to their targets, representing an interesting class positioned between small and biological molecules. An in vitro process, termed Systematic Evolution of Ligands by Exponential Enrichment (SELEX), is commonly used to select and synthesize, with high reproducibility, purity and in large quantity, the required aptamers. Moreover, this technique seems able to generate aptamers for virtually each possible target [
2
], overcoming the needs for cell lines or animals [
1
]. To date, numerous high-affinity aptamers have been selected for a broad range of target molecules, including metal ions, peptides, drugs, proteins and even whole cells or viruses [
1
,
3
,
4
]. Finally, aptamers are very stable and can recover their active conformation after denaturation at high temperature [
1
].
Due to their high affinity, specificity and stability, along with the benefits of a chemical synthesis, aptamers have attracted attention in various applications from chemical biology to medicine, becoming a true alternative to standard compounds [
5
,
6
,
7
,
8
]. Nevertheless, it has to be pointed out that acceptance and use of aptamers in industry and by (bio)pharmaceutical companies still remain rare [
5
].
The aim of this short review is to provide a summary of the recent achievements in the selection, development criteria and application of aptamers, focusing on their electrical properties. Particular attention is paid to describing the advances in the modelling of the aptamer-protein interaction, within the framework of a complex network approach named proteotronics.
2. Aptamer Selection
2.1. SELEX and Cell-SELEX
SELEX (
Figure 1
) is a well-established technology for the in vitro production of aptamers based on an iterative process of selection and amplification (see [
9
,
10
] and the references therein). The process starts with a chemically-synthesized random oligonucleotides library, which contains from 10
13
to 10
16
motifs of different sequences. The selection consists of five steps: (1) binding, i.e., incubation of the library with the target; (2) partition, i.e., isolation of target-bound sequences from the unbound ones; (3) elution from a complex via chromatography; (4) amplification and the generation of a new pool of nucleic acids by Polymerase Chain Reaction (PCR), for DNA libraries, or real time-PCR, for RNA libraries; (5) conditioning, in which in vitro transcription and purification of relevant ssDNA are included [
10
]. The optimization and development of the SELEX methodology has made the range of targets wider, including small molecules, proteins, viruses and bacteria [
10
].
Long selection time and high costs are the principal drawbacks of this technique; therefore, several strategies designed for a shortening of the selection period, while maintaining the aptamer affinity to targets are under investigation [
1
,
7
].
Finally, SELEX is typically performed by using a highly purified target molecule so that it has limited results in the production of aptamers useful for cancer detection. This is because these aptamers are not able to bind whole (cancer) cells, or, more specifically, target proteins on the cell surface [
11
]. To overcome these limitations, cell-SELEX was developed, which uses living cells as targets. It ensures the selection of aptamers able to bind the bioactive forms of target proteins on the cell surface, thus making the developed aptamers highly suitable for biological applications [
11
]. Moreover, there is no need to know the quantity or types of proteins on the cell surface, which simplifies the selection process, also reducing costs [
1
,
12
].
2.2. Aptamer vs. Antibody in Cancer Therapy
3. Aptamers in Electrical Nanobiosensors
4. Modelling the Electrical Properties of Aptamers
The modelling of charge transport in biomolecules is a very intriguing topic, which has received, in recent years, continuous attention [
43
]. The classical theory of charge transport in ordered matter needs to be improved for systems like biomolecules that have no crystalline structure, although showing a high degree of organization. In particular, in such systems intrinsically reduced in size, a mean field approach is not significant, and new concepts have been developed to take into account the role of the specific 3D structure. Specifically, the description in terms of Bloch waves (Extended States (ES)), which substantially do not account for the space organization of the material, is partially or totally substituted by introducing short range waves (Localized States (LS)). The transition between two LS happens with the energy cost by means of tunneling or hopping mechanisms. In such a way, at low bias and temperature, the dominant transport mechanism is performed by ES, while, increasing bias and/or temperature, the tunneling/hopping mechanism becomes dominant. Following a backward path, in the early 1990s, this kind of local description was overcome by a new proposal, which introduced the concept of electron transfer by multiple pathways, a quite effective although simplified view of electronic transport, which, as a consequence, gave value to the quite macroscopic aspects like protein motifs and internal interaction [
44
].
4.1. Complex Networks for Bioelectronics
4.2. Resistance to Evaluate Binding Affinity
4.3. Hierarchy and Assortativity as a Measure of Binding Affinity
Assortativity defines networks in which highly-/lowly-connected nodes are also bound to highly-/lowly-connected nodes. High assortativity limits information circulation in the network. In other terms, high assortativity characterizes a closed system, i.e., a system that is not able to exchange information with the environment. Instead, low assortativity describes an open system, i.e., a system that efficaciously exchanges information with the outside [
51
].
Hierarchy ranks node connectivity: high hierarchy means that few nodes (hubs) rule the link distribution in the network. In general, this is identified as a mark of the network's weakness [
64
,
65
], as when removing a small number of hubs, the network becomes unstable. On the contrary, a flat structure (low hierarchy) is more stable, but also flexible and adaptable in handling changes (resilience).
By using these two paradigms, we can try to find a new perspective for interpreting the binding affinity of aptamers and, specifically, of TBA. We observed that the network analogue of the aptamer changes its assortativity from negative to positive by adding thrombin. This means that the network describing the aptamer complexed with the protein is less prone to external influences, i.e., it is more stable than the network describing the aptamer alone. Furthermore, when the free aptamer is in the presence of potassium, it has higher hierarchy and assortativity than in the presence of sodium. In other words, the aptamer in the presence of sodium is more stable than the aptamer in the presence of potassium, i.e., it has a reduced necessity to bind the protein to enforce its stability (low binding affinity). These results are summarized in
Figure 7
, which gives a sketch of the TBA hierarchy and assortativity scheme: on the left, negative assortativity, we find only the target-free structures, on the right, positive assortativity, we find only the complex structures [
51
]. The target-free structures have a higher hierarchy with respect to the complex, i.e., they are less stable.
5. Conclusions
The interest in developing biosensors is an active research area in analytical chemistry and physics, as highlighted by the amount of published papers in this field. Biosensors for the early detection of various diseases have aroused a great deal of interest, so that they play a crucial role in clinical tests, as largely discussed in the literature.
Aptamers are greatly attractive for their peculiarity to be employed in both diagnosis and therapy. This is extremely important for increasing the survival rate of cancer patients, as well as to improve the therapeutic efficiency of treatments, allowing the development of targeted therapies. Electrochemical biosensors have been proven to offer advantages such as simplicity and cost-effectiveness. Furthermore, they exhibit good sensitivity and selectivity, under optimized conditions. In many cases, a very low concentration of biological samples is sufficient for producing significant responses.
Here, we highlighted some recent achievements in selection, development criteria and applications of aptamers, focusing on the impact of electrochemical biosensors, especially for disease-related analysis.
As regards the modelling of the electrical properties of aptamers, the proteotronics approach has been described. It is a theoretical/computational model, able to mimic the electronic responses given by biomolecules solicited in vitro by static and dynamic bias. We presented cases dealing with the analysis of the affinity performance of the complex constituted by the aptamer and its specific ligand. Independently of the specific results, the emphasis has been placed on the principles of proteotronics that can be generalized to evaluate binding affinity in other aptamer-ligand complexes.
As a final remark, electrical biosensors are widely studied in research laboratories, but some critical aspects, such as toxicity and pharmacokinetics, remain to be deeply investigated, before entering clinical practices.
Author Contributions
R.C. and E.A. conceived of and designed the review and wrote the paper. M.L. contributed by creating the figures.
Funding
This research was supported in part by the Italian Ministry of Education, University and Research (MIUR), with the grant Project FFABR 2017.
Conflicts of Interest
The authors declare no conflict of interest.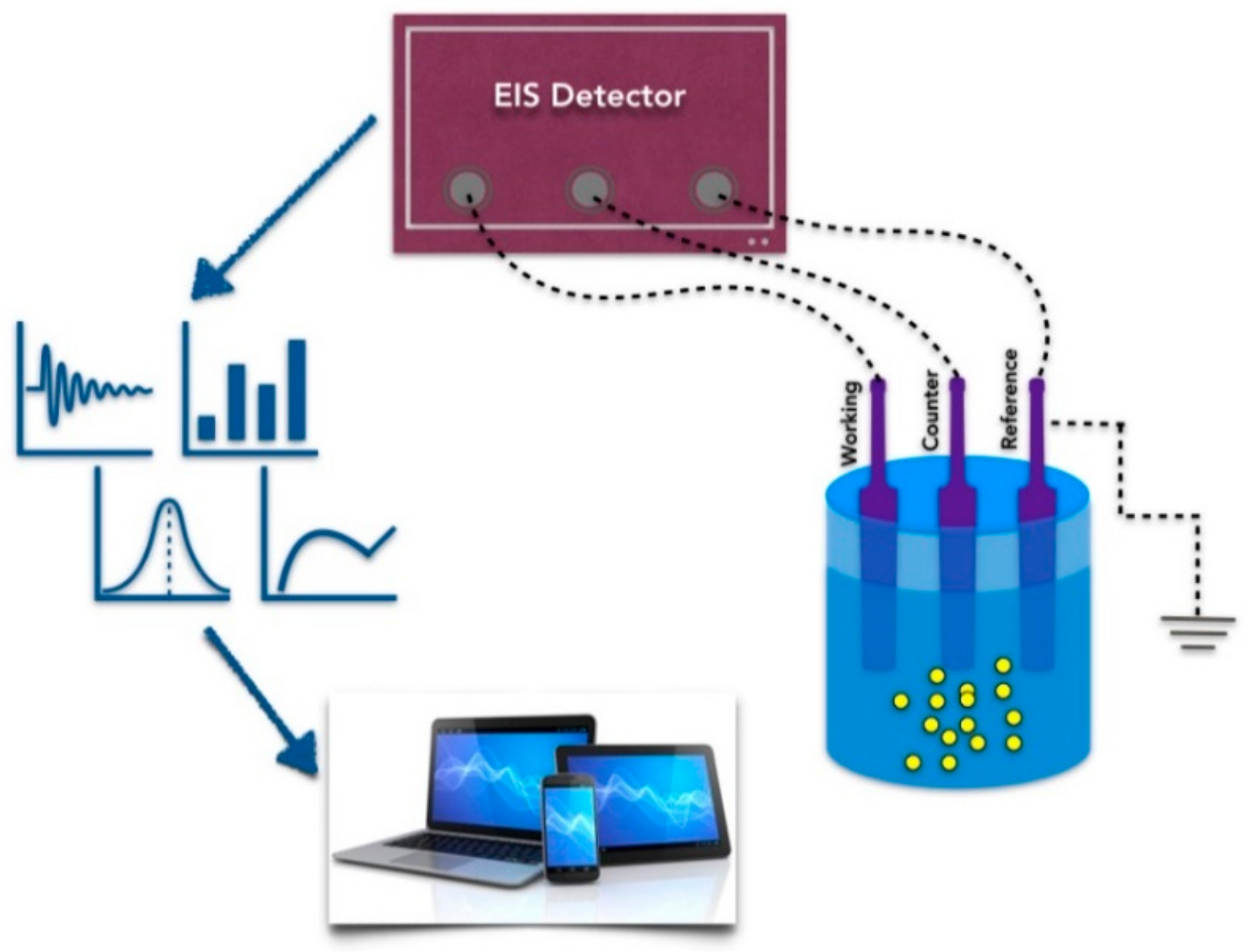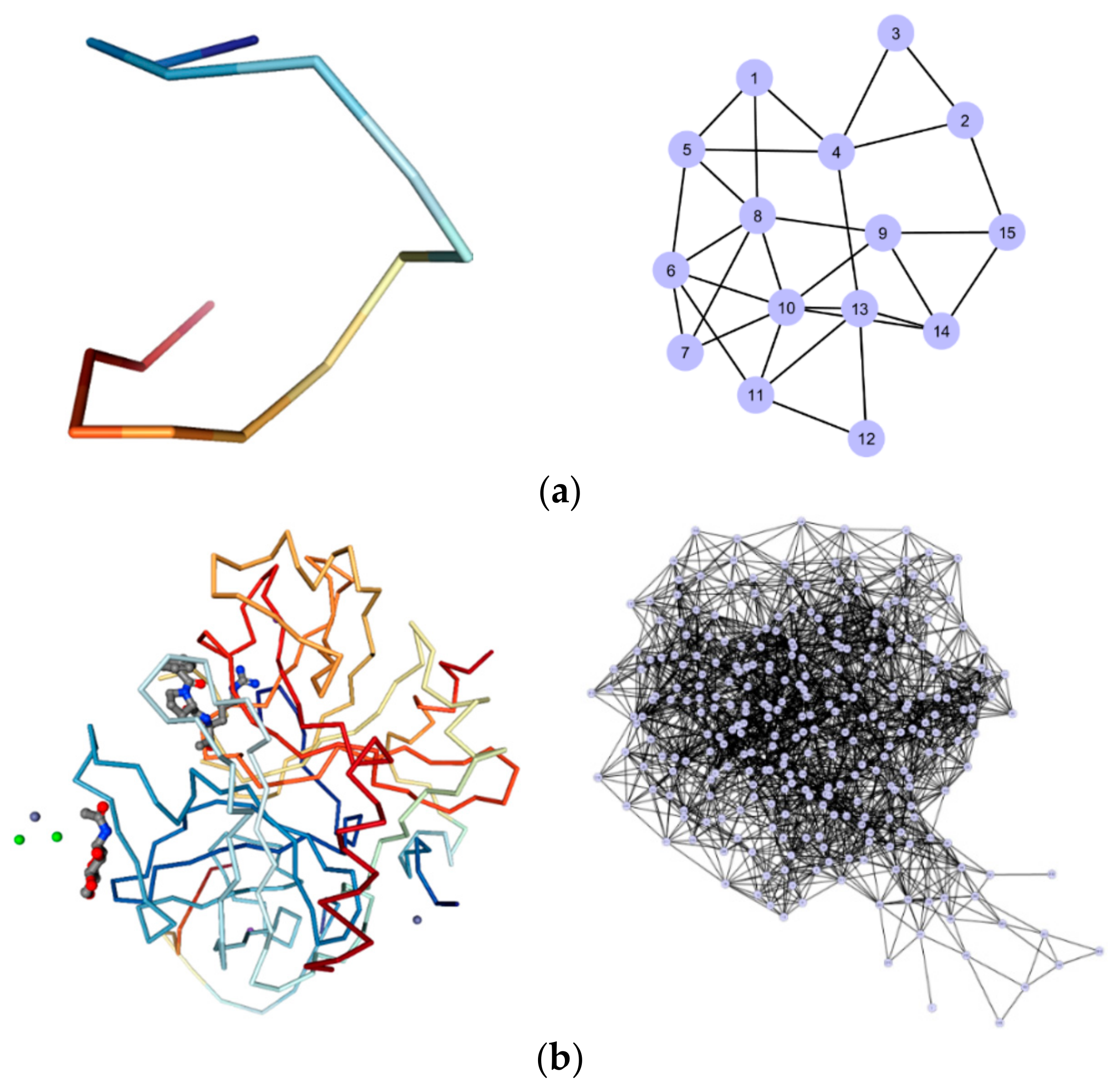 Figure 4. Resistance variation spectra of TBA in the presence of sodium and potassium. The resistance of the TBA-protein complex is larger than that of the TBA alone in a range of RC values close to 11 Å. In the whole range of RC values, the resistance ratio of the complex obtained in the presence of potassium is larger than those obtained in the presence of sodium.
Figure 5. The resistance variation spectra of five different anti-angiopoietin aptamers. Circles identify the Ang-2-specific aptamers; diamonds identify the Ang-1-specific aptamer.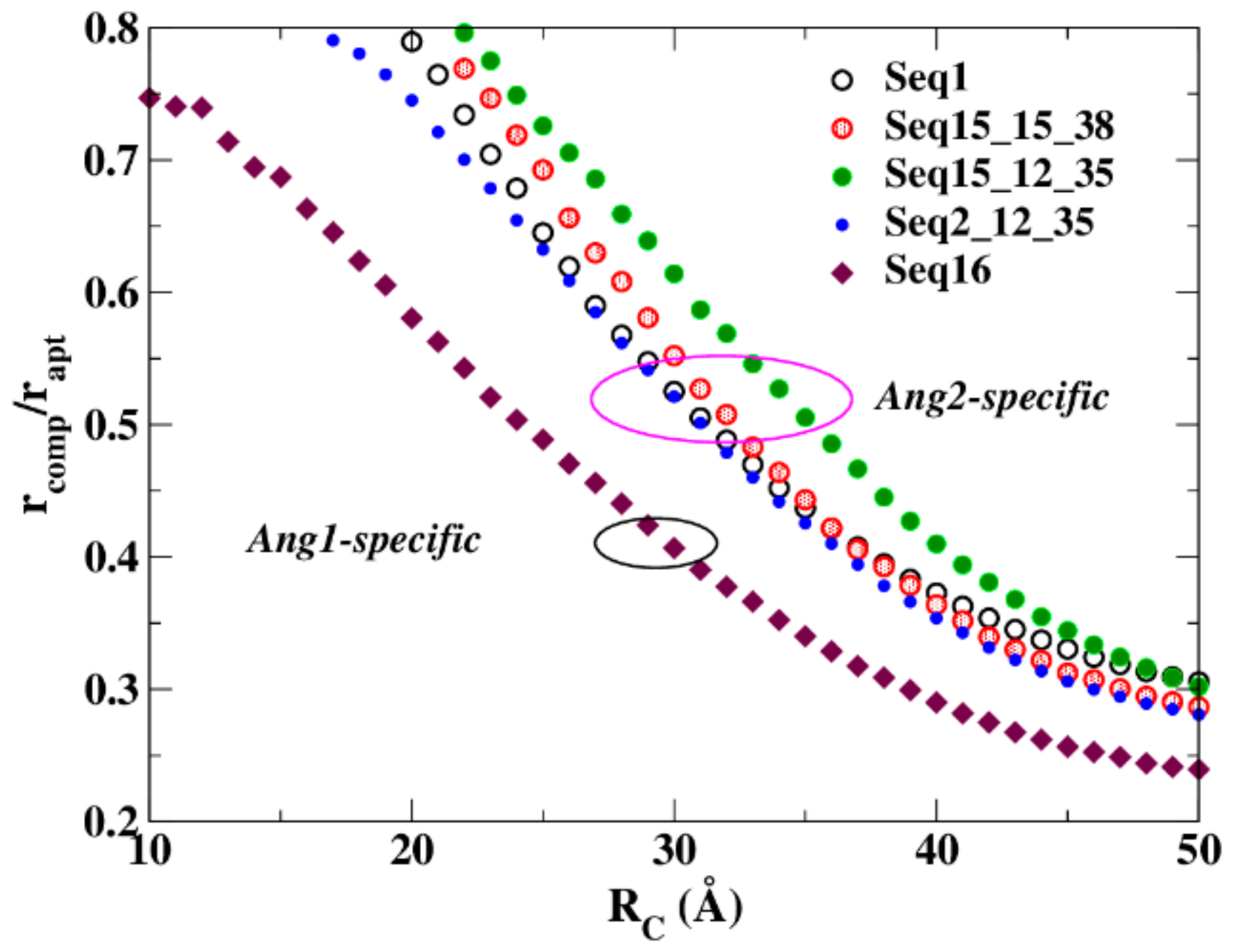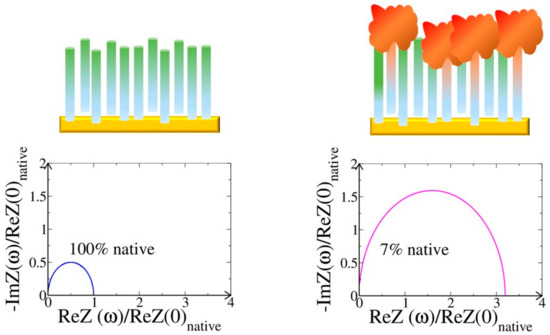 Figure 6.
A sketch of an EIS measurement. On the top, an electrode functionalized with aptamers, before and after the injection of the receptor. On the bottom, the corresponding Nyquist plots calculated for a sample of aptamers in the native state and with 93% of the TBA-thrombin complex and 7% of TBA in the native state [
56
].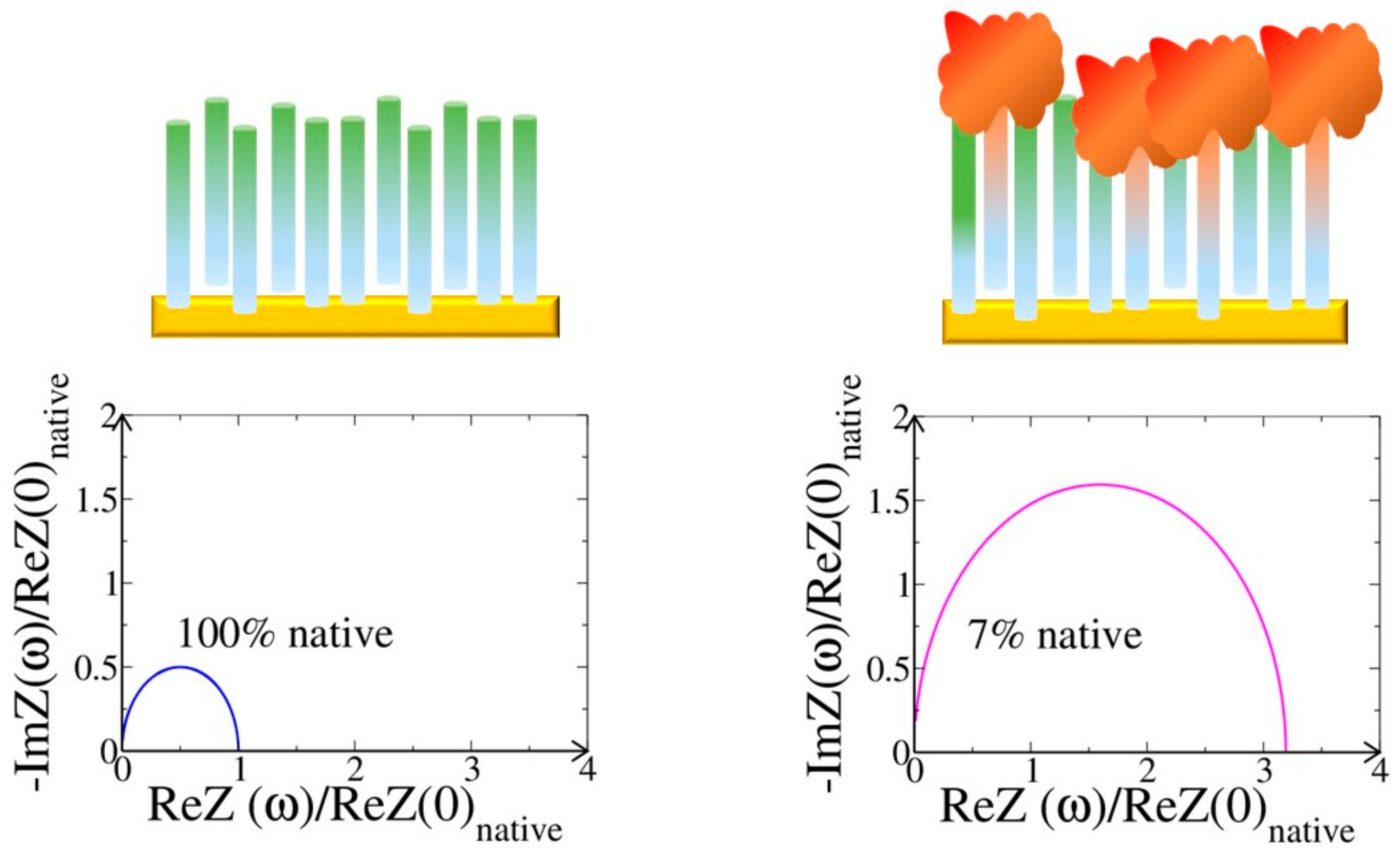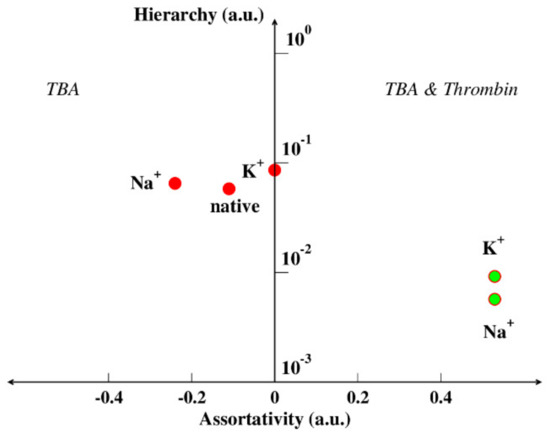 Figure 7. Hierarchy-assortativity plot of the aptamer TBA. On the left, the aptamer alone, in the native state or in the configuration it assumes when bound to the receptor, in the presence of two different cations. On the right, the couple TBA-thrombin, in the presence of both cations.

Table 1. Analytical characteristics of electrochemical aptasensors and the scientific innovation of the work. Alternating Current Voltammetry (ACV); Cyclic Voltammetry (CV); Electric Field (EF); Electrochemical Impedance Spectroscopy (EIS); Field Effect Transistor (FET); Square Wave Voltammetry (SWV).
| Target | Experimental Technique | Innovation | LOD | Reference |
| --- | --- | --- | --- | --- |
| ATP | EIS/switch | UV regeneration | 1 nM | [33] |
| Tetracycline | EIS | MoS2-TiO2@Au arrays | 10 pM | [34] |
| Ampicillin | ACV SWV | Fast response; reusability for at least 3 times | 1 μM (ACV) 30 μM (SWV) | [35] |
| Papilloma virus | CV | Glassy carbon electrodes | 1.75 pM | [36] |
| Malaria biomarker | EIS | Adjustable detection range, reusability | 0.84 pM | [37] |
| Interleukin-6 cancer marker | FET | Nanotube arrays | 10 pg/mL | [38] |
| Cancer cells | FET | Whole cell detection | 1 cell/mL | [39] |
| Human osteopontin | SWV CV | SWV vs. CV | 1.4 nM (SWV) 4.2 nM (ACV) | [40] |
| CA125-cancer marker | FET | Multiwalled carbon nanotubes | 5 × 10−10 U/mL | [41] |
| Theophylline | EIS | Gold nanoparticle | 0.7 μM | [42] |
| Biomolecule | Target/Inhibitor | Experimental Technique | References |
| --- | --- | --- | --- |
| Anti-thrombin aptamer (TBA) | Thrombin | SPR | [51,56] |
| Bacteriorhodopsin | Light | Conductive atomic force spectroscopy | [52,54,55] |
| Bovine rhodopsin | Light | EIS | [55] |
| OR I7 | Octanal, heptanal | EIS | [52] |
| OR 17-40 | Helional | EIS, SPR | [53] |
| Anti-Ang2 aptamer | Ang2 | EIS | [57] |
| Proteorhodopsin | Light | UV-spectroscopy | [58] |
| AChE | Several toxins | Potentiometric | [59] |

© 2018 by the authors. Licensee MDPI, Basel, Switzerland. This article is an open access article distributed under the terms and conditions of the Creative Commons Attribution (CC BY) license (http://creativecommons.org/licenses/by/4.0/).