Open Access This article is
freely available
re-usable
Article
A Combination of Histological, Physiological, and Proteomic Approaches Shed Light on Seed Desiccation Tolerance of the Basal Angiosperm
Amborella trichopoda
1
Institut des Sciences Exactes et Appliquées (EA 7484), Université de Nouvelle-Calédonie, BP R4, 98851 Nouméa, Nouvelle-Calédonie
2
Institut de recherche pour le développement (IRD), UMR Diversité, Adaptation et Développement des plantes (DIADE), BP A5, 98848 Nouméa Cedex, Nouvelle-Calédonie
3
Centre National de la Recherche Scientifique (CNRS), CNRS-Université Claude Bernard Lyon-Institut National des Sciences Appliquées-Bayer CropScience (UMR5240), Bayer CropScience, F-69263 Lyon CEDEX 9, France
4
IJPB, Institut Jean-Pierre Bourgin (Institut National de la Rechercherche Agronomique(INRA), AgroParisTech, CNRS, Université Paris-Saclay) ; « Saclay Plant Sciences (SPS) » - RD10, F-78026 Versailles, France
5
AgroParisTech, Département « Science de la Vie et Santé », Unité de Formation-Recherche en Physiologie végétale, F-75231 Paris, France
6
Plateforme d'Analyse Protéomique de Paris Sud Ouest (PAPPSO), GQE–Le Moulon, INRA, Université Paris-Sud, CNRS, AgroParisTech, Université Paris-Saclay, F-91190 Gif-sur-Yvette, France
7
Institut Agronomique Néo-Calédonien (IAC), Équipe ARBOREAL, Agriculture Biodiversité et Valorisation, BP 73 Port Laguerre, 98890 Païta, Nouvelle-Calédonie
*
Authors to whom correspondence should be addressed.
Received: 30 June 2017 / Accepted: 25 July 2017 / Published: 28 July 2017
Abstract
:
Desiccation tolerance allows plant seeds to remain viable in a dry state for years and even centuries. To reveal potential evolutionary processes of this trait, we have conducted a shotgun proteomic analysis of isolated embryo and endosperm from mature seeds
of Amborella trichopoda
, an understory shrub endemic to New Caledonia that is considered to be the basal extant angiosperm. The present analysis led to the characterization of 415 and 69 proteins from the isolated embryo and endosperm tissues, respectively. The role of these proteins is discussed in terms of protein evolution and physiological properties of the rudimentary, underdeveloped,
Amborella
embryos, notably considering that the acquisition of desiccation tolerance corresponds to the final developmental stage of mature seeds possessing large embryos.
Keywords:
Amborella trichopoda
; basal angiosperms; seeds; desiccation tolerance; proteomics
1. Introduction
Amborella trichopoda
, the eldest sister of all flowering plants, lies at the base of the phylogenetic tree of angiosperms [
1
,
2
,
3
,
4
,
5
], and it would have emerged about 135 Ma ago. This plant is thus of great interest to the scientific community, as evidenced by the recent completion of its genome sequence [
6
]. It is a dioecious shrub, 2–6 m high, which is endemic to New Caledonia and grows at medium altitude (400–800 m) in wet forests. Several studies have been carried out on this species to reveal plesiomorphic (primitive) characters, notably concerning its vegetative anatomy [
7
], its fruits [
8
,
9
,
10
,
11
], the very special structure of its vascular system that does not possess xylemic vessels [
12
], or the evolution of gene families [
6
,
13
].
The study by Tobe et al. [
9
] disclosed for the first time the existence of a very small heart-shaped embryo in
Amborella
mature seeds. These observations are in agreement with the idea that an underdeveloped embryo is the most primitive form in seeds, although small embryos are also found in non-basal seed species (e.g., celery, tomato) [
14
,
15
,
16
,
17
,
18
,
19
]. Indeed, the ratio (E:S) between the length of the embryo (E) and that of the seed (S) increases during evolution [
17
]. Seeds with a rudimentary embryo have morphological dormancy, which is considered the most primitive dormancy [
20
,
21
,
22
]. Consequently, such seeds can only germinate after continuation of the embryo development during seed imbibition after dispersal from the mother plant. This type of dormancy is found in all the families of the ANITA basal grade (composed of
Amborella
,
Nymphaeales
and
Illiciales
and
Trimeniaceae
-
Austrobaileya
) except for the
Nymphaeales
, and also in some more modern species of mono- and eudicotyledons.
In orthodox seeds, desiccation tolerance allowing seeds to survive in the dry state is acquired very late in development. Given the underdeveloped nature of the
Amborella
embryo, this may suggest temporal differences in expression of the genes and proteins involved in desiccation tolerance between basal and modern orthodox seed species. In the present work, we used a combination of physiological and proteomics approaches to address various questions concerning the state of maturity of the
Amborella
embryo present in mature seeds, in particular with regard to desiccation tolerance.
3. Results
3.1. Histochemistry
The dry mature
Amborella sensu stricto
seeds are composed of a bulky albumen, an envelope, and a rudimentary embryo of small size, eccentric, and heart-shaped (ratio embryo/seed length = 0.08). Seed cuts were stained with Naphthol blue black to visualize proteins (blue) and nuclei (dark blue). This staining also contained periodic acid/Schiff reagent to reveal the presence of polysaccharides (pink) (
Figure 1
). Embryonic cells contain a nucleus and protein bodies and are delimited by a very thin wall (pink coloration). The whole embryo is surrounded by a thick network of polysaccharides (stained in pink) in which dead cells are imbricated (
Figure 1
). Endosperm cells have walls that are more visible than those of the embryo and are larger (about 70 μm long, maximum 50 μm for the embryo) (
Figure 1
). They contain a nucleus and many protein bodies (
Figure 1
). An examination by confocal microscopy of seed sections stained with Nile red revealed the presence of lipid bodies [
34
,
35
], both in the embryo and in the endosperm (
Figure 2
). These observations raise questions about the maturity of the embryo and the endosperm. These issues have been addressed by physiological and proteomic approaches.
3.2. Desiccation Tolerance of the Mature Amborella Seeds
After harvest,
Amborella
seeds displayed a water content of 12.9% (in terms of fresh weight). These seeds (after scarification) displayed a germination percentage above 90%. It was interesting to determine the level of desiccation that seeds of this rainforest shrub could tolerate in order to confirm this trait for this basal angiosperm. For this purpose, desiccation tolerance experiments were carried out on
Amborella
seed batches.
To test the endocarp permeability toward moisture, non-scarified seed batches were placed in three different relative humidities (RHs), namely RH 9%, RH 45%, and RH 85%, and then weighed until equilibrium was reached (data not shown). Change of mass variation with respect to control seeds for each seed batch was −8.9%, −4.9%, and +0.5%, respectively. Endocarps were then removed from seeds, and
sensu stricto
seed batches were weighed and placed in same RHs as above. No change (less than 0.1%) of
sensu stricto
seed mass was noted in the next seven days for batches placed in the three studied RHs, reflecting the permeability of the endocarp and the action of desiccation on
sensu stricto
seeds. Equilibrium of seeds in the various studied RHs was reached after four days. Water sorption isotherms were drawn using moisture content of seeds equilibrated at all the studied RHs. The water sorption isotherm, issued from three replicates, showed typical curves with two regions observed above RH 9%, one ranging from 9–80%, the second above RH 80% (
Figure 3
A). The water content was 2.85 ± 0.5% for RH 9%, 9.87 ± 0.2% for RH 81%, and 13.25 ± 0.2% for RH 92% (
Figure 3
A).
Seed batches issued from three replicates of a desiccation experiment were put in germination in a greenhouse. Germination of seeds occurred 70 days after sowing, and the final rate of germination was obtained 140 days after sowing (
Figure 3
B). Germination percentage presented for each RH condition was the average of three replicates of a desiccation experiments, with a total of 50 seeds sown per RH and per experiment (
Figure 3
C). Mean of germination percentages of controls (non-desiccated seeds) was 93.3 ± 2.3%. Means of germination percentages of desiccated seed batches were 86.0 ± 5.3%, 92.0 ± 6.0%, 92.0 ± 3.5%, 92.7 ± 3.1%, 91.3 ± 2.3%, 96.0 ± 2.0%, 94.0 ± 2.0%, 95.3 ± 1.1%, and 93.3 ± 2.3% for RH of 9, 23, 34, 45, 62, 75, 81, 85, and 92%, respectively. When results were expressed in germination percentage of corresponding controls, the mean of germination percentages was 92.1 ± 3.4% for seeds batches equilibrated in RH 9%. Statistical analysis performed using one-way ANOVA and Bonferroni's multiple comparisons test revealed that means of germination of seeds for the nine conditions of desiccation plus controls were not significantly different (with
p
< 0.05).
3.3. Characterization of the Amborella Seed Proteins by Shotgun Proteomics
This analysis was carried out using (i) 300 embryos isolated from dry mature
sensu stricto
seeds and (ii) from 20 portions of endosperms without embryos (1.2 g) also isolated from dry mature
sensu stricto Amborella
seeds (see "Materials and Methods," [
13
]). A shotgun proteomic approach was favored because this sensitive technique is particularly suitable for samples available in very small quantities [
36
], as is the case for
Amborella
embryos. The extraction of total proteins allowed identifying 69 proteins from the isolated endosperm (
Supplementary Table S1
) and 415 proteins from the isolated embryo (
Supplementary Table S2
). The identified proteins were then grouped according to their ontological class and description [
33
]. The representation of each category and function was expressed as a percentage of the total number of proteins identified, as well as the relative amount of each identification (abundance; see Materials and Methods). This estimate was made from the number of peptides corresponding to each identification (
Figure 4
;
Supplementary Tables S1 and Tables S2
). Among the 69 proteins identified from the endosperm, 12 were not detected in the embryo (proteins labelled Endo in
Supplementary Table S1
).
3.3.1. Endosperm Proteins
The 69 identified proteins identified from the endosperm correspond to 20 unique functions. They are grouped into major categories (
Figure 4
) in relation to their relative abundance (
Supplementary Table S1
). The
Protein destination and storage
category contains 19 proteins representing 85.1% of the abundance of all proteins. Eight proteins are of the
Storage protein
function solely representing 82.6% in total protein abundance. The
Folding and stability
function contains seven proteins (1.8% in abundance). Fifteen proteins are in the
Disease/Defense
category (5.1% in total abundance). The five proteins of the
Stress response
function represent 2.4% in abundance. The 11 proteins of the
Detoxification
function represent 4.6% in abundance. The 16 proteins in the
Energy
category represent 3.4% in abundance. These are mainly involved in three main functions: glycolysis, tricarboxylic acid (TCA) pathway cycle and fermentation. The five proteins involved in the
Metabolism
category represent 1% of abundance. The
Cell structure
category (eight proteins) represents 1.9% of abundance. These results clearly demonstrate that the endosperm is primarily a tissue for storage of seminal reserves, as highlighted by a relative abundance of storage proteins of about 82%.
3.3.2. Embryo Proteins
The ontological classification of the 415 proteins identified in the embryo is radically different (
Figure 4
;
Supplementary Table S2
). They correspond to 52 unique functions. Eighty-nine proteins in the
Protein destination and storage
category account for 41.3% in abundance. Among them, eight are storage proteins that represent 25.5% of total abundance, which is about 3 times less than in endosperm. The
Metabolism
category contains 45 proteins (5.3% in abundance). Eighteen proteins are involved in the
Amino acid
function (1.6% of total abundance). Fifteen proteins are involved in the
Sugars and polysaccharides
function (2% of the proteins in abundance). Five proteins are involved in the
Lipid and sterol
function (0.9% in abundance). The functional category
Energy
contains 42 proteins and represents an abundance of 11.1%. In particular, the
Glycolysis
function contains 18 proteins (6.7% in abundance). The
TCA pathway
function is represented by 14 proteins (1.8% of the total protein abundance). There are 52 proteins in the
Protein synthesis
category, which represents 6.5% of the proteins of the embryo in terms of relative abundance.
In summary, besides a storage role the proteins of the embryo are associated with cellular mechanisms (
Figure 4
).
5. Conclusions
From a biochemical and molecular point of view, it appears that the
Amborella
embryo and endosperm possess all the tools necessary to tolerate desiccation stress occurring during the final phases of the maturation of orthodox seeds. These data are important because the origin of tolerance to desiccation during evolution is controversial. Indeed, this tolerance appears to be a complex character, requiring the interaction of many genetic factors [
85
]. A first study of 45 species concluded that recalcitrant seeds (non-tolerant to desiccation) were associated with ancestral-type ovaries. Indeed, orthodoxy was considered to correspond to the evolved character [
86
]. However, more recent studies of a larger number of species have come to the opposite conclusion [
87
,
88
], in particular for species of the Hydatellaceae family, which is considered to be one of the oldest flowering plant lines [
39
]. These observations are in agreement with the Dollo's law of irreversibility, which states that evolution is not irreversible and that for very complex characters (such as desiccation tolerance), parallel origin is highly unlikely, whereas reversal is quite easy [
89
].
The present characterization of a number of proteins from the
Amborella
seeds made it possible, for the first time, to obtain the proteome of an undifferentiated embryo in a mature seed. These data indicate that, despite its rudimentary appearance, the
Amborella
embryo contains proteins usually associated with late stages of development (maturation phase) in orthodox seeds, including (i) the ability to accumulate stored reserves, both proteins and lipids and (ii) the ability to tolerate desiccation, a process that is of paramount importance in agriculture [
90
,
91
].
Acknowledgments
Authors thank the Province Sud de Nouvelle-Calédonie for permission to collect seeds. They also thank to the Saclay Plant Sciences (SPS) LabEx supporting IJPB infrastructures (ANR-10-LABX-0040-SPS). The post-doctoral grant of MG was supported by the French Ministry of Industry (FUI, NUTRICE agreement # 092906334). Special thanks to Charly Zongo (deceased) for field collection of seeds.
Author Contributions
Dominique Job, Philippe Marmey, Loïc Rajjou, Bruno Fogliani, and Valérie Sarramegna-Burtet conceived and designed the experiments. Matthieu Villegente, Claudette Job, Philippe Marmey, Marc Galland, Béatrice Godin, Gwendal Cueff, Michel Zivy, and Thierry Balliau performed the experiments. Dominique Job and Philippe Marmey wrote the paper. All authors read and approved the final manuscript.
Conflicts of Interest
The authors declare no conflict of interest.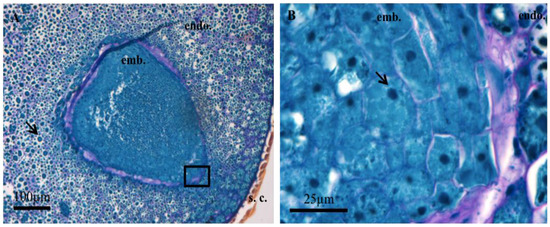 Figure 1.
Optical microscope observations of sections of
Amborella
dry mature
sensu stricto
seeds after Naphthol blue black staining combined with periodic acid staining/Schiff. (
A
) embryo (emb.), Endosperm (endo.), Envelope (s.c.); (
B
) enlarged view of the area represented by the black rectangle in (
A
). The proteins and protein bodies are stained in blue (arrow A), the nucleoli in dark blue (arrow B) and the polysaccharides in pink.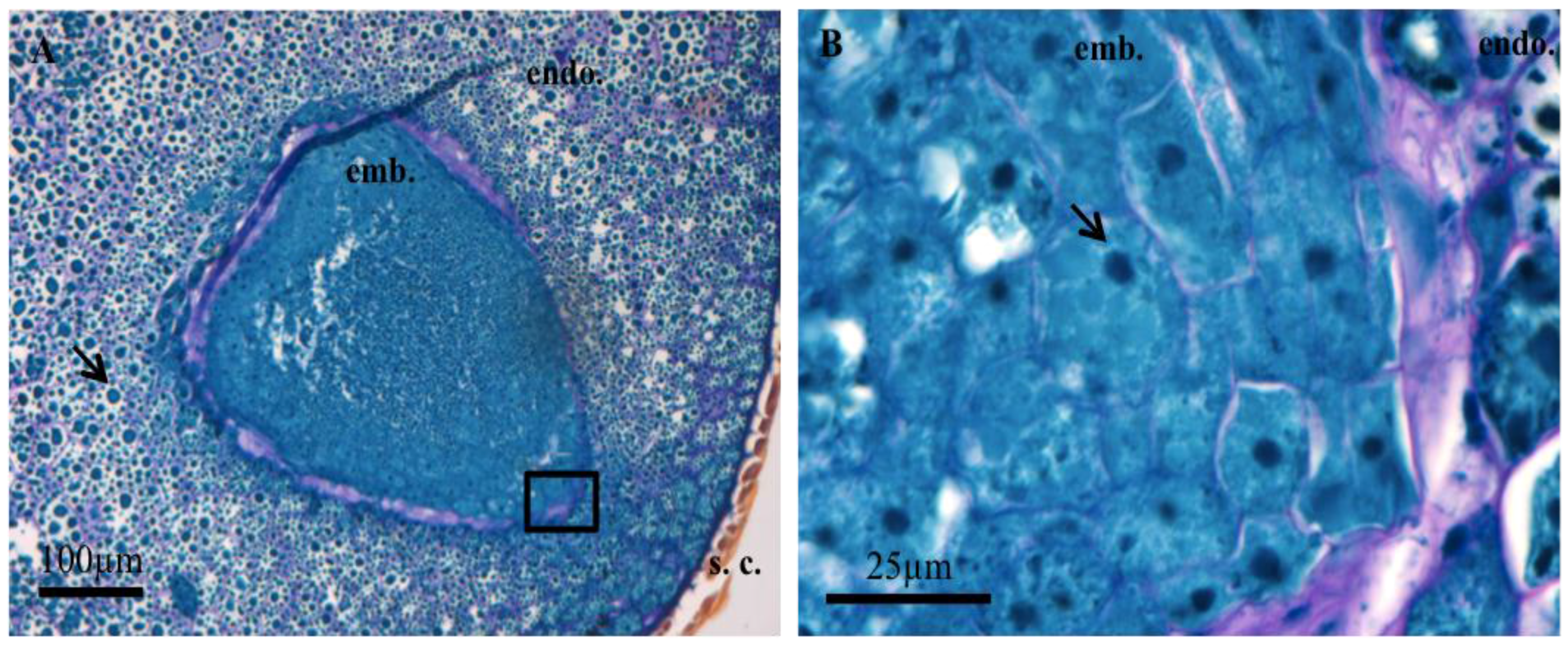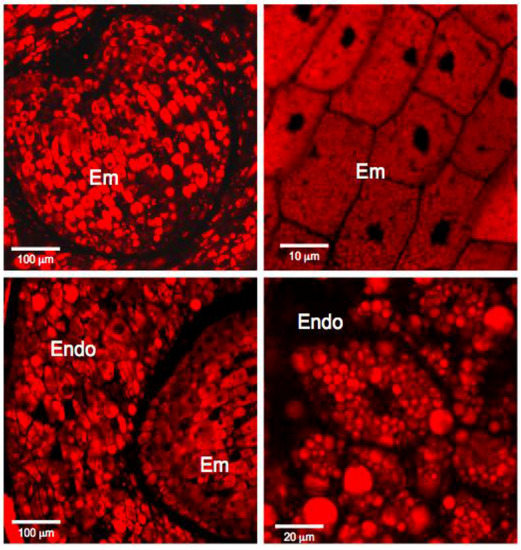 Figure 2.
Confocal microscopic observation of
Amborella sensu stricto
seed sections following staining with Nile red showing lipid distribution in the embryo (Em) and the endosperm (Endo).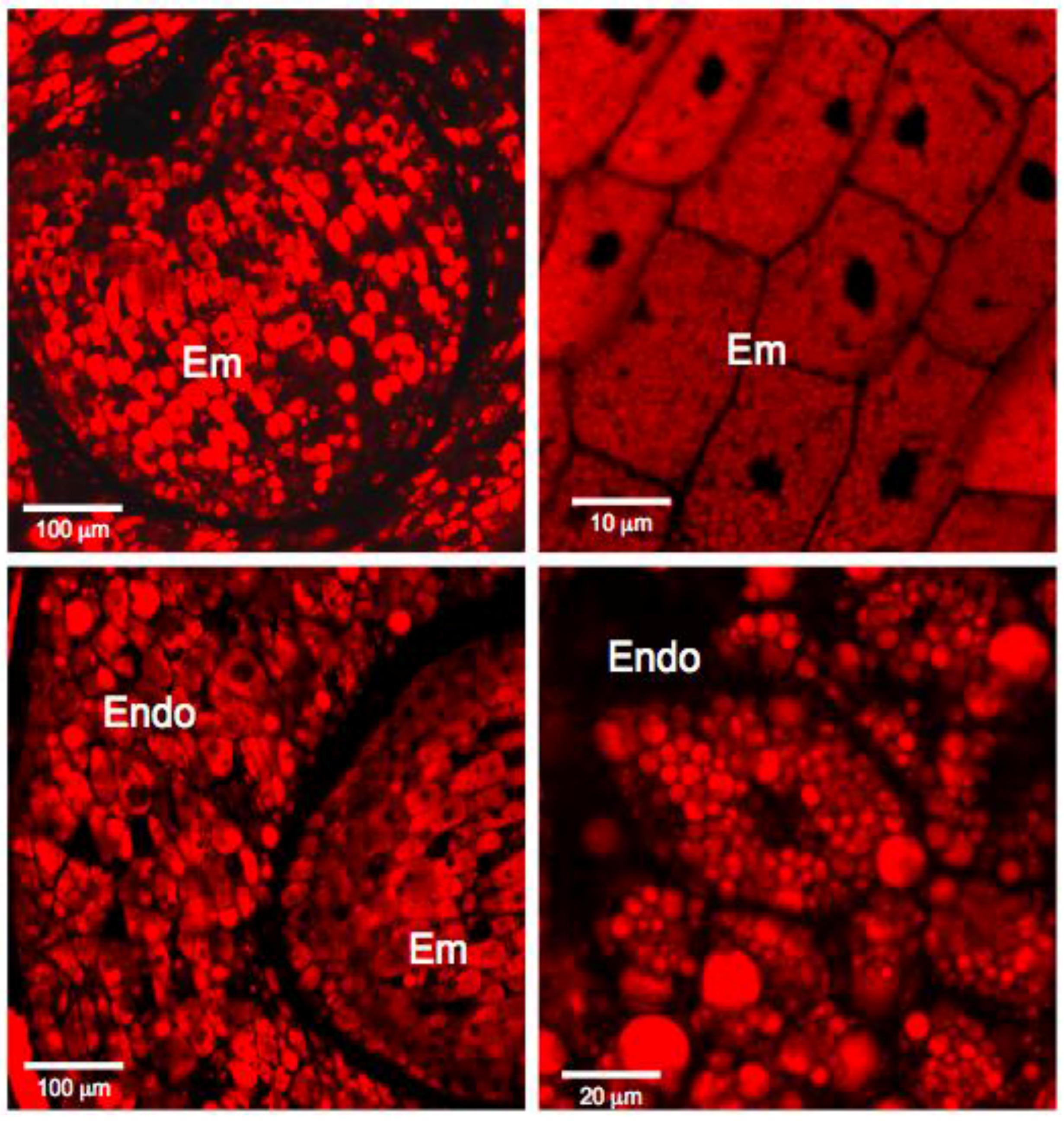 Figure 3.
Desiccation tolerance of
Amborella
seeds. Desiccation was monitored using a range of atmospheres where relative humidities (RHs) are controlled using different saturated salt solutions. (
A
) Water sorption isotherm curve issued from three replicates made on
Amborella
seeds at 25 °C. The water content at different RH values is expressed on a fresh weight basis; (
B
) Observation of germination and seedling appearance at 119 days post sowing for seed batches issued from a desiccation experiment after equilibrium in nine different relative humidities (RH%) and a control (not desiccated); (
C
) Germination percentages measured for seed batches at 140 days post sowing issued from desiccation experiments after equilibrium in nine different RH values and a control seed sample (not desiccated). Percentages are issued from three replicates. Means ± standard deviations were not significantly different, as estimated by One-Way ANOVA followed by Bonferroni's multiple comparisons test (with alpha value of 0.05).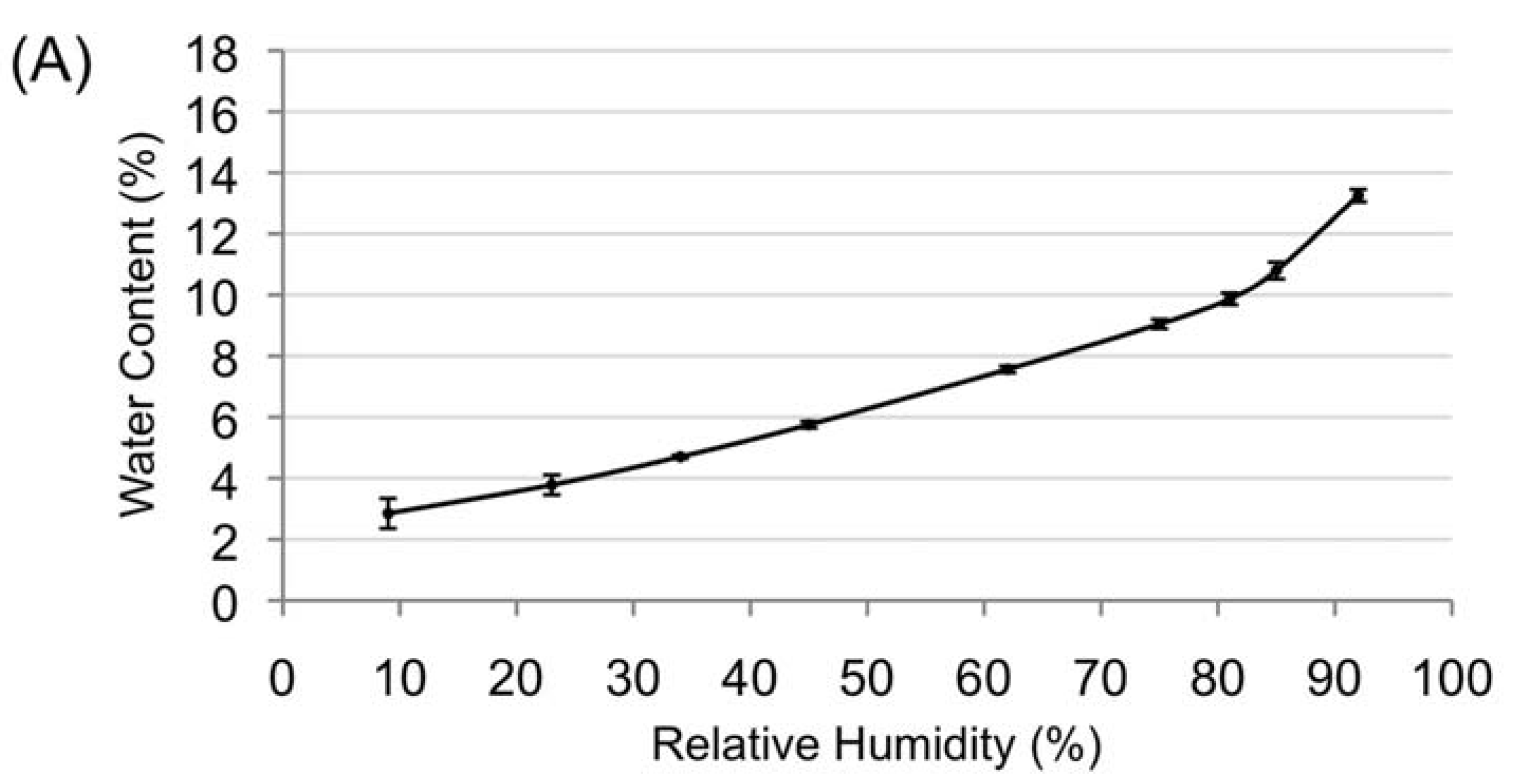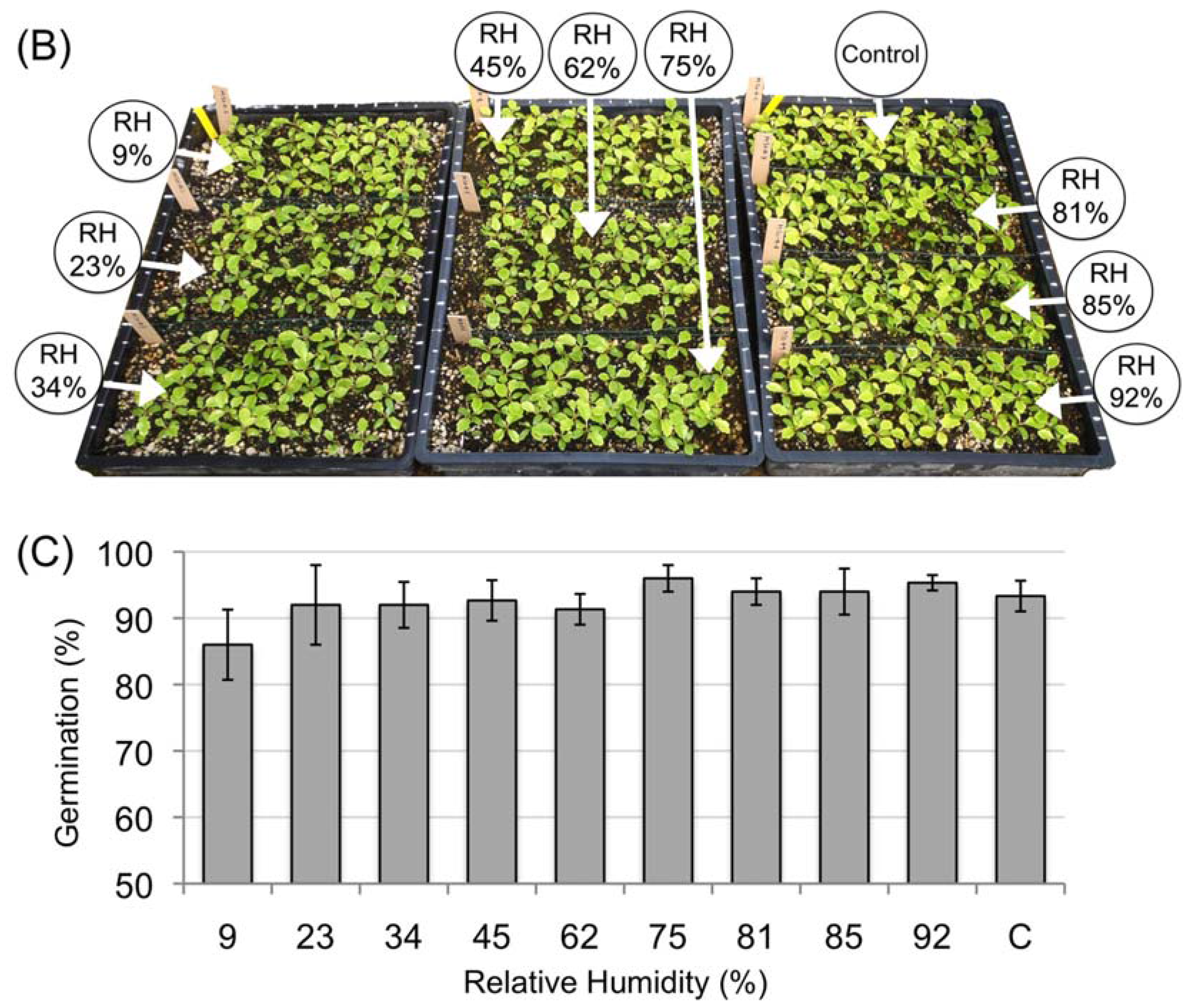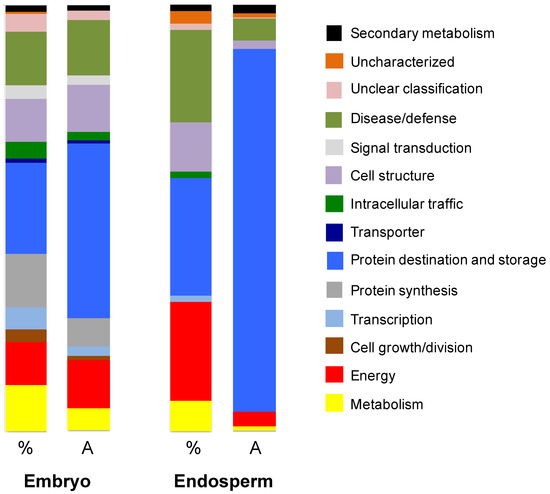 Figure 4.
Representation of the relative importance of the ontological classes [
33
] of the proteins extracted from the embryo and endosperm of
Amborella sensu stricto
seeds. The results are expressed as a function of the number of proteins identified by class in relation to the total number of proteins identified (%) or according to their relative quantities among the identified proteins (A).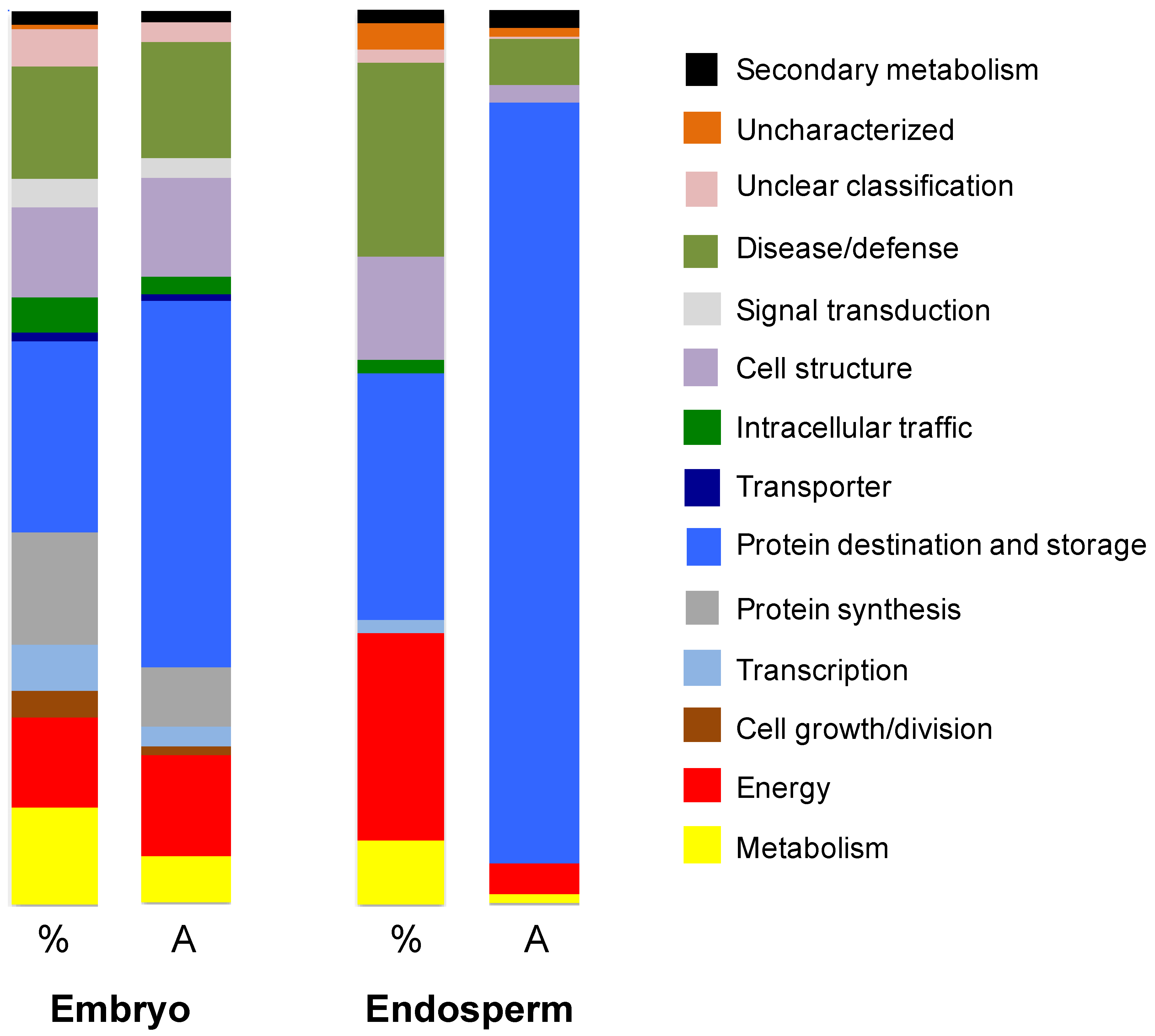 © 2017 by the authors. Licensee MDPI, Basel, Switzerland. This article is an open access article distributed under the terms and conditions of the Creative Commons Attribution (CC BY) license (http://creativecommons.org/licenses/by/4.0/).