The Cytosolic Oligosaccharide-Degrading Proteome of Butyrivibrio Proteoclasticus
1
Rumen Microbiology, Animal Science Group, AgResearch Limited, Grasslands Research Centre, Palmerston North 4442, New Zealand
2
Centre for Biodiscovery and School of Biological Sciences, Victoria University of Wellington, Wellington 6140, New Zealand
3
AgResearch Limited/Victoria University of Wellington Proteomics Laboratory, Victoria University of Wellington, Wellington 6140, New Zealand
*
Author to whom correspondence should be addressed.
Academic Editors: Michael Hecker and Katharina Riedel
Received: 31 August 2015 / Revised: 15 October 2015 / Accepted: 19 October 2015 / Published: 27 October 2015
Abstract
The growth and productivity of ruminants depends on a complex microbial community found in their fore-stomach (rumen), which is able to breakdown plant polysaccharides and ferment the released sugars. Butyrivibrio proteoclasticus B316T is a Gram-positive polysaccharide-degrading, butyrate-producing bacterium that is present at high numbers in the rumen of animals consuming pasture or grass silage based diets. B316T is one of a small number of rumen fibrolytic microbes capable of efficiently degrading and utilizing xylan, as well as being capable of utilizing arabinose, xylose, pectin and starch. We have therefore carried out a proteomic analysis of B316T to identify intracellular enzymes that are implicated in the metabolism of internalized xylan. Three hundred and ninety four proteins were identified including enzymes that have potential to metabolize assimilated products of extracellular xylan digestion. Identified enzymes included arabinosidases, esterases, an endoxylanase, and β-xylosidase. The presence of intracellular debranching enzymes indicated that some hemicellulosic side-chains may not be removed until oligosaccharides liberated by extracellular digestion have been assimilated by the cells. The results support a model of extracellular digestion of hemicellulose to oligosaccharides that are then transported to the cytoplasm for further digestion by intracellular enzymes.
View Full-Text
►

▼

Figures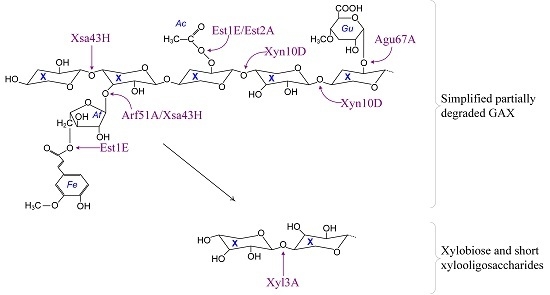 Graphical abstract
This is an open access article distributed under the
Creative Commons Attribution License
which permits unrestricted use, distribution, and reproduction in any medium, provided the original work is properly cited (CC BY 4.0).

Share & Cite This Article
MDPI and ACS Style
Dunne, J.C.; Kelly, W.J.; Leahy, S.C.; Li, D.; Bond, J.J.; Peng, L.; Attwood, G.T.; Jordan, T.W. The Cytosolic Oligosaccharide-Degrading Proteome of Butyrivibrio Proteoclasticus. Proteomes 2015, 3, 347-368.
Related Articles
Comments
[Return to top]