Open Access This article is
freely available
re-usable
Article
Warming Winters Reduce Chill Accumulation for Peach Production in the Southeastern United States
1
USDA California Climate Hub, Davis, CA 95616, USA
2
John Muir Institute of the Environment, University of California, Davis, CA 95616, USA
3
Department of Geography, University of Idaho, Moscow, ID 83844, USA
*
Author to whom correspondence should be addressed.
Received: 29 June 2019 / Accepted: 25 July 2019 / Published: 30 July 2019
Abstract
:
Insufficient winter chill accumulation can detrimentally impact agriculture. Understanding the changing risk of insufficient chill accumulation can guide orchard management and cultivar selection for long-lived perennial crops including peaches. This study quantifies the influence of modeled anthropogenic climate change on observed chill accumulation since 1981 and projected chill accumulation through the mid-21st century, with a focus on principal peach-growing regions in the southeastern United States, and commonly grown peach cultivars with low, moderate, and high chill accumulation requirements. Anthropogenic climate change has reduced winter chill accumulation, increased the probability of winters with low chill accumulation, and increased the likelihood of winters with insufficient chill for commonly grown peach cultivars in the southeastern United States. Climate projections show a continuation of reduced chill accumulation and increased probability of winters with insufficient chill accumulation for cultivars with high chill requirements, with approximately 40% of years by mid-century having insufficient chill in Georgia. The results highlight the importance of inter-annual variability in agro-climate risk assessments and suggest that adaptive measures may be necessary in order to maintain current peach production practices in the region in the coming decades.
Keywords:
chill accumulation; climate change; peaches; perennial crops; Georgia; South Carolina
1. Introduction
The peach industry in the southeastern United States (SEUS) has been a part of the regional iconography since at least the mid-1920s, and was historically an important part of the agricultural economy [
1
]. While California's current peach production dwarfs that of Georgia and South Carolina [
2
], the industry in the SEUS continues to contribute millions to regional, state, and local economies [
3
], and peaches remain important to regional identity [
1
]. In 2017, approximately 80% of Georgia's peach crop and 90% of South Carolina's peach crop were damaged due to warm winter temperatures. The warm conditions resulted in insufficient winter chill accumulation in some areas, while other parts of the SEUS were impacted when an early bloom, due to unseasonably warm temperatures, was followed by a mid-March freeze. In Georgia, an estimated 70% of the total 2017 peach losses were attributed to inadequate chill and 10–15% of the losses, the result of a spring freeze [
4
]. The combined impacts of anomalously low chill accumulation and spring freeze yielded substantial economic damage across the region [
5
]. Given the role of the peach industry in both the economy and culture of the SEUS, the 2017 crop failure garnered much public interest including whether such warm winters and impacts to perennial agriculture may become more commonplace in the coming decades.
Like other fruit trees, peaches undergo a series of physiological changes during the fall that allow for the onset of dormancy, when growth and development are slowed or stopped and the plant is better able to tolerate cold temperatures. Many perennial crops must be exposed to a certain amount of cold temperatures, or chill, during this period of dormancy to continue their development in the spring [
6
]. Peach cultivation is governed by a number of climatic factors such as cold hardiness, frost tolerance, and sufficient heat accumulation. Peach cultivars are frequently selected based on climatological chill accumulation [
7
] as insufficient chill accumulation can reduce flower quality, inhibit pollination and fruit development, and lower fruit quality and yield [
6
,
8
,
9
], with subsequent economic impacts to both growers and consumers [
10
].
Observational studies have shown warming in both the mean and extreme cold winter temperatures over the past half century across the US [
11
,
12
,
13
], much of which is consistent with anthropogenic forcing [
14
] and is expected to continue under climate change [
15
,
16
]. The exceptions of observed warming trends are primarily found in the warming hole across parts of the SEUS where winter temperatures cooled and spring onset trended later over the latter half of the 20th century [
17
,
18
]. The warming hole is likely a consequence of internal variability of the climate system that has buffered the influence of anthropogenic forcing to date, but is not expected to persist into the coming decades [
17
]. While it is acknowledged that chill accumulation is only one of many thermal-metrics that might directly impact crop suitability in a changing climate [
19
], declines in chill accumulation have been observed in some regions [
20
] and are projected to decline further [
21
]. Likewise, increases in winter temperatures are projected to reduce chill accumulation below the thresholds needed for peach cultivars in many peach-growing portions of the US [
20
,
22
].
In view of recent crop impacts due to warm winters, we examine chill accumulation across the SEUS in the context of ongoing climate change with a focus on implications for peach cultivation. First, a first-order estimate is provided of the contribution of anthropogenic climate change to observed low chill accumulation winters in the SEUS and years with insufficient chill in prime peach-growing areas in Georgia and South Carolina during 1981-2017. Secondly, using a suite of downscaled climate projections, changes in chill accumulation, the frequency of low-chill winters, and changes in the risk of winters with insufficient chill for common peach cultivars in the coming decades were investigated. Comprehensively, this study presents methodologies that may be applied to agro-climate metrics for conducting climate change risk and impact analyses for perennial crop systems globally, and provides a risk assessment of insufficient chill for peaches—and general chill accumulation for other perennials—in the SEUS, presenting information useful for climate-informed decision making.
5. Conclusions
Quantifying the potential consequences of warming winters on chill accumulation may have implications for long-term orchard management and land use planning and may provide insights useful for climate-informed decision making for a variety of perennial crops that require winter chill. Our results show that anthropogenic climate change has negatively affected chill accumulation in the SEUS over the observed 1981–2017 period, and that ongoing climate change is likely to continue to reduce chill accumulation, with notable impacts on high- and moderate-chill peach cultivars in Georgia. We also highlight the importance of examining interannual variability when assessing climate change risks to agriculture, be that impacts to crop climatic niche or crop yield [
19
,
52
]. The adaptation measures (e.g., investments in lower-chill varieties) may be necessary in order for the SEUS, particularly Georgia, to continue to cultivate the crop that has historically been central to its cultural identity. Further, given the relationship between mild winter temperatures, early bloom, and damages due to a false spring—as also seen in 2017—we recommend future work consider the interaction between multiple agro-climatic variables to provide a more complete assessment of future crop suitability and identify the most appropriate adaptive efforts. Finally, as our study employs a methodology that is applicable across other geographic locations, perennial crop cultivars, and agro-climatic metrics, we recommend that similar work be undertaken across agricultural systems and regions to help identify potential crop-specific risks and adaptation opportunities.
Author Contributions
Conceptualization, L.E.P. and J.T.A.; Methodology, L.E.P. and J.T.A.; Formal Analysis, L.E.P. and J.T.A.; Writing—Original Draft Preparation, L.E.P. and J.T.A.; Writing—Review & Editing, L.E.P. and J.T.A.; Visualization, L.E.P. and J.T.A.; Supervision, J.T.A.; Project Administration, J.T.A.; Funding Acquisition, L.E.P. and J.T.A.
Funding
This research was partially supported by the USDA's Northwest Climate Hub under award 15-JV-11261944-093.
Acknowledgments
The authors wish to acknowledge the feedback and local context provided by University of Georgia Assistant Professor and Extension Specialist Dario Chavez, and University of Georgia Agricultural Climatologist Pamela Knox. The authors also wish to acknowledge Katherine Hegewisch for her efforts in incorporating chill accumulation data into the ClimateToolbox. Finally, the authors wish to thank four anonymous reviewers and the journal editor for their comments, which improved the quality of the manuscript.
Conflicts of Interest
The authors declare no conflicts of interest. The funders had no role in the design of the study; in the collection, analyses, or interpretation of data; in the writing of the manuscript, or in the decision to publish the results.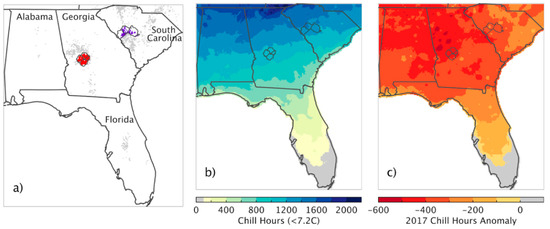 Figure 1. (a) The southeastern US study area. 4-km cells with >0.01% peach density are highlighted in grey. Georgia and South Carolina peach-growing counties examined explicitly in this study are outlined in grey and those cells with >0.01% peach density within these counties are highlighted in red (Georgia) and purple (South Carolina). (b) The average annual number of chill hours for the 1981–2017 observed period. Areas with <100 chill hours are masked in grey. (c) The winter chill accumulation anomaly in 2017 compared to the 1981–2017 average. Areas masked in grey as in (b).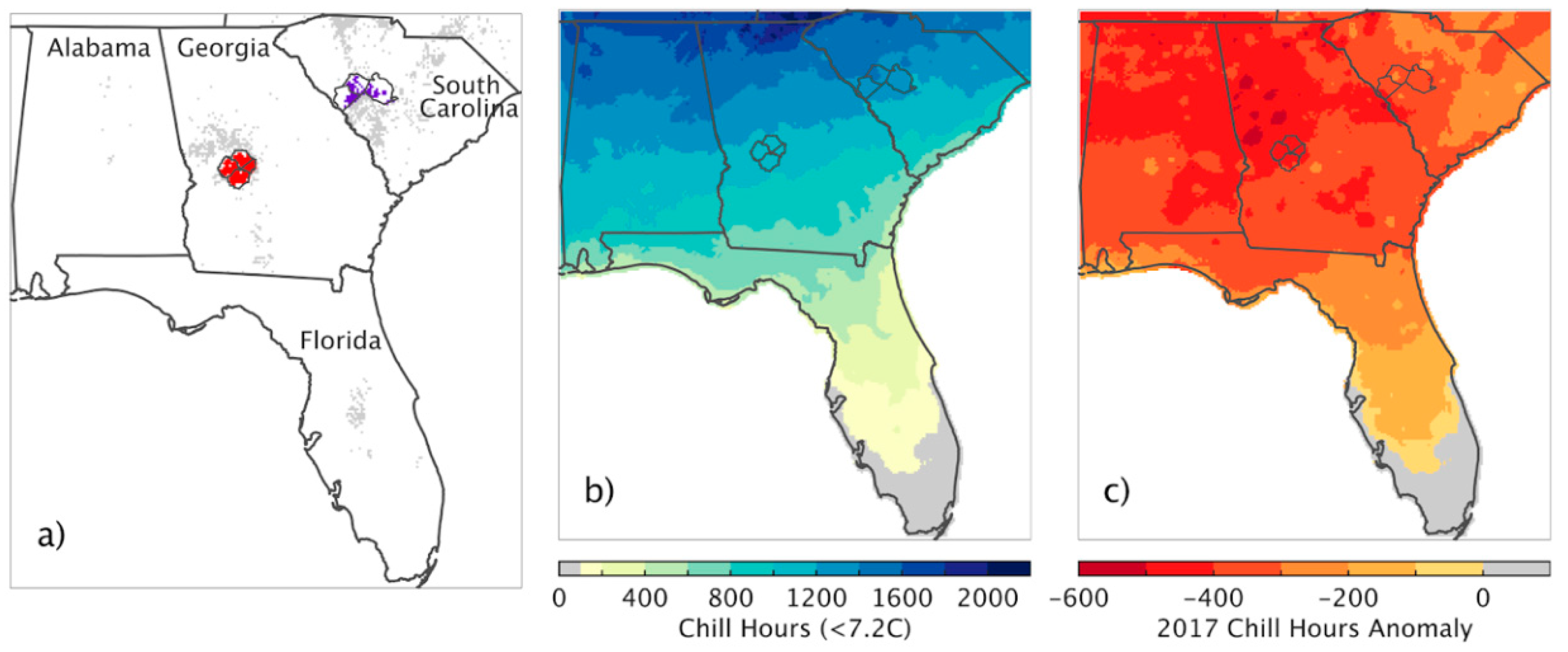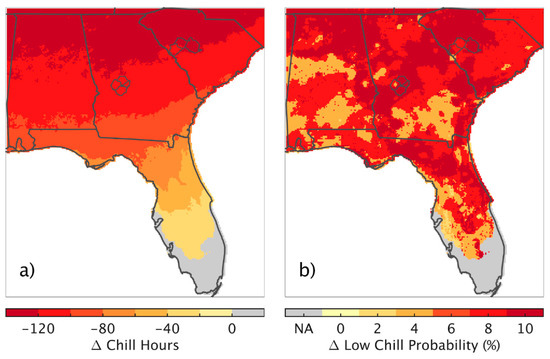 Figure 2. (a) The average change in 1981–2017 observed winter chill hours due to the influence of anthropogenic climate change (23-model median). (b) The change in the probability of a low-chill winter as a result of climate change, shown as 1981–2017 observed minus 1981–2017 counterfactual (23-model median). For both panels, the areas with <100 chill hours for the 1981–2017 observed climatology are masked in grey.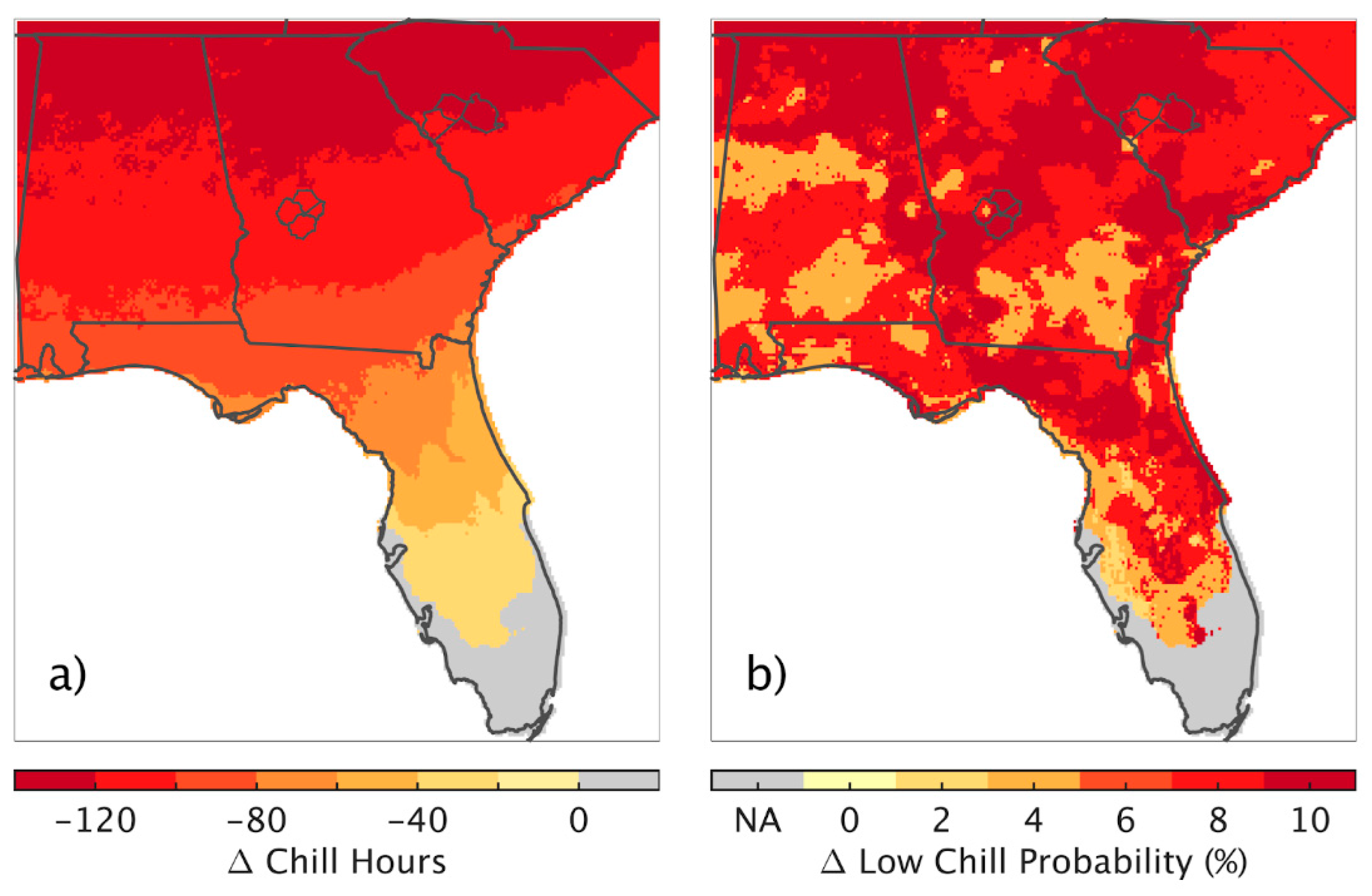 Figure 3. Time series of 1981–2017 chill accumulation for (a) the Georgia peach-growing region, and (b) the South Carolina peach-growing region. The observed data (OBS) are shown in black, while modeled chill accumulation estimates excluding the influence of anthropogenic climate change (No-Acc) are shown in red, with lighter red lines indicating individual models and the heavy red line indicating the 23-model median. The light pink dashed line indicates the chill requirement for a high-chill peach cultivar and the dashed grey line indicates the chill requirement for a moderate-chill peach cultivar.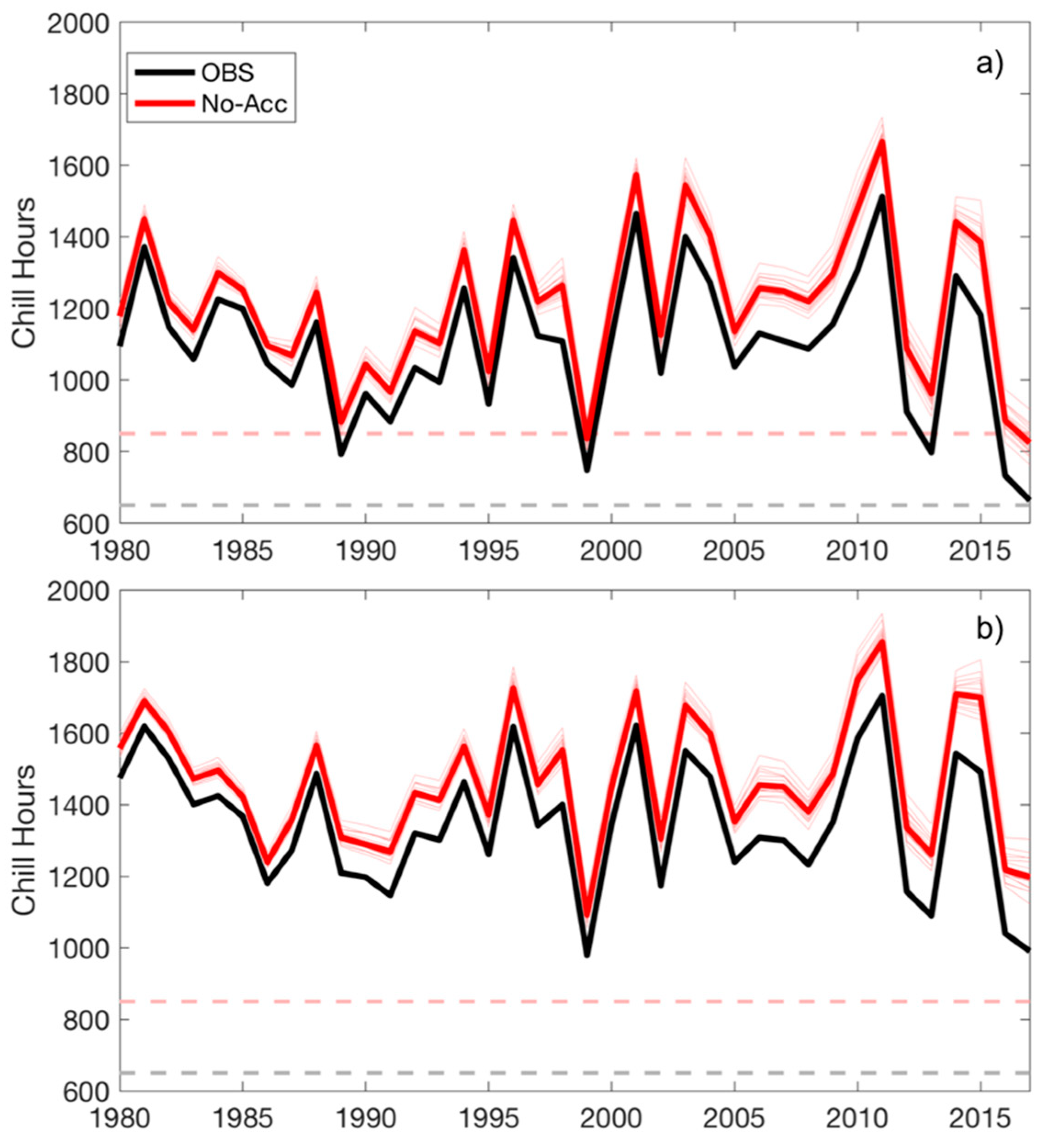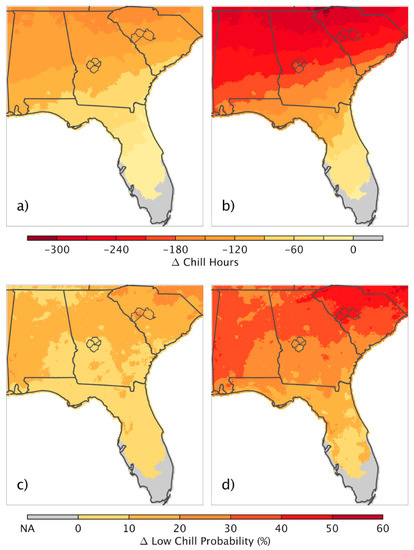 Figure 4. The difference in climatological chill hours for (a) the early 21st century (2010–2039) and (b) mid-21st century (2040–2069), relative to the observed 1981–2017 period. Panels (c) and (d) show differences in the probability of a low-chill winter for 2010–2039, and 2040–2069, respectively, relative to the observed 1981–2017 period. For all panels, the areas with <100 chill hours for the 1981–2017 observed climatology are masked in grey.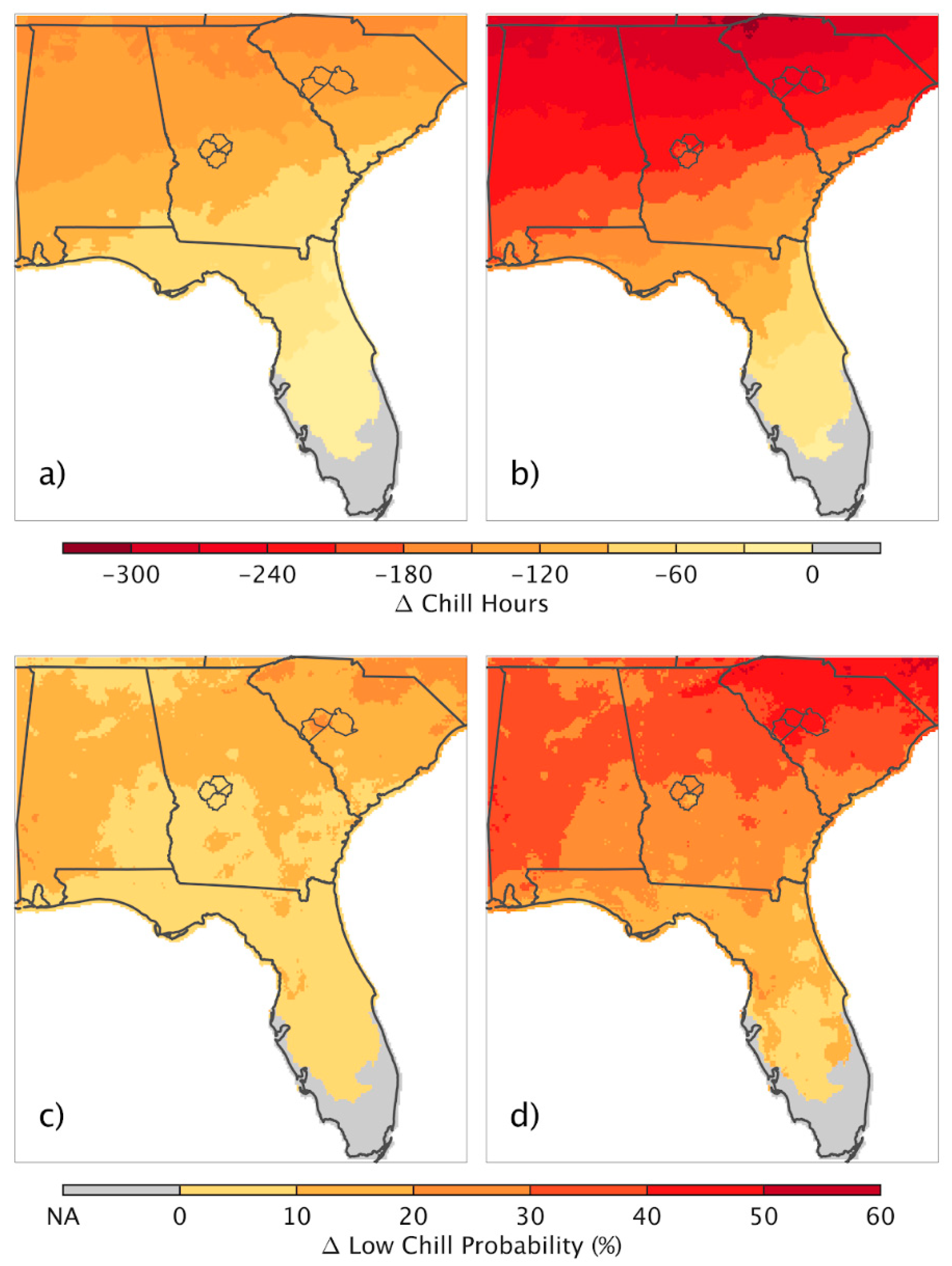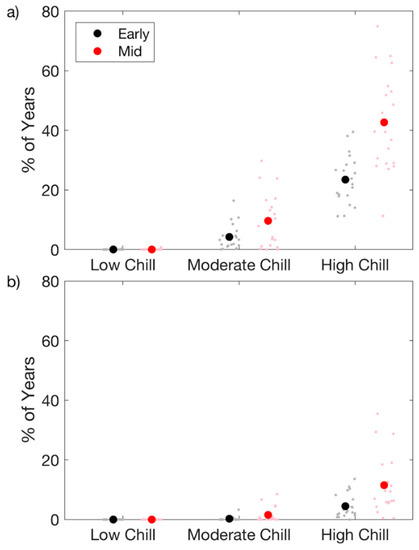 Figure 5. (a) For the Georgia peach-growing region, the percent of years with insufficient chill for a low-, moderate-, and high-chill peach cultivar under early 21st (black/grey) and mid-21st (red/pink) century conditions. Small grey and pink dots indicate the percent years for individual models, while the larger black and red dots indicate the 20-model average (b) As in (a) but for the South Carolina peach-growing region.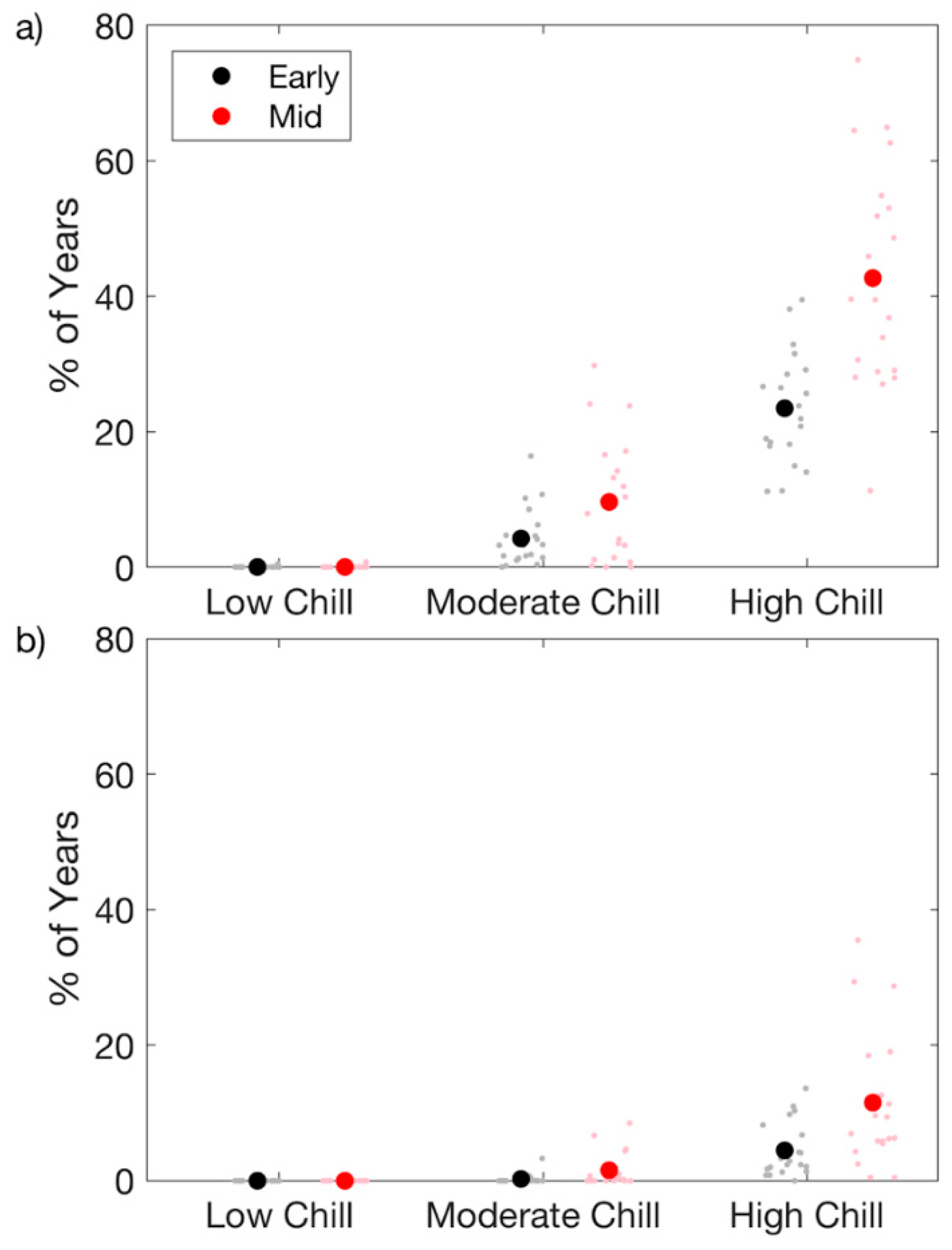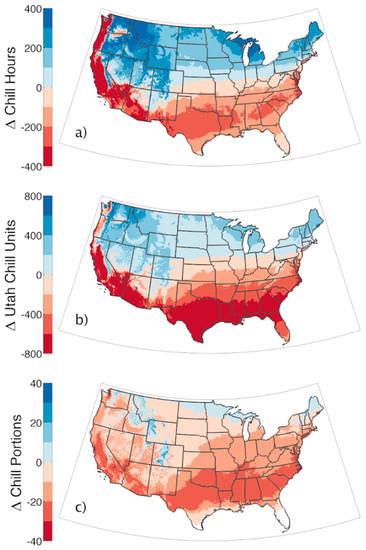 Figure 6.
The 20-model average difference in annual accumulated chill between the modeled historical period (1971–2000) and the mid-century (2040–2069) period under RCP 4.5, where chill was accumulation was calculated over the October 1—April 30 cool season using (
a
) the Modified Chill Hour Model as chill hours 32–45 °C, (
b
) the Utah Model as chill units, and (
c
) the Dynamic Model as chill portions. The red shades indicate a reduction in chill accumulation under RCP 4.5, while the blue shades indicate an increase in chill accumulation. The white regions in (
c
) indicate areas with no chill accumulation under historical conditions. These data can be viewed and downloaded from the Climate Toolbox (
https://climatetoolbox.org/
) at (
a
)
https://bit.ly/2QjbT2l
(
b
)
https://bit.ly/2AtEpZI
and (
c
)
https://bit.ly/2SBDcqm
.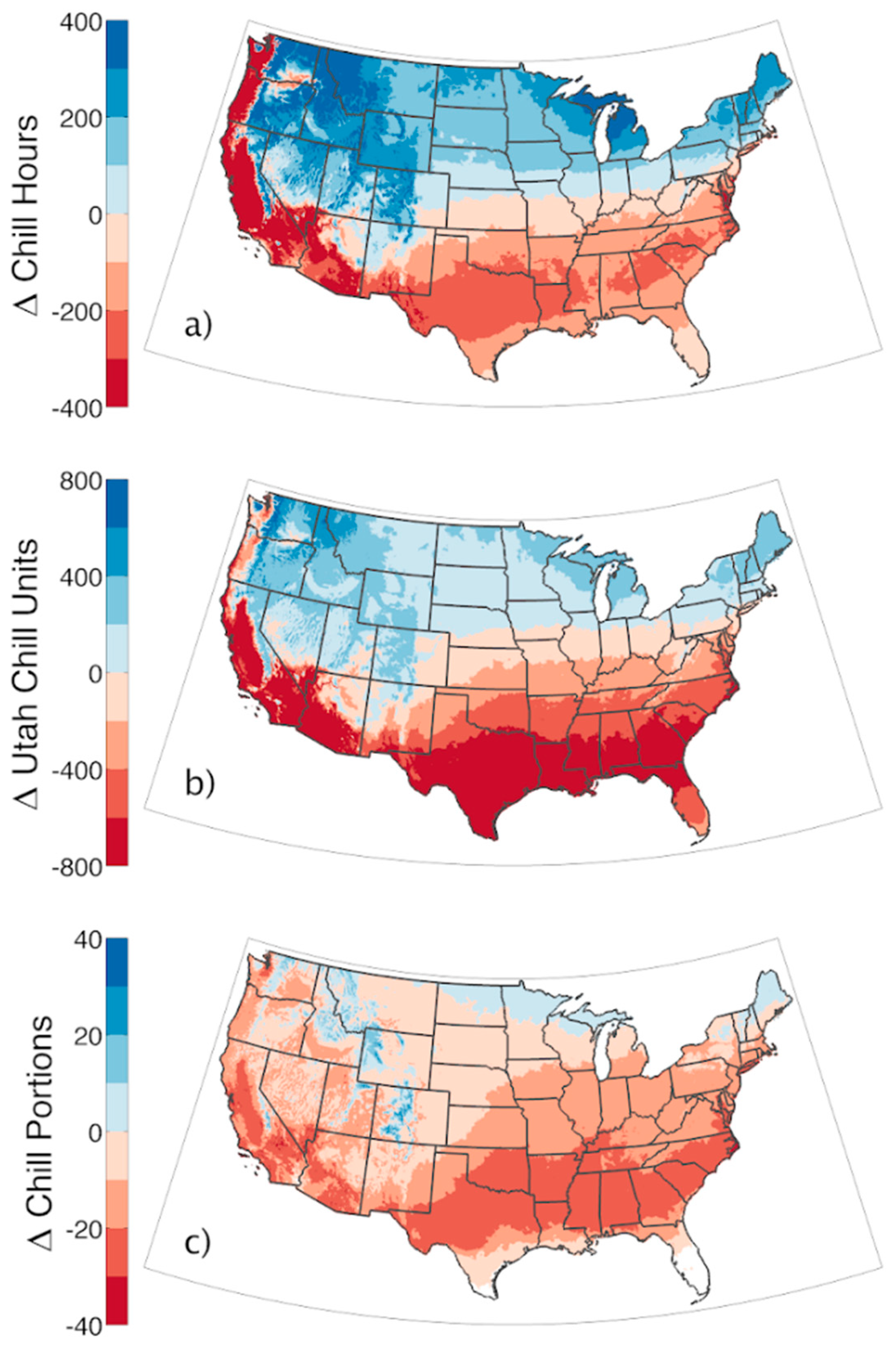 © 2019 by the authors. Licensee MDPI, Basel, Switzerland. This article is an open access article distributed under the terms and conditions of the Creative Commons Attribution (CC BY) license (http://creativecommons.org/licenses/by/4.0/).