Open Access This article is
freely available
re-usable
Review
A Review of Plant Vacuoles: Formation, Located Proteins, and Functions
Institute of Life Sciences, Jiangsu University, Zhenjiang 212013, China
*
Authors to whom correspondence should be addressed.
Received: 19 July 2019 / Accepted: 4 September 2019 / Published: 5 September 2019
Abstract
:
Vacuoles, cellular membrane-bound organelles, are the largest compartments of cells, occupying up to 90% of the volume of plant cells. Vacuoles are formed by the biosynthetic and endocytotic pathways. In plants, the vacuole is crucial for growth and development and has a variety of functions, including storage and transport, intracellular environmental stability, and response to injury. Depending on the cell type and growth conditions, the size of vacuoles is highly dynamic. Different types of cell vacuoles store different substances, such as alkaloids, protein enzymes, inorganic salts, sugars, etc., and play important roles in multiple signaling pathways. Here, we summarize vacuole formation, types, vacuole-located proteins, and functions.
Keywords:
plant vacuole; lytic vacuole; protein storage vacuole; vacuole iron transporter
Author Contributions
X.T. (Xiaona Tan) and J.C. designed and supervised the review, X.T. (Xiaoli Tan), K.L., Z.W., K.Z., and J.C. performed the review and wrote the manuscript. All authors read and approved the manuscript.
Funding
This project is supported by grants from the National Key Research and Development Program of China (2016YFD0101904 and 2016YFD0100305) and the National Science Foundation of China (No. 31871655).
Conflicts of Interest
The authors declare no conflict of interest.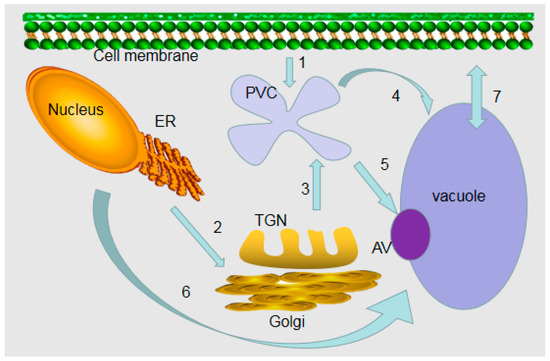 Figure 1. Model for the formation of plant vacuoles. (1) Endocytosis from the cell surface to a prevacuolar compartment (PVC). (2) Early secretory pathway from the endoplasmic reticulum (ER) to the late Golgi compartment. (3) Proteins are sorted into the PVC by an early biosynthetic vacuolar pathway. The Golgi apparatus/trans-Golgi network (TGN) system is important for biosynthetic traffic. (4) PVC is transferred to vacuoles via the late biosynthetic vacuole pathway. (5) PVC enters vacuoles through autophagic vacuoles (AV) by degradation or biosynthetic pathways. (6) Direct transport from ER to vacuole. (7) Transport of ions and solutes on vacuole membrane.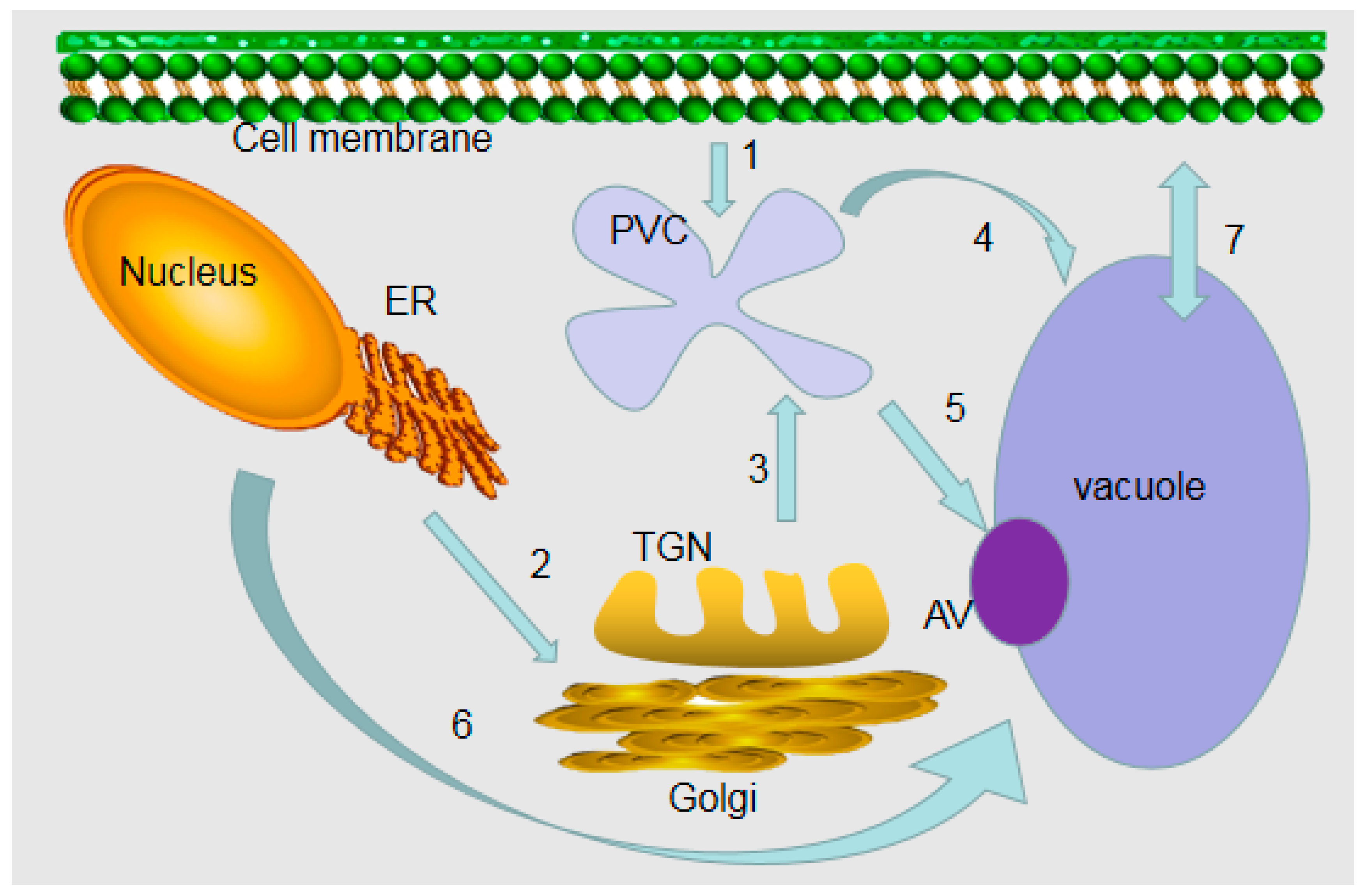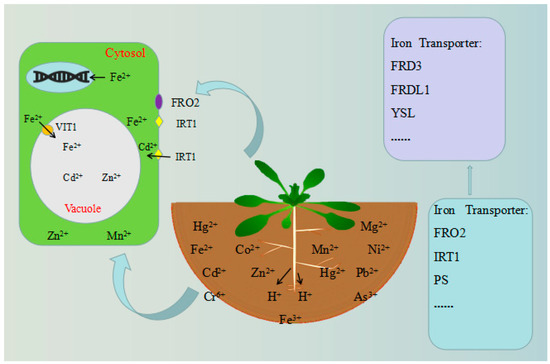 Figure 2. Tolerance mechanisms of model plants. Under the condition of iron deficiency, the four depicted mechanisms are upregulated in the root system. After that, iron is transported from the roots, through the xylem, to the shoots. Additionally, iron must also be transported to the cell compartments for utilization.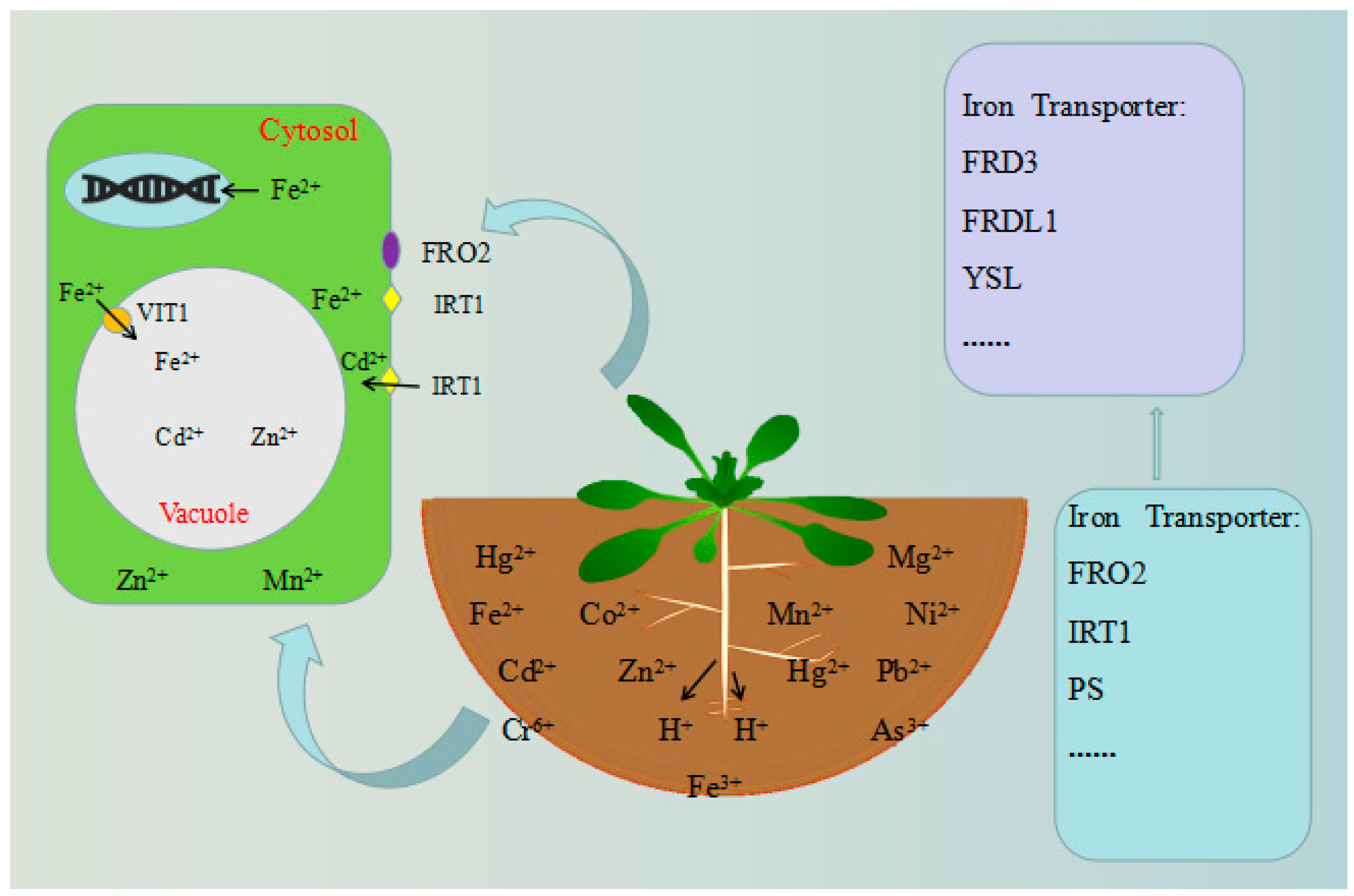 Classification
Name
Functions
References
Proton Pumps
Vacuolar-type H+-pumping ATP hydrolase (H+-ATPase, VHA)
For the acidification of the vacuole.
[39,40]
H+-pumping pyrophosphatase (H+-PPase, AVP1)
For the acidification of vacuoles and the control of auxin transport.
[39,40,41]
Proton antiporters
Cation (Na+/K+) proton antiporters (NHXs)
To change the color of flowers.
[42]
Na+/H+ antiporter (AtNHX1)
To mediate Na+ isolation in vacuoles and improve plant salt tolerance.
[43]
Ca2+/H+ antiporters
To regulate plant processes, including ionic homeostasis and development.
[44]
The characterization of the copper transporter COPT5
To export copper in vacuoles.
[45]
Vacuolar anion exchanger AtCLCa, AtALMT9
Stomatal regulation and vacuole delivery of their anions.
[46,47]
ATP-binding cassette (ABC) transporters
MRPs, AtTAP2
For transporting glutathione conjugates and glucosidic acid conjugates.
[35,48]
Multidrug and toxic compound extrusion (MATE) transporters
SbMATE2
To transport secondary compounds such as alkaloids, cyano glucoside, and some flavonoids.
[49,50,51]
Heavy Metal Transporters
Vacuole iron transporter (VIT)
To regulate the synthesis of anthocyanins; resistance to heavy metal ions; to regulate cytosolic iron homeostasis.
[52,53]
BnMEB2
Resistance to heavy metal ions
[54]
Mn2+ transporters
Resistance to heavy metal ions
[55,56]
Vacuolar Sugar Transporters
AtSuc4
Resistance to heavy metal ions
[57]

© 2019 by the authors. Licensee MDPI, Basel, Switzerland. This article is an open access article distributed under the terms and conditions of the Creative Commons Attribution (CC BY) license (http://creativecommons.org/licenses/by/4.0/).