Effect of Water Stress during Grain Filling on Yield, Quality and Physiological Traits of Illpa and Rainbow Quinoa (
Chenopodium quinoa

Willd.) Cultivars

1

Instituto de Agrobiotecnología – CSIC, Avenida de Pamplona 123, 31192 Mutilva, Spain

2

Universidad de Navarra, Facultades de Ciencias y Farmacia y Nutrición, Grupo de Biología y Química Agrícola (Departamento de Biología Ambiental), c/Irunlarrea 1, 31008, Pamplona, Spain

3

Dpto. Nutrición Vegetal, Estación Experimental de Aula Dei (EEAD), CSIC, Apdo. 13034, 50080 Zaragoza, Spain

*

Author to whom correspondence should be addressed.

Received: 14 May 2019 / Revised: 5 June 2019 / Accepted: 11 June 2019 / Published: 14 June 2019
Abstract
The total area under quinoa (
Chenopodium quinoa
Willd.) cultivation and the consumption of its grain have increased in recent years because of its nutritional properties and ability to grow under adverse conditions, such as drought. Climate change scenarios predict extended periods of drought and this has emphasized the need for new crops that are tolerant to these conditions. The main goal of this work was to evaluate crop yield and quality parameters and to characterize the physiology of two varieties of quinoa grown under water deficit in greenhouse conditions. Two varieties of quinoa from the Chilean coast (Rainbow) and altiplano (Illpa) were used, grown under full irrigation or two different levels of water deficit applied during the grain filling period. There were no marked differences in yield and quality parameters between treatments, but the root biomass was higher in plants grown under severe water deficit conditions compared to control. Photosynthesis, transpiration and stomatal conductance decreased with increased water stress in both cultivars, but the coastal variety showed higher water use efficiency and less discrimination of
13
C under water deficit. This response was associated with greater root development and a better stomatal opening adjustment, especially in the case of Rainbow. The capacity of Rainbow to increase its osmoregulant content (compounds such as proline, glutamine, glutamate, K and Na) could enable a potential osmotic adjustment in this variety. Moreover, the lower stomatal opening and transpiration rates were also associated with higher leaf ABA concentration values detected in Rainbow. We found negative logarithmic relationships between stomatal conductance and leaf ABA concentration in both varieties, with significant R
2
values of 0.50 and 0.22 in Rainbow and Illpa, respectively. These moderate-to-medium values suggest that, in addition to ABA signaling, other causes for stomatal closure in quinoa under drought such as hydraulic regulation may play a role. In conclusion, this work showed that two quinoa cultivars use different strategies in the face of water deficit stress, and these prevent decreases in grain yield and quality under drought conditions.
View Full-Text
►

▼

Figures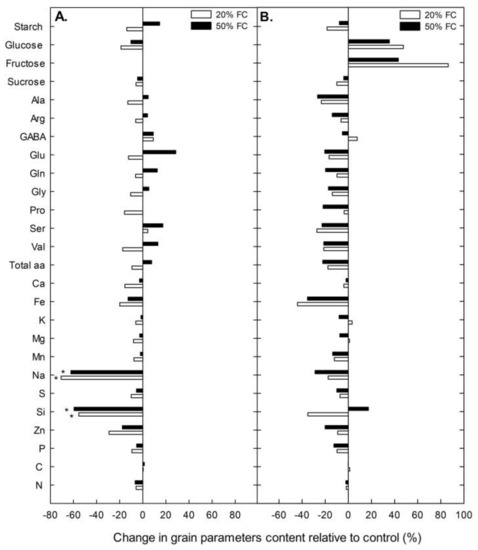 Figure 1
This is an open access article distributed under the
Creative Commons Attribution License
which permits unrestricted use, distribution, and reproduction in any medium, provided the original work is properly cited (CC BY 4.0).

Share & Cite This Article
MDPI and ACS Style
Gámez, A.L.; Soba, D.; Zamarreño, Á.M.; García-Mina, J.M.; Aranjuelo, I.; Morales, F. Effect of Water Stress during Grain Filling on Yield, Quality and Physiological Traits of Illpa and Rainbow Quinoa (Chenopodium quinoa Willd.) Cultivars. Plants 2019, 8, 173.
Note that from the first issue of 2016, MDPI journals use article numbers instead of page numbers. See further details here.
Related Articles
Comments
[Return to top]