Open Access This article is
freely available
re-usable
Article
Assessment of Primary Cell Wall Nanomechanical Properties in Internal Cells of Non-Fixed Maize Roots
1
Kazan Institute of Biochemistry and Biophysics, FRC Kazan Scientific Center of RAS, Lobachevsky Str. 2/31, Kazan 420111, Russia
2
Nanotechnology Research and Education Center, Vyatka State University, Moskovskaya Str. 36, Kirov 610000, Russia
*
Author to whom correspondence should be addressed.
Received: 29 April 2019 / Accepted: 11 June 2019 / Published: 13 June 2019
Abstract
:
The mechanical properties of cell walls play a vital role in plant development. Atomic-force microscopy (AFM) is widely used for characterization of these properties. However, only surface or isolated plant cells have been used for such investigations, at least as non-embedded samples. Theories that claim a restrictive role of a particular tissue in plant growth cannot be confirmed without direct measurement of the mechanical properties of internal tissue cell walls. Here we report an approach of assessing the nanomechanical properties of primary cell walls in the inner tissues of growing plant organs. The procedure does not include fixation, resin-embedding or drying of plant material. Vibratome-derived longitudinal and transverse sections of maize root were investigated by AFM in a liquid cell to track the changes of cell wall stiffness and elasticity accompanying elongation growth. Apparent Young's modulus values and stiffness of stele periclinal cell walls in the elongation zone of maize root were lower than in the meristem, i.e., cell walls became more elastic and less resistant to an applied force during their elongation. The trend was confirmed using either a sharp or spherical probe. The availability of such a method may promote our understanding of individual tissue roles in the plant growth processes.
Keywords:
Atomic-force microscopy (AFM); nanomechanical properties; primary cell wall; root;
Zea mays
1. Introduction
Here we present a method for AFM-based characterization of plant cell wall mechanical properties for internal tissues of plant organs using non-fixed and never-dried material of maize roots. Vibratome sectioning produced a surface smooth enough to be studied by an atomic force microscope and avoided drying during cutting. The use of the AFM liquid cell solved the problem of section drying during measurements. Because we investigated cell walls of the cut cells that had no turgor, we conducted our experiments in water. The stiffness and elasticity of stele vascular parenchyma periclinal cell walls in different regions of maize primary roots were characterized to test the hypothesis that a direct relationship exists between cell wall mechanical properties and the growth rate of cells. Investigations were conducted on both longitudinal and transverse sections to examine the anisotropy of the mechanical properties.
2. Results and Discussion
2.1. Plant Section Preparation to be Studied by AFM
We investigated both transverse (
Figure 1
a,b) and longitudinal (
Figure 1
c,d) sections of axial plant organs, derived using a vibratome. The vibratome uses a blade vibrating in a horizontal plane to cut the sample. The advantage is that, in contrast with hand sectioning, the vibratome produces slices so that the top and bottom sides are parallel to each other. The crucial issue that should be addressed at this stage is the sample orientation. In the case of axial organs, the section plane should be either perpendicular (for a transverse cut) or parallel (for a longitudinal cut) to the organ axis. Oblique sectioning results in cell walls that are tilted relative to the sample surface and cannot be probed for mechanical properties [
3
].
Soft samples are usually embedded in low melting point agarose to be cut by the vibratome. The proper orientation of an object within the agarose block was achieved during the two-step embedding (see Materials and Methods section for details). A plastic Petri dish was used as an AFM liquid cell. The additional layer of agarose on the bottom of the Petri dish retained the agarose block containing the root section. AFM was conducted in a contact mode in water. Using this approach, we obtained topography images for cross-sections of primary maize root and
Arabidopsis
hypocotyl (
Figure 2
) to demonstrate the applicability of the proposed method for studying specimens of different sizes. Vibratome sectioning produced a surface smooth enough to be studied by an atomic force microscope and prevented sample drying during cutting. Performing AFM in a liquid solved the problem of section drying during experiments.
2.2. Stele Tissue Topography and Force Spectroscopy
Two types of AFM probes were used in the study: a sharp conical probe with 10 nm apex radius, and a spherical probe with 100 nm sphere radius.
2.3. Stiffness and Elasticity of Maize Root Central Cylinder Cell Walls
2.4. Potential Limitations of the Proposed Method
Water is not a physiological solution for plant tissues. Inevitable leaching of ions and small molecules occurs during both sectioning and scanning. For example, calcium and boron are known to play an essential role in the mechanical performance of plant cell walls due to their ability to crosslink pectins [
10
,
24
,
40
], however, this mechanism may be not crucial for cereal cell walls having low pectin content [
41
]. Wounding while cutting generates a reactive oxygen species burst, which also may affect the cell wall biochemistry [
42
] and, hence, the properties. Simultaneously, autolytic enzymes within cell walls may still be operational in cut cells, while synthesis and deposition of new portions of polysaccharides are doubtful. All of these issues could not be addressed simultaneously without bringing other errors into the AFM measurements. Thus, the time of the experiment should be standardized and shortened as much as possible. In the current study, each root of maize was used to produce only one section which was used for the analysis of only one zone. All procedures starting from root excision to last force-displacement curve recording were performed within one hour.
During AFM, cut cell walls are incubated in water for at least half an hour. Some changes in cell wall mechanical properties may occur within this time. Each graph in
Figure 5
shows apparent Young's moduli measured successively within 30 minutes at different points on one root section. Thus, the set of measurements for each variant in
Figure 5
is taken from a single representative root. Although the substantial variation in the obtained values was observed, no clear changing trends in Young's moduli over time were established (
Figure 5
). This suggests that incubation of cut cell walls in water during AFM did not lead to detectable one-directional changes in cell wall elasticity.
Some alterations in cell wall properties may also have occurred before measurements, such as in the vibratome bath while sectioning. Vibratome sections are widely used for immunodetection of cell wall epitopes [
43
,
44
], indicating the persistence of cell wall components on the surface of the section during its preparation. The wounding itself causes a rearrangement of the cell wall structure and mechanics; however, this response requires several hours to become pronounced [
45
,
46
]. The tissue reaction on cutting by a vibratome may be even slower because of the dissipation of signal molecules in the vibratome bath where the movements of the blade constantly mix water. Nevertheless, the material cut using a vibratome cannot be considered as alive. However, in short term investigations, the mechanical properties measured on such a material may be closer to an in vivo state than those obtained as a result of any other sample preparation procedure.
3. Materials and Methods
3.1. Plant Material and Sample Preparation
Arabidopsis
(
Arabidopsis thaliana
, cv. Columbia) seedlings were grown on a wet paper for 3 days in the dark at 27°C. The upper part of the hypocotyl was used for AFM topography imaging. Maize (
Zea mays
, cv. Interkras 375) seedlings were grown hydroponically for 4 days in the dark at 27°C. Apical 6 mm segments of primary root were used for sectioning (
Figure 1
c). Cells of stele vascular parenchyma in the meristem zone (0–1 mm of the root apex, measured from the root cap junction) and in the first half of the elongation zone (2–4 mm of the root apex, measured from the root cap junction) were analyzed. The distribution of growth zones in maize primary roots has been described and proven [
22
]. For the dissection by the vibratome, the excised root apex was embedded in 3% (
w
/
w
) low melting point agarose.
Melted agarose was poured in a Petri dish to form a layer with a horizontal surface. After it cooled and partially solidified, the segment of a root (or a hypocotyl) was placed on its surface and then covered by another layer of agarose. Thus, a strictly horizontal position of the organ was achieved. After complete congealing of agarose, the block, which contained the root segment, was cut out using a razor blade. The block was mounted on a vibratome stage vertically or horizontally depending on what kind of section was prepared using cyanoacrylate adhesive (Best-CA, Germany). A Leica VT 1000S (Leica Biosystems, Germany) vibratome (blade speed—1.3 mm s−1, blade frequency—90 Hz) was used to obtain 400 µm thick sections of plant material. We used sections of 400 µm thickness because they are easier to handle. However, the sample thickness could be increased or decreased depending on the object's dimensions or the research goal. The obtained sections were caught from the vibratome bath on a glass slide using a brush.
Melted agarose was poured on the bottom of another Petri dish, which was used then as an AFM liquid cell. Before complete congealing of this agarose layer, the section still surrounded by agarose from the initial block was moved from the glass slide to the agarose layer in the Petri dish (
Figure 1
a,c). The sample was then covered with water to be studied by AFM.
3.2. Atomic Force Microscopy
AFM investigations were performed at room temperature in a liquid cell using a NTEGRA Prima (NT-MDT, Russia) microscope. Topography images were obtained in a contact mode using CSG10 AFM tips (NT-MDT, Russia) with a typical resonant frequency of 22 kHz, average spring constant of 0.11 N m−1 and apex radius of 10 nm, and spherical Biosphere-B100-CONT (NanoTools, Germany) tips with a sphere curvature radius of 100 nm and average spring constant of 0.2 N m−1. The thermal tune procedure was performed for each new cantilever to determine its unique spring constant. Deflection sensitivity was determined at room temperature in water on a fresh cover glass for each new cantilever, between samples, and every time after laser adjustment. Scanning was conducted at a speed of 5 s per line. The typical scanning area was 50 × 50 μm with 64 × 64 point resolution. Scanning was carried out in a regime of controlled force with a maximum force acting on the sample of 4 and 20 nN for CSG10 and B100, respectively. The AFM images had no correction for noise or surface subtraction.
Force–displacement curves were recorded at different points of the periclinal cell walls after the topography images were obtained. The indentations were performed at a rate of 2 μm s
−1
. Sample indentation did not exceed 300 nm for both types of probe, applied force did not exceed 20 nN for the sharp CSG10 tip and 100 nN for the spherical B-100 tip. Obtained force–displacement curves were analyzed on the presence of artefacts (
Figure 4
). Selected curves were used to determine Young's moduli and cell wall stiffness.
3.3. Calculations
Apparent Young's moduli were calculated from the retraction part of the force–displacement curves using FCProcessor2 script of Nova Px 3.4 software (NT-MDT, Russia) with the following input parameters: deflection sensitivity [m A−1]; cantilever stiffness [N m−1]; tip radius [nm]; half-angle of a cone [°]; contact mechanic model to fit [Hertz sphere or Hertz cone, i.e., Sneddon]. Poisson's ratio was 0.5. The FCProcessor2 script determines the baseline and converts the force–displacement curve into a force–deformation curve based on deflection sensitivity and cantilever stiffness. It then conducts the fitting to the chosen model using data on tip geometry. The region of the curve between 20% and 80% of the maximum applied force was used for fitting. Output parameters for each analyzed force–displacement curve were deformation [nm] and Young's modulus [MPa]. For calculation of stiffness [N m−1], maximum applied force was extracted as the maximum point of the force–displacement curve and divided by the deformation obtained from the curve analysis. Areas under approach and retraction curves for hysteresis evaluation were calculated by Simpson's method.
3.4. Statistics
Once it was cut, the root was dissected transversely or longitudinally and used for biomechanical characterization of either the meristem or elongation zone. Ten roots were examined for their mechanical properties for each zone (meristem and elongation zone), each type of the section (transverse and longitudinal), and each type of probe (sharp and spherical tips), giving 80 roots in total. Between 20 and 50 force–displacement curves were recorded on each section. The mean value of apparent Young's moduli and stiffness from one section was used as one biological replica. Mean values with standard deviations among biological replicates are presented. Mean separation was performed by ANOVA followed by Tukey test at α = 0.01, using the SPSS software package (v.21, IBM Corp.).
4. Conclusions
A properly oriented piece of plant material can be sectioned by a vibratome to produce a surface appropriate for AFM, formed by cut cell walls of inner tissues. This approach is applicable to specimens of different sizes. Force–displacement curves can be recorded in different points of the scanned area to calculate stiffness and the apparent Young's modulus. Some force–displacement curves had artefact character that might occur due to cell wall bending or the probe slipping off the sample surface. Such curves can be distinguished by their shape and should be excluded from the analysis. The sharp tip used in the current study was characterized by a higher proportion of non-artefact curves compared to the spherical one. At the same time, the standard deviations of measured parameters were always higher for the sharp tip, possibly because of its ability to resolve the substructures of cell walls. Independently of the probe type, meristem cell walls of maize root were characterized by higher stiffness and Young's modulus values compared to walls at the beginning of elongation, confirming the idea of a direct relationship between growth rate and cell wall mechanical properties. Contemporary theories that claim a restricting role of a particular tissue in plant growth cannot be confirmed without direct measurement of the mechanical properties of internal tissue cell walls. The availability of such a method may promote our understanding of the role of individual tissues in plant growth performance.
Author Contributions
Conceptualization, L.K.; investigation, L.K., A.P. and B.A.; methodology, L.K. and A.P.; visualization, A.P.; writing—original draft, L.K. and A.P.; writing—review & editing, L.K. and T.G.
Funding
Work was partially supported by Russian Science Foundation [project number 18-14-00168, AFM-analysis].
Acknowledgments
The authors thank Ekaterina Martinson (Vyatka State University) for help in collaboration arrangement. Maize seeds were provided by Dmitry Suslov (Saint-Petersburg State University).
Arabidopsis
seeds were provided by Natalia Mokshina (Kazan Institute of Biochemistry and Biophysics).
Conflicts of Interest
The authors declare no conflict of interest.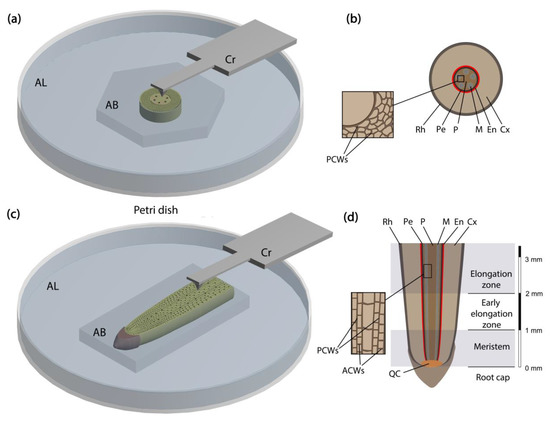 Figure 1.
Scheme of sample preparation. General view of transverse (
a
) and longitudinal (
c
) sections of maize root mounted in a plastic Petri dish for atomic force microscopy (AFM). Tissue structure of maize root on transverse (
b
) and longitudinal (
d
) section with the inset showing the location of vascular parenchyma. Root zones distribution according to Kozlova et al. [
22
], grey semitransparent contours show regions which were investigated (
d
). AB—agarose block, AL—agarose layer, Cr—cantilever, Rh—rhizodermis, Cx—cortex, Pe—pericycle, P—pith, M—metaxylem, En—endodermis, PCW—periclinal cell wall, ACW—anticlinal cell wall, QC—quiescent centre.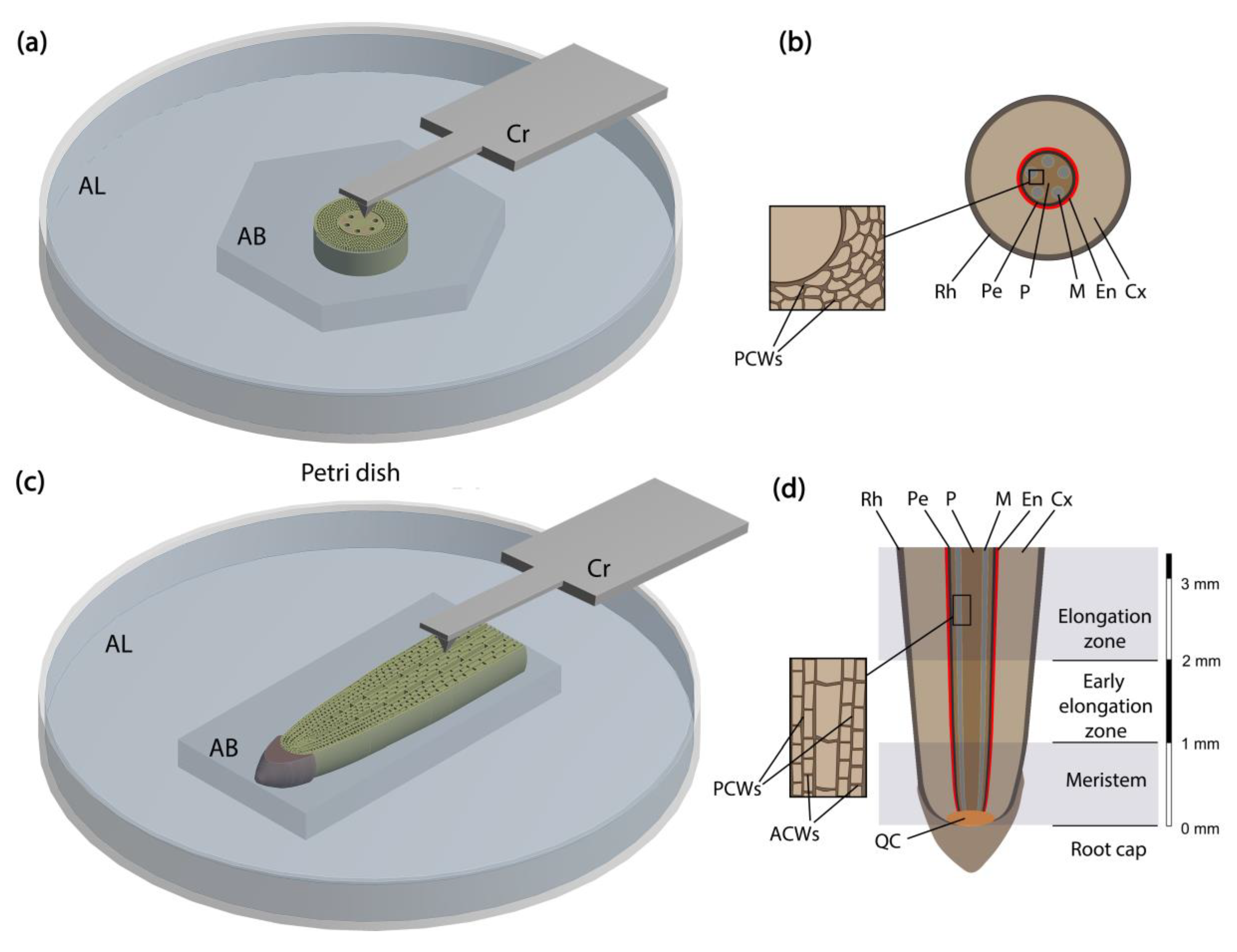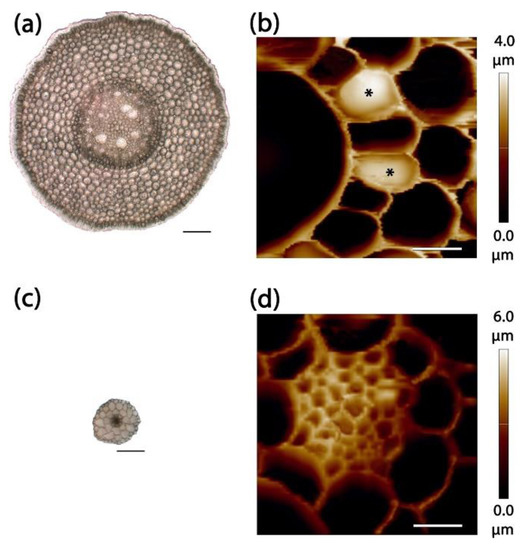 Figure 2.
Transverse sections of primary maize root (
a,b
) and
Arabidopsis
hypocotyl (
c,d
). (
a,c
) light microscopy images; (
b,d
) AFM topography images. Bar (
a,c
) 100 μm; (
b,d
) 10 μm. Z-scale for (
b
,
d
) is presented on the right side of the corresponding image. Asterisks in (
b
) mark undamaged anticlinal cell walls of stele cells.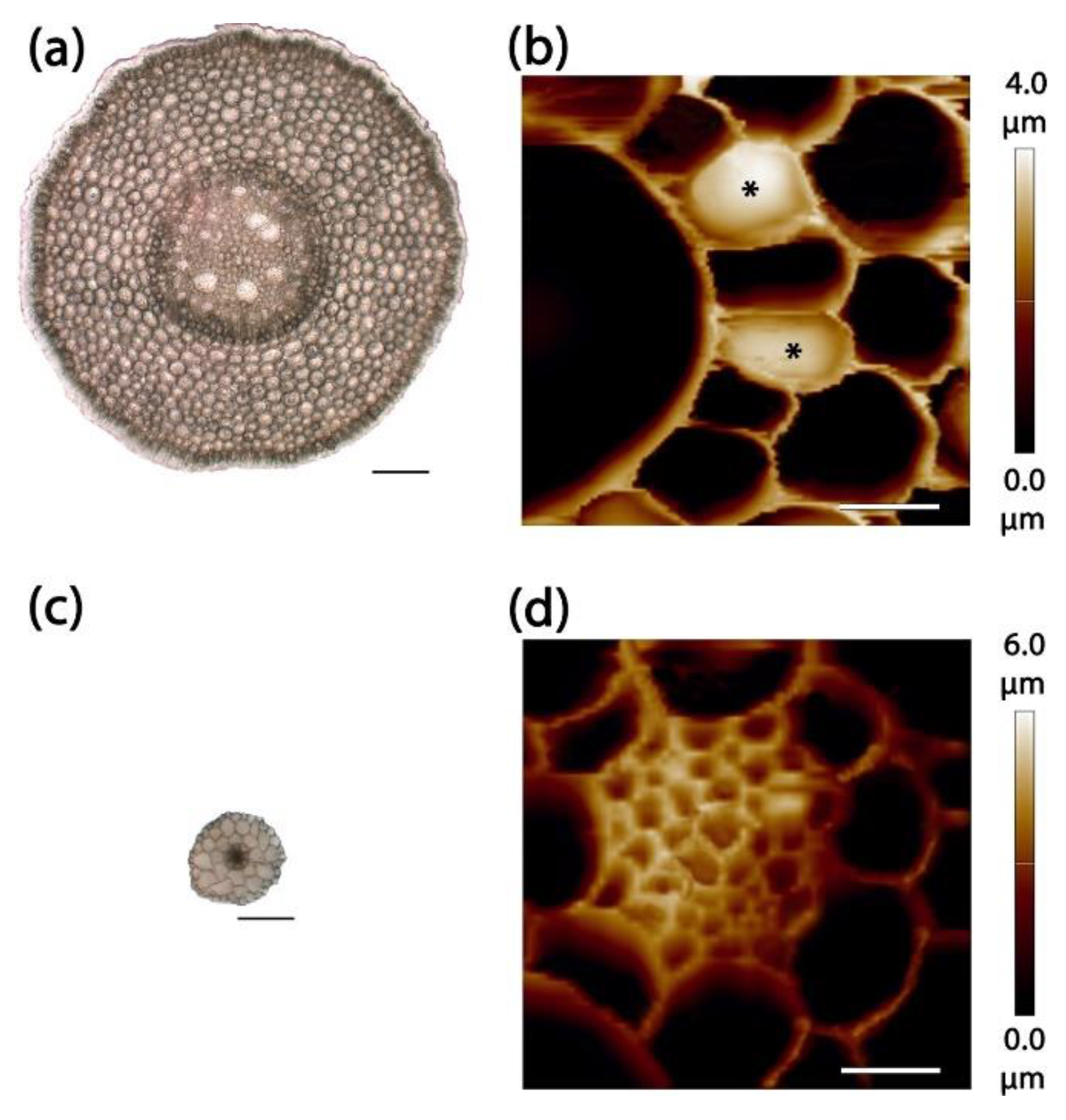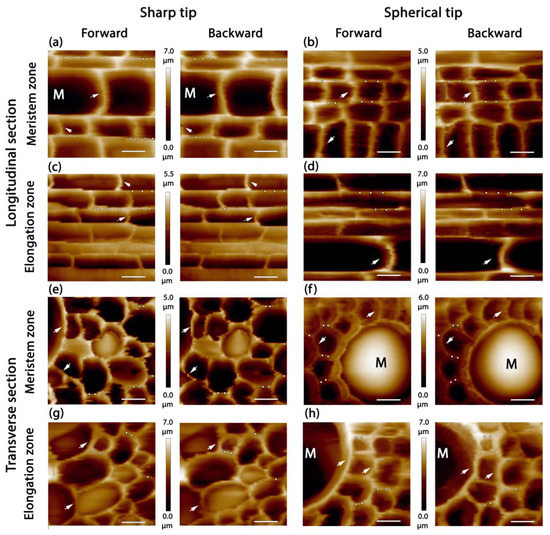 Figure 3. The topography of central cylinder cells imaged by sharp (a,c,e,g) and spherical (b,d,f,h) AFM tips on longitudinal (a–d) and transverse (e–h) sections of maize seedling primary root in the meristem (a,b,e,f) and elongation (c,d,g,h) zones. Each pair of images was generated by forward and backward height signals with 64 × 64 point resolution. M—metaxylem. White arrows show the displacement of some cell walls occurring at scanning. Dots represent points where force–displacement curves may be recorded. The bar for XY-dimension—10 μm. Z-scale is given between each pair of images.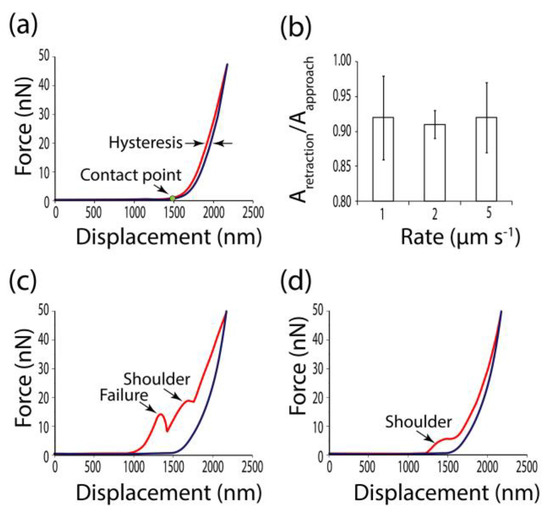 Figure 4. Force–displacement curves. Approach curves are red, and retraction curves are blue. (a) Normal curves, appropriate for calculations of apparent Young's modulus. (b) Hysteresis observed at different loading rates expressed as the ratio of areas under the retraction and approach curves. Typical artefact curves for sharp (c) and spherical (d) probes.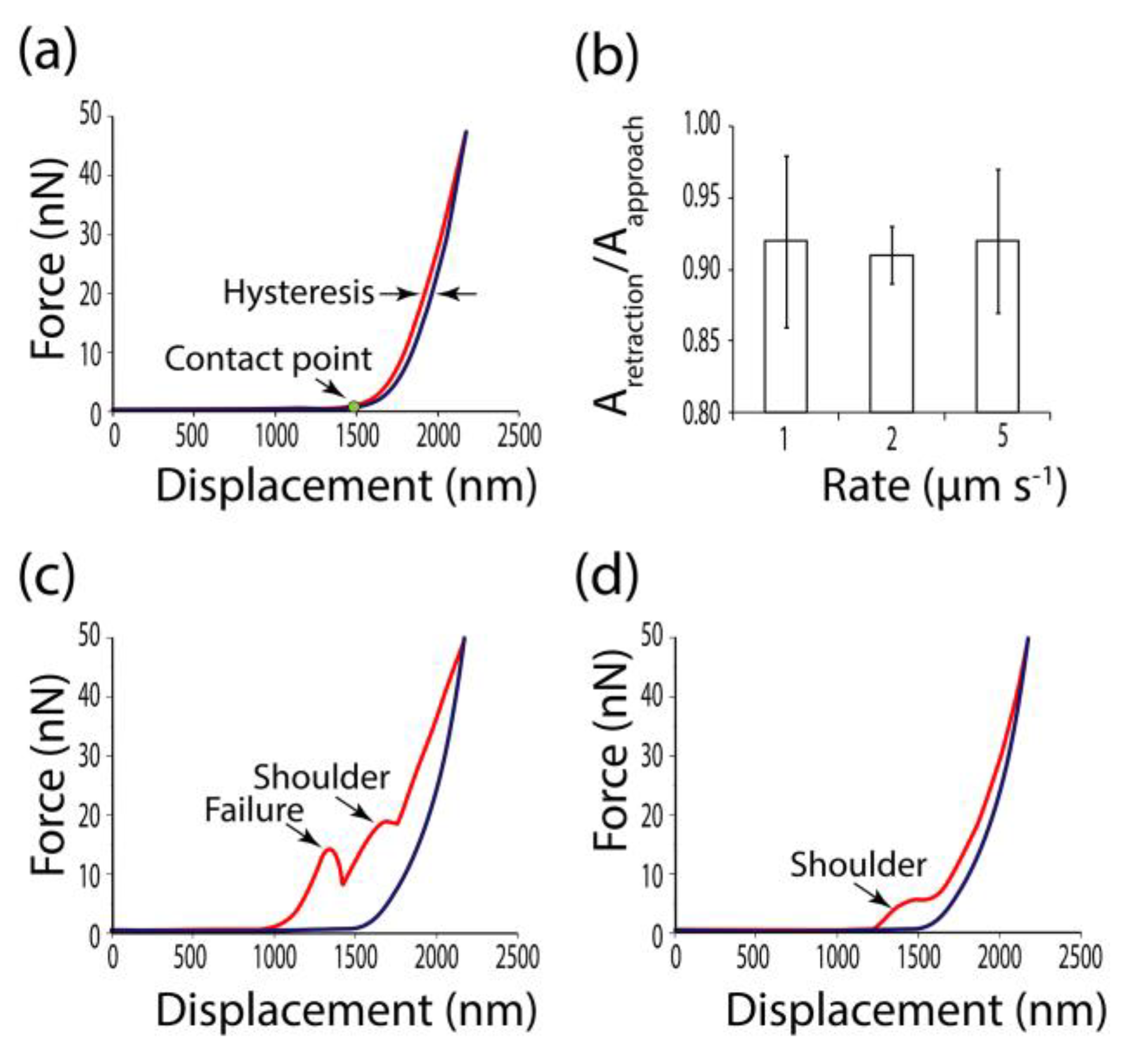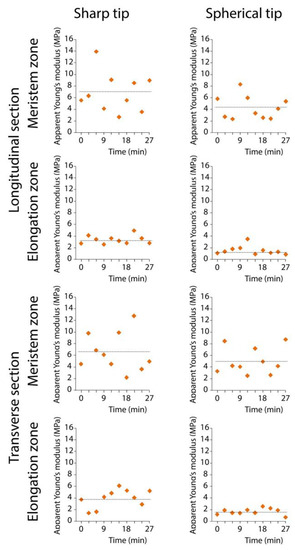 Figure 5. Changes of cell wall apparent Young's moduli over time. The set of measurements for each variant is taken from a single representative root (i.e., one biological replica for each variant is shown). Ten markers represent values of apparent Young's modulus obtained at different points on one maize root section within 30 minutes. The horizontal dotted lines correspond to mean value for this biological replica.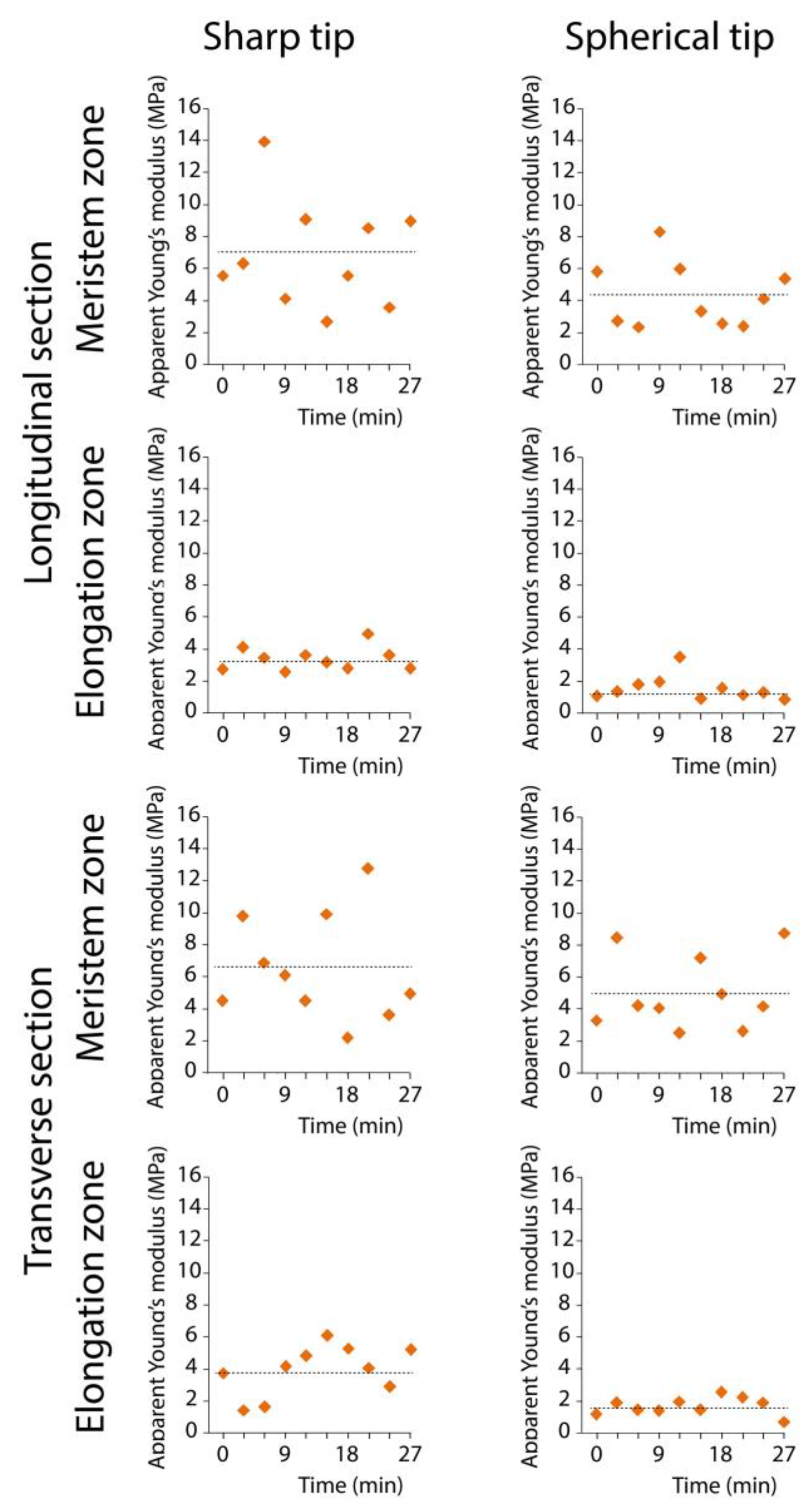 Table 1. Mechanical properties of maize root periclinal cell walls. Mean values for biological replicates with standard deviations are presented. Different letters above the meanings within one row correspond to a significant difference according to one-way ANOVA followed by Tukey test at α = 0.01. Ten roots were examined for their mechanical properties for each zone (meristem and elongation zone), each type of the section (transverse and longitudinal), and each type of probe (sharp and spherical tips), total n = 80.
Meristem Zone, Longitudinal Section
Elongation Zone, Longitudinal Section
Meristem Zone, Transverse Section
Elongation Zone, Transverse Section
Apparent stiffness (N m−1)
CSG10
0.07±0.01a
0.05±0.01b
0.07±0.01a
0.05±0.01b
B100
0.56±0.13a
0.27±0.04b
0.58±0.07a
0.25±0.04b
Apparent Young's modulus (MPa)
CSG10
6.46±1.02a
3.75±0.43b
6.73±1.59a
3.47±0.51b
B100
4.26±0.97a
1.65±0.34b
4.54±0.83a
1.44±0.29b

© 2019 by the authors. Licensee MDPI, Basel, Switzerland. This article is an open access article distributed under the terms and conditions of the Creative Commons Attribution (CC BY) license (http://creativecommons.org/licenses/by/4.0/).