Open Access This article is
freely available
re-usable
Review
Herbicide Resistance Management: Recent Developments and Trends
Australian Herbicide Resistance Initiative (AHRI), School of Agriculture and Environment, The University of Western Australia, Crawley, WA 6009, Australia
*
Author to whom correspondence should be addressed.
Received: 3 May 2019 / Accepted: 5 June 2019 / Published: 8 June 2019
Abstract
:
This review covers recent developments and trends in herbicide-resistant (HR) weed management in agronomic field crops. In countries where input-intensive agriculture is practiced, these developments and trends over the past decade include renewed efforts by the agrichemical industry in herbicide discovery, cultivation of crops with combined (stacked) HR traits, increasing reliance on preemergence vs. postemergence herbicides, breeding for weed-competitive crop cultivars, expansion of harvest weed seed control practices, and advances in site-specific or precision weed management. The unifying framework or strategy underlying these developments and trends is mitigation of viable weed seeds into the soil seed bank and maintaining low weed seed banks to minimize population proliferation, evolution of resistance to additional herbicidal sites of action, and spread. A key question going forward is: how much weed control is enough to consistently achieve the goal of low weed seed banks? The vision for future HR weed management programs must be sustained crop production and profitability with reduced herbicide (particularly glyphosate) dependency.
Keywords:
best management practices; crop competition; herbicide resistance; integrated weed management; precision weed management; site-specific weed management
2. Herbicide Discovery: Renewed Efforts
3. Herbicide-Resistant (HR) Crops: The Changing State of Trait Adoption
Soybean in the United States (U.S) perhaps best illustrates the changing adoption of cultivars with different HR traits (
Table 2
). The planted area of soybean in the U.S. in 2018 was 36.3 million ha [
21
]. Since 2014, the level of adoption of HR soybean in the U.S. has remained constant at 94% [
22
]. However, that statistic masks the changes occurring in adoption of different HR traits [
23
].
The dominant trait is still GR. The original Roundup Ready (RR) soybean went off patent in 2015. In 2009, RR2 soybean were introduced into the market. Although Bayer is transitioning to the RR2 Xtend (dicamba resistance) platform, many seed companies still sell RR2 cultivars. Currently, cultivars with the sole RR trait account for 30% of the U.S. market. The GR cultivars with the Xtend trait are expected to reach close to 50% of market share in 2019. This high adoption rate of the Xtend trait in just three years reflects its importance to growers in managing GR and other HR weeds. However, the dicamba herbicides (e.g., XtendiMax™) registered for use in these soybean cultivars are classified as a 'restricted use pesticide' by the U.S. Environmental Protection Agency. Therefore, they can only be sold to, and used by certified applicators in an effort to reduce potential injury to sensitive cultivars or crops due to off-target movement.
The LibertyLink™ (LL) soybean system, introduced in 2009, confers resistance to glufosinate (Liberty™) herbicide. In the merger with Monsanto, the technology was divested by Bayer to BASF (Credenz™ soybean platform). As with the RR2 Xtend soybean system, the LL system has been gaining market share over the past five years (currently about 20%) due to the need to manage the increasing incidence of GR weeds such as
Amaranthus
spp. This increased market share is also the result of lower seed prices in recent years and the availability of generic glufosinate herbicide products. Soybean cultivars with the combined RR+LL and RR+LL+dicamba (Xtend flex) traits are also available.
Going forward, GT27 soybean, developed by MS Technologies, Bayer and Mertec LLC, confer tolerance to glyphosate and isoxaflutole, an hydroxyphenyl-pyruvate-dioxygenase (HPPD)-inhibiting herbicide [
23
]. BASF introduced LL GT27, which will offer tolerance to three SOAs: glyphosate, glufosinate, and PRE-applied isoxaflutole. Another three-way stacked soybean system to be released is Enlist E3 developed by Dow AgroSciences and MS Technologies (now Corteva Agriscience), tolerant to glyphosate, glufosinate, and 2,4-D.
A company's decision to develop and introduce an HR trait for a particular crop depends primarily on the prospect for regulatory approval, market size (i.e., potential revenue), future market access, and grower demand (e.g., weed control needs). For example, frequent outcrossing between rice and related weed, red rice (
Oryza sativa
L.) was a consideration impacting the introduction of transgenic cultivars. Crops such as canola that are grown on a relatively small area globally are of lesser priority for investment in new HR-trait cultivars. Monsanto abandoned plans to commercialize GR wheat (
Triticum aestivum
L.) in 2004 largely because of lack of market acceptance of transgenic cultivars. Therefore, soybean, maize and cotton will continue to be the tier-1 level for investment, development, and introduction of stacked-HR trait cultivars.
With the rapid transition towards soybean and other crop cultivars with stacked (two- and three-way) HR traits, it will become more challenging for growers to choose the right system or systems to control HR and non-HR weeds on their farm. Comprehensive training for growers in proper stewardship practices of these technologies will be critical to optimizing and prolonging their benefits and minimizing risks as they are repeatedly and widely deployed across millions of hectares of cropland annually. Seed retailers and agronomists also require professional development training in this area as they often advise and influence a grower's decision regarding herbicide options best tailored to their specific weed problems.
4. Increasing Prominence of Preemergence Herbicides
Over the past decade, there has been increasing reliance on preplant or PRE herbicides with short to long soil-residual activity to manage weed populations resistant to glyphosate and many POST herbicides such as ACCase or ALS inhibitors. For example, the use of preplant and PRE herbicides in U.S. soybean from 2000 to 2015 increased from 25 to 70% of crop area, largely in response to GR weeds [
24
]. The PRE herbicide SOAs commonly used in field crops include microtubule assembly inhibitors (dinitroanilines such as trifluralin), photosystem-II inhibitors (e.g., metribuzin), protoporphyrinogen oxidase (PPO) inhibitors (e.g., saflufenacil, flumioxazin, sulfentrazone), fat synthesis inhibitors (e.g., prosulfocarb, triallate), and very long chain fatty acid (VLCFA) inhibitors (e.g., pyroxasulfone [
25
]).
Ideally, PRE herbicides will control weed cohorts very early in the growing season, thereby lessening potential crop yield loss due to weed competition and the selection pressure for resistance evolution from any in-crop (vegetative stage) or pre-harvest herbicide treatments that may still be required for acceptable season-long weed control. A PRE herbicide application is especially important for wide-row crops (e.g., maize, soybean, cotton) [
26
] or pulse crops (e.g., chickpea,
Cicer arientum
L.; lentil,
Lens culinaris
Medik.) with slow early-season growth and development or slow canopy closure. To proactively or reactively manage HR weeds in a growing season, the recommended herbicide treatment program should ideally comprise multiple SOAs applied as needed during one or more application windows (pre-seeding, in-crop, post-harvest) in mixtures or in sequence as required [
27
,
28
].
One case study that exemplifies this trend towards PRE herbicide usage is annual ryegrass (
Lolium rigidum
Gaud.) control in wheat in Australia. Traditionally, it was advised that growers should delay sowing in fields with high weed densities to maximize weed control before sowing and reduce the seed bank by the use of glyphosate or paraquat prior to sowing [
29
]. Today, however, wheat is often dry-seeded in a no-till system in April or early May to optimize yield potential. Common PRE herbicide treatments (soil incorporated by the seeding operation) in wheat include trifluralin, prosulfocarb +
S
-metolachlor, triallate, or pyroxasulfone. Growers are advised to integrate PRE herbicide application with multiple, effective cultural practices that optimize herbicide efficacy and crop suppression of weeds. With traditional delayed seeding to facilitate preplant weed control, weeds that establish in these late-sown winter crops can be more competitive due to the reduced crop growth rate associated with reduced soil and air temperatures. With the availability of highly-effective PRE herbicides that control initial weed cohorts, early seeding may be the best strategy to reduce weed seed production, as later germinating cohorts are suppressed by a larger crop canopy [
30
]. The effective control of summer annual weed species plus machinery innovations in no-tillage seeding now allow growers to efficiently establish crops earlier and make better use of available water resulting in increased yields [
31
,
32
].
To optimize the performance of these soil-applied herbicides, growers need to be aware of the multiple factors influencing their efficacy, including soil temperature; soil moisture; crop residue type, abundance and distribution; and degree of soil disturbance by tillage (ranging from minimal by disc openers to complete inversion by moldboard plow) and its impact on the distribution of soil organic carbon (organic matter) and texture (e.g., clay fraction) in the soil profile. A basic knowledge of the physical and chemical properties of each herbicide is needed to understand how it will likely behave in the soil environment of a grower's field. Because these herbicides may be applied a few days before seeding or at the time of seeding (soil incorporation by sowing), the type of seeding equipment and operational parameters can affect PRE herbicide spatial (horizontal and vertical) distribution, which, in turn, is influenced by water distribution and abundance in the soil profile. When PRE herbicide application occurs in dry soil, research is needed to better understand the interaction between time of PRE herbicide application and time of rainfall (or time of seeding) in terms of crop injury and weed control efficacy. Additionally, more research is needed on agronomic practices that optimize the effectiveness and utility of PRE herbicides in conservation-tillage systems, such as crop seeding rate, row spacing, and fertilizer placement and timing.
5. Plant Breeders Consider Weed Competitiveness
Crop competitiveness against weeds is an important pillar of IWM and therefore HR weed management [
33
,
34
]. Weed scientists have long lamented that crop breeders have neglected to consider weed competitiveness in their breeding programs. Crop variety guides typically include yield, maturity, quality, and disease tolerance ratings, but provide no information on the degree of weed competitiveness. In the weed science community, breeding and selecting weed-suppressive crop genotypes have been a high priority for many years [
35
,
36
].
With the continual increase in incidence and complexity of herbicide resistance in weed populations and declining availability of effective herbicide tools, plant breeders are now researching and developing germplasm with enhanced weed competitiveness (
Figure 1
; [
37
]). Research has identified both above- and below-ground traits that confer enhanced weed competitiveness. These traits include increased plant height, greater early vigour, and resource-competitive root systems. Early-season vigour is enabled by alternative dwarfing genes that do not reduce coleoptile length, which is a metric of weed competitiveness. Early ground cover (canopy closure) has been shown to be strongly correlated with the level of weed suppression. Germplasm that expresses weed-competitiveness traits are being developed in high-yielding genetic backgrounds. Weed-suppressive cereal (e.g., rice, wheat, barley (
Hordeum vulgare
L.)) cultivars will become increasingly available to growers over the next decade [
37
,
38
].
In future crop variety guides, we envision the inclusion of weed-competiveness ratings, with data collected annually from variety trial programs. Field phenomics/phenotyping uses non-destructive assessments (e.g., normalized difference vegetative index, NDVI) of crop growth vigour, such as percentage ground cover, canopy closure, or leaf area index. A first step, however, is validation of such assessments through controlled environment experiments on relative growth rates as well as small-plot experiments (weedy and weed-free conditions) measuring key parameters correlated with crop competitiveness [
39
]. Furthermore, evaluation of the weed-competitiveness rating system in the field should be performed using agronomic practices frequently used by growers. In the future, integrating agronomic practices such as fertilizer timing and placement, crop seeding rate and crop row spacing with weed-competitive cultivars will enhance the ability of the crop to suppress weeds and the opportunity for the grower to reduce their dependency on herbicide inputs.
6. Harvest Weed Seed Control (HWSC) Gaining Momentum Globally
7. Is Site-Specific Weed Management (SSWM) in Agronomic Field Crops Set to Take Off?
Seeding and spraying farm equipment are becoming increasingly capable of the variable rate application of inputs. Therefore, these weed patches could be targeted with greater crop seeding rates or highly effective herbicide treatments. Further research is needed to expand the use pattern of effective herbicides to enable label registration. As weed distributions would be mapped annually, growers would be able to continually adapt to changing weed distributions or newly evolving HR weed patches. With supporting research and development, this simple initial approach to SSWM may bridge the grower implementation disconnect that has characterized SSWM. The challenge for researchers is to work with growers and their agronomists and advisers to demonstrate (1) how existing technology can be adapted and used to easily and reliably map and manage weed patches in fields; and (2) sufficient return on investment. Grower experience and confidence gained using a relatively simple SSWM system may be an invaluable prerequisite for future adoption of more technologically-advanced real-time SSWM systems.
8. Conclusions and Future Outlook
The history of HR weed management globally shows that growers deal with the problem after it occurs, not before [
58
]. Furthermore, the extent of changes to their farming system depend upon the magnitude (distribution and abundance) and complexity (cross- and multiple-resistance patterns) of their HR weed populations in their fields. An increasing number of growers are now facing the prospect of changing crops or crop rotations to manage their HR weeds with remaining effective herbicides. For example, the percentage of farms in the United Kingdom adopting spring cropping as a means to manage HR grass weeds, such as blackgrass, increased from 32 to 81% from 2000 to 2016 [
59
]. Annual legume (pulse) crops are usually the weak link in the rotation because of their poor weed competitiveness combined with few registered herbicides or dependency on a few herbicide SOAs such as ALS inhibitors. These crop types are at greatest risk of declining planting area and production. The experience in Australia over the past decade is that effective PRE herbicides combined with agronomic practices to promote crop competition and minimize weed seed set or seed bank replenishment have generally resulted in sustained low weed seed bank levels of problematic weeds and profitable grain crop production.
The vision for the future of HR weed management globally should center on reduced herbicide dependency, especially glyphosate. Non-herbicidal alternatives are often adopted to compensate for reduced herbicide efficacy due to increasing incidence of resistance, rather than as a partial replacement for herbicides [
59
]. The metric for successful IWM must be low weed seed banks concurrent with reduced herbicide use. What we are already witnessing is the merging of conventional and organic weed management strategies and tactics because of increasing incidence and impact of HR weed populations, increasing societal pressure on reducing pesticide use in food and feed production systems from perceived health and environmental perspectives, and increasing regulatory costs, requirements or restrictions surrounding pesticide registration and usage. Will herbicides be a 'once in a century' method of weed control due to widespread multiple-HR populations in many major cropping systems globally [
60
]? A key research question going forward is how much weed control is enough to consistently achieve the goal of low weed seed banks? This question implies reduced herbicide use, as measured by both treated area times the number of applications and herbicide loading (kg ha
-1
). Standardized methodology can be utilized to better assess the economic feasibility, impact, and consequences of reduced pesticide use [
61
]. To adequately address this question requires multi-site, medium-term (4–8 years) large-plot or landscape/field-level farming systems projects. Comparing key economic, agronomic, and environmental indices among farming systems, each with their unique crop sequence and combinations of weed management practices, can help identify more ecologically sustainable weed management systems. In addition, weed surveys and associated grower management questionnaires can help identify best management practices for maintaining low weed seed banks in reduced-herbicide farming systems.
Author Contributions
All author conributed equally with respect to conceptualization, original draft preparation, review and editing.
Funding
This research received no external funding.
Conflicts of Interest
The authors declare no conflict of interest.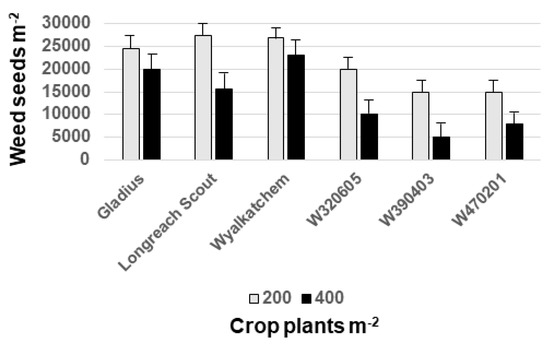 Figure 1.
Weed seed production in field plots of wheat lines W320605, W390403 and W470201 with enhanced weed competitiveness compared with three commercial wheat cultivars (adapted from Rebetzke [
37
]).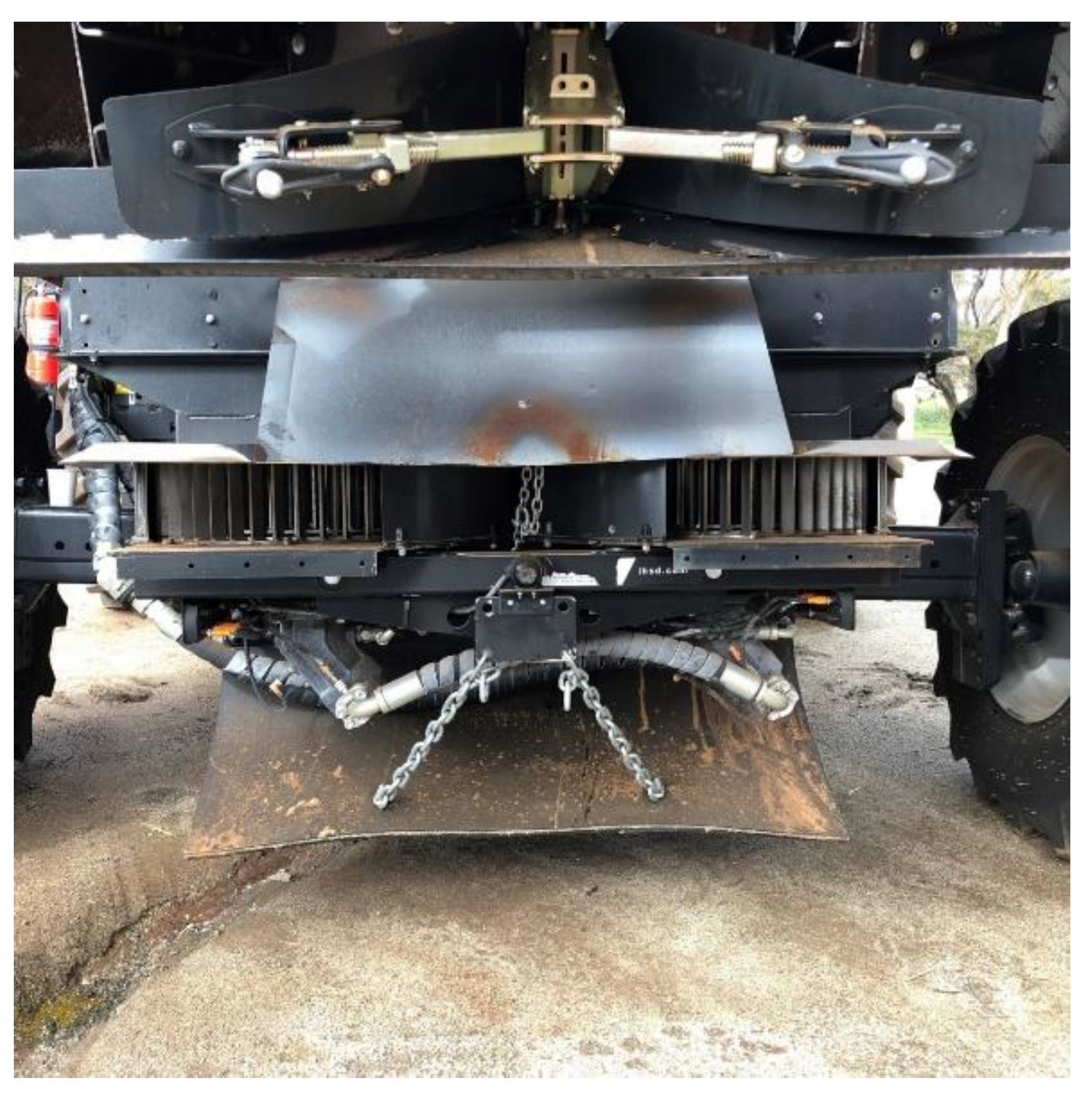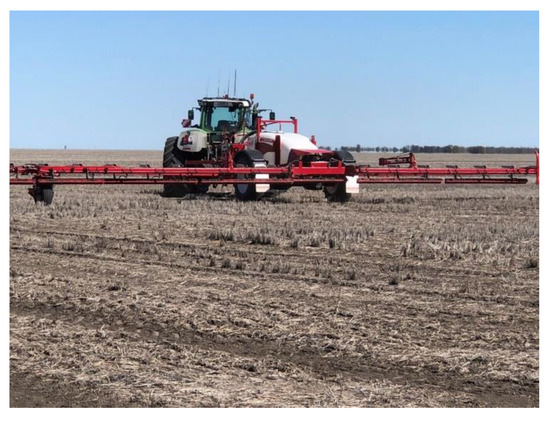 Figure 3. Autonomous site-specific weed control with a real-time weed detection and application sprayer in a fallow field.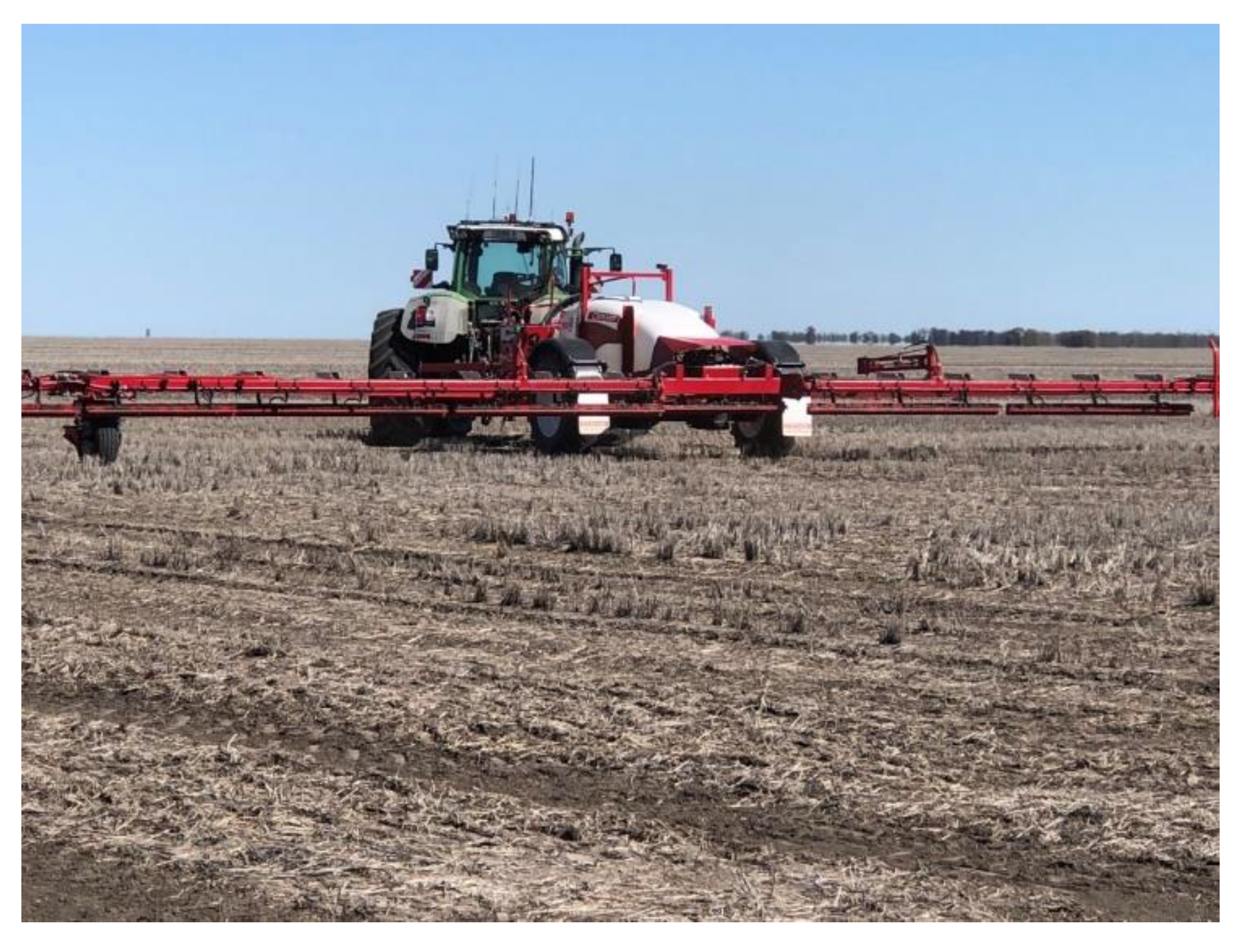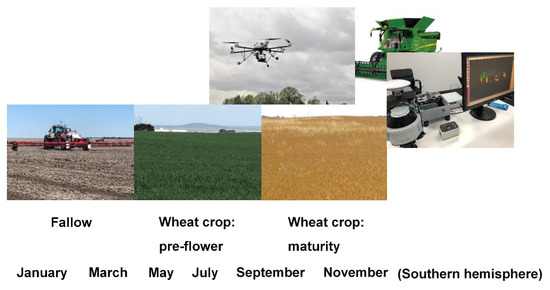 Figure 4. Growing season opportunities (semiarid southern hemisphere example) to map weed patches in wheat at pre-flower development stage using drone with mounted camera or near crop maturity using light detection and ranging (LiDAR) unit that could be mounted on a combine harvester; additionally, controlling weeds in fallow phase using a real-time weed detection sprayer.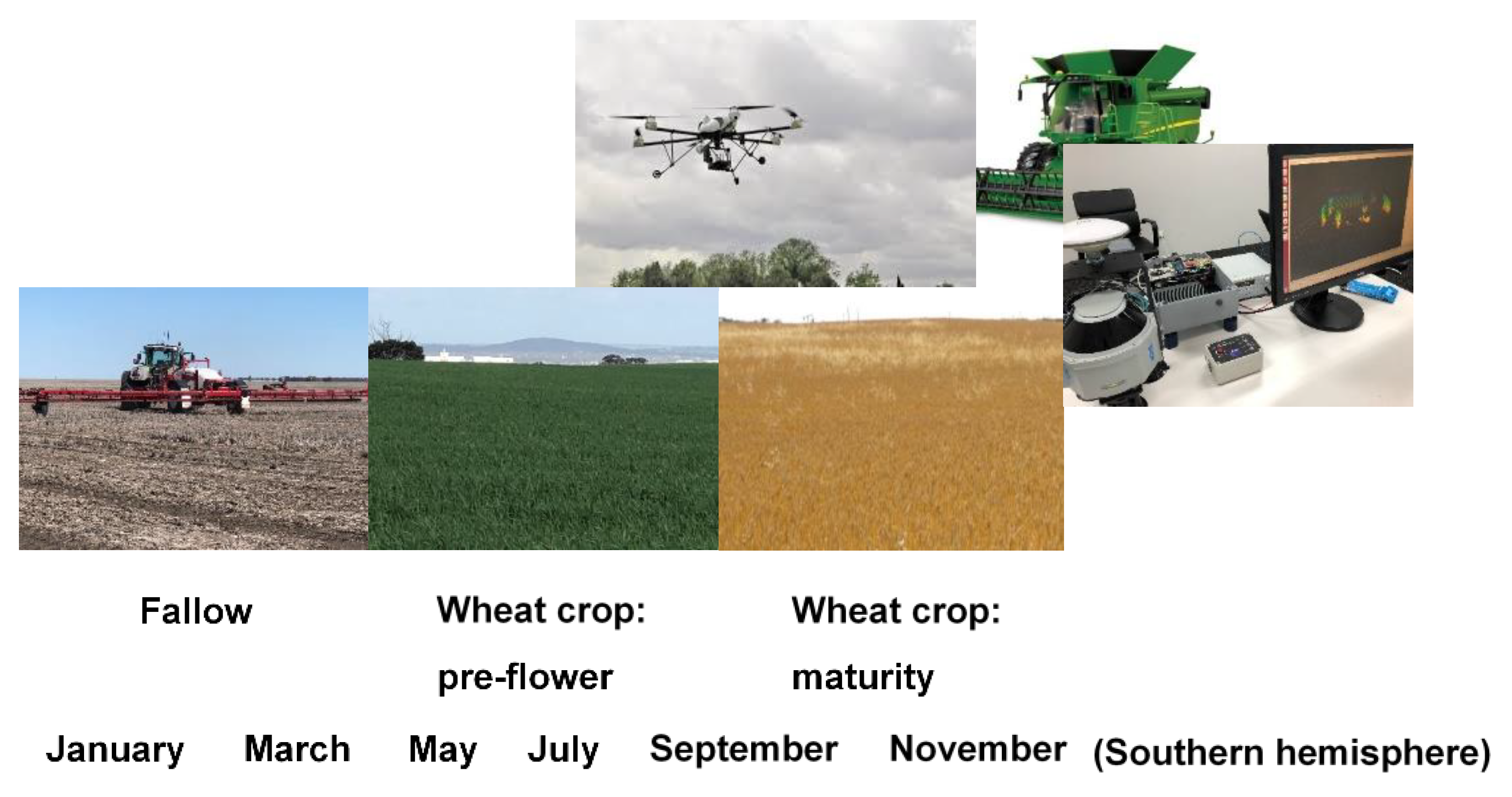 Table 1.
Global introduction of herbicide site of action groups (adapted from Heap [
9
]; WSSA: Weed Science Society of America system used in the USA and Canada; HRAC: Herbicide Resistance Action Committee system used in all other countries except Australia, which has its own system).
Decade
Site of Action *
Example
WSSA
HRAC
Australia
1930s
Uncouplers (membrane disruption)
Dinoterb
24
M
Z
1940s
Synthetic auxins
2,4-D
4
O
I
Auxin transport inhibitors
Diflufenzopyr
19
P
P
Mitosis inhibitors
Propham
23
K2
E
1950s
Microtubule assembly inhibitors
Trifluralin
3
K1
D
PS-II inhibitors
Atrazine
5
C1
C
PS-II inhibitors (ureas and amides)
Chlorotoluron
7
C2
C
Lipid inhibitors
Triallate
8
N
J
Carotenoid biosynthesis inhibitors
Amitrole
11
F3
Q
Nucleic acid inhibitors
MSMA
17
Z
Z
PS-I electron diverters
Paraquat
22
D
L
1960s
PS-II inhibitors (nitriles)
Bromoxynil
6
C3
C
PPO inhibitors
Oxyfluorfen
14
E
G
VLCFA inhibitors
Metolachlor
15
K3
K
Lipid inhibitors
Ethofumesate
16
N
J
DHP synthase inhibitors
Asulam
18
I
R
Cellulose inhibitors
Dichlobenil
20
L
I,O,Z
1970s
ACCase inhibitors
Diclofop
1
A
A
ALS inhibitors
Chlorsulfuron
2
B
B
Cell elongtion inhibitors
Difenzoquat
8
Z
Z
EPSPS inhibitors
Glyphosate
9
G
M
Glutamine synthase inhibitors
Glufosinate
10
H
N
Carotenoid biosynthesis inhibitors (PDS)
Diflufenican
12
F1
F
Antimicrotubule mitotic disrupters
Flamprop
25
Z
Z
1980s
DOXP inhibitors
Clomazone
13
F4
Q
Cellulose inhibitors
Dichlobenil
21,26
L
I,O,Z
HPPD inhibitors
Isoxaflutole
27
F2
H
* Abbreviations: ACCase: acetyl-CoA carboxylase; ALS: acetolactate synthase; DHP: dihydropteroate; DOXP: 4-deoxy-D-xylulose-5-phosphate synthase; EPSPS: 5-enolpyruvlshikimate-3-phosphate synthase; HPPD: hydroxyphenyl-pyruvate-dioxygenase; PDS: phytoene desaturase; PPO: protoporphyrinogen oxidase; PS: photosystem; VLCFA: very long chain fatty acid.
| HR Trait | Soybean | Maize | Cotton | Rice | Canola | Wheat |
| --- | --- | --- | --- | --- | --- | --- |
| ACCase inhibitor | | X | | X | | X |
| ALS inhibitor | | X | | X | X | X |
| Triazine * | | | | | X | |
| Glyphosate | X | X | X | | X | |
| Glufosinate | X | X | X | | X | |
| Glyphosate+glufosinate | X | X | X | | | |
| Glyphosate+triazine* | | | | | X | |
| Glyphosate+dicamba | X | | X | | | |
| Glyphosate+2,4-D+APP (ACCase) | | X | | | | |
| Glyphosate+isoxaflutole | X | | | | | |
| Glyphosate+glufosinate+dicamba | X | | X | | | |
| Glyphosate+glufosinate+2,4-D | X | | X | | | |
| Glyphosate+isoxaflutole+glufosinate | X | | | | | |
* Australia only. Abbreviations: ACCase: acetyl-CoA carboxylase; ALS: acetolactate synthase; APP: aryloxyphenoxypropionate.

© 2019 by the authors. Licensee MDPI, Basel, Switzerland. This article is an open access article distributed under the terms and conditions of the Creative Commons Attribution (CC BY) license (http://creativecommons.org/licenses/by/4.0/).