Comparison of Promeristem Structure and Ontogeny of Procambium in Primary Roots of
Zea mays

ssp.

Mexicana

and

Z. mays

'Honey Bantam' with Emphasis on Metaxylem Vessel Histogenesis

1

Department of Biotechnology, Takushoku University, Tatemachi 815-1, Hachioji, Tokyo 193-0985, Japan

2

Biological Sciences Department, Miami University, 1601 University Blvd, Hamilton, OH 45011, USA

*

Author to whom correspondence should be addressed.

Received: 21 April 2019 / Revised: 23 May 2019 / Accepted: 4 June 2019 / Published: 8 June 2019
Abstract
Classical histology describes the histological organization in
Zea mays
as having a "closed organization" that differs from
Arabidopsis
with the development of xylem conforming to predictable rules. We speculated that root apical meristem organization in a wild subspecies of
Z. mays
(a teosinte) would differ from a domestic sweetcorn cultivar ('Honey Bantam'). Careful comparison could contribute to understanding how evolutionary processes and the domestication of maize have affected root development. Root tips of seedlings were prepared and sectioned for light microscopy. Most sections were treated with RNase before staining to increase contrast between the walls and cytoplasm. Longitudinal and serial transverse sections were analyzed using computer imaging to determine the position and timing of key xylem developmental events. Metaxylem development in
mexicana
teosinte differed from sweetcorn only in that the numbers of late-maturing metaxylem vessels in the latter are typically two-fold greater and the number of cells in the transverse section of procambium were greater in the latter, but parenchymatous cell sizes were not statistically different. Promeristems of both were nearly identical in size and organization, but did not operate quite as previously described. Mitotic activity was rare in the quiescent centers, but occasionally a synchronized pulse of mitoses was observed there. Our reinterpretation of histogen theory and procambium development should be useful for future detailed studies of regulation of development, and perhaps its evolution, in this species.
View Full-Text
►

▼

Figures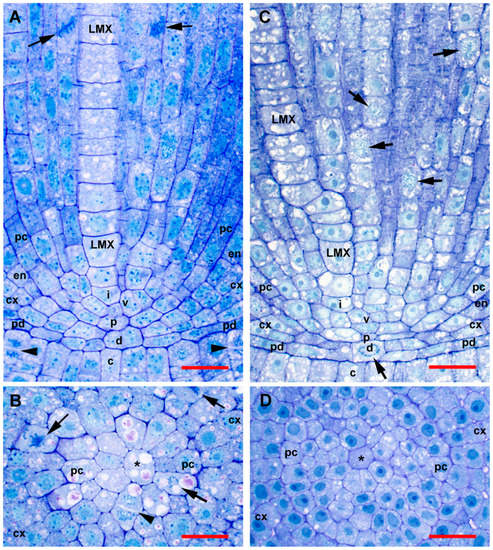 Figure 1
This is an open access article distributed under the
Creative Commons Attribution License
which permits unrestricted use, distribution, and reproduction in any medium, provided the original work is properly cited (CC BY 4.0).

Share & Cite This Article
MDPI and ACS Style
Saito, S.; Niki, T.; Gladish, D.K. Comparison of Promeristem Structure and Ontogeny of Procambium in Primary Roots of Zea mays ssp. Mexicana and Z. mays 'Honey Bantam' with Emphasis on Metaxylem Vessel Histogenesis. Plants 2019, 8, 162.
Note that from the first issue of 2016, MDPI journals use article numbers instead of page numbers. See further details here.
Related Articles
Comments
[Return to top]