Responses of Tomato Plants under Saline Stress to Foliar Application of Copper Nanoparticles
1
Doctorado en Agricultura Protegida, Universidad Autónoma Agraria Antonio Narro, Saltillo 25315, Coahuila, México
2
Centro de Investigación en Química Aplicada, Saltillo 25294, México
3
Departamento de Horticultura, Universidad Autónoma Agraria Antonio Narro, Saltillo 25315, México
4
Departamento de Botánica, Universidad Autónoma Agraria Antonio Narro, Saltillo 25315, Coahuila, México
*
Author to whom correspondence should be addressed.
Received: 7 May 2019 / Revised: 29 May 2019 / Accepted: 31 May 2019 / Published: 4 June 2019
Abstract
The tomato crop has great economic and nutritional importance; however, it can be adversely affected by salt stress. The objective of this research is to quantify the agronomic and biochemical responses of tomato plants developed under salt stress with the foliar application of copper nanoparticles. Four treatments were evaluated: foliar application of copper nanoparticles (250 mg L
−1
) with or without salt stress (50 mM NaCl), salt stress, and an absolute control. Saline stress caused severe damage to the development of tomato plants; however, the damage was mitigated by the foliar application of copper nanoparticles, which increased performance and improved the Na
+
/K
+
ratio. The content of Cu increased in the tissues of tomato plants under salinity with the application of Cu nanoparticles, which increased the phenols (16%) in the leaves and the content of vitamin C (80%), glutathione (GSH) (81%), and phenols (7.8%) in the fruit compared with the control. Similarly, the enzyme activity of phenylalanine ammonia lyase (PAL), ascorbate peroxidase (APX), glutathione peroxidase (GPX), superoxide dismutase (SOD), and catalase (CAT) increased in leaf tissue by 104%, 140%, 26%, 8%, and 93%, respectively. Foliar spraying of copper nanoparticles on tomatoes under salinity appears to induce stress tolerance to salinity by stimulating the plant's antioxidant mechanisms.
View Full-Text
►

▼

Figures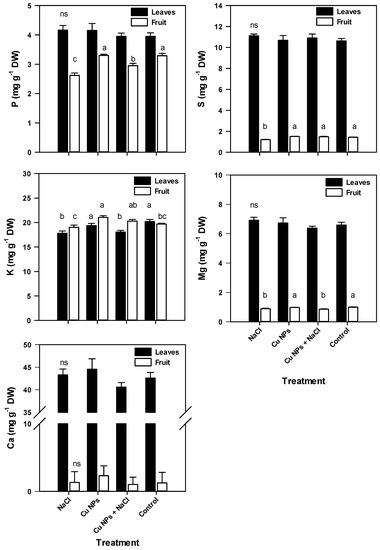 Figure 1
This is an open access article distributed under the
Creative Commons Attribution License
which permits unrestricted use, distribution, and reproduction in any medium, provided the original work is properly cited (CC BY 4.0).

Share & Cite This Article
MDPI and ACS Style
Pérez-Labrada, F.; López-Vargas, E.R.; Ortega-Ortiz, H.; Cadenas-Pliego, G.; Benavides-Mendoza, A.; Juárez-Maldonado, A. Responses of Tomato Plants under Saline Stress to Foliar Application of Copper Nanoparticles. Plants 2019, 8, 151.
Note that from the first issue of 2016, MDPI journals use article numbers instead of page numbers. See further details here.
Related Articles
Comments
[Return to top]