The PIP Peptide of INFLORESCENCE DEFICIENT IN ABSCISSION Enhances
Populus

Leaf and

Elaeis guineensis

Fruit Abscission

1

UMR DIADE, Institut de Recherche pour le Développement, Université de Montpellier, 34394 Montpellier, France

2

Ecology and Genetics Laboratory, Pontificia Universidad Católica del Ecuador (PUCE), 17-01-21-84 Quito, Ecuador

3

CRAPP, INRAB, BP 1 Pobè, Benin

4

PalmElit SAS, F-34980 Montferrier-sur-Lez, France

5

Department of Forest Genetics and Plant Physiology, Umeå Plant Science Centre, Swedish University of Agricultural Sciences, SE-901 83 Umeå, Sweden

6

DRT DPACA, CEA Tech Cadarache, 13108 Saint Paul Lez Durance, France

7

KWS SAAT SE, RD-BT, 37574 Einbeck, Germany

8

UMR DIADE, CIRAD, F-34398 Montpellier, France

*

Author to whom correspondence should be addressed.

Received: 3 May 2019 / Revised: 23 May 2019 / Accepted: 28 May 2019 / Published: 30 May 2019
Abstract
The programmed loss of a plant organ is called abscission, which is an important cell separation process that occurs with different organs throughout the life of a plant. The use of floral organ abscission in
Arabidopsis thaliana
as a model has allowed greater understanding of the complexities of organ abscission, but whether the regulatory pathways are conserved throughout the plant kingdom and for all organ abscission types is unknown. One important pathway that has attracted much attention involves a peptide ligand-receptor signalling system that consists of the secreted peptide IDA (INFLORESCENCE DEFICIENT IN ABSCISSION) and at least two leucine-rich repeat (LRR) receptor-like kinases (RLK), HAESA (HAE) and HAESA-LIKE2 (HSL2). In the current study we examine the bioactive potential of IDA peptides in two different abscission processes, leaf abscission in
Populus
and ripe fruit abscission in oil palm, and find in both cases treatment with IDA peptides enhances cell separation and abscission of both organ types. Our results provide evidence to suggest that the IDA–HAE–HSL2 pathway is conserved and functions in these phylogenetically divergent dicot and monocot species during both leaf and fruit abscission, respectively.
View Full-Text
►

▼

Figures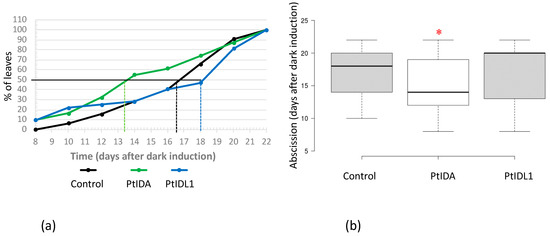 Figure 1
This is an open access article distributed under the
Creative Commons Attribution License
which permits unrestricted use, distribution, and reproduction in any medium, provided the original work is properly cited (CC BY 4.0).

Share & Cite This Article
MDPI and ACS Style
Tranbarger, T.J.; Domonhédo, H.; Cazemajor, M.; Dubreuil, C.; Fischer, U.; Morcillo, F. The PIP Peptide of INFLORESCENCE DEFICIENT IN ABSCISSION Enhances Populus Leaf and Elaeis guineensis Fruit Abscission. Plants 2019, 8, 143.
Note that from the first issue of 2016, MDPI journals use article numbers instead of page numbers. See further details here.
Related Articles
Comments
[Return to top]