Lipophilic Metabolites and Anatomical Acclimatization of
Cleome amblyocarpa

in the Drought and Extra-Water Areas of the Arid Desert of UAE

1

Sharjah Institute for Medical Research and College of Pharmacy, University of Sharjah, P.O. Box 27272, Sharjah, UAE

2

Department of Pharmacognosy, Faculty of Pharmacy, Zagazig University, Zagazig 44519, Egypt

3

Department of Biology, Chemistry and Environmental Sciences, College of Arts and Sciences, American University of Sharjah, P.O. Box 26666, Sharjah, UAE

4

Department of Plant Biology, University of Malaga, 29071 Malaga, Spain

5

Department of Pharmacognosy, Faculty of Pharmacy, Assiut University, Assiut 71526, Egypt

6

Department of Applied Biology, University of Sharjah, P.O. Box 27272, Sharjah, UAE

7

Research Institutes of Science and Engineering, University of Sharjah, P.O. Box 27272, Sharjah, UAE

*

Author to whom correspondence should be addressed.

†

Authors equally contributed.

Received: 5 April 2019 / Revised: 20 April 2019 / Accepted: 14 May 2019 / Published: 16 May 2019
Abstract
Plants adapt to different environmental conditions by developing structural and metabolic mechanisms. In this study, anatomical features and lipophilic metabolites were investigated in
Cleome amblyocarpa
Barr. & Murb.,
Cleomaceae
plants growing in the arid desert of United Arab Emirates (UAE) in either low-water or extra-water areas, which were caused by the surrounding road run-off. The plant showed the presence of shaggy-like trichomes. The plant also developed special mechanisms to ensure its survival via release of lipophilic metabolites. The lipophilic metabolites, stained red with Sudan III, were apparently released by glandular trichomes and idioblasts of the shoot and roots, respectively. The identified lipophilic metabolites included those required for drought tolerance, protection against pathogens invasion, and detoxification. Plants growing in the low-water area caused an increase in the production of lipophilic metabolites—in particular, hydrocarbons and terpenoids. The lipophilic metabolites are known to provide the plant with unique waxy surfaces that reduce water loss and avoid penetration by pathogens. The release of lipid metabolites and the presence of shaggy-like trichomes represented unique features of the species that have never been reported. The provided chemical ecology information can be extended for several plant-related applications, particularly including drought tolerance.
View Full-Text
►

▼

Figures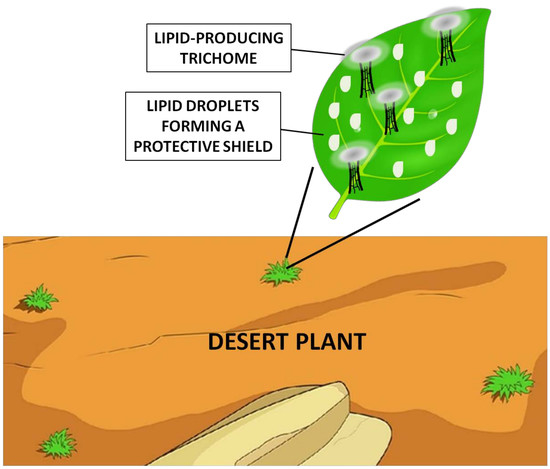 Graphical abstract
This is an open access article distributed under the
Creative Commons Attribution License
which permits unrestricted use, distribution, and reproduction in any medium, provided the original work is properly cited (CC BY 4.0).

Share & Cite This Article
MDPI and ACS Style
Soliman, S.S.; Abouleish, M.; Abou-Hashem, M.M.; Hamoda, A.M.; El-Keblawy, A.A. Lipophilic Metabolites and Anatomical Acclimatization of Cleome amblyocarpa in the Drought and Extra-Water Areas of the Arid Desert of UAE. Plants 2019, 8, 132.
Note that from the first issue of 2016, MDPI journals use article numbers instead of page numbers. See further details here.
Related Articles
Comments
[Return to top]