Open Access This article is
freely available
re-usable
Article
A Polyamine Oxidase from
Selaginella lepidophylla
(SelPAO5) can Replace AtPAO5 in
Arabidopsis
through Converting Thermospermine to Norspermidine instead to Spermidine
1
Department of Genetics and Plant Breeding, Faculty of Agriculture, Bangladesh Agricultural University, Mymensingh 2202, Bangladesh
2
Graduate School of Life Sciences, Tohoku University, 2-1-1 Katahira, Aoba, Sendai 980-8577, Japan
3
Laboratory Center, Senckenberg Biodiversity and Climate Research Center, Georg-Voigt-Str. 14-16, D-60325 Frankfurt am Main, Germany
*
Author to whom correspondence should be addressed.
Received: 11 February 2019 / Accepted: 11 April 2019 / Published: 15 April 2019
Abstract
:
Of the five polyamine oxidases in
Arabidopsis thaliana
, AtPAO5 has a substrate preference for the tetraamine thermospermine (T-Spm) which is converted to triamine spermidine (Spd) in a back-conversion reaction in vitro. A homologue of AtPAO5 from the lycophyte
Selaginella lepidophylla
(SelPAO5) back-converts T-Spm to the uncommon polyamine norspermidine (NorSpd) instead of Spd. An
Atpao5
loss-of-function mutant shows a strong reduced growth phenotype when growing on a T-Spm containing medium. When SelPAO5 was expressed in the
Atpao5
mutant, T-Spm level decreased to almost normal values of wild type plants, and NorSpd was produced. Furthermore the reduced growth phenotype was cured by the expression of
SelPAO5
. Thus, a NorSpd synthesis pathway by PAO reaction and T-Spm as substrate was demonstrated in planta and the assumption that a balanced T-Spm homeostasis is needed for normal growth was strengthened.
Keywords:
polyamine oxidase; norspermidine; thermospermine;
Selaginella lepidophylla
;
Arabidopsis thaliana
mutant
Supplementary Materials
The following are available online at
https://www.mdpi.com/2223-7747/8/4/99/s1
, Table S1. Oligonucleotide primers used in this study, Figure S1. Recovery of T-Spm-induced growth reduction in
Atpao5-2
by complementation with
SelPAO5
.
Author Contributions
Conceptualization, G.H.M.S., T.K., and T.B.; methodology, G.H.M.S., T.K., and T.B.; validation, G.H.M.S., T.K., and T.B.; writing—original draft preparation, G.H.M.S., T.K., and T.B.; writing—review and editing, G.H.M.S., T.K., and T.B.; funding acquisition, T.K.
Funding
This research was funded by the Ministry of Education, Culture, Sports, Science, and Technology of Japan (MEXT) to TK (26_04081, 15K14705). GS was supported by German Academic Exchange Service (DAAD) program Research Stays for University Academics and Scientists.
Acknowledgments
We thank N.-H. Chua, The Rockefeller University, for making plasmid vector pGFP2 available.
Conflicts of Interest
The authors declare no conflict of interest.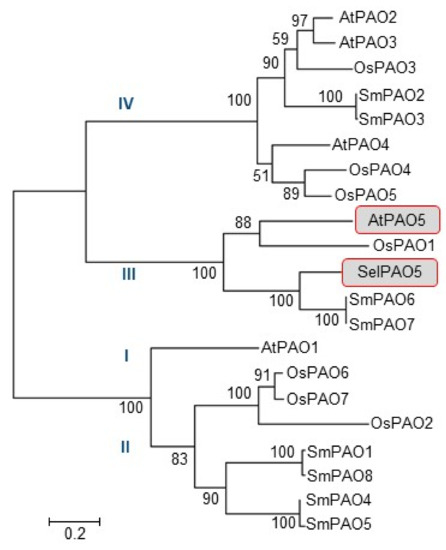 Figure 1.
Phylogenetic relationship between SelPAO5, other
Selaginella
PAOs, and selected angiosperm PAOs. The tree was made by alignment of the amino acid sequences using Molecular Evolutionary Genetics Analysis (MEGA 6.0) software [
38
]. Bootstrap values obtained with 1000 replicates are indicated at the nodes. The genes and accession numbers used are as follows: SelPAO5 (LC036642), SmPAO1 (XP_002965265.1), SmPAO2 (XP_002965599.1), SmPAO3 (XP_002968082.1), SmPAO4 (XP_002969966.1), SmPAO5 (XP_002981437.1), SmPAO6 (XP_002984796.1), SmPAO7 (XP_002985859.1), SmPAO8 (XP_002986593.1), OsPAO1 (NM_001050573), OsPAO2 (NM_001055782), OsPAO3 (NM_001060458), OsPAO4 (NM_001060753), OsPAO5 (NM_001060754), OsPAO6 (NM_001069545), OsPAO7 (NM_001069546), AtPAO1 (NM_121373), AtPAO2 (AF364952), AtPAO3 (AY143905), AtPAO4 (AF364953), AtPAO5 (AK118203).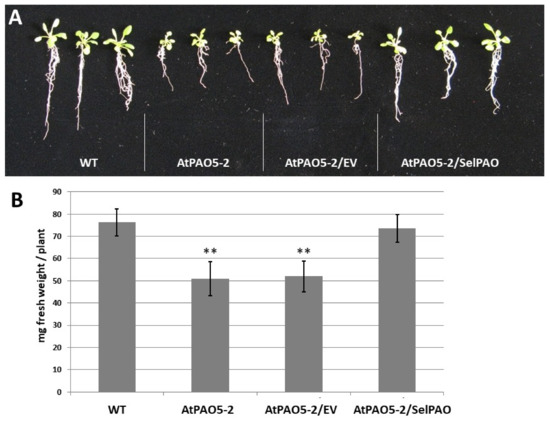 Figure 2.
Recovery of thermospermine (T-Spm)-induced growth arrest in
Atpao5-2
by complementation with
SelPAO5
. Wild type plants (WT, Col-0),
Atpao5-2
mutant (AtPAO5-2),
Atpao5-2
transgenic carrying the control empty binary vector pPZP2Ha3(+) [
39
] (AtPAO5-2/EV), and
Atpao5-2
transgenic line S5#11 carrying the
CaMV35S
-driven
SelPAO5
(AtPAO5-2/SelPAO) were grown vertically for 24 days on half-strength Murashige and Skoog agar medium containing 5 μM T-Spm. Seedlings were carefully picked from the plates and photographed (
A
). The fresh weight of ten seedlings each was determined and the calculated mean including standard deviations displayed in a bar chart (
B
). Asterisks indicate significant differences to fresh weight of WT plants using Student's
t
-test: **
p
< 0.01.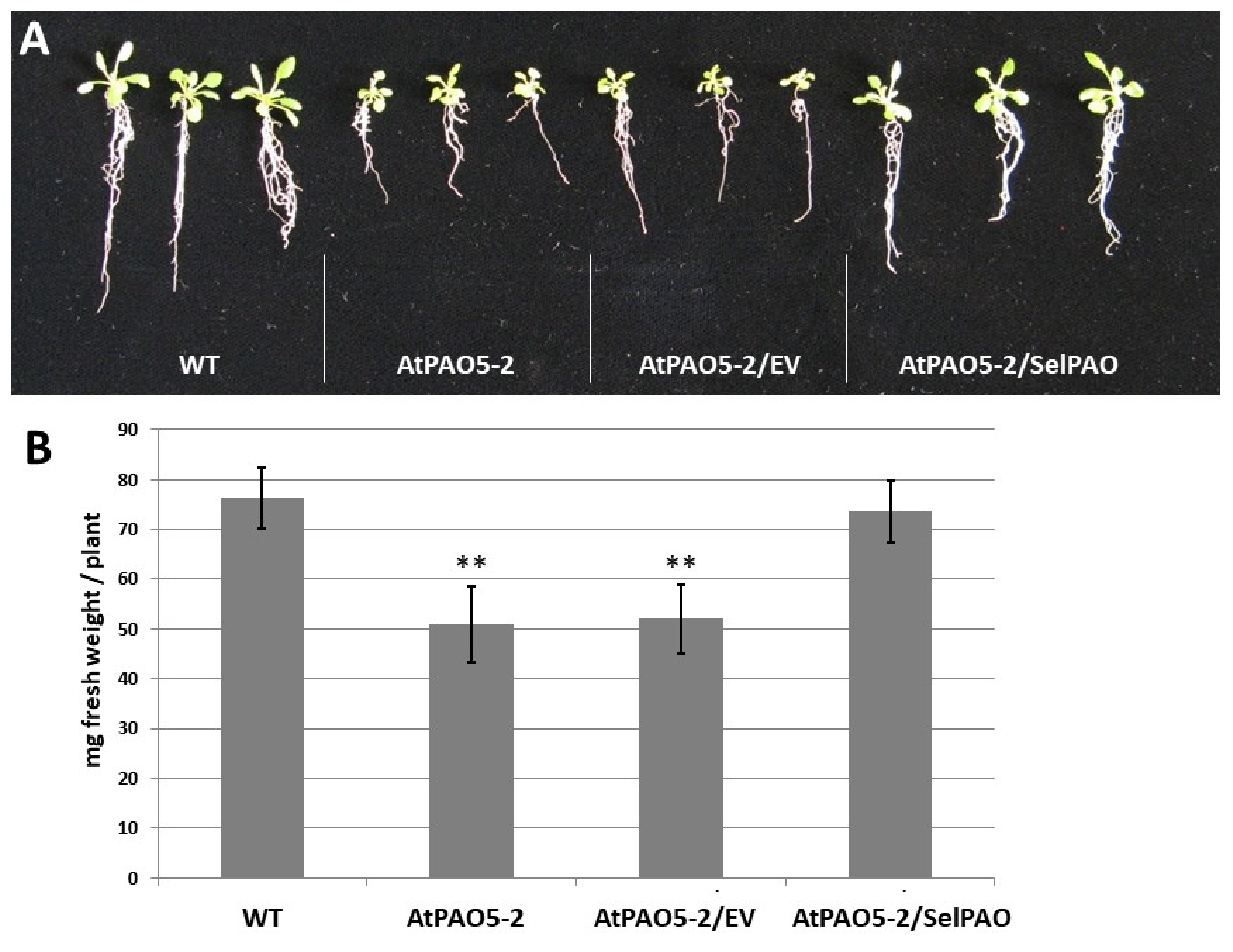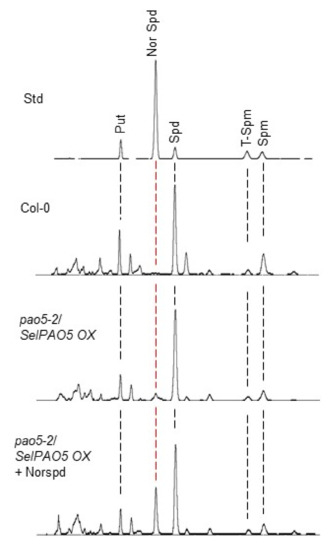 Figure 3.
Chromatograms of HPLC analysis of polyamine patterns from
Arabidopsis
wild type plants (Col-0) and
Atpao5-2
mutant expressing
SelPAO5
, respectively. Std = chromatogram of polyamine standards.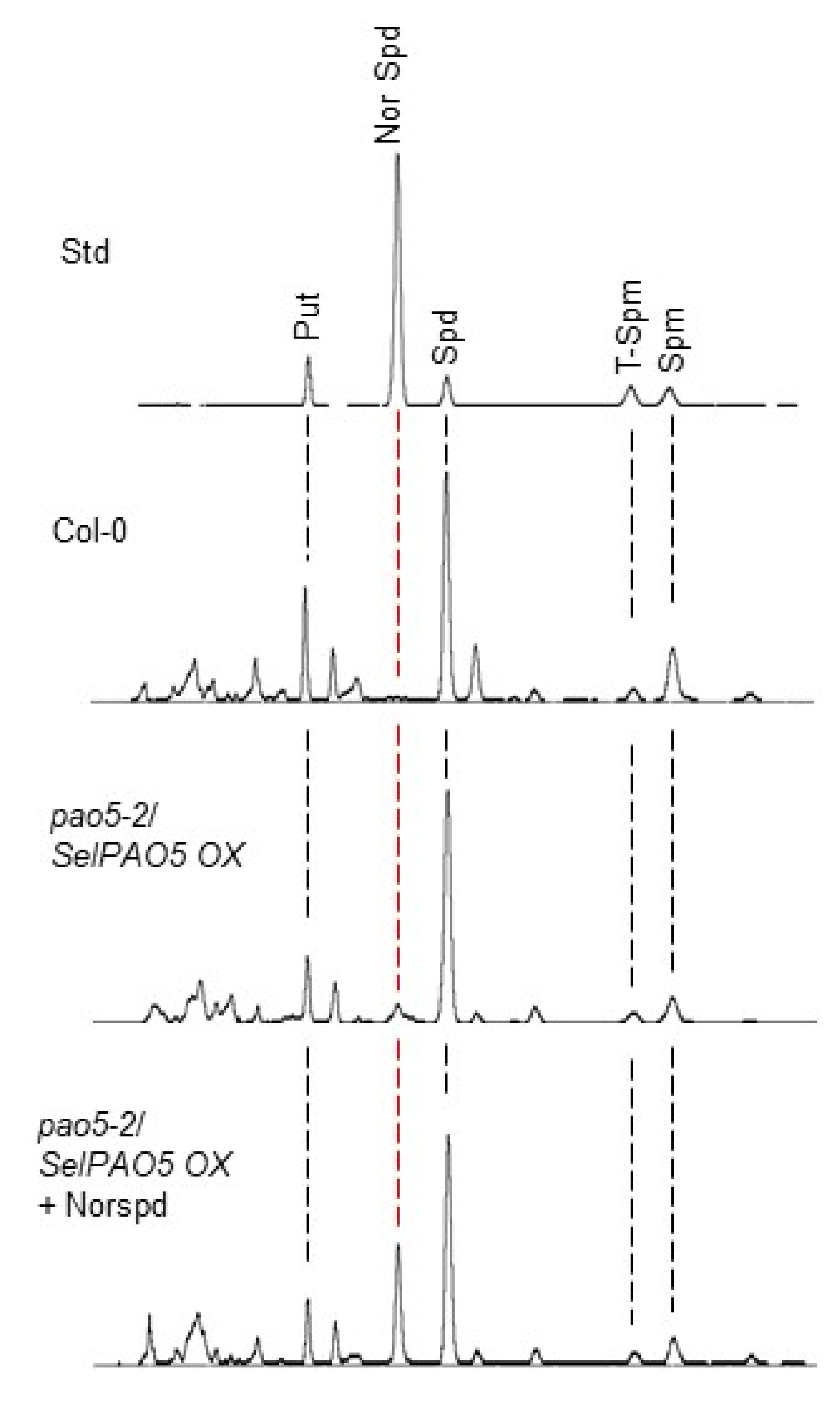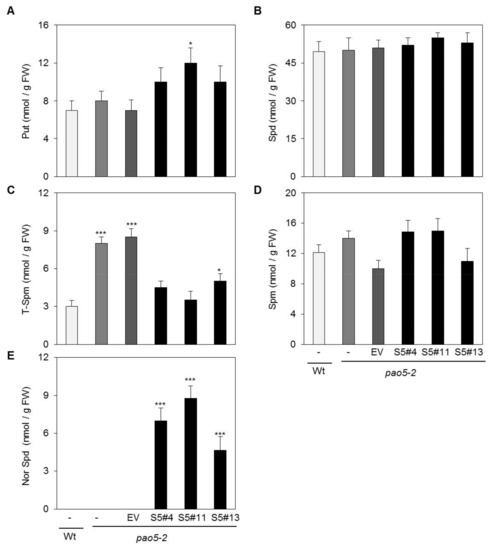 Figure 4.
Polyamine content analysis of WT and pao5-2 transgenics under physiological conditions. (
A
) Put; (
B
) Spd; (
C
) T-Spm; (
D
) Spm; (
E
) NorSpd. Plant samples were: WT,
Atpao5-2
, control transgenic EV, and three transgenic lines S5#4, S5#11, and S5#13. *, **, *** indicate significance at a 5%, 1%, and 0.1% level of significance, respectively.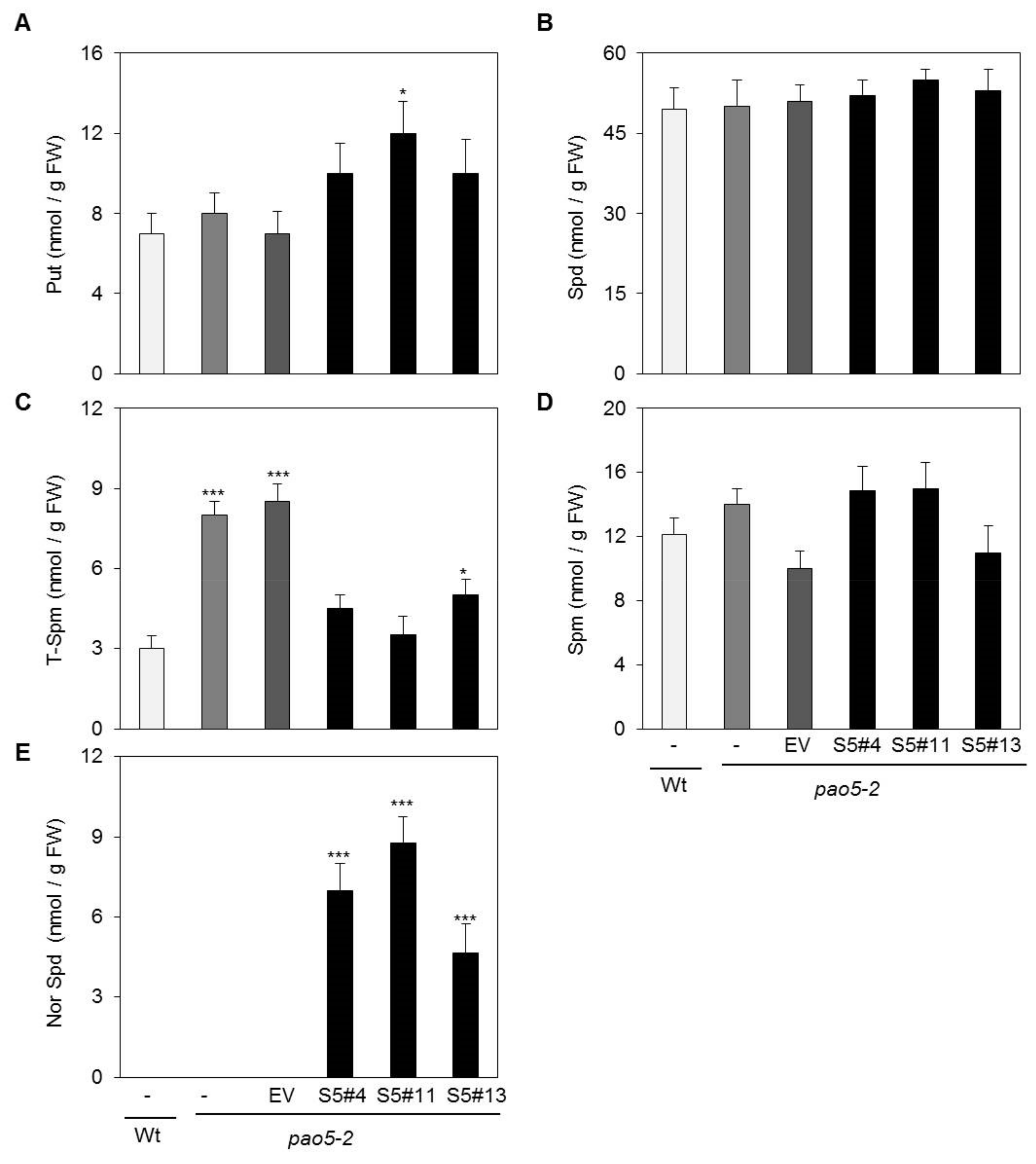 © 2019 by the authors. Licensee MDPI, Basel, Switzerland. This article is an open access article distributed under the terms and conditions of the Creative Commons Attribution (CC BY) license (http://creativecommons.org/licenses/by/4.0/).