Morphological and Transcriptome Analysis of Wheat Seedlings Response to Low Nitrogen Stress
1
College of Resources and Environmental Sciences, Nanjing Agricultural University, Nanjing 210095, China
2
Eco-Environmental Protection Research Institute, Shanghai Academy of Agricultural Sciences, Shanghai 201403, China
3
Shanghai Scientific Observation and Experimental Station for Agricultural Environment and Land Conservation, Shanghai Academy of Agricultural Sciences, Shanghai 201403, China
4
Shanghai Environmental Protection Monitoring Station of Agriculture, Shanghai Academy of Agricultural Sciences, Shanghai 201403, China
5
Shanghai Engineering Research Center of Low-Carbon Agriculture (SERLA), Shanghai Academy of Agricultural Sciences, Shanghai 201403, China
6
Shanghai Key Laboratory of Protected Horticultural Technology, Shanghai Academy of Agricultural Sciences, Shanghai 201403, China
*
Authors to whom correspondence should be addressed.
†
These authors contributed equally to this work.
Received: 23 February 2019 / Revised: 29 March 2019 / Accepted: 2 April 2019 / Published: 15 April 2019
Abstract
Nitrogen (N) is one of the essential macronutrients that plays an important role in plant growth and development. Unfortunately, low utilization rate of nitrogen has become one of the main abiotic factors affecting crop growth. Nevertheless, little research has been done on the molecular mechanism of wheat seedlings resisting or adapting to low nitrogen environment. In this paper, the response of wheat seedlings against low nitrogen stress at phenotypic changes and gene expression level were studied. The results showed that plant height, leaf area, shoot and root dry weight, total root length, and number under low nitrogen stress decreased by 26.0, 28.1, 24.3, 38.0, 41.4, and 21.2 percent, respectively compared with plants under normal conditions. 2265 differentially expressed genes (DEGs) were detected in roots and 2083 DEGs were detected in leaves under low nitrogen stress (N-) compared with the control (CK). 1688 genes were up-regulated and 577 genes were down-regulated in roots, whilst 505 genes were up-regulated and 1578 were down-regulated in leaves. Among the most addressed Gene Ontology (GO) categories, oxidation reduction process, oxidoreductase activity, and cell component were mostly represented. In addition, genes involved in the signal transduction, carbon and nitrogen metabolism, antioxidant activity, and environmental adaptation were highlighted. Our study provides new information for further understanding the response of wheat to low nitrogen stress.
View Full-Text
►

▼

Figures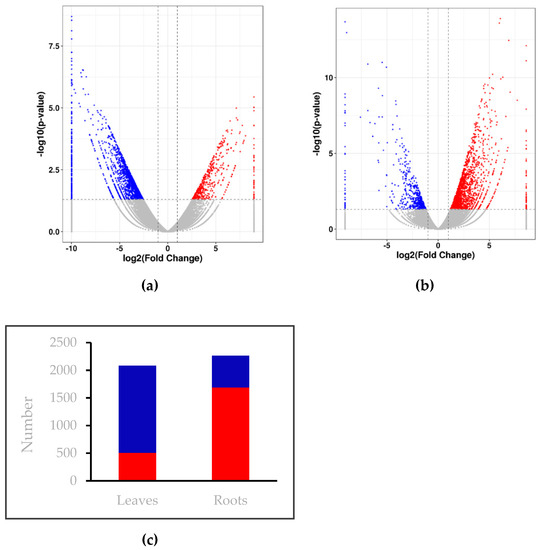 Figure 1
This is an open access article distributed under the
Creative Commons Attribution License
which permits unrestricted use, distribution, and reproduction in any medium, provided the original work is properly cited (CC BY 4.0).

Share & Cite This Article
MDPI and ACS Style
Wang, J.; Song, K.; Sun, L.; Qin, Q.; Sun, Y.; Pan, J.; Xue, Y. Morphological and Transcriptome Analysis of Wheat Seedlings Response to Low Nitrogen Stress. Plants 2019, 8, 98.
Note that from the first issue of 2016, MDPI journals use article numbers instead of page numbers. See further details here.
Related Articles
Comments
[Return to top]