Open Access This article is
freely available
re-usable
Review
A Review on Si Uptake and Transport System
Department of Ecology, Environment and Plant Sciences Stockholm University, 10691 Stockholm, Sweden
*
Author to whom correspondence should be addressed.
Received: 4 February 2019 / Accepted: 26 March 2019 / Published: 29 March 2019
Abstract
:
Silicon (Si) was long listed as a non-essential component for plant growth and development because of its universal availability. However, there has been a resurgence of interest in studying the underlying uptake and transport mechanism of silicon in plants because of the reported dynamic role of silicon in plants under stressed environmental conditions. This uptake and transport mechanism is greatly dependent upon the uptake ability of the plant's roots. Plant roots absorb Si in the form of silicic acid from the soil solution, and it is moved through different parts of the plant using various influx and efflux transporters. Both these influx and efflux transporters are mostly found in the plasma membrane; however, their location and pattern of expression varies among different plants. The assessment of these features provides a new understanding of different species-dependent Si accumulations, which have been studied in monocots but are poorly understood in other plant groups. Therefore, the present review provides insight into the most recent research exploring the use of Si transporters in angiosperms and cryptogams. This paper presents an extensive representation of data from different families of angiosperms, including monocots and eudicots. Eudicots (previously referred to as dicots) have often been neglected in the literature, because they are categorized as low/intermediate Si accumulators. However, in this review, we attempt to highlight the accumulating species of different plant groups in which Si uptake is mediated through transporters.
Keywords:
Si transporters; Si; monocots; eudicots; cryptogams;
Lsi1
;
Lsi2
;
Lsi6
Author Contributions
This is a review article and both the authors contributed their part.
Funding
This research received no external funding.
Acknowledgments
No special acknowledgment.
Conflicts of Interest
No conflict of interest.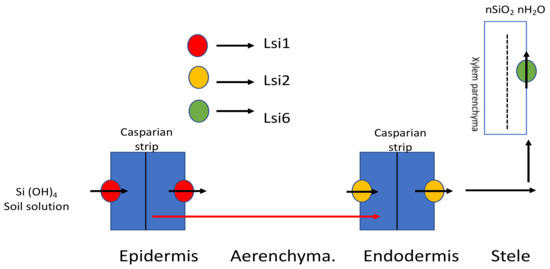 Figure 1.
Flow of Si across the plant using Si transporters in rice.
Lsi1
, the influx transporter gene localized in the plasma membrane, is accountable for Si uptake into the exodermis of the cell;
Lsi2
, an efflux transporter, moves Si into the apoplast across the aerenchyma;
Lsi6
further takes it up the aerial parts of the plant. Modified with reference [
32
].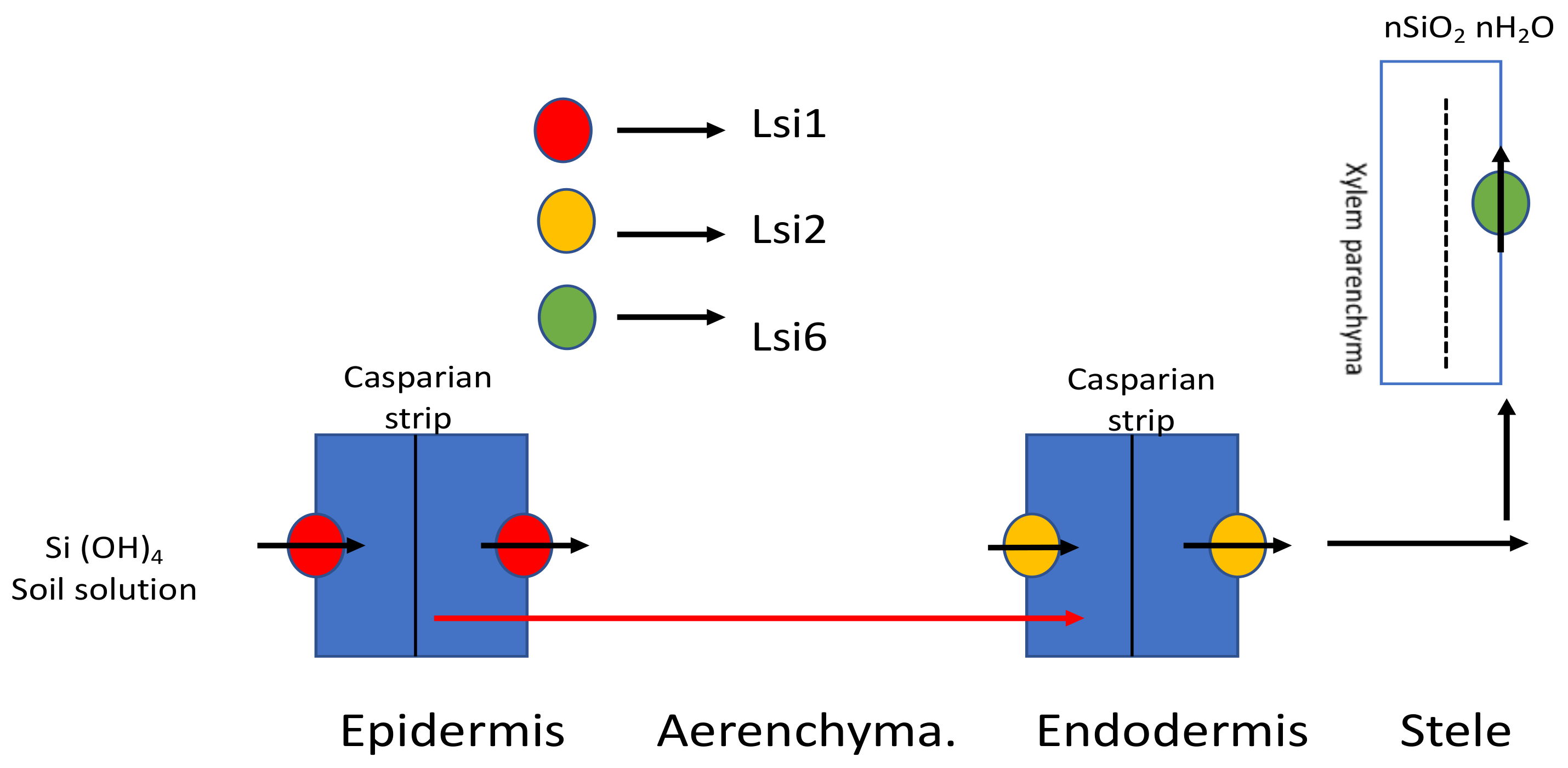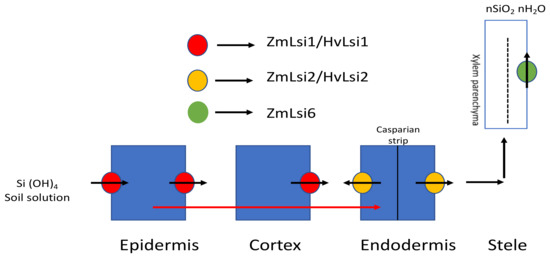 Figure 2.
Si transporter-mediated Si transport in maize and barley. In maize and barley, Si is absorbed from the external solution using
ZmLsi1
/
HvLsi1
and transported further into the root cells from which, through the symplastic pathway, it is passed into the endodermis and further to the stele.
ZmLsi6
mainly functions as a Si transporter for xylem unloading. Modified with reference [
32
].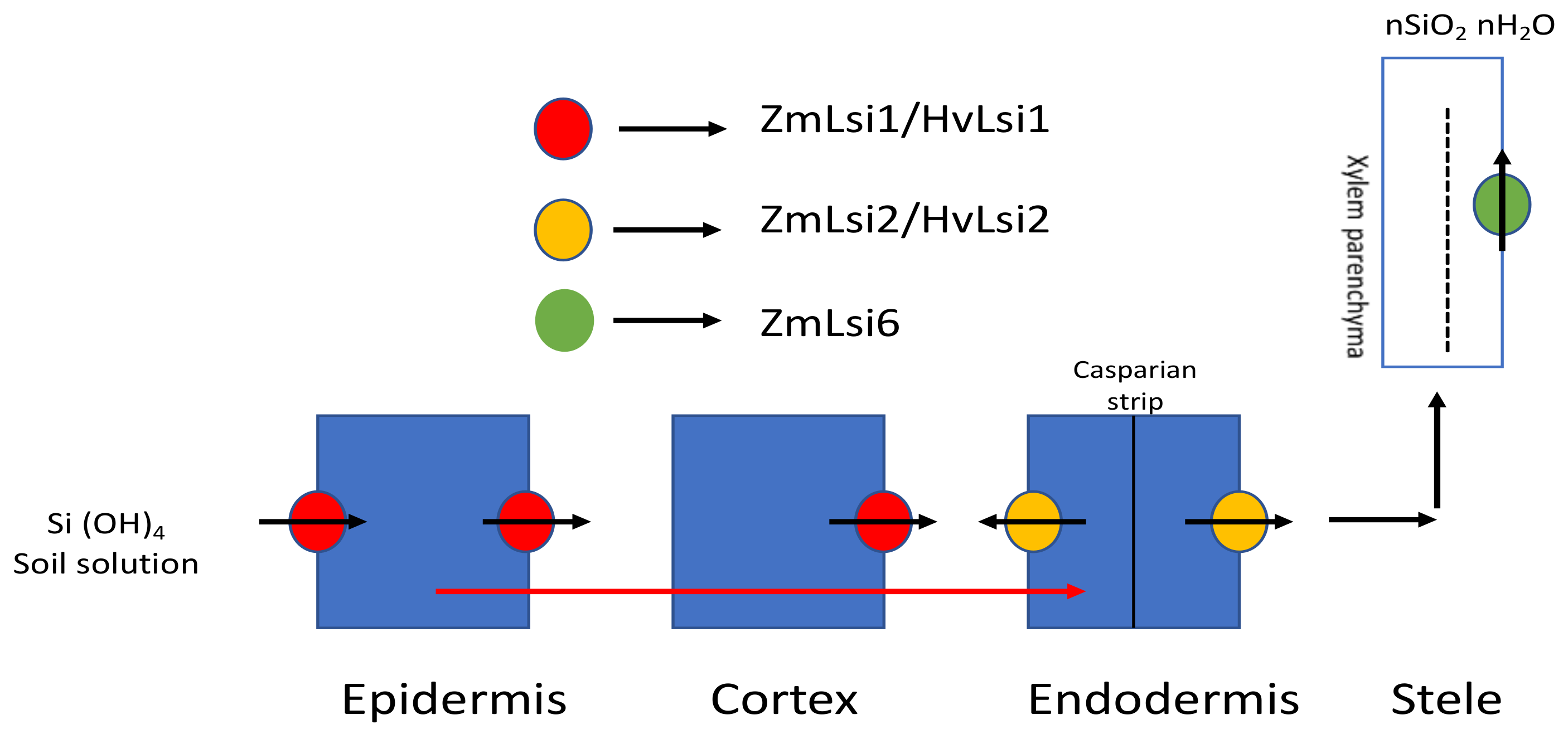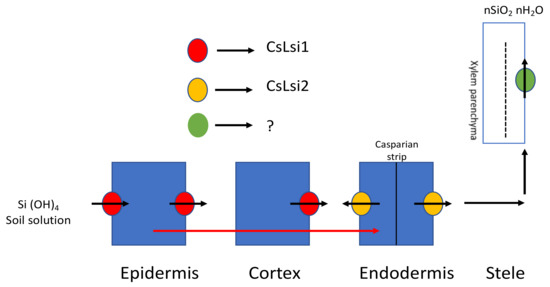 Figure 3.
Si uptake and transport in
Cucumis sativus
.
CsLsi1
, the influx transporter, takes up Si from an external solution, and
CsLsi2
, the efflux transporter, further transports it to the endodermis by symplastic pathway. However, the transporter for xylem unloading has not yet been identified. (?—No information is available in literature so far). Modified with reference [
32
].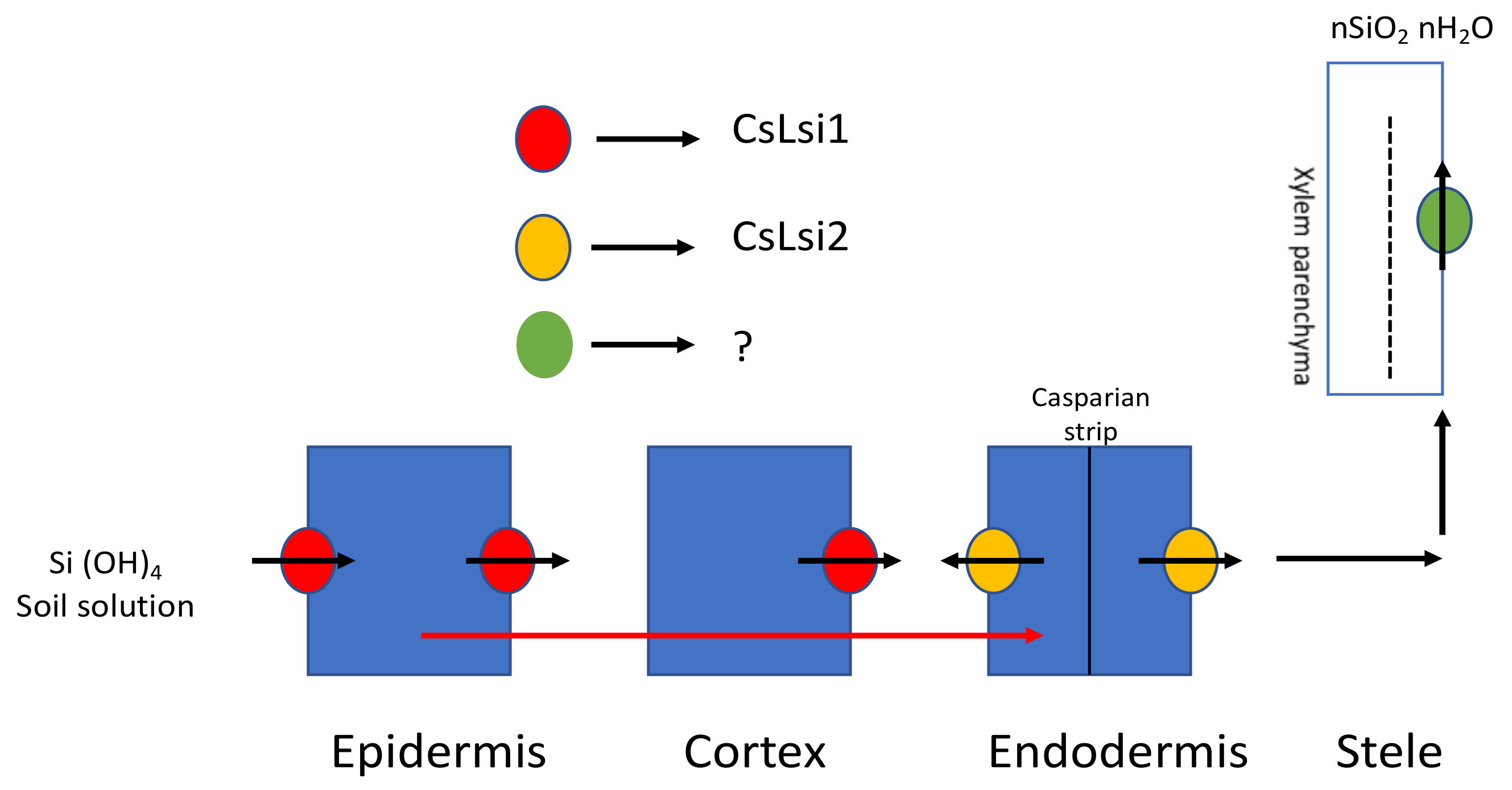 Table 1. Different classes of Si accumulators, including high, low, and intermediate accumulator plant species.
Group
Species
Si Accumulation
Angiosperms
Acoraceae

Acorus calamus

-
Asteraceae

Anaphalis margarita

-

Helianthus annuus

+

Helianthus maximilianii,

+

Helianthus atrorubens

+

Inula helenium, Inula viscosa

±

Lactuca serriola

±
Cyperaceae (

Carex cinica

)
+
Poaceae

Agrostis spp.

+

Andropogon scoparius

+

Arundinaria gigantean

+

Bouteloua hirsuta

+

Brachypodium sylvaticum

+

Chasmanthium latifolium

+

Ctenium aromaticum

+

Echinochloa colona

±

Elymus molli

±

Oryza sativa

+

Zea mays

±
Cucurbitaceae

Benincasa hispida

±

Citrullus lanatus

±

Ecballium elaterium

±
Equisetophyta
Equisetaceae

Equisetum arvense

+

Equisetum hyemale

+
| Plant Species | Si Transporters |
| --- | --- |
| Angiosperms (monocots and a few eudicots) | + |
| Equisetopsida | + |
| Gymnosperms | - |
| Lycophytes | - |
| Bryophytes (Liverworts, Mosses, Hornworts) | - |
| Gnetophytes | - |
Modified with reference from Trembath [43].

© 2019 by the authors. Licensee MDPI, Basel, Switzerland. This article is an open access article distributed under the terms and conditions of the Creative Commons Attribution (CC BY) license (http://creativecommons.org/licenses/by/4.0/).