Open Access This article is
freely available
re-usable
Article
Access or Accessibility? A Critique of the Urban Transport SDG Indicator
1
Faculty of Geo-information Science and Earth Observation, University of Twente, PO box 217, 7500 AE Enschede, The Netherlands
2
Faculty of Engineering & the Built Environment, University of Cape Town, Private Bag X3, Rondebosch, 7701 Cape Town, South Africa
*
Author to whom correspondence should be addressed.
Received: 28 November 2018 / Accepted: 27 January 2019 / Published: 30 January 2019
Abstract
:
Progress towards the UN Sustainable Development Goals (SDGs) is being evaluated through the use of indicators. Despite the importance of these indicators, the academic community has done little in terms of a critical reflection on their choice, relevance, framing and operationalization. This holds for many SDG domains, also for the urban sector domain of target 11. To partially address this void, we aim to critically review the UN methodology for the urban access indicator, SDG indicator 11.2. In discussing its conceptual framing against the background of paradigm shifts in transportation planning, we argue that this indicator has a number of shortcomings. The most important one is that it is supply oriented and measures access to transportation infrastructure, rather than accessibility to activity locations. As an alternative, we develop two accessibility indicators that show substantial variation in accessibility across geographical areas. We implement all indicators for the city of Bogotá in Colombia, using a geo-information based approach. Our results show that SDG indicator 11.2 fails to represent the transport reality well. Its supply oriented focus neglects transport demand, oversimplifies the transport system and hides existing inequalities. Moreover, it does not provide useful evidence for targeting new interventions. The proposed accessibility indicators provide a more diverse, complete and realistic picture of the performance of the transport system. These indicators also capture the large spatial and socio-economic inequalities and can help to target improvements in urban transportation.
Keywords:
SDG indicator 11.2; urban transport; accessibility; public transport; Bogotá
Author Contributions
Conceptualization, M.B.; Data curation, M.B.; Formal analysis, M.B.; Methodology, M.B., M.Z.; Supervision, K.P., M.v.M.; Validation, M.B., M.Z.; Writing—original draft, M.B.; Writing—review and editing, M.Z., K.P. and M.v.M.
Funding
This research received no external funding.
Conflicts of Interest
The authors declare no conflict of interest.
Appendix A
Appendix A.1. Explanation of Data Used, Data Processing and Indicator Operationalisation
Data sources used are discussed in the sequence as presented in
Table 2
:
Population data. The population data that is available is based on the census, which was held in 2005. Early 2018 a new census was held. However, this data was still unavailable at the time of writing. The provided data is aggregated by neighborhood, or "barrio", which is typically an area of around 50,000–100,000 inhabitants.

Public Transport. The city's formal public transport systems are integrated into one system called SITP, (Sistema Integrado de Transporte Público de Bogotá). The system consists of the following sub-systems:

TransMilenio (TM), the main system for bus rapid transit, consisting of dedicated and separate infrastructure: 12 lines, 149 stations.

TM Alimentador, a system that is meant as a feeder bus system that connects primarily the outer areas to the TM stations, where people can access the TM proper: 112 lines. Operates on the regular road network, also partly on unpaved roads.

TM Urbano: 234 lines. The major regular bus system of Bogotá that has been brought under the TM umbrella operates on normal and major streets and covers almost the whole city. Connects zones directly, not necessarily via the TM main system.

TM Complementario: 25 lines. Connects selected single zones directly to a TM station area.

TM Especial: 15 lines. Connects a few peripheral areas of the city to the TM main and TM Urbano Systems.

The data derived for the public transport systems and roads of Bogotá was collected via the city of Bogotá and SITP. All systems operate on the general road network except the Transmilenio BRT, which has its dedicated infrastructure. We use the GTFS for the acquisition of static data [

52

]. GTFS is based on an agreed format for public transport systems, their schedules and geographical data. Public transport operators make GTFS data available for developers to write scheduling applications, such as used by google maps and others. This data is suitable for the quantification of SDG indicator 11.2, as all required spatial and non-spatial characteristics of the public transport system are available and this is the most problematic category of data in the quantification of this indicator as it is currently defined. For an overview of the GTFS data structure, see [

52

].

This data has been converted to the GEOJSON format, imported into the ArcGIS software, where for each of the above mentioned public transport systems in Bogotá a feature dataset of the routes and the stops was created.

General road network. The data of the general road network and building blocks have been obtained from the municipality of Bogotá during research that took place in the city in 2015 and was further updated in 2017. It contains road center lines which have been used in the construction of the public transport network, along with the dedicated infrastructure of TransMilenio.

Building block data. These have been obtained from the municipality of Bogotá. Population data have been linked to these building blocks at the neighborhood level, and later disaggregated.

Mobility Survey. The mobility survey of 2015 [

38

] was carried out under auspices of the Mobility Secretariat of the Municipality of Bogotá. It is the fourth survey of its kind, earlier surveys were held in 1995, 2005 and 2011. The data consists of socio-economic data of the respondents and trip-related information such as mode of transport, duration, cost etc. Over 147,000 trips are thus recorded, based on a sample of approx. 28,000 households with 92,000 inhabitants. This leads to an average number of trips of 1.6 per inhabitant for the sample. The data is structured in so-called Transport Analysis Zones (TAZs), which is a spatial-administrative construct that is often used in transport planning [

53

]. The whole study area contains about 900 TAZs. We have eliminated records that show no trip duration (same start and end time of the trip), trips that were not connected to a TAZ, and TAZs where no home-based trips were recorded. Also, records with coding errors have been omitted. For some operations, we included thresholds, e.g., only those TAZs where at least 10 trips have been recorded. This is further explained below. The full data of the Bogotá mobility survey is available via the open data portal of the Colombian government.
Appendix A.2. Operationalising the Indicators in Bogotá
SDG Indicator 11.2
In first instance, we have implemented SDG indicator 11.2 for the city of Bogotá, Colombia, following the UN based operationalization [
28
], which lays out the following methodological steps:
Delineating the built-up area, or area under study;

Making an inventory of public transport stops;

Estimating the urban area with access to these stops (essentially the area that is within 500 m of any bus stop);

Overlaying the service area obtained in step 3 with the population data layer:

Step 1: The Capital District of Bogotá is divided into 20 localities, 19 of which are urban, but not all of them are entirely built up. We base the built-up area on the area in which residential development is present.

Step 2: All bus stops of the earlier defined systems (TM, TM alimentador, TM urbano, TM complementario and TM especial) have been joined together in one GIS layer to create a complete public transport system.

Step 3: The metadata document discusses the use of Euclidian or network-based distance measures and concludes that network-based measures are preferable, as they provide a more realistic approximation of reality. Although network-based is not prescribed, we implement the measure based on network distance. To this end, we use the general road network, used by pedestrians to get to the bus stops, and the bus stops, to create service areas for each bus stop, based on the distance of 500 m. By combining all individual polygons, we create a service area polygon for the entire system.

Step 4: In order to estimate the population having access to public transport, we use the official population data from DANE, based on the 2005 census, which is made available at the level of neighborhoods ("Barrios"). As the analysis requires a finer spatial resolution than neighborhoods, to be able to overlay the population data and the catchment polygon produced in step 3, we disaggregate the population data to the neighborhood building block boundaries per SES, in proportion to their area. This also allows us to calculate the SDG indicator 11.2 score per SES.
Appendix A.3. Potential Accessibility Indicator
The following steps are applied in the analysis:
The development of a multi-modal network in ArcGIS, which involves all types of buses. See [

49

,

54

] for more details on the methodology. The network includes all public transport stops and all routes of all TM systems, as discussed above. We base this on an average bus frequency of 10 min translating to an average waiting time of 5 min, an average bus speed of 13 km/h and an average TM speed of 25 km/h [

55

].

The determination of all zones from which work-related trips originate. From all origin zones, the centroids are determined.

Identification of all zones which are trip ends of a work-related trip. In total, we have some 31,000 trips that are work-related. Also from these zones centroids are constructed, containing the number of work locations per zone.

Construction of an O-D matrix between all origin zones and all destination zones with work activities. The matrix makes use of a shortest path algorithm over the network, and chooses the most optimal route in terms of travel time, by public transport.

Selection of all O-D pairs that are less or equal than 45 min, with their associated TAZs. These are linked to the table with work locations.

A Pivot table is constructed in which for each origin location the number of employment locations at the destination TAZ is summed. This table is used to create an accessibility map.
Appendix A.4. Indicators Based on Actual Travel
In the analysis the following steps were taken:
The travel survey data were imported into MS Excel. About 1% of records with missing data values or errors in either travel time duration or TAZ code were removed from the sample.

Four different selections of the data were made, corresponding to the four different indicators: for all public transport trips, for all public transport trips with a work purpose, for all public transport and non-motorized transport trips, and for all public transport and non-motorized transport trips with a work purpose.

For each of those selections, pivot tables were made of the valid records, in which for each origin TAZ, the number of trips originating from that zone was calculated. These were then classified into 6 classes based on the travel time of the trip (travel time ≤ 30 min, ≤45 min, ≤60 min, ≤90 min, ≤120 min, >120 min).

The pivot tables were imported into ArcGIS and joined with the TAZ layer that had been aligned with the study area. This operation has eliminated the outside TAZs of the more rural districts.

Four maps were generated with classified % scores of respondents reaching their activity location within 45 min.

Centroid locations of the building blocks were extracted to derive the building locations per stratum. A spatial overlay was made with the indicator maps to calculate the scores per stratum.
Figure 1.
The socio-economic strata in the city of Bogotá, (based on [
38
]).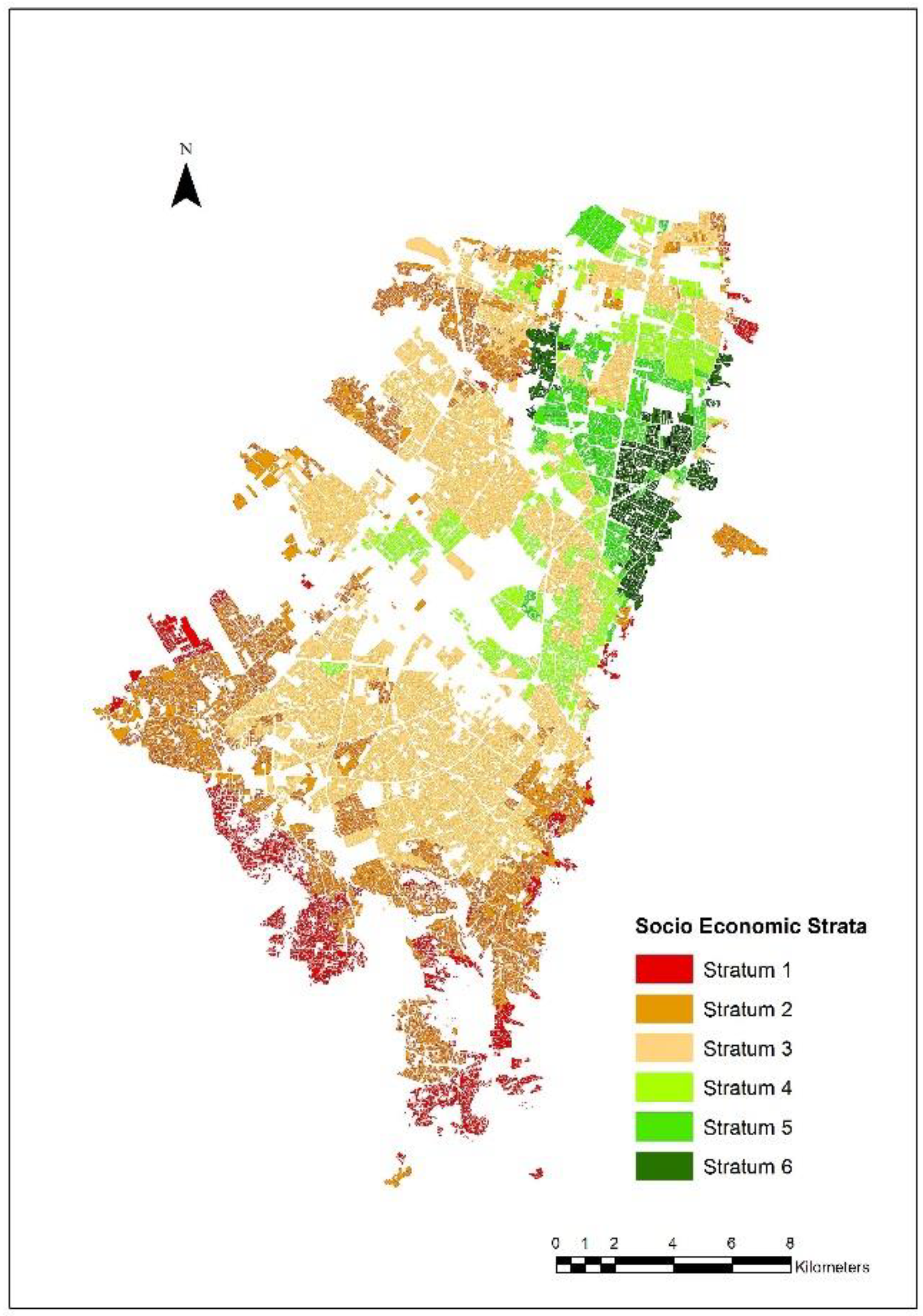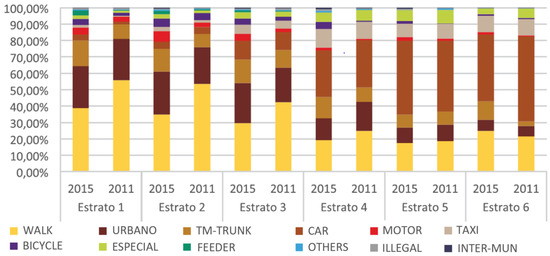 Figure 2.
Mode distributions by socio-economic stratum (adapted from [
38
]). TM-Trunk, Urbano, Especial, and Feeder are all part of the integrated public transport system, Inter-Mun. refers to long distance intercity buses that are not relevant for our study. For further explanation of each system refer to
Appendix A.1
.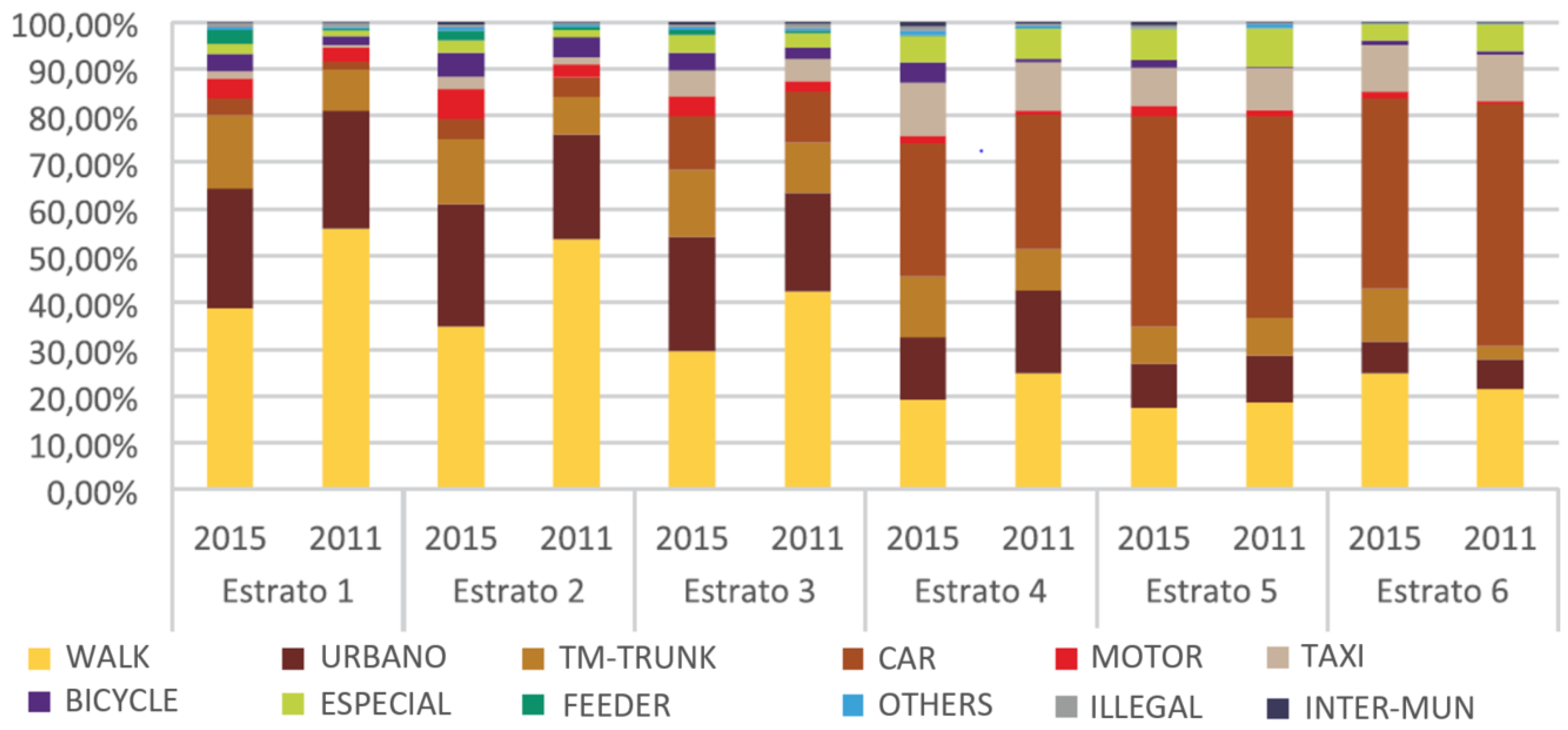 Figure 3. Resulting map of Sustainable Development Goals (SDG) indicator 11.2 depicting Service area of public transport (a), and the density of public transport stops (b).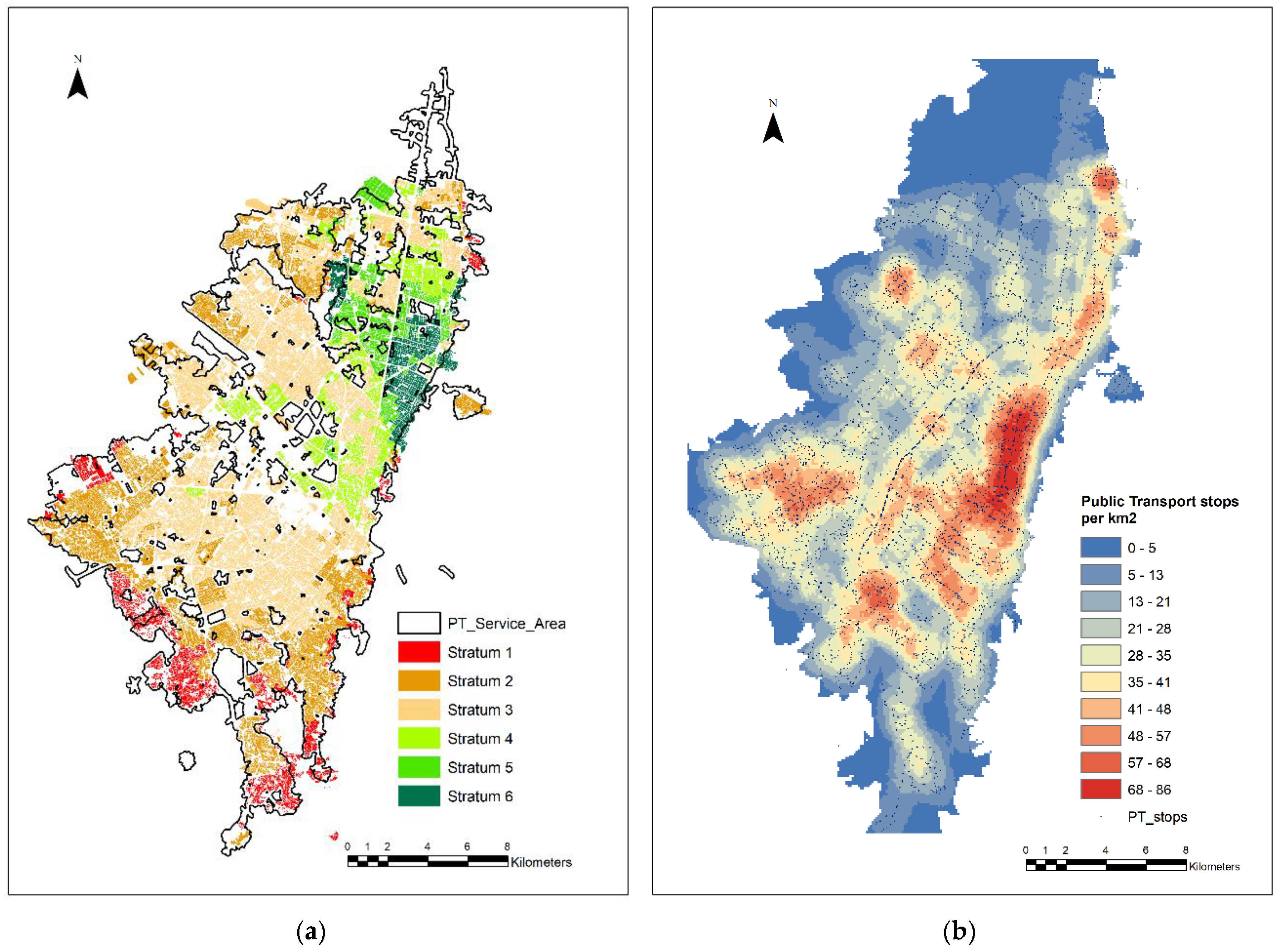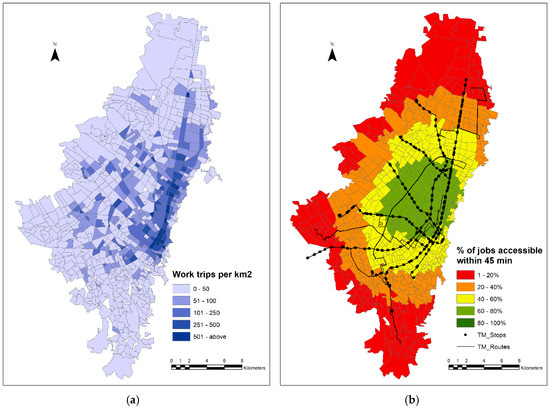 Figure 4. The number of job destinations of survey respondents by zone per km2 (a) and the % of jobs that is accessible within 45 min from each Transport Analysis Zone (TAZ) (b).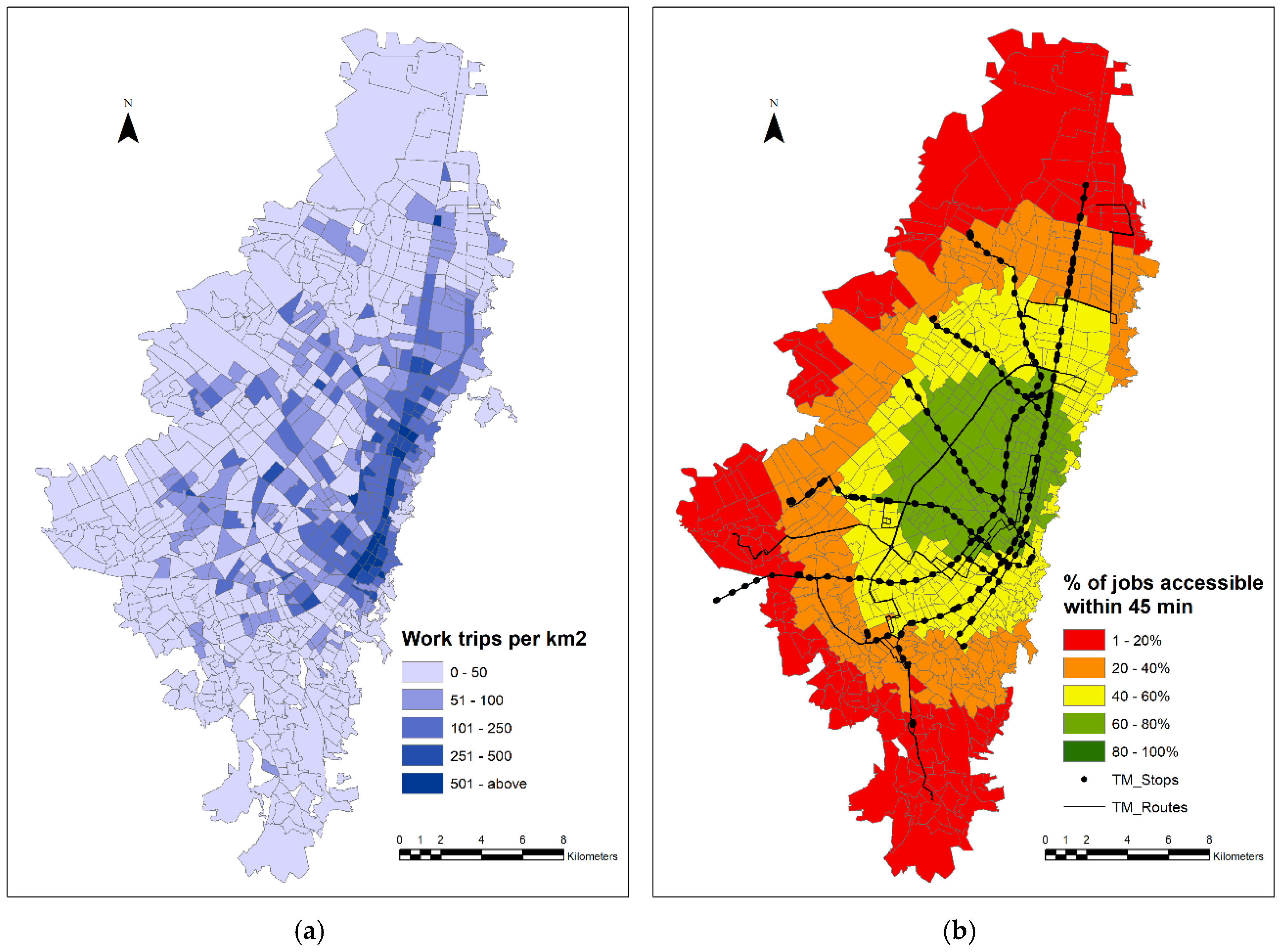 Figure 5. The proportion of people who reach their activity location within 45 min by public transport (PT), for all trip purposes (a) and for work trips (b).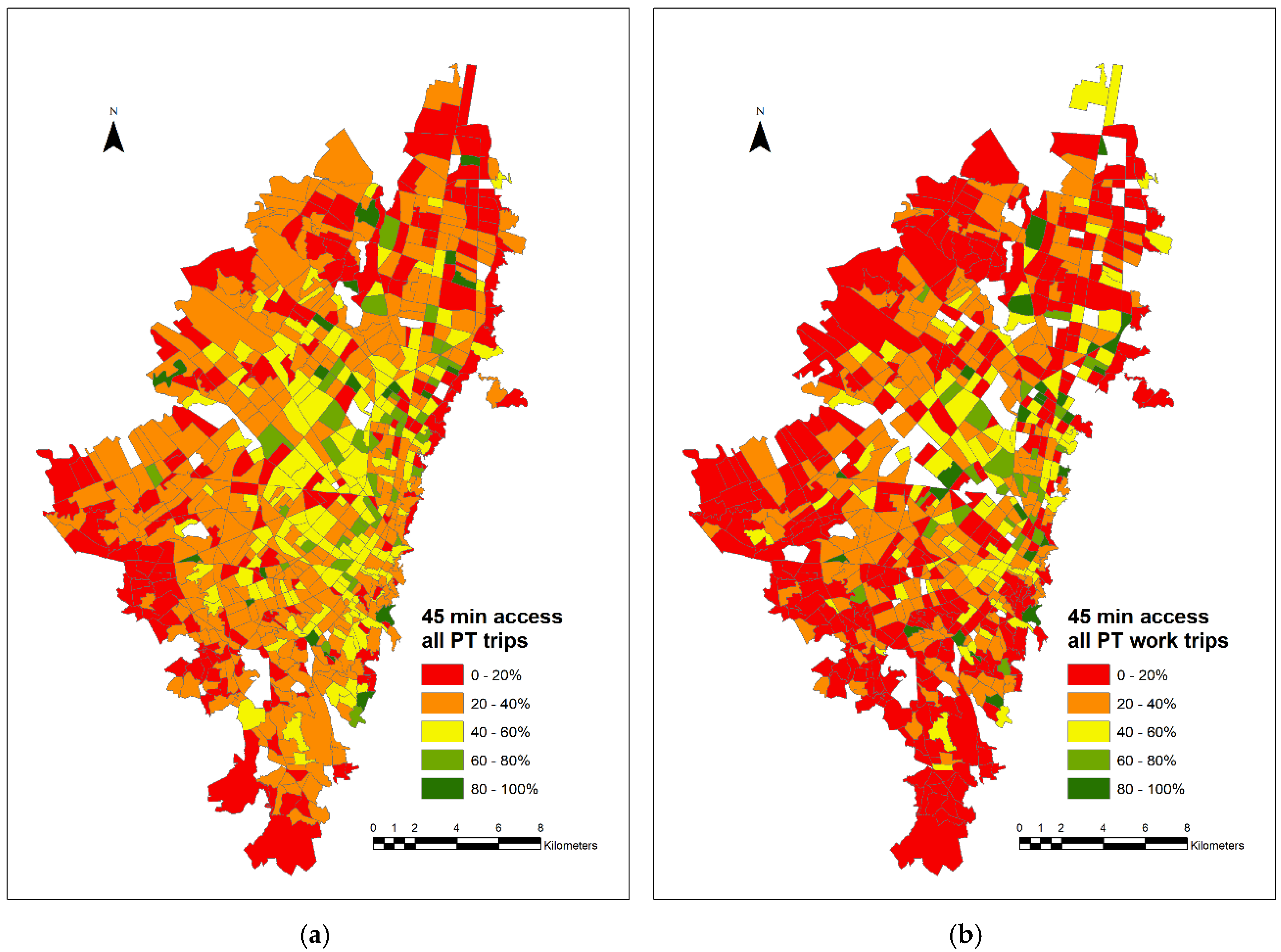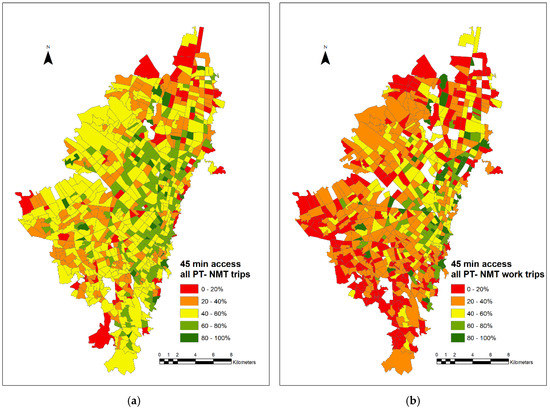 Figure 6. The proportion of people who reach their activity location within 45 min by public transport (PT), walking or cycling (NMT), for all trip purposes (a) and for work trips (b).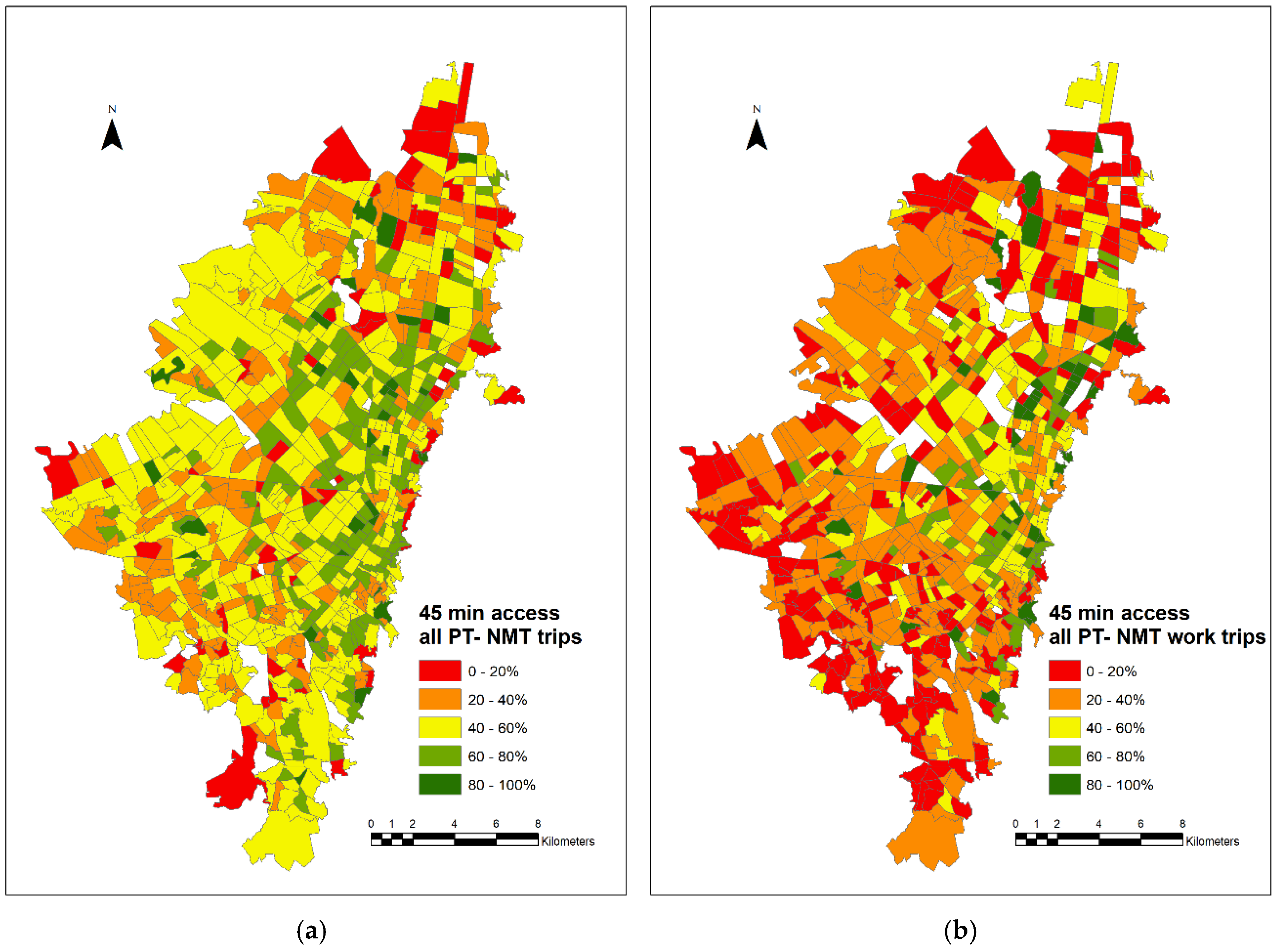 Table 1.
Population and income class per socio-economic stratum (based on [
39
]).
| Socio Economic Stratum (SES) | Population % | Income Class |
| --- | --- | --- |
| 1 | 10.4 | Below 1 SML 1 |
| 2 | 41.3 | 1–3 SML |
| 3 | 36.0 | 3–5 SML |
| 4 | 7.8 | 5–8 SML |
| 5 | 2.6 | 8–16 SML |
| 6 | 1.9 | Above 16 SML |
1 SML refers to Salario Minimo Mensual, or minimum monthly salary, for 2018 established at 781,242 Colombian pesos, equivalent to 221 euros (September 2018).

Table 2. Overview of data used. * Indicator 1 refers to SDG indicator 11.2; Indicator 2, proposed by the authors, refers to the potential accessibility indicator; Indicator 3, proposed by the authors, refers to the actual travel indicator(s).
| Data | Description | Source | Indicator * |
| --- | --- | --- | --- |
| 1. Population data | Population per neighborhood based on the 2005 census | DANE, the Colombian National Statistics Office | 1, 2 |
| 2. Public Transport system | Public transport systems in operation in Bogotá, their schedules and associated geographical data. | SITP, the Bogotá integrated Transport System | 1, 2 |
| 3. General road network | The road network of Bogotá that is used for all transport modes (car, bus, walking, cycling) | Municipality of Bogotá | 1, 2 |
| 4. Building blocks | Geographic information system (GIS) data with building blocks by SES | Municipality of Bogotá | 1 |
| 5. Mobility Survey | Socio-economic data and activity pattern data of approx. 20,000 respondents | Municipality of Bogotá | 2, 3 |
| Socio Economic Stratum (SES) | SDG Indicator 11.2 Score (% of People Having Access) | Avg. Bus Stop Density (nr of stops/km2) |
| --- | --- | --- |
| 1 | 87% | 52 |
| 2 | 93% | 68 |
| 3 | 96% | 74 |
| 4 | 92% | 83 |
| 5 | 83% | 68 |
| 6 | 76% | 52 |
| Average | 92% | 70 |
| Socio Economic Stratum (SES) | SDG Indicator 11.2 | Potential Accessibility PT-Work Trips | Actual Travel Indicator PT Trips | Actual Travel Indicator PT-Work Trips | Actual Travel Indicator PT&NMT Trips | Actual Travel Indicator PT&NMT Work Trips |
| --- | --- | --- | --- | --- | --- | --- |
| 1 | 87% | 16% | 20% | 15% | 42% | 19% |
| 2 | 93% | 26% | 28% | 20% | 47% | 29% |
| 3 | 96% | 46% | 33% | 27% | 50% | 36% |
| 4 | 92% | 57% | 38% | 33% | 50% | 40% |
| 5 | 83% | 47% | 34% | 30% | 46% | 39% |
| 6 | 76% | 50% | 36% | 29% | 54% | 50% |
| Average | 87.8% | 40% | 31% | 26% | 48% | 36% |
| St. Dev. | 6.8% | 14.2% | 5.9% | 6.4% | 3.8% | 9.7% |

Table 5. Overview of indicators against key characteristic (* = authors categorization, methodology established, data not regularly produced).
| Key Characteristic | SDG Indicator 11.2 | Potential Accessibility Indicator | Actual Travel Indicator |
| --- | --- | --- | --- |
| Captures infrastructure supply | Yes, only public transport stops | Yes, full public transport and pedestrian system | Yes, full public transport and road system |
| Captures actual travel demand | No | No | Yes |
| Captures potential travel demand | No | Yes | No |
| Captures PT performance | No | Yes | Yes |
| Allows for analysis of spatial inequality | Limited, results may have little meaning | Substantial, in terms of potential travel and equality of opportunities | More substantial, in terms of revealed travel |
| Allows for evaluation of spatially targeted policy interventions | Only in areas where there are few bus stops, but meaningfulness cannot be established | In both the public transport system and the land use system | In both the public transport system and the land use system, but effects may not be attributable to the intervention |
| SDG Tier * | 2 | 2 | 2 |

© 2019 by the authors. Licensee MDPI, Basel, Switzerland. This article is an open access article distributed under the terms and conditions of the Creative Commons Attribution (CC BY) license (http://creativecommons.org/licenses/by/4.0/).