Open Access This article is
freely available
re-usable
Article
Analyzing OpenStreetMap Road Data and Characterizing the Behavior of Contributors in Ankara, Turkey
Department of Geomatic Engineering, Faculty of Civil Engineering, Yildiz Technical University, Davutpasa Campus, 34220 Esenler, Istanbul, Turkey
*
Author to whom correspondence should be addressed.
Received: 31 July 2018 / Accepted: 4 October 2018 / Published: 6 October 2018
Abstract
:
The usage of OpenStreetMap (OSM), one of the resources offered by Volunteered Geographic Information (VGI), has rapidly increased since it was first established in 2004. In line with this increased usage, a number of studies have been conducted to analyze the accuracy and quality of OSM data, but many of them have constraints on evaluating the profiles of contributors. In this paper, OSM road data have been analyzed with the aim of characterizing the behavior of OSM contributors. The study area, Ankara, the capital city of Turkey, was evaluated with several network analysis methods, such as completeness, degree of centrality, betweenness, closeness, PageRank, and a proposed method measuring the activation of contributors in a bounded area from 2007–2017. An evaluation of the results was also discussed in this paper by taking into account the following indicators for each year: number of nodes, ways, contributors, mean lengths, and sinuosity values of roads. The results show that the experience levels of the contributors determine the contribution type. Essentially, more experience makes for more detailed contributions.
Keywords:
OSM; activation density; network analysis; centrality; VGI
1. Introduction
The remainder of the paper consists of the following sections: (2) describing the study area, the structure of OSM road data, and several network analysis methods; (3) evaluating the behavior of contributors and the data; (4) concluding with some discussions. The quality and accuracy of OSM road data is out of the scope of this study.
2. Study Description
2.1. The Study Area and OSM Road Data Structure
This research has been conducted using the OSM road data of Ankara, the capital city of Turkey (
Figure 1
). The city has a growing population that increased from 4.5 million in 2007 to 5.4 million in 2017 [
28
]. This means urbanization has also expanded during this period. The study area covered 40 km × 35 km in the center of Ankara.
The OSM data structure is composed of two basic elements to assess spatial data: geometry and attributes. The attributes are described with tags on any geometry. Tags provide information to the user about the particular element to which they are attached. They contain two free format text items, such as key-value pairs. The geometry consists of three elements: nodes, ways, and relations. The node geometry basically represents a specific point on the Earth's surface. The way geometry consists of the lines connecting two or more nodes. The relation geometry logically defines geographic relationships between geometry and tags with respect to their order.
Graph theory is considered an important way to study road network analysis.
G
= (
V
,
E
) is a kind of network structure consisting of vertices (
V
) and edges (
E
), which are unordered pairs of
V
. In the literature, there are two types of graphs, primary and dual, to represent urban road networks. In a primary approach, road intersections and cul-de-sacs are considered to be vertices, and streets, which are connected vertices, are assumed to be edges [
29
]. In a dual approach, streets are nodes, and road intersections are edges [
30
]. We used the primary approach to analyze road networks in this study, because of the global fundamental standards for geospatial dataset construction and diffusion [
29
].
In this paper, some terms are used with suffixes to avoid confusion. The term "road" defines OSM raw ways, and the term "road-tp" is used hereafter to define the lines transformed into lines of a topologic road network. Also, the term "node" defines OSM raw nodes, and the term "node-tp" is used hereafter to define the points that topologically represent the connection of road-tp (i.e., junction, crossroad, etc.).
3. Evaluation of OSM Road Data and Results
4. Conclusions
Analyzing and categorizing the behavior of volunteer contributors is a challenging issue because the OSM has only been established for fourteen years. The study presented in this paper has searched for ways to characterize the behavior of OSM contributors. Based on the statistical results of this research, the authors have inferred that the experience levels of contributors determine the contribution type and level of road detail. While more experienced volunteers preferred to contribute roads with more detail and lower sinuosity, like residential streets of the inner city, less experienced volunteers preferred to contribute roads with less detail and higher sinuosity, like motorways. Moreover, the higher sinuosity indexed roads-tp might be considered more important since the degree of centrality and PageRank values were also higher. However, closeness centrality results also show that the importance of the centrality of roads does not completely reflect the connection quickness. The future work resulting from this study will focus on the assessment of accuracy and quality with regard to the experience levels of OSM contributors.
Author Contributions
Data curation, K.Ş; Formal analysis, M.H., B.K. and K.Ş.; Methodology, M.H. and B.K.; Software, K.Ş.; Supervision, M.H.; Visualization, M.H., B.K. and K.Ş.; Writing–original draft, M.H.; Writing–review and editing, M.H., B.K. and K.Ş.
Funding
This research received no external funding.
Conflicts of Interest
The authors declare no conflict of interest.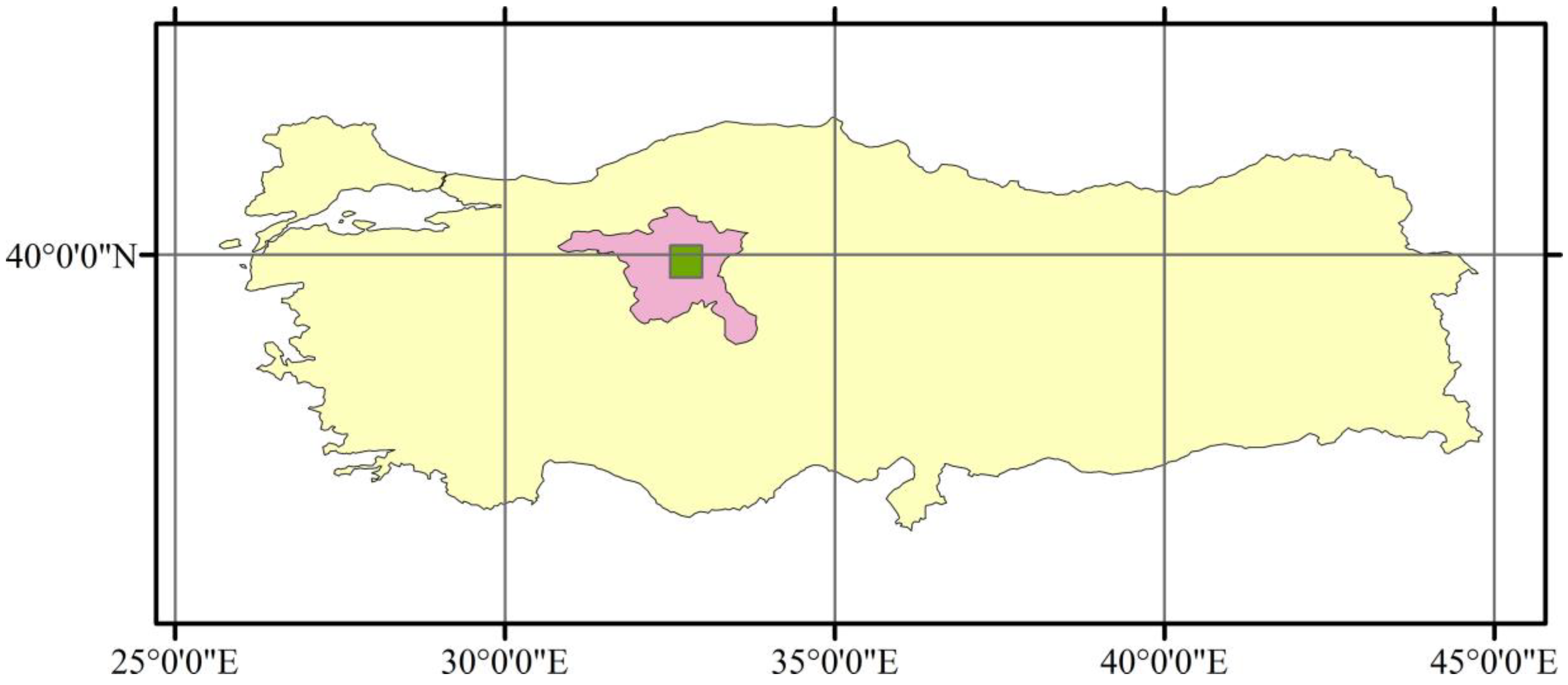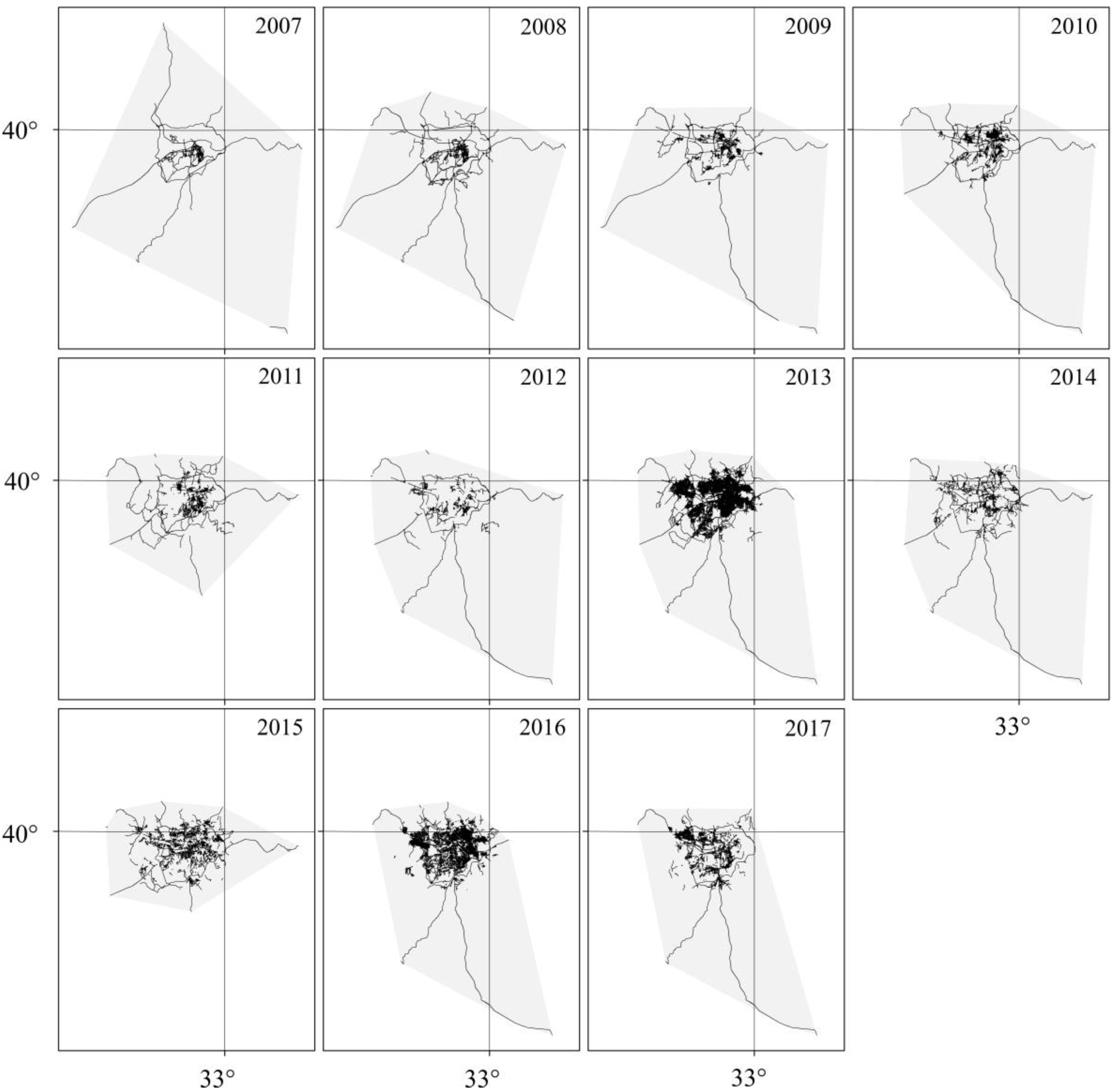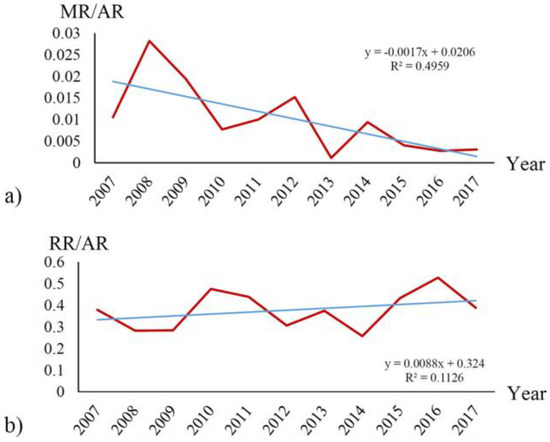 Figure 4. The ratio of motorway roads (MR) (a) and residential roads (RR) (b) to all roads (AR): downtrend and uptrend lines (blue).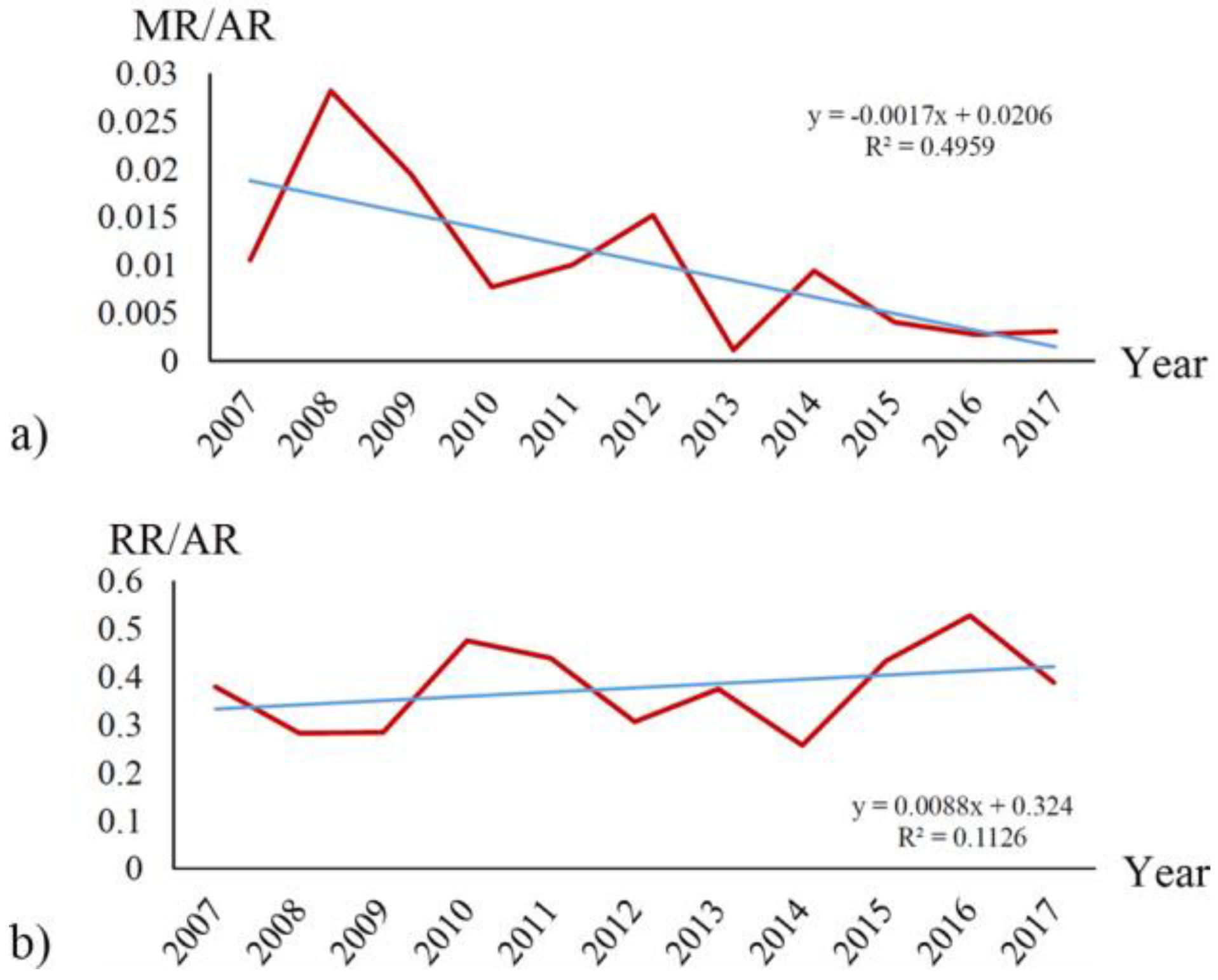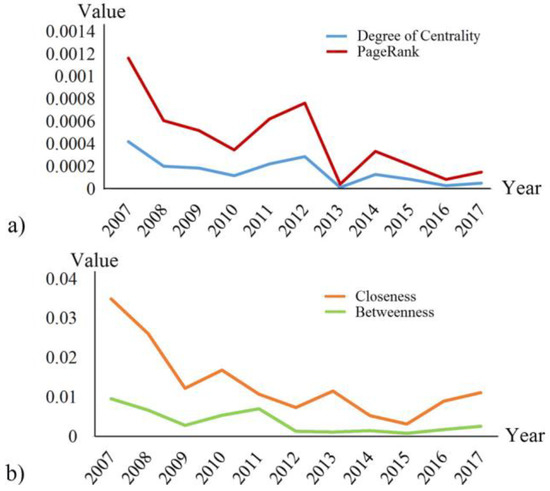 Figure 5. Distributions of degree of centrality (blue), PageRank (red) (a), closeness (orange) and betweenness (green) (b).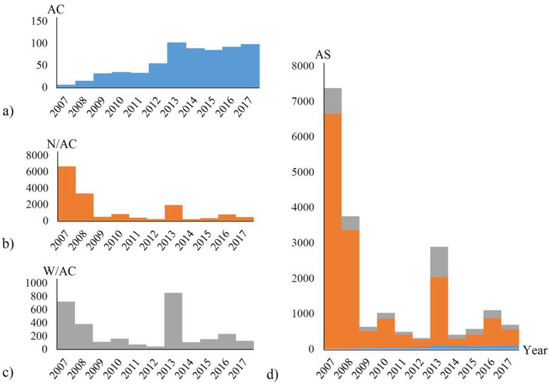 Figure 6. The number of active contributors (AC) (a), the ratio of new-updated nodes (N) to AC (b) and new-updated ways (W) to AC (c) and all stacked (AS) (d).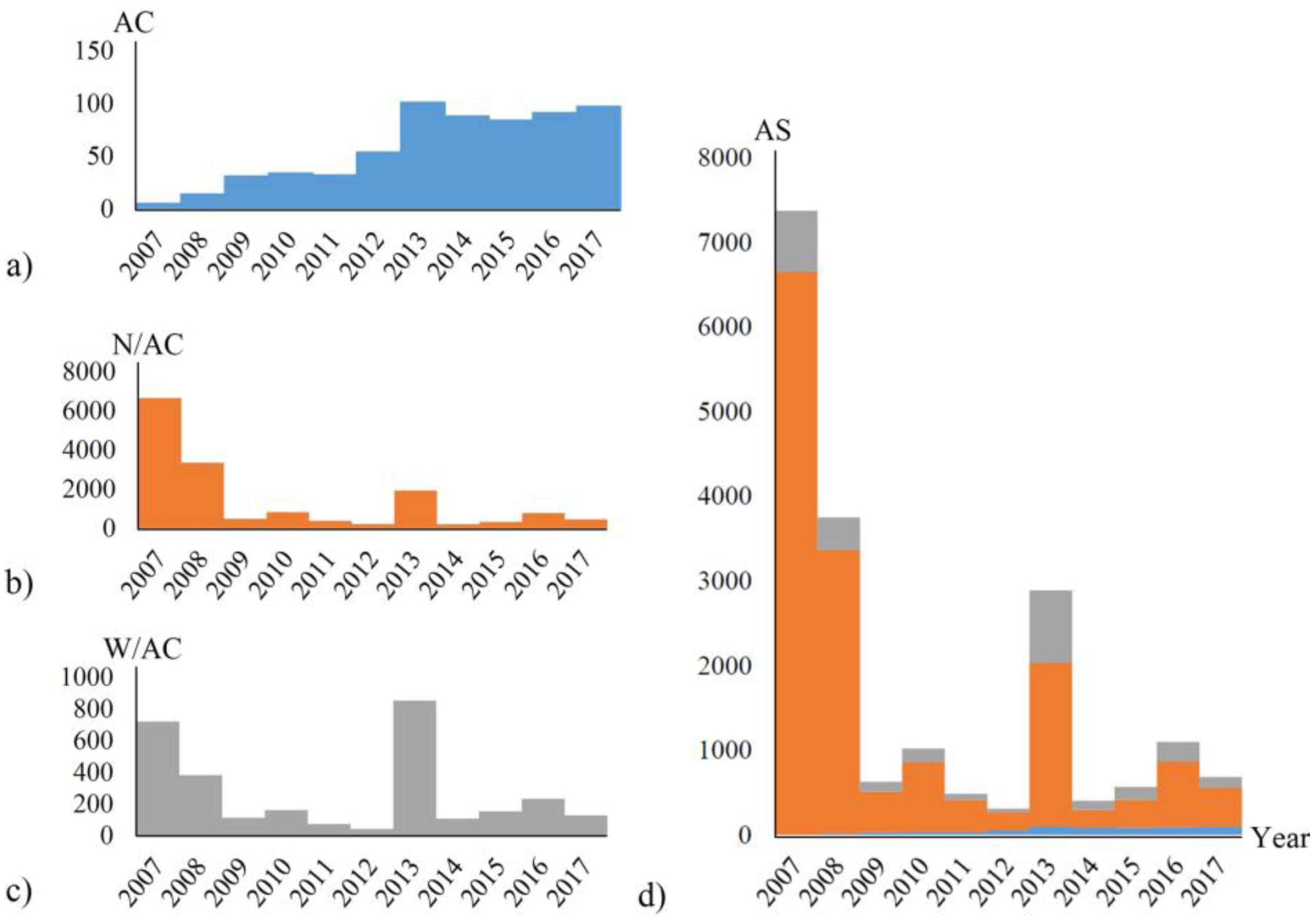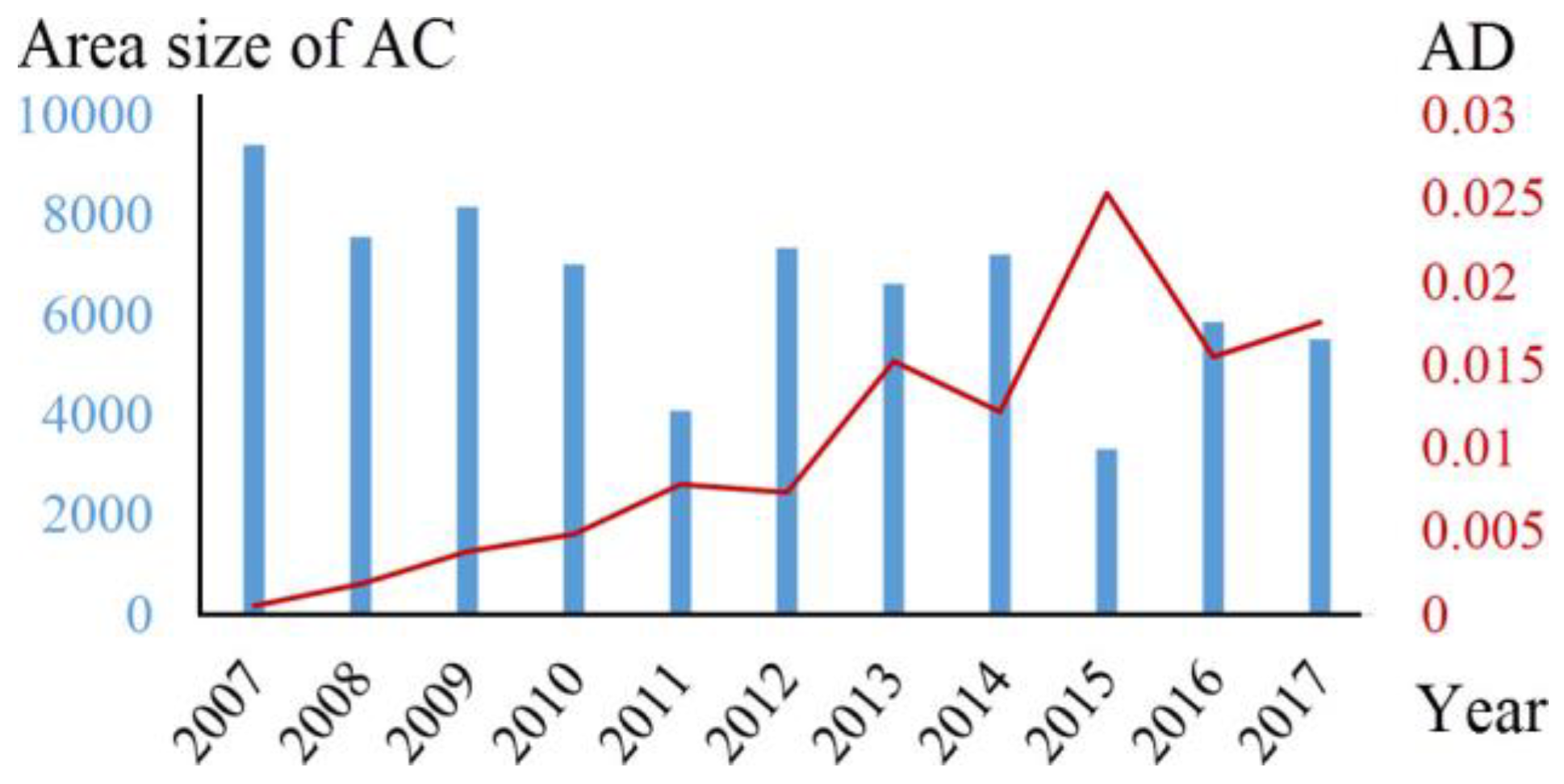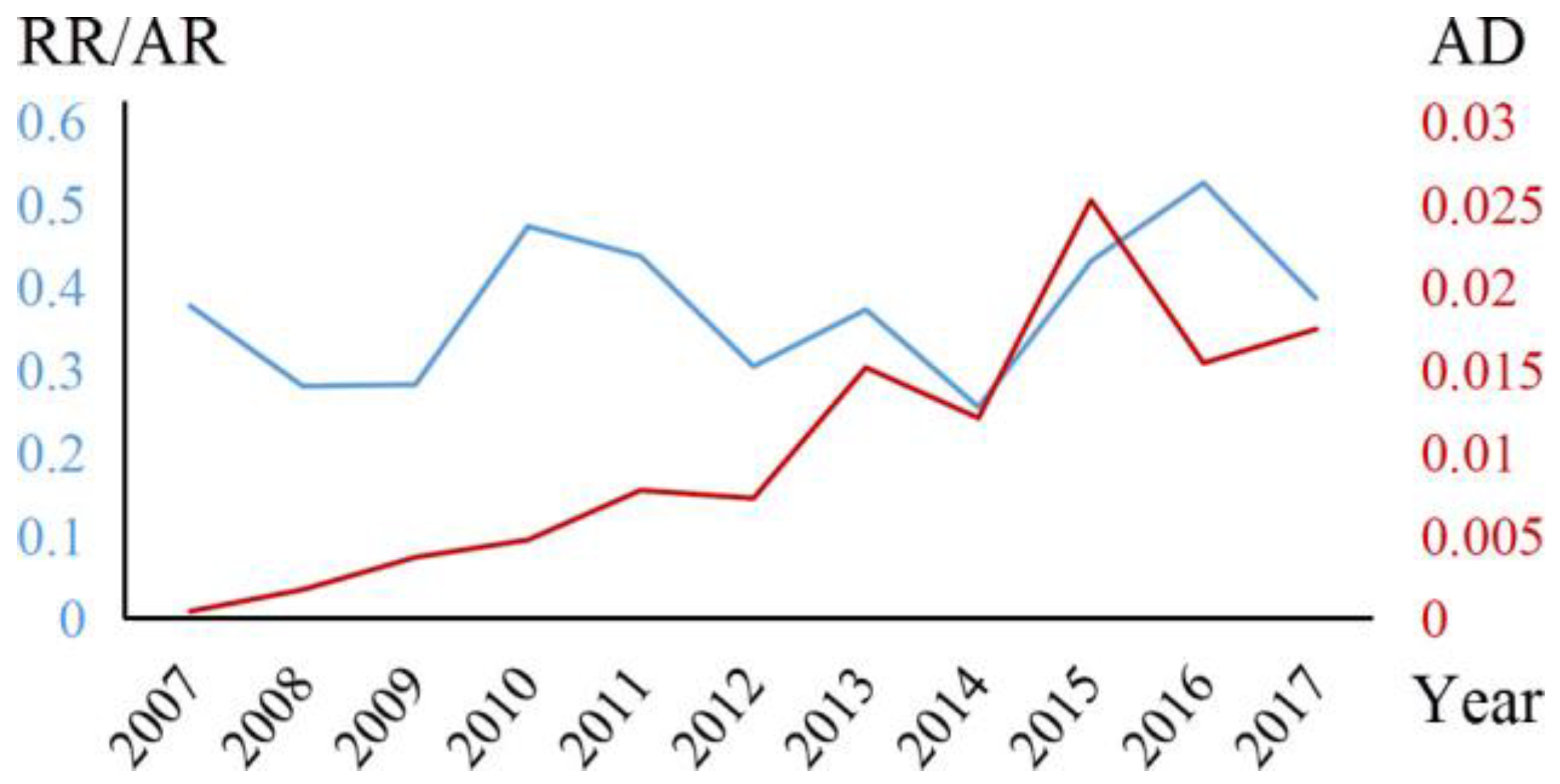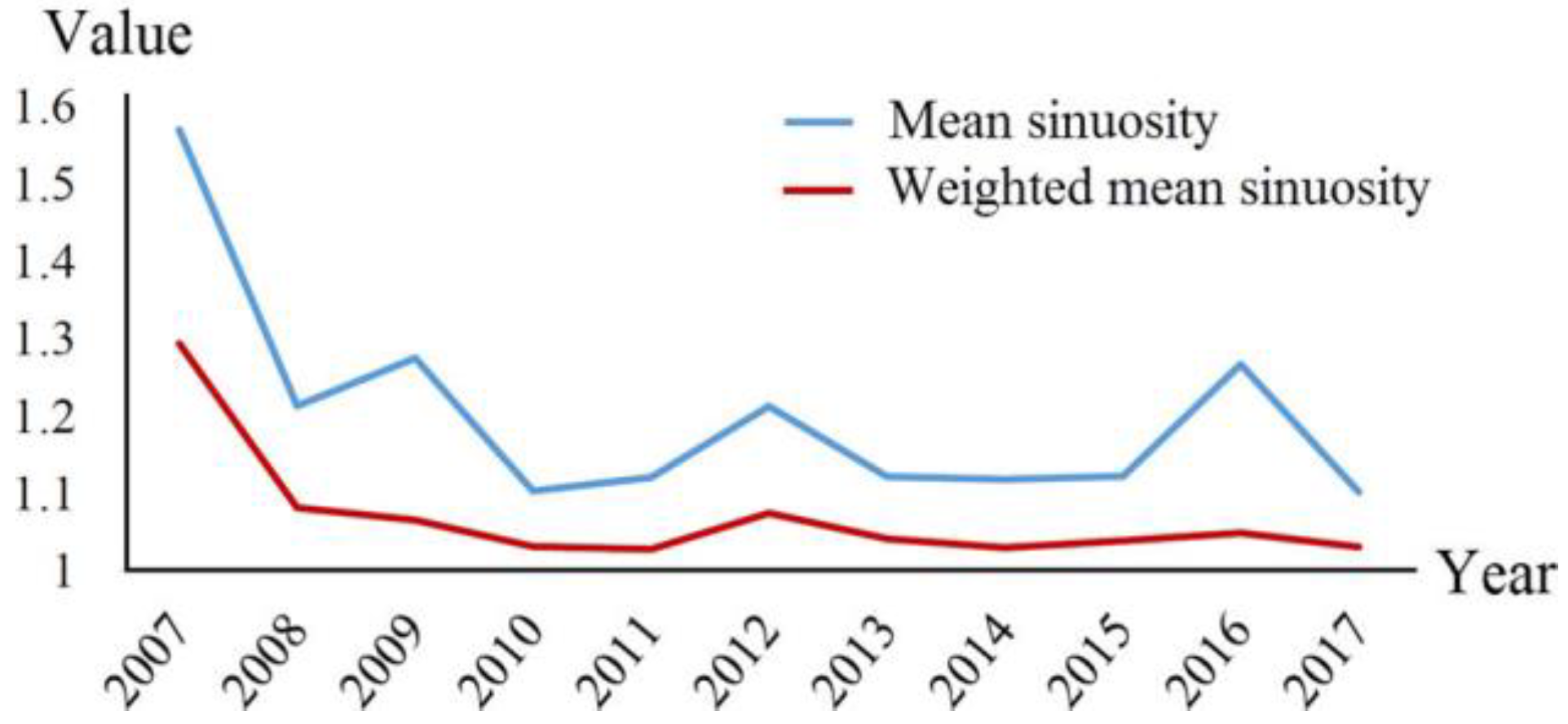 | | 2007 | 2008 | 2009 | 2010 | 2011 | 2012 | 2013 | 2014 | 2015 | 2016 | 2017 |
| --- | --- | --- | --- | --- | --- | --- | --- | --- | --- | --- | --- |
| Number of roads | 1706 | 2766 | 2519 | 3890 | 2195 | 1776 | 37910 | 3834 | 6416 | 16990 | 10070 |
| Length of new roads (km) | 1413.7 | 2486.6 | 2185.5 | 3146.8 | 2026.2 | 1947.9 | 11472 | 2955.6 | 3164.4 | 6979.3 | 4223.6 |
| Mean length (m) | 828.7 | 899.0 | 867.6 | 808.9 | 923.1 | 1096.8 | 302.6 | 770.9 | 493.2 | 410.8 | 419.4 |
| | 1.010 | 1.776 | 1.561 | 2.248 | 1.447 | 1.391 | 8.194 | 2.111 | 2.260 | 4.985 | 3.017 |
| Temporal completeness (%) | 57 | 114 | 69 | 155 | 104 | 17 | 388 | 93 | 45 | 165 | - |

© 2018 by the authors. Licensee MDPI, Basel, Switzerland. This article is an open access article distributed under the terms and conditions of the Creative Commons Attribution (CC BY) license (http://creativecommons.org/licenses/by/4.0/).