Open Access This article is
freely available
re-usable
Article
Using Eye Tracking to Explore the Guidance and Constancy of Visual Variables in 3D Visualization
1
State Key Laboratory of Remote Sensing Science, Beijing Key Laboratory for Remote Sensing of Environment and Digital Cities, Research Center of Geospatial Cognition and Visual Analytics, and Faculty of Geographical Science, Beijing Normal University, Beijing 100875, China
2
Technical University of Munich, Munich 80333, Germany
*
Author to whom correspondence should be addressed.
Received: 1 August 2017 / Accepted: 29 August 2017 / Published: 1 September 2017
Abstract
:
An understanding of guidance, which means guiding attention, and constancy, meaning that an area can be perceived for what it is despite environmental changes, of the visual variables related to three-dimensional (3D) symbols is essential to ensure rapid and consistent human perception in 3D visualization. Previous studies have focused on the guidance and constancy of visual variables related to two-dimensional (2D) symbols, but these aspects are not well documented for 3D symbols. In this study, we used eye tracking to analyze the visual guidance from shapes, hues and sizes, and the visual constancy that is related to the shape, color saturation and size of 3D symbols in different locations. Thirty-six subjects (24 females and 12 males) participated in the study. The results indicate that hue and shape provide a high level of visual guidance, whereas guidance from size, a variable that predominantly guides attention in 2D visualization, is much more limited in 3D visualization. Additionally, constancy of shape and saturation are perceived with relatively high accuracy, whereas constancy of size is perceived with only low accuracy. These first empirical studies are intended to pave the way for a more comprehensive user understanding of 3D visualization design.
Keywords:
3D visualization; visual guidance; visual constancy; visual variables; eye tracking
2. Background and Related Work
4. Results
In this section, we report quantitative analyses of the visual guidance and constancy results based on the collected eye-tracking data. The results show that the visual guidance and constancy properties of the visual variables of shape, size and color in 3D visualization are different from those in 2D visualization.
4.1. Guidance Task
The statistics and significance testing results for the guidance tasks are shown in
Figure 5
. The
FT
for hue is shorter than that for shape, and the
FT
for size is the longest, as expected (
FTHue
= 7.924 s,
FTShape
= 10.318 s,
FTSize
= 11.298 s). The difference in FT between hue and shape/size is significant, whereas the difference between shape and size is not significant (
tHue-Shape
= 3.390,
pHue-Shape
= 0.001 < 0.01;
tHue-Size
= −3.401,
pHue-Size
= 0.001 < 0.01;
tShape-Size
= −0.856,
pShape-Size
= 0.395).
The
TtFF
for hue is the shortest. Indeed, the subjects required only 1.281 s on average to fixate on a target, whereas they required 1.635 s and 1.744 s on average to fixate on the first target object with a certain shape or size. However, none of these differences are significant (
ZHue-Shape
= −0.192,
pHue-Shape
= 0.192;
ZHue-Size
= −0.501,
pHue-Size
= 0.616;
ZShape-Size
= −0.746,
pShape-Size
= 0.456).
As
Figure 5
shows, the
ACC
has the same trend as do the
FT
and
TtFF
. The
ACC
for hue is 0.952 s—significantly shorter than that for shape or size (
ACCShape
= 1.554 s,
ACCSize
= 7.280 s;
tHue-Shape
= 5.143,
pHue-Shape
= 0.000 < 0.01;
tHue-Size
= −10.440,
pHue-Size
= 0.000 < 0.01). The
ACC
for shape is also significantly shorter than that for size (
tShape-Size
= −9.304,
pShape-Size
= 0.000 < 0.01).
Numerically, the
VR
displays a different tendency from the above indices. The
VR
for hue is the largest, while the
VR
for size is the smallest (
VRHue
= 0.276,
VRShape
= 0.192,
VRSize
= 0.116). The differences between hue and shape, between hue and size, and between shape and size are all significant (
tHue-Shape
= −2.182,
pHue-Shape
= 0.033 < 0.05;
tHue-Size
= 5.001,
pHue-Size
= 0.000 < 0.01;
tShape-Size
= 3.050,
pShape-Size
= 0.004 < 0.01). Nevertheless, a larger
VR
means that the subjects were performing more useful work and paying less attention to irrelevant information while completing the corresponding task. Thus, the
VR
trend has the same interpretation as the trends of the other indices.
The accuracy for hue is the highest: all the subjects correctly completed this task. The accuracy for shape is lower, at 0.956. One subject clicked so fast that he must not have fully understood the task instructions, and three subjects failed to find all the targets. The accuracy for size is 0.593, which is the lowest. Only 12 subjects found all the targets without also incorrectly identifying other objects as targets.
In this part of the experiment, we used five quantitative indices to investigate the guidance from shape, hue and size in 3D visualization. Overall, the results indicate that hue and shape more clearly attract attention in 3D displays, whereas the guidance for size is weaker (the heat maps shown in
Supplementary Figure S3
indicate a similar trend).
5. Discussion
5.1. Guidance for Hue, Size and Shape
5.2. Constancy of Saturation, Size and Shape
Constancy is a persistent topic in geo-visualization and in 3D visualization in general, because it is unlike 2D visualization, in which the retinal signal of an object does not change regardless of where that object is located. As the
AC
results show, size constancy is the weakest and saturation constancy is the strongest. In addition,
FT
,
AFD
, and
VC
help to reveal the perception processes.
In this study, the
FT
results show that the total time of saturation perception is strongly influenced by where the variation occurs. A shorter
FT
may indicate a quick judgment of the variation in one location and a decreased judgment time for one process out of six. The data show that the subjects finished the tasks quickly when the saturation variation was located nearby or at a relatively near side position; however, when the variation in saturation was located far away or at a relatively near central position, subjects required more time to finish the task. We did not collect the
FT
values for each separate location, so we can only assume that subjects may have expected that there was at least one symbol that was different from the reference object. Because the participants found changes in nearby or relatively near side locations easier to judge, they might have felt "more comfortable" judging the rest to be the same as the reference object after finding an object that was different. If this inference is correct, then this finding (i.e., that detecting changes in certain locations is more difficult than detecting changes in others) may be related to the decreased area occupied by more distant objects or to a location-related illusion, which would be consistent with the findings of Olkkonen and Brainard [
63
].
The
VC
results show that size perception is influenced most by position and requires more processing than shape and saturation do, and indicates that perception of size is more difficult, which is also supported by the poor size guidance in Exp. 1. This result is also consistent with the metacognitive theory that people supplement their perceptions with deliberate judgments when they are aware of the size-distance effect [
52
,
58
,
59
,
64
], a process that requires further investigation.
However, the
AFD
of size was the least influenced by position, indicating that the participants subjectively considered the difficulties at different locations to be equal, whereas the
AC
results show that location actually exerts the greatest objective influence on the difficulty of size judgment. This discrepancy indicates that size perception is difficult and that the low
AC
of size perception may result from subjects' inattention to detail. Meanwhile, the
AFD
results for shape indicate that subjective perception difficulty of shape increases as the object becomes more distant (location A). This observation is consistent with previous findings that a change in size can increase the effort required to identify shapes [
56
].
AC
shows the constancy of perception results. As for size, judgments for near objects (C and F) are less likely to be correct, whereas judgments for objects at middle distances are most accurate. Concerning orientation, the accuracy for central objects is greater than that for objects to the side. This result is consistent with the findings of Gori, Giuliana, Sandini and Burr [
60
], who stated that the perception of close-to-standard objects is more precise, which indicates that judgment may be influenced by the retinal size of an object. However, in size constancy research in the physical world, the estimation bias seems to increase when the object is positioned farther away [
65
], whereas our work produced a different result. This difference may be related to the integration of the haptic [
60
,
66
] and assumed-size strategies [
59
,
67
] that people use in the physical world. Regarding shape, the accuracy for distant objects is lower because the image may become blurred from the lower resolution of the stimulus. In addition, judgments for objects near the sides of the image are less likely to be correct. These objects are subject to stronger deformation, which results in asymmetry; therefore, subjects may judge them to be different from the target. This finding is consistent with previous research on 3D objects [
19
,
68
], which revealed a greater capacity for shape discrimination for symmetrical objects. Judgments of saturation for near and far symmetrical objects are less likely to be correct, and no clear rule exists regarding orientation.
From Exp. 1, we know that subjects are not sensitive to variations in size in 3D visualization; therefore, the subjects may have relied on instinct when making size judgments, which is not always reliable. The subjects were sensitive to variations in shape (Exp. 1 did not address changes in saturation), and they can rationally identify shape variations when they occur, so the constancy of shape is stronger than that of size. However, distance may influence the visible level of detail or the visible area of an object, and orientation can influence an object's deformation and its visible surface. Thus, the judgments regarding shape or saturation at different positions are not uniform.
In summary, Exp. 2 suggests that the constancy of shape and saturation is strong, whereas that of size is very poor. In addition, size is more difficult to perceive and judge than are shape and saturation, as reflected by a longer
FT
and an increased
VC
; consequently, size perception requires more processing but has lower accuracy. According to the same indices, judgments of shape and saturation are easier.
6. Summary and Future Work
In this study, we applied eye-tracking technology to study the guidance from hues, shapes and sizes in identification tasks and the relationship between the positions of objects and the constancy of their saturation, shape and size in 3D visualization.
The results showed that the hue provides the strongest guidance, while size provides the weakest guidance among the three visual variables in 3D visualization. This result indicates that visual variables do show different trends in 3D visualization than in 2D visualization. However, the summary by Wolfe and Horowitz [
9
] indicated that the guidance for a visual variable may vary among different types of tasks; that is, the guidance can be task dependent. Our work involving guidance included no quantitative tasks; therefore, size was outperformed by hue and shape. In the future, we plan to consider different types of tasks and conduct a study that more thoroughly addresses this topic.
In the experiment to investigate constancy, we found that saturation and shape show better constancy than size does. These three visual variables may influence each other; therefore, more work is required to determine the reliability of this result. Our experimental design lacked certain details because our objective was to investigate the existence of constancy. In future work, we plan to explore the extent and direction of misperceptions.
In addition, similarly designed experiments that use different stimuli and 2D objects could improve our understanding of the guidance and constancy properties of 3D visual variables and how they differ from simple 2D visualizations. First, the stimuli used in this research contained no rich cues for depth, illumination, shadows or other environmental parameters, which can influence the perception of visual variables [
19
,
38
,
48
,
69
,
70
] and reference information. In addition, although most current 3D displays have no reference grid or legend, such references may play an important role in 3D perception, as it has been found that for 2D maps, grids can improve recall performance and the spatial accuracy of learned object locations [
71
]. Similar experiments that involve reference grids are required to determine whether such legends are necessary. Second, only pseudo-3D visualizations generated from 3D models were used in this experiment to test the rules that govern guidance and constancy. However, the quantitative analysis could not fully explain why the visual variables exhibited the observed behavior. Further experiments that address 2D symbols in a pseudo-3D visualization space and the application of a novel scanpath comparison method [
72
], which can analyze participants' strategies, may help us to better understand the perception mechanism.
Acknowledgments
This research is supported by the National Natural Science Foundations of China (NSFC, Grant No. 41471382) and the National Key Research and Development Program of China (2017YFB0503602). The authors would like to thank all the reviewers for their helpful comments and suggestions.
Author Contributions
Bing Liu and Weihua Dong conceived the experiments; Bing Liu designed and performed the experiments; Bing Liu analyzed the data and wrote the paper; and Weihua Dong and Liqiu Meng revised the paper.
Conflicts of Interest
The authors declare no conflicts of interest.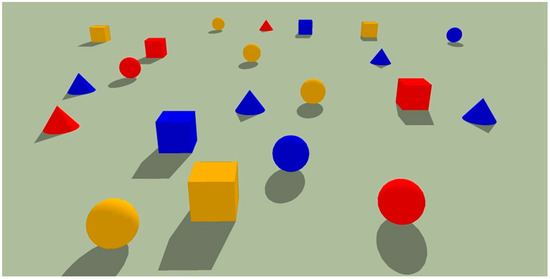 Figure 1. Stimulus used for G1–G2 in Exp. 1.1, intended to investigate shape guidance. The participants were asked to find all the spheres. The stimulus for Exp. 1.2 was similar.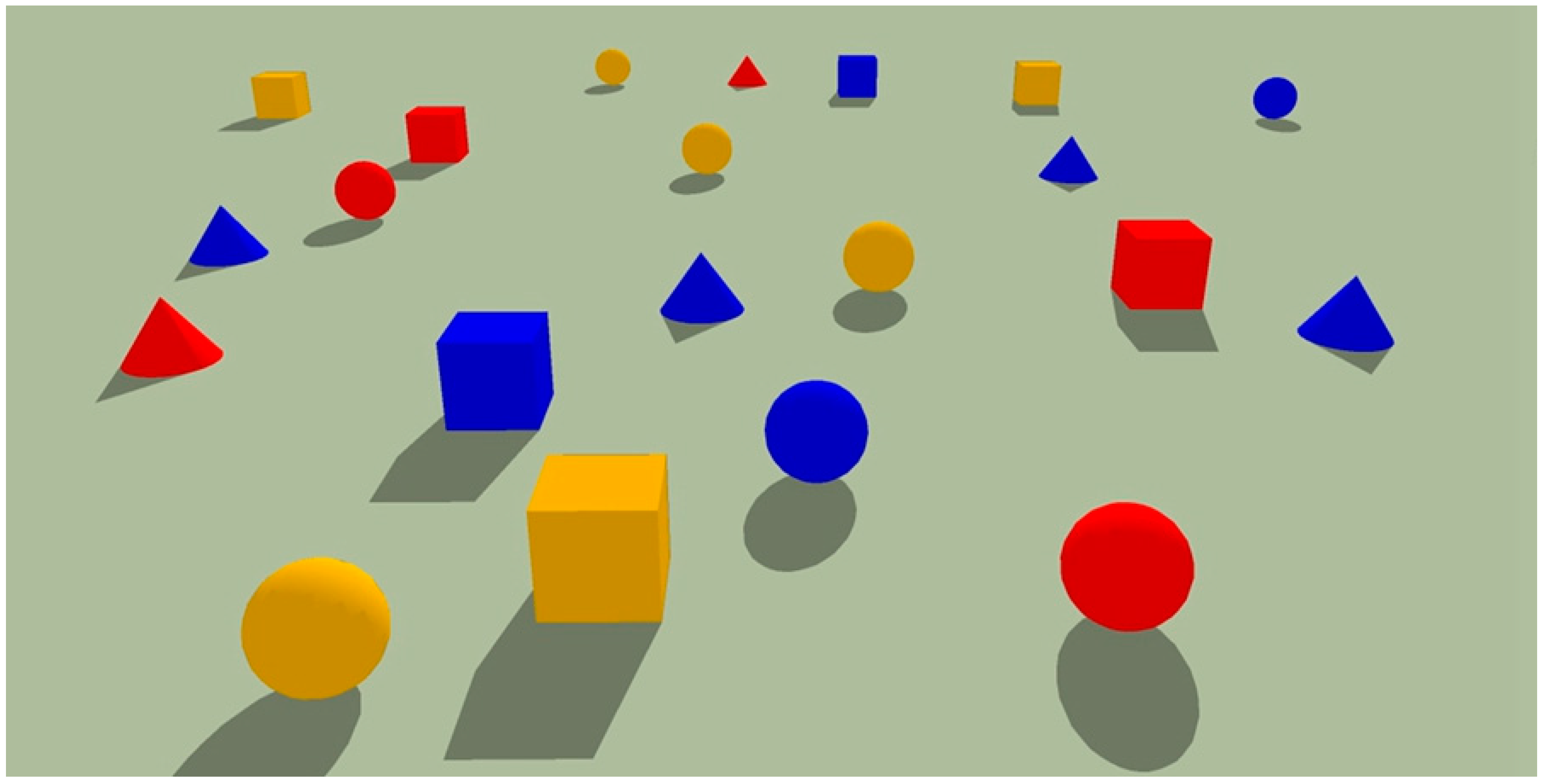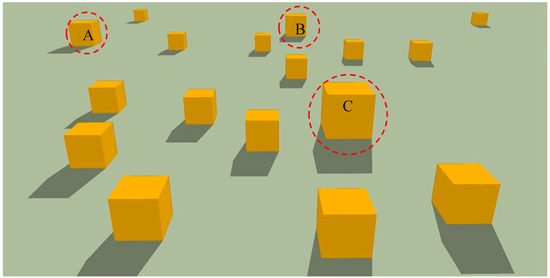 Figure 2. Stimulus used for G1-G6 in Exp. 1.3, intended to investigate size guidance. The participants were asked to find all the larger cubes (A–C); these labels were not shown to the participants).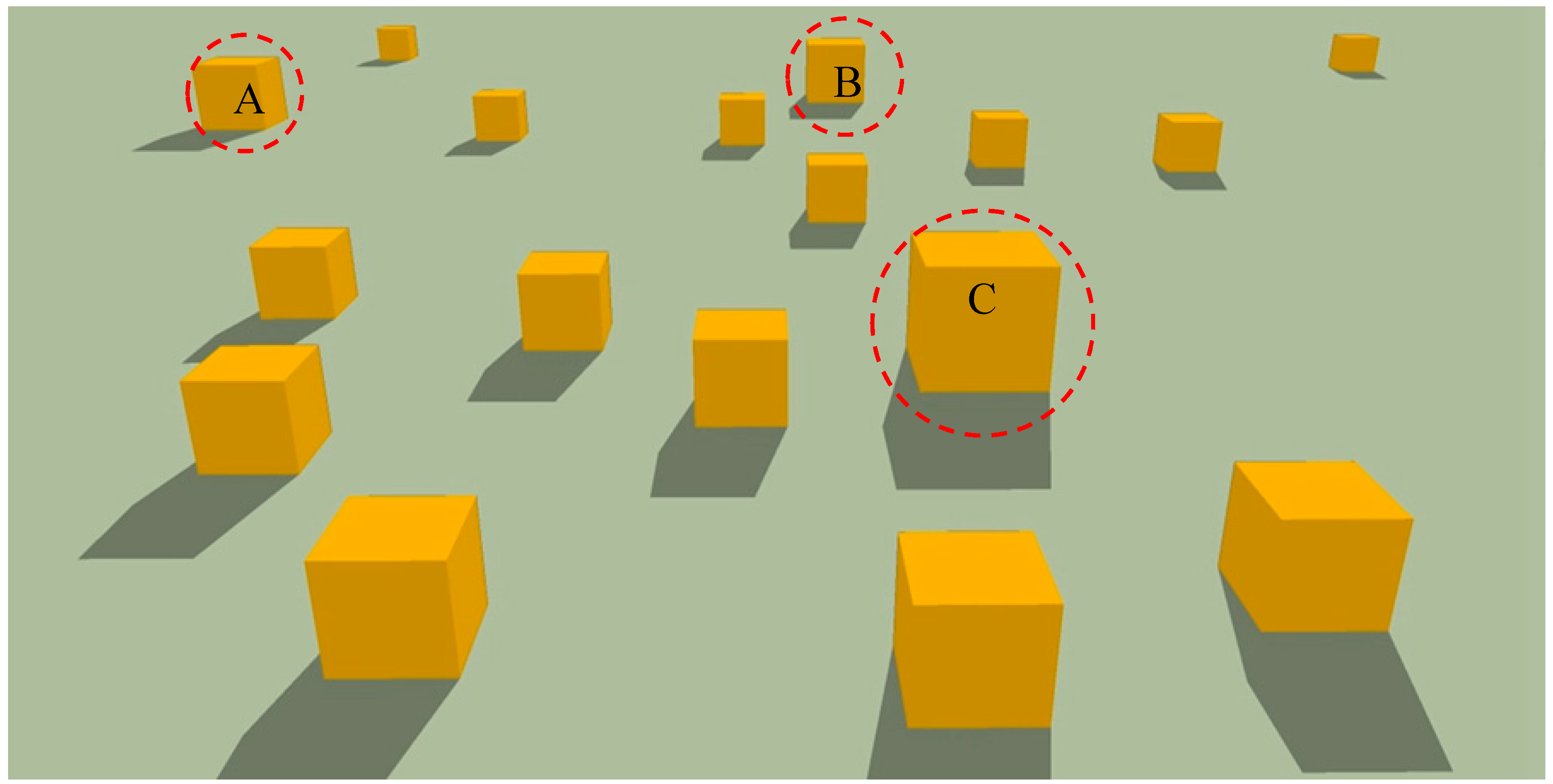 Figure 3. (a) Six position regions for Exp. 2; (b) An example of how the objects were located within the six regions.

Figure 4. (a) In Exp. 2.1, intended to investigate size constancy, Object F was expanded to 120% of its original size; (b) In Exp. 2.2, intended to investigate shape constancy, Object D was changed to a cone; (c) In Exp. 2.3, intended to investigate color constancy, the color saturation of Object D was decreased to 75% of its original value.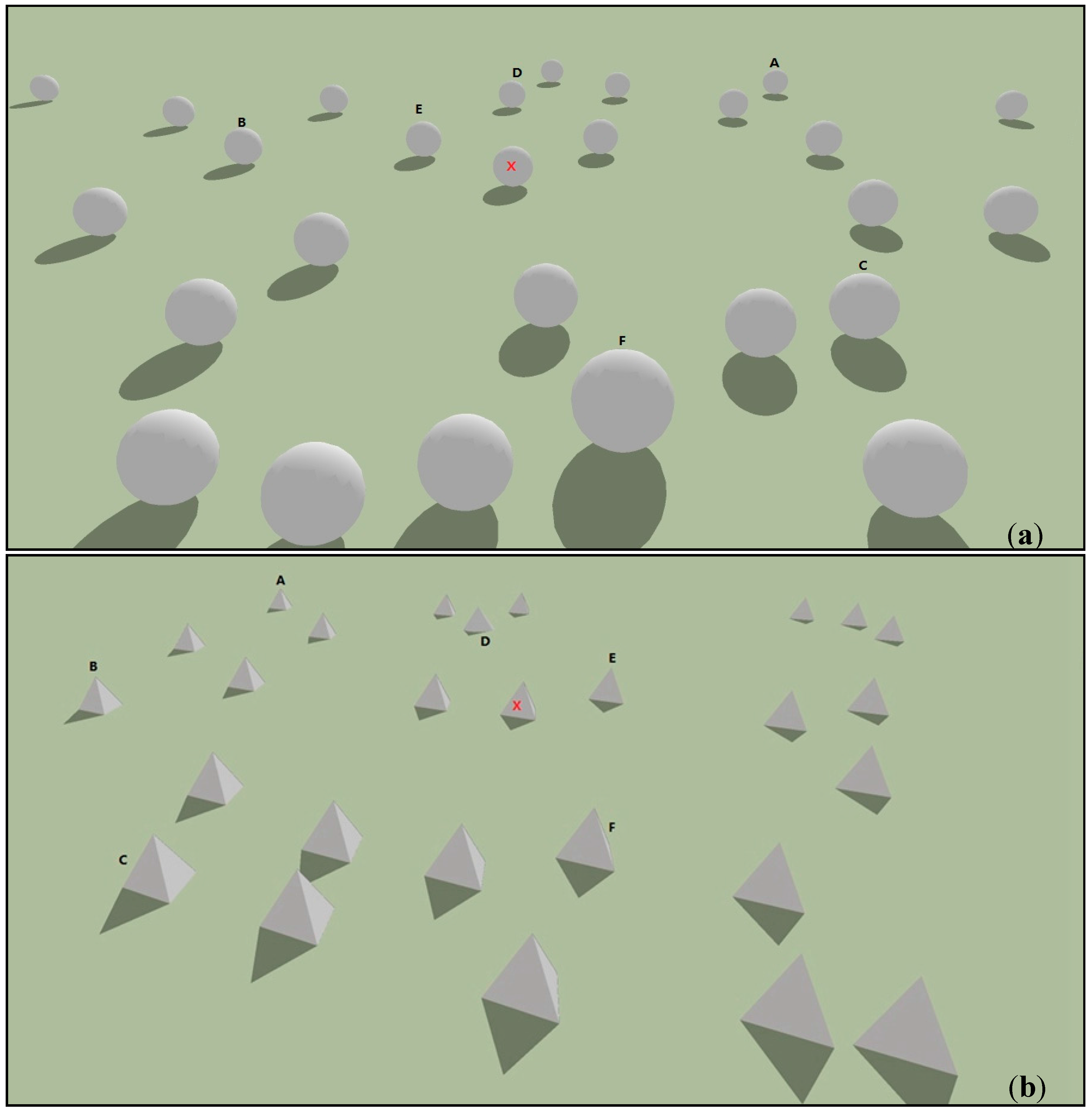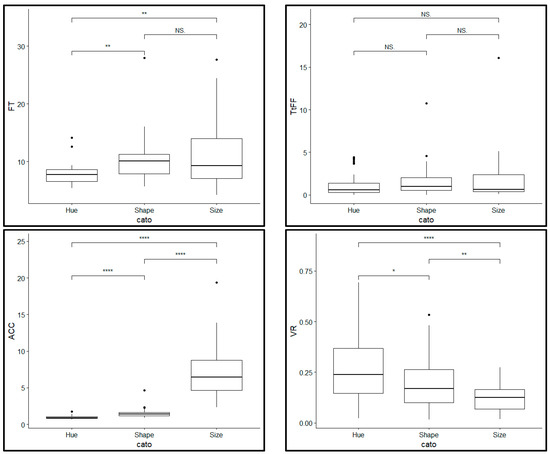 Figure 5.
Statistics and significance testing results of the guidance tasks (Exp. 1, mean values of all participants; *
p
< 0.05, **
p
< 0.01, ****
p
= 0.000, NS = Not significant).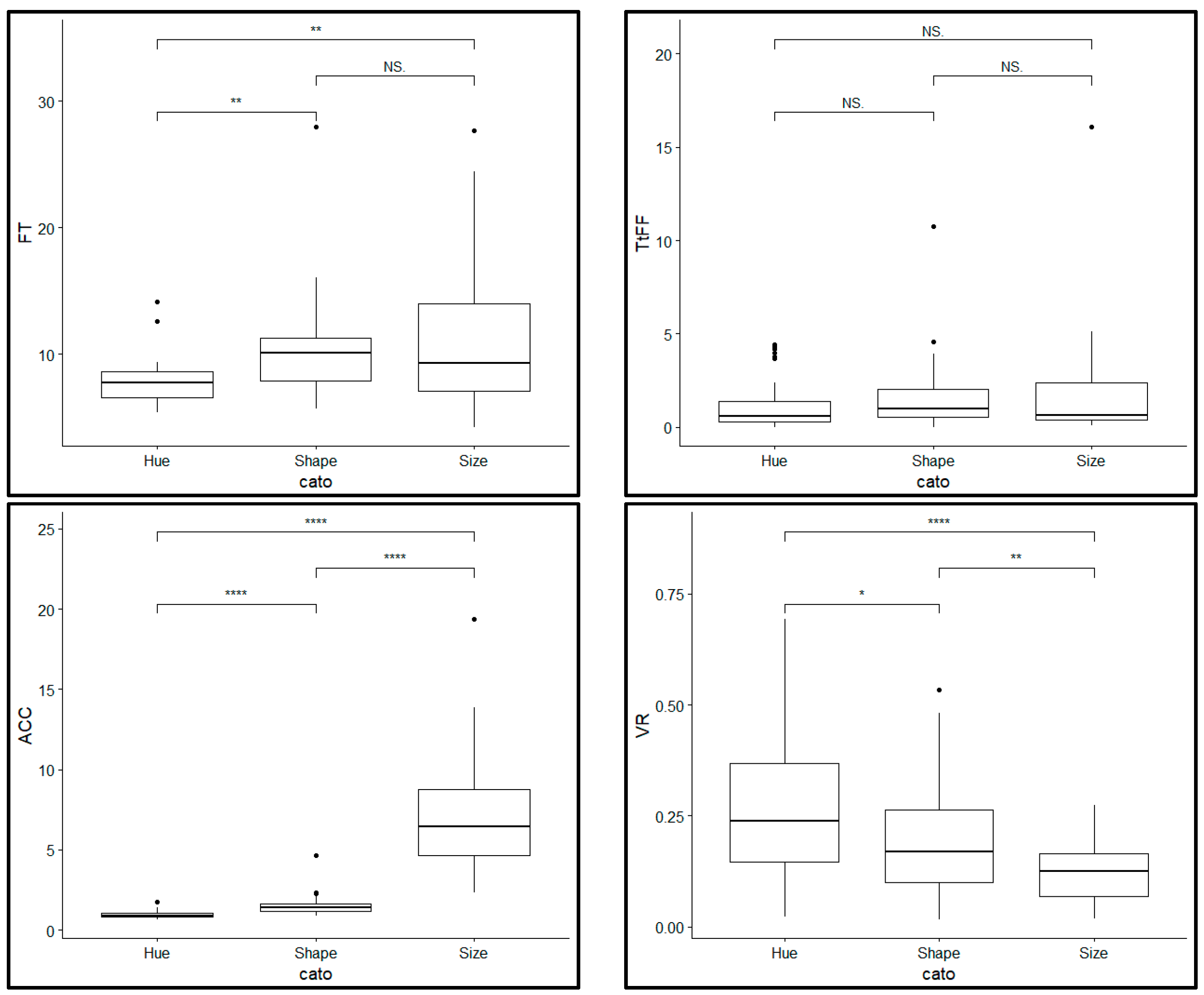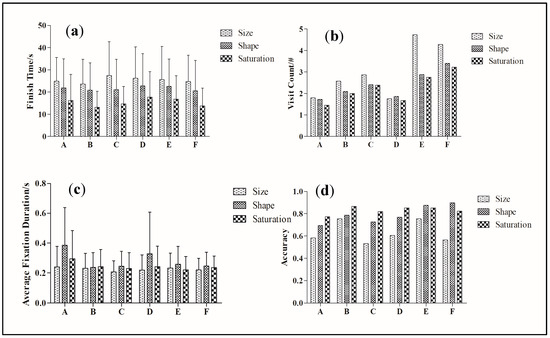 Figure 6.
Statistics of the indices calculated for Exp. 2 (constancy): (
a
)
FT
; (
b
)
AFD
; (
c
)
VC
and (
d
)
AC
.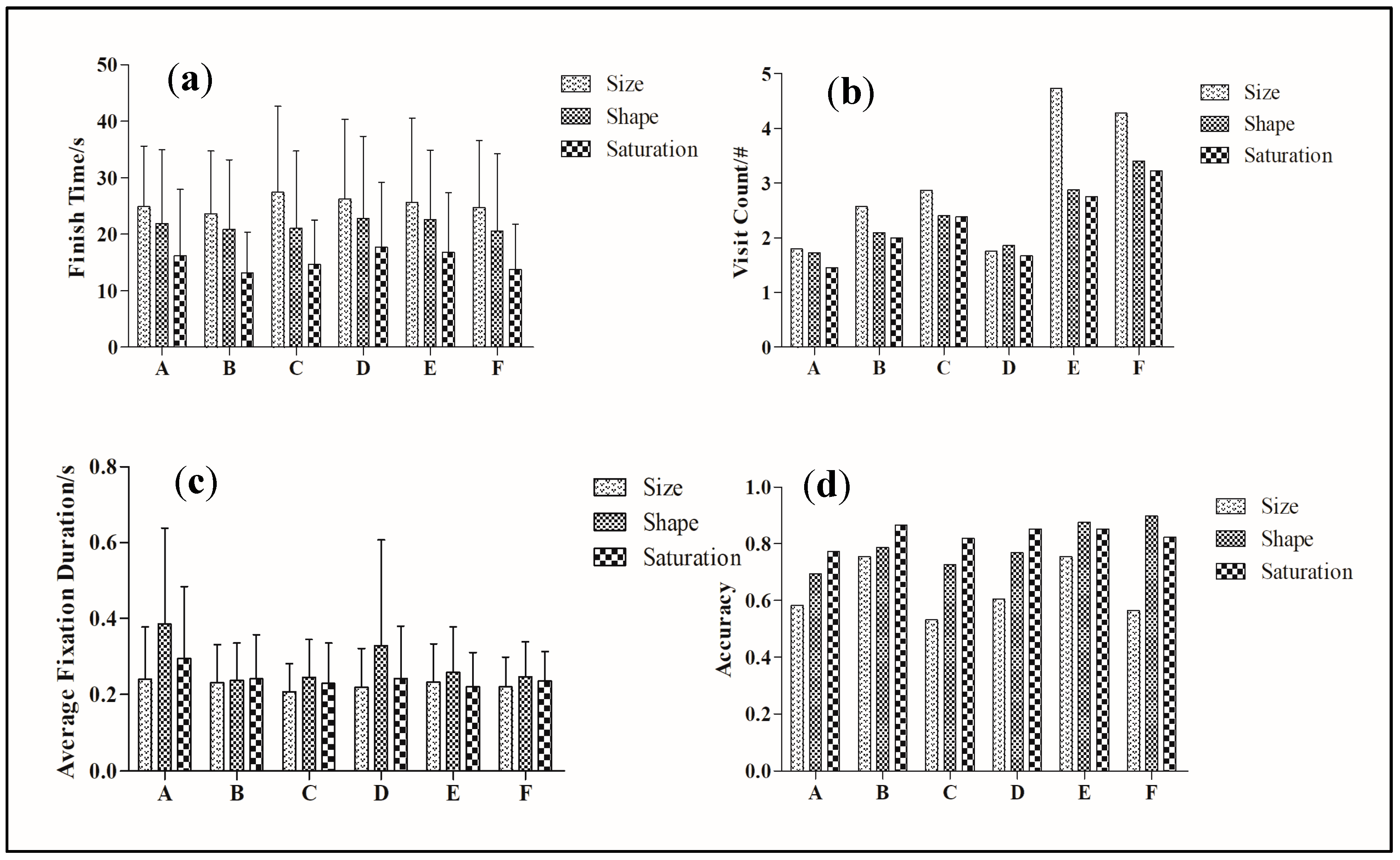 | | Attribute | Task | Number of Repetitions |
| --- | --- | --- | --- |
| Exp. 1.1 | Shape Guidance | Find and click on all the spheres (G1–G2)/cones (G3–G4)/cubes (G5–G6). | 1 |
| Exp. 1.2 | Color Guidance | Find and click on all the red (G1–G2)/blue (G3–G4)/yellow (G5–G6) objects. | 1 |
| Exp. 1.3 | Size Guidance | Find and click on all the cubes (1 or many) that are larger than the others. | 1 |
| Exp. 2.1 | Size Constancy | Compare the sizes of A–F with that of X and tell the experimenter whether they are the same size as X. | 6 |
| Exp. 2.2 | Shape Constancy | Compare the shapes of A–F with that of X and tell the experimenter whether they are the same shape as X. | 6 |
| Exp. 2.3 | Color Constancy | Compare the colors of A–F with that of X and tell the experimenter whether they are the same color as X. | 6 |
Experiment
Index Abbr. (Full Name, Unit)
Interpretation
Exp. 1 (Guidance)

FT

(Finish time, s)
Time needed to complete the task

TtFF

(Time to first fixation, s)
Time from the start of the task to when the subject fixated on the AOI group for the first time

ACC

(Average time needed for a correct click, s)

FT

/the number of correctly judged objects

VR

(Visit ratio)
Visit duration for the AOI group/total visit duration

AC

(Accuracy)
Number of correct judgments/number of clicks
Exp. 2 (Constancy)

FT

(Finish time, s)
Time to complete the task

AFD

(Average fixation duration, s)
Average of all durations of fixation on one AOI

VC

(Visit count, count)
Number of visits within an AOI

AC

(Accuracy)
Ratio of the number of correct judgments to the total number of judgments (with respect to positions) among all subjects
Visual Variable
Position
A (Z(

p

))
B (Z(

p

))
C (Z(

p

))
D (Z(

p

))
E (Z(

p

))
Size
B
−0.150 (0.880)
C
−1.240 (0.215)
−1.903 (0.057)
D
−0.627 (0.531)
−1.074 (0.283)
−0.339 (0.735)
E
−0.461 (0.645)
−0.442 (0.658)
−2.727 (0.006 *)
−1.452 (0.147)
F
−0.245 (0.806)
−0.706 (0.480)
−1.446 (0.148)
−0.686 (0.493)
−1.352 (0.176)
Shape
B
−4.614 (0.000 **)
C
−4.330 (0.000 **)
−0.729 (0.466)
D
−1.952 (0.051)
−2.221 (0.026 *)
−1.887 (0.059)
E
−3.859 (0.000 **)
−1.260 (0.208)
−0.671 (0.502)
−1.292 (0.196)
F
−4.242 (0.000 **)
−1.089 (0.276)
−0.352 (0.725)
−1.684 (0.092)
−0.382 (0.702)
Color
B
−1.719 (0.086)
C
−2.207 (0.027 *)
−0.522 (0.602)
D
−1.688 (0.091)
−0.513 (0.608)
−0.059 (0.953)
E
−2.518 (0.012 *)
−0.972 (0.331)
−0.445 (0.657)
−0.223 (0.824)
F
−1.487 (0.137)
−0.919 (0.358)
−1.527 (0.127)
−1.038 (0.299)
−2.116 (0.034 *)

© 2017 by the authors. Licensee MDPI, Basel, Switzerland. This article is an open access article distributed under the terms and conditions of the Creative Commons Attribution (CC BY) license (http://creativecommons.org/licenses/by/4.0/).