Open Access This article is
freely available
re-usable
Review
Interplay between BMPs and Reactive Oxygen Species in Cell Signaling and Pathology
1
Departament de Ciències Fisiològiques, Universitat de Barcelona, Carrer Feixa Llarga s/n, 08907 L'Hospitalet Llobregat, Spain
2
IDIBELL, Avinguda Granvia de l'Hospitalet 199, 08908 L'Hospitalet de Llobregat, Spain
*
Author to whom correspondence should be addressed.
Received: 14 August 2019 / Accepted: 24 September 2019 / Published: 26 September 2019
Abstract
:
The integration of cell extrinsic and intrinsic signals is required to maintain appropriate cell physiology and homeostasis. Bone morphogenetic proteins (BMPs) are cytokines that belong to the transforming growth factor-β (TGF-β) superfamily, which play a key role in embryogenesis, organogenesis and regulation of whole-body homeostasis. BMPs interact with membrane receptors that transduce information to the nucleus through SMAD-dependent and independent pathways, including PI3K-AKT and MAPKs. Reactive oxygen species (ROS) are intracellular molecules derived from the partial reduction of oxygen. ROS are highly reactive and govern cellular processes by their capacity to regulate signaling pathways (e.g., NF-κB, MAPKs, KEAP1-NRF2 and PI3K-AKT). Emerging evidence indicates that BMPs and ROS interplay in a number of ways. BMPs stimulate ROS production by inducing NOX expression, while ROS regulate the expression of several BMPs. Moreover, BMPs and ROS influence common signaling pathways, including PI3K/AKT and MAPK. Additionally, dysregulation of BMPs and ROS occurs in several pathologies, including vascular and musculoskeletal diseases, obesity, diabetes and kidney injury. Here, we review the current knowledge on the integration between BMP and ROS signals and its potential applications in the development of new therapeutic strategies.
Keywords:
BMP; reactive oxygen species (ROS); NOX; cell signaling; PI3K; MAPK; SMAD; NRF2
1. Introduction
Bone morphogenetic proteins (BMPs) were first described in the 1960s as osteoinductive soluble factors that belong to the transforming growth factor-β (TGF-β) superfamily [
1
]. BMPs are expressed in multiple cell types and participate in a wide variety of processes, including morphogenesis, cell differentiation and regulation of whole-body homeostasis. Several studies demonstrate that BMPs contribute to gastrulation and mesoderm patterning. In extraembryonic tissues, BMPs are critical for primitive streak formation [
2
] and to establish left-right pattering [
3
]. During organogenesis, BMP signaling promotes mesoderm differentiation into heart tissue. In the ectoderm, BMPs induce neural differentiation and are necessary for neural tube formation [
4
]. In the peripheral nervous system, BMPs induce neuronal lineage commitment and neuronal differentiation whereas in the progenitor cells of the Central Nervous System (CNS), BMPs suppress neuronal or oligodendroglial differentiation and promote astroglial formation [
5
]. BMPs are also involved in skeletogenesis [
6
] and bone remodeling after birth [
7
]. In fact, BMP signaling is required for chondrogenesis [
8
] and osteogenesis [
9
]. In kidney organogenesis, BMPs promote the elongation of the ureteric bud and regulate the proliferation and differentiation of the metanephric mesenchyme [
10
]. BMP signaling is also critical for the development of vascular system in embryos, and for the regulation of vascular homeostasis in adults and, when altered, being causative for several vascular dysfunctions. For instance, pulmonary arterial hypertension and hereditary hemorrhagic telangiectasia have been directly linked to impaired BMP signaling [
11
,
12
,
13
]. Finally, BMPs are crucial for a proper reproductive system function. In gonadal differentiation, BMP8 is important for spermatogenesis maintenance [
14
], while BMP15 is associated with granulosa cell proliferation in the ovary [
15
]. Due to BMP relevance in organ generation and maintenance, alterations in BMP signaling are associated with several pathologies.
BMPs interact with specific serine-threonine kinase receptors present in the cell membrane. Subsequently, the information is transduced to the nucleus through the SMAD pathway. Besides this signaling mode, several non-canonical, SMAD-independent BMP transducers have been identified, including small GTPases, phosphatidylinositol 3-kinase/AKT (PI3K/AKT) and distinct types of mitogen-activated protein kinases (MAPKs) [
16
]. In this context, recent evidence suggests that reactive oxygen species (ROS) can also act as second messengers for BMPs.
ROS are highly reactive molecules derived from the reduction of molecular oxygen as a consequence of cellular metabolism or the activity of specific enzymes, such as the NADPH oxidase (NOX) complexes [
17
]. Since ROS are highly unstable, they react with proteins, nucleic acids, lipids and other cellular components and often disrupt their cellular functions. Therefore, ROS were first considered as harmful molecules. Accordingly, oxidative stress is involved in multiple pathologies such as cardiac and neurodegenerative diseases, vascular disorders, diabetes, infections and cancer [
18
]. Even though oxidative stress occurs in several pathologies, numerous studies demonstrate that ROS signaling is also important in normal physiology and in the generation of proper redox biological responses [
19
]. For instance, in skeletal muscle, ROS are required for normal contraction, where they modulate muscle adaptations to exercise [
20
]. ROS also contribute to immune response activation and regulation [
21
] and mediate leucocyte adhesion to endothelial cells [
22
]. Indeed, the physiological role of ROS is based on their capacity to modulate several signaling pathways, including nuclear factor-kappa B (NF-κB), MAPKs, kelch-like ECH-associated protein 1 (KEAP1)-nuclear factor erythroid 2-related factor 2 (NRF2) and PI3K-AKT [
19
].
Although little is known about the relationship between BMPs and ROS, both signals share common transducing modules, and their dysregulation occur in several pathologies. In this review, we will describe the putative modes of signaling crosstalk between BMPs and ROS and analyze their implications in physiology and disease.
3. ROS
ROS are radical and non-radical oxygen species that result from the partial reduction of oxygen [
35
]. Cellular ROS include the superoxide anion (O
2
−
), hydrogen peroxide (H
2
O
2
), and hydroxyl radical (OH·) that arise either as byproducts of aerobic metabolism or as defense mechanisms against xenobiotics or bacterial invasion [
36
]. Under physiological conditions, ROS act as signaling molecules that are important for adaptation to changes in nutrient supply and the oxidative environment [
37
]. ROS also contribute to regulate cell proliferation and differentiation. However, increased ROS levels or changes in their compartmentalization can dysregulate oxidation of proteins, lipids and nucleic acids [
37
]. Therefore, the ROS concentration is in a dynamic equilibrium and is modulated by cellular processes that produce and eliminate ROS.
A primary ROS source is O
2
−
, which is generated in the mitochondria by complexes I, and III or in other cellular compartments by the action of several enzymes such as NOXs. Superoxide reacts with molecules to cause molecular damage or turn into H
2
O
2
spontaneously or by the action of the enzyme superoxide dismutase (SOD). Other ROS sources are the mitochondrial enzymes monoamine oxidase and cytochrome b5ductase, as well as glycerol-3-phosphate dehydrogenase, aconitase, pyruvate dehydrogenase or α-ketoglutarate dehydrogenase [
38
].
Since high ROS levels generate cell damage, cells have developed several defense mechanisms to detoxify ROS. H
2
O
2
is reduced to generate water by the action of catalase or glutathione peroxidase (GPx). Thioredoxins, peroxiredoxins and GPxs act as antioxidant enzymes by reversing the oxidation of cysteine residues. Finally, cells also have non-enzymatic antioxidants that include low-molecular-weight compounds, such as vitamins C and E, β-carotene, uric acid and glutathione (GSH) [
36
].
4. ROS-Mediated Cellular Signaling
6. Interplay between BMPs and ROS Signaling
7. BMPs and ROS in Cell Specification
8. BMPs and ROS in Pathology
8.1. ROS and BMPs in Vascular Diseases
8.2. ROS and BMPs in Obesity and Diabetes
8.3. ROS and BMPs in Kidney Injury
Sepsis, ischemia and nephrotoxicity are causative of acute kidney injury (AKI), which promotes structural damage and loss of kidney function. When treated quickly, the damage is reversible and kidney function is restored. However, in some cases AKI can lead to chronic kidney disease (CKD), where kidney damage worsens over time and kidney failure could occur [
153
]. Other conditions such as diabetes, hypertension or heart disease can also cause CKD. A characteristic of renal chronic diseases is the accumulation of excessive ECM and the presence of myofibroblast within the interstitium [
154
].
In the kidney,
BMP2
is expressed by metanephric mesenchymal cells, mesangial cells in the glomerulus and differentiated podocytes. Moreover, in vivo AKI models demonstrate
Bmp2
upregulation in adult renal progenitor cells, where it induces
Sma
,
Col1a1
and
Fibronectin
expression, all of which drive a myofibroblastic transition. Furthermore, in this cell type BMP2 promotes NOX4 expression and activity. NOX4 is also necessary for TGFβ-induced kidney myofibroblast activation and to promote the transition of fibroblasts to myofibroblasts [
78
]. In podocytes, BMP2 increases the Ca
2+
concentration and stimulates PKC activity, which is involved in the activation of NOX family members. In podocytes, BMP2 also up-regulates ID1, an inductor of NOX activity [
83
]. Thus, BMP2 stimulates ROS production through NOX enzyme activation in adult renal progenitors and podocytes. Elevated ROS levels induced by BMP promote the EMT, contribute to increased ECM production and hence impair kidney function.
On the other hand, BMP7 negatively regulates TGFβ1 signaling and suppresses inflammation, apoptosis and EMT. Moreover, BMP7 has antifibrotic activity, which prevents ureteral obstruction and diabetic nephropathy [
155
]. In chronic kidney injury, BMP7 can reverse TGFβ1-induced EMT and repair severe damage to renal tubular epithelial cells, actions that reverse chronic kidney injury [
156
]. Therefore, BMP7 signaling agonists play a protective role against renal fibrosis in kidney injury models and are postulated as a potential therapy in renal diseases [
157
,
158
]. In a similar way, silencing BMP7 antagonists, such as Gremlin, can induce therapeutic effects. For instance, in biopsies from patients with diabetic nephropathy, the levels of Gremlin are upregulated and correlated with elevated serum creatinine levels and tubulointerstitial fibrosis [
159
]. Inhibition of Gremlin allows the efficient binding of BMP7 to its receptor and improves kidney injury [
160
]. Furthermore, elevation of the antioxidant system by NRF2 activators appears to be beneficial in renal fibrosis [
161
,
162
].
8.4. ROS and BMPs in Musculoskeletal Diseases
Sarcopenia is a syndrome characterized by progressive and generalized loss of skeletal muscle mass and function. Histologically, sarcopenic muscles are characterized by the presence of adipose infiltration, fibrotic tissue and a decline in type II muscle fiber satellite cell content [
163
]. The cell fate decision between adipocyte and myoblast depends on BMP7 levels. In Myf5+ progenitors, BMP7 represses the expression of the adipogenic inhibitors
Necdin
and preadipocyte factor 1 (
Pref1
) and induces the expression of
Prdm16
, which activates the brown adipogenesis program and blocks the induction of myoblast-specific genes such as
Myf5
and
Myod1
[
164
]. Consequently, when BMP7 levels are high, Myf5+ progenitors differentiate into brown adipocytes, whereas if
BMP7
expression decreases, Myf5+ progenitors can differentiate into the myogenic lineage [
165
].
In MSCs, chronic oxidative stress leads to S100 calcium-binding protein B (S100B) accumulation, increased NF-κB transcriptional activity and reduced expression of the promyogenic and anti-adipogenic mircoRNA-133 (
miR-133
).
miR-133
reduction upregulates
PRDM-16
, which stimulates brown adipogenesis. In parallel, NF-κB activity also upregulates BMP7 expression that stimulates the myoblast-brown adipocyte transition in an autocrine/paracrine manner [
166
]. Thus, ROS-mediated BMP7 upregulation might promote sarcopenia, and its inhibition can be beneficial for this disease.
Osteonecrosis arises from the death of bone cells due to decreased blood flow. When osteonecrosis occurs next to the joints, it can lead to osteoarthritis (OA). In bone cells, the hypoxia produced by osteonecrosis increases the production of free oxygen radicals, including O
2
−
and H
2
O
2.
Increased
BMP2
expression occurs in necrotic lesions [
167
] and damaged cartilage from OA patients linked to higher ROS production [
168
]. Moreover, serum BMP2 levels correlate with OA severity, hence it has been suggested that its levels could also be used as a biomarker for this disease [
169
,
170
]. Interestingly, after ischemic osteonecrosis, hypoxic chondrocytes within the cartilage transcriptionally activate the
BMP2
promoter. BMP2 stimulates proteoglycan synthesis, induces vascularization, promotes endochondral osteogenesis and has anabolic effects on chondrocyte metabolism and function [
168
,
169
]. In osteoarthritic cartilage, the increased concentration of BMPs is followed by an up-regulation of BMP antagonists, such as
Gremlin
and
Follistatin. Gremlin1
expression is elevated since the early development of OA and its levels correlate with the progression of the disease [
171
,
172
].
Gremlin1
is also highly expressed in synovia and synovial fluids of patients with RA (Rheumatoid Arthritis) and its levels correlate with the concentration of proinflammatory cytokines. Upregulation of
Gremlin1
induce the activation of ERK1/2, AKT, and increased expression of
BCL2
while it reduces the levels of
BAX
. Both facts increase the survival, and capacity of migration of fibroblast-like synoviocytes [
173
] Treatment with Gremlin1 markedly inhibited terminal hypertrophic differentiation with no effects on the chondrogenesis [
174
] in conclusion, Gremlin1 could be a good therapeutical target in RA, capable of demoting hyperplastic synovitis [
173
].
9. Conclusions
Many biochemical, pharmacological and genetic studies confirm the relevance of ROS and BMPs in numerous aspects of cell biology and pathophysiology. Evidence also supports that both signals influence each other: BMP-dependent regulation of ROS production, and vice-versa, increases in the expression of distinct BMPs or modification on the expression of BMP antagonists in response to ROS generated by oxidative stress or NOX activity. However, many questions are still open and much more remains to be learnt regarding the relevance in the interplay between ROS and expression of specific BMPs and their antagonists in the context of normal tissue homeostasis and in pathological conditions. It should be possible to determine the effects of genetic alterations in the BMP signaling on cellular ROS levels or whether the cellular dysfunction associated to oxidative stress also depends on alterations of BMP expression. Additionally, BMPs and ROS share a number of downstream signaling components, suggesting a putative signaling crosstalk between the pathways. For instance, BMP and ROS activation of p38 MAPK or PI3K/AKT are well reported. Such parallel behavior and close signaling connections suggest that BMPs, BMP antagonists and ROS might regulate in coordination cellular physiology. However, despite this compelling rationale, strong evidence that such mechanisms are relevant is still lacking. Elucidation of these molecular mechanisms will not only advance basic biology, it may also provide new strategies for the treatment of a number of pathologies.
Author Contributions
C.S.-d.-D., C.P.-L., J.A.V., J.L.R., and F.V. conceived, analyzed and discussed the manuscript. C.S.-d.-D. and F.V. wrote the manuscript and draw the figures.
Funding
This research was supported by grants from the M.E.C. (BFU2014-56313-P and BFU2017-8 2421-P).
Acknowledgments
Cristina Sánchez de Diego and Carolina Pimenta Costa are the recipient of a F.P.U. fellowship from the Spanish Ministry of Education.
Conflicts of Interest
The authors declare no conflict of interest.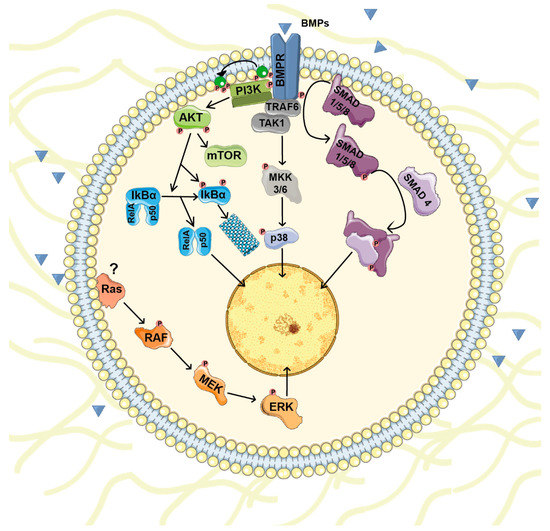 Figure 1. BMP signaling pathways. Once BMP receptors (BMPR) are stimulated they form a complex and initiate an intracellular transduction cascade. In the canonical pathway, BMP receptors phosphorylate and activate the SMAD family of transcription factors that transduce the signal to the nucleus. Besides SMADs, BMPs modulate other intracellular signaling pathways (non-canonical BMP signaling) including PI3K/AKT and various types of MAPKs pathways.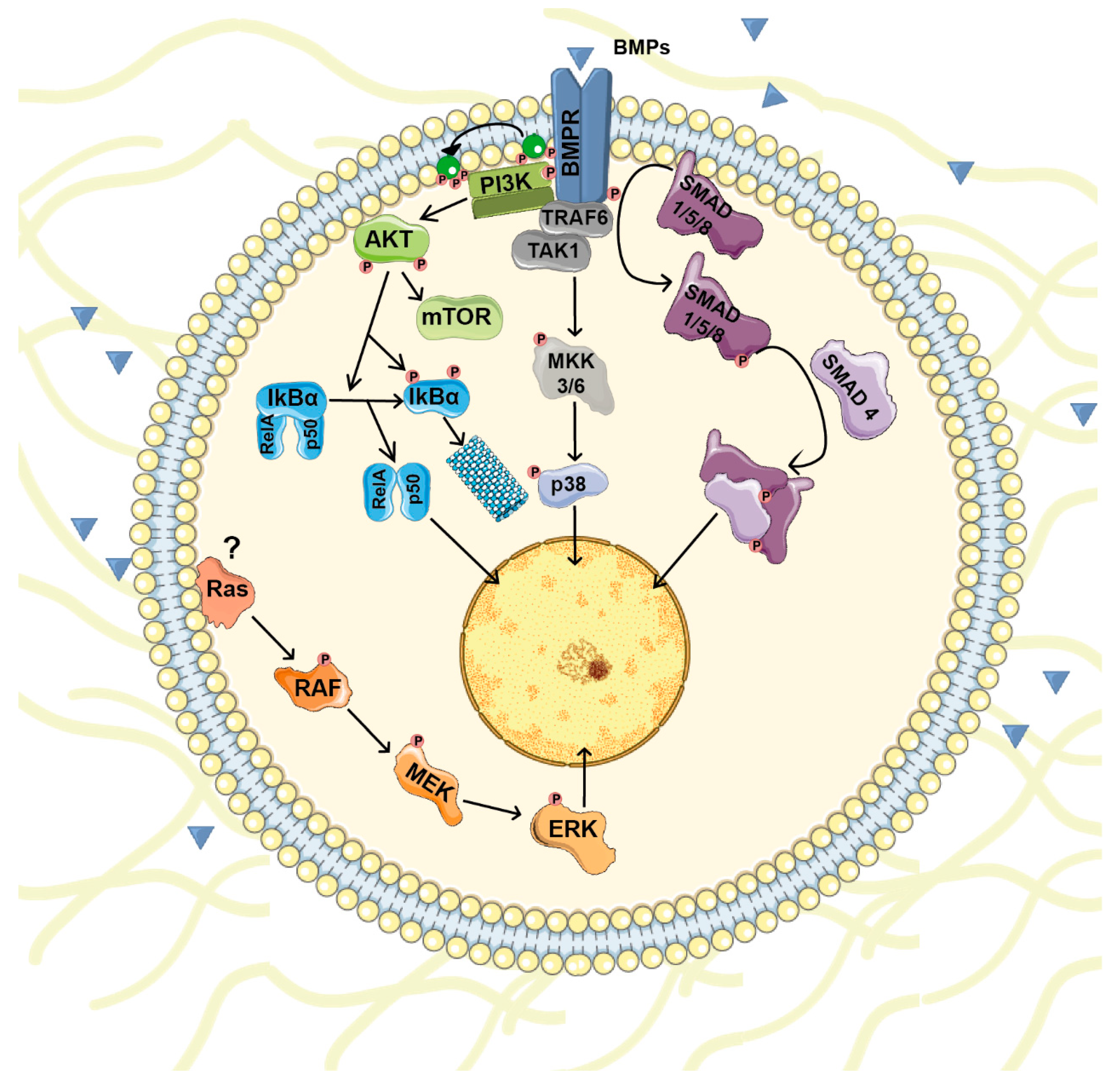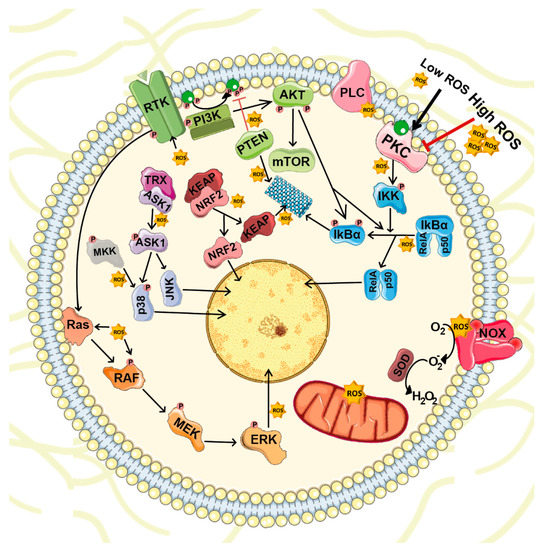 Figure 2. ROS-mediated cellular signaling. ROS are highly reactive molecules that act as second messengers inside the cell. Besides mitochondrial respiration, NOXs represent the major ROS source. Under physiological conditions, intracellular ROS target and stimulate several transductor proteins NF-κB, MAPKs, KEAP1-NRF2 and PI3K-AKT important for cell survival, proliferation and differentiation.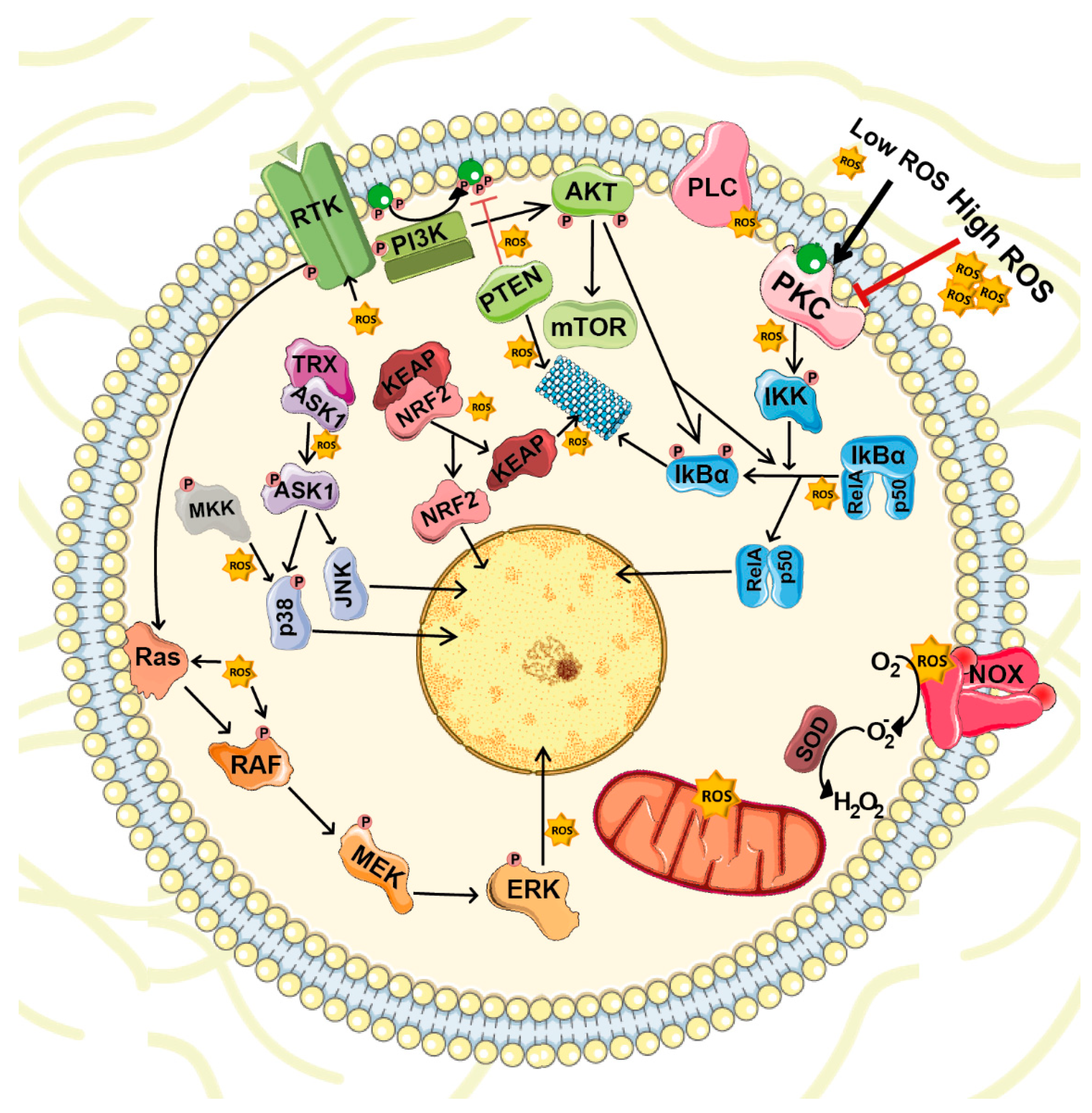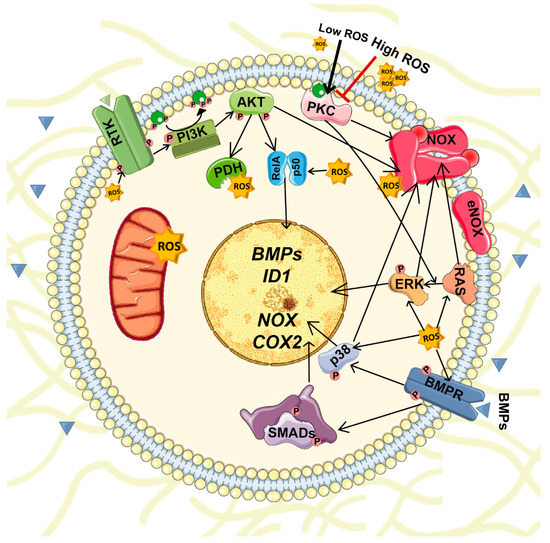 Figure 3. Interplay between BMPs and ROS signaling. Production of BMPs and ROSs are reciprocally regulated. BMPs stimulate ROS production by activation and/or induction of NOX1-5 expression while ROS regulate the expression of several BMPs. Furthermore, both BMPs and ROS activate several common signaling pathways including PI3K-AKT, ERK, JNK and p38 MAPKs.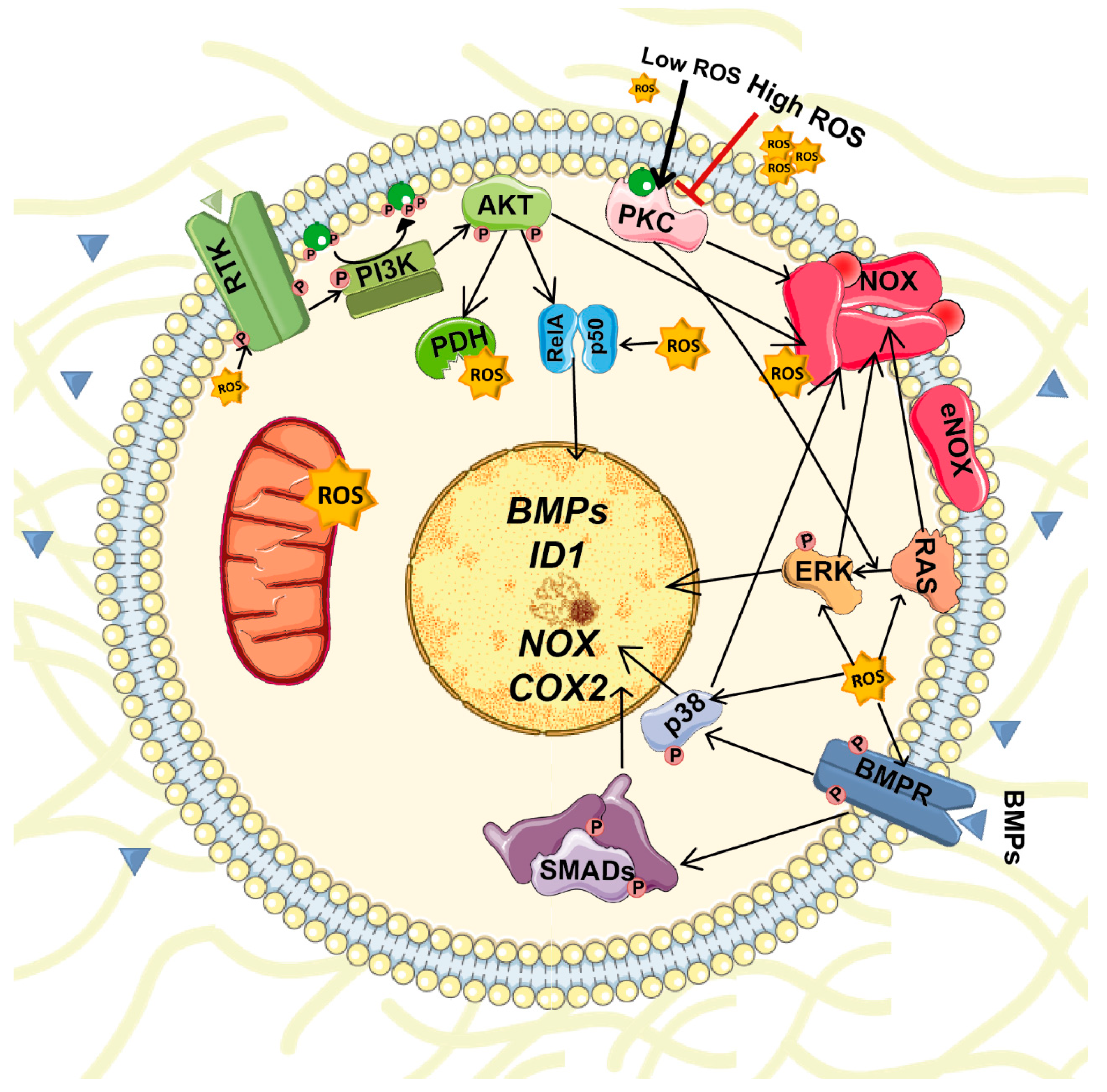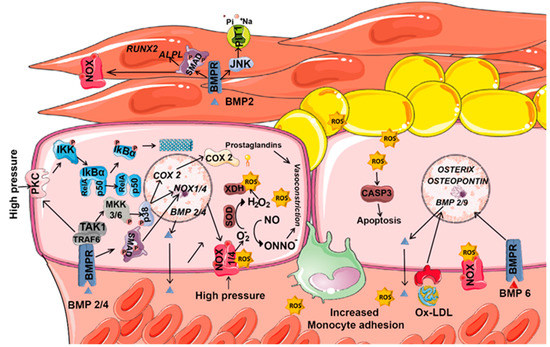 Figure 4.
Coordinated contribution of ROS and BMPs to vascular diseases. Vascular vessels are structures integrated by endothelial, smooth muscle cells (SMCs) and fibroblasts. In the endothelium, ROS are mainly produced by NOXs and its levels increase as a response to high pressure. In vascular vessels, ROS induce the expression of several BMPs, inactivates nitric oxide, and stimulate NF-κB pathway. By its part, BMPs activate MAPK pathways, increase
NOX1/4
and
COX2
expression and consequently enhance ROS generation. BMP6 and oxidized low-density lipoprotein (oxLDL) increase the expression of the osteoblast markers
Osterix
and
Osteopontin
in a NOX dependent manner. In SMCs, BMPs promotes the expression of the type III sodium-dependent phosphate cotransporter
PIT1
, increases the activity of NOX, and the levels of osteogenic markers (
RUNX2
and
ALPL
).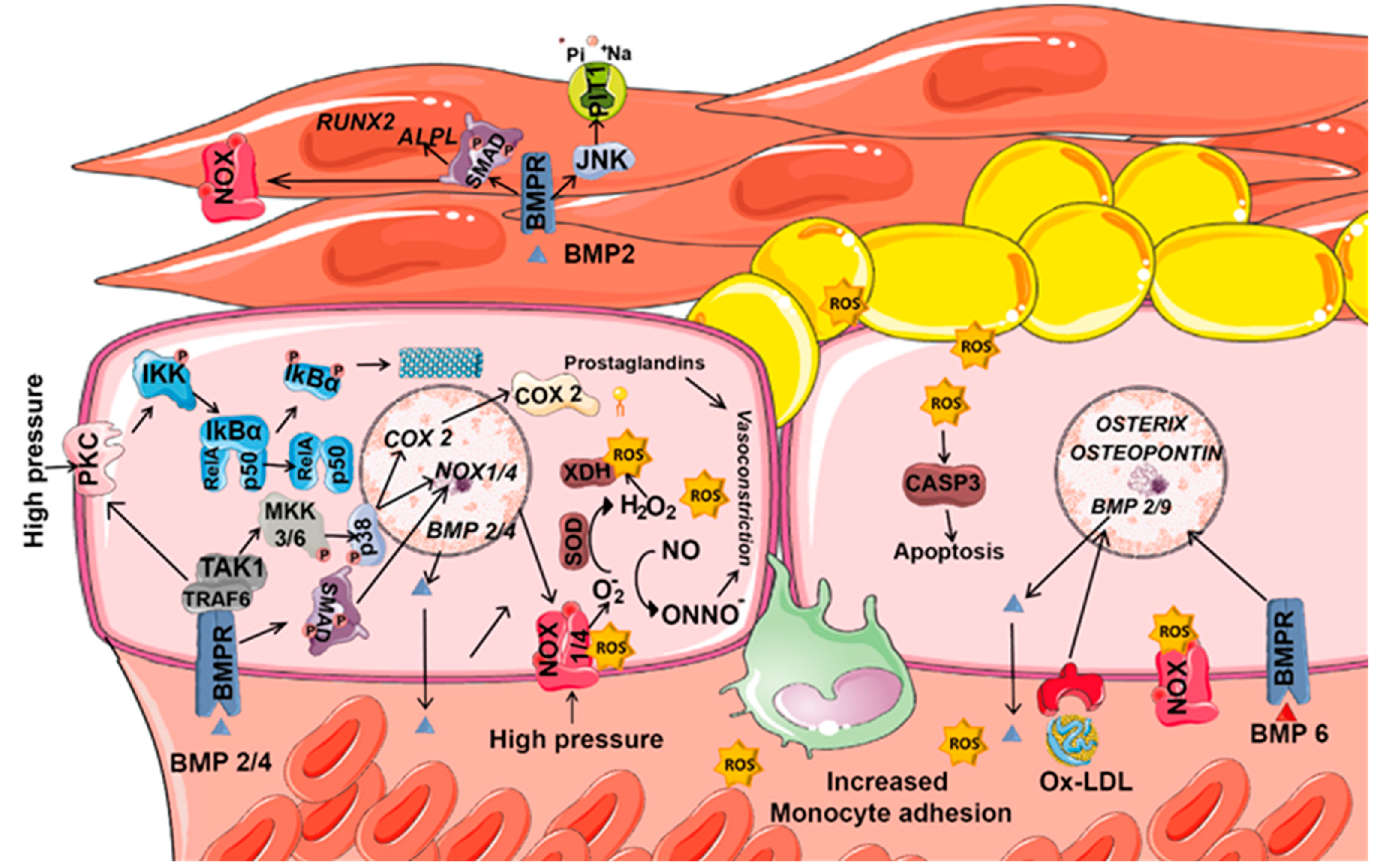 © 2019 by the authors. Licensee MDPI, Basel, Switzerland. This article is an open access article distributed under the terms and conditions of the Creative Commons Attribution (CC BY) license (http://creativecommons.org/licenses/by/4.0/).