The Production of Curli Amyloid Fibers Is Deeply Integrated into the Biology of
Escherichia coli
Department of Molecular, Cellular, and Developmental Biology, University of Michigan, Ann Arbor, MI 48109, USA
*
Author to whom correspondence should be addressed.
†
These authors contributed equally to this work.
Academic Editor: Jürg Bähler
Received: 7 September 2017 / Revised: 13 October 2017 / Accepted: 23 October 2017 / Published: 31 October 2017
Abstract
Curli amyloid fibers are the major protein component of the extracellular matrix produced by Enterobacteriaceae during biofilm formation. Curli are required for proper biofilm development and environmental persistence by
Escherichia coli
. Here, we present a complete and vetted genetic analysis of functional amyloid fiber biogenesis. The Keio collection of single gene deletions was screened on Congo red indicator plates to identify
E. coli
mutants that had defective amyloid production. We discovered that more than three hundred gene products modulated curli production. These genes were involved in fundamental cellular processes such as regulation, environmental sensing, respiration, metabolism, cell envelope biogenesis, transport, and protein turnover. The alternative sigma factors, σ
S
and σ
E
, had opposing roles in curli production. Mutations that induced the σ
E
or Cpx stress response systems had reduced curli production, while mutant strains with increased σ
S
levels had increased curli production. Mutations in metabolic pathways, including gluconeogenesis and the biosynthesis of lipopolysaccharide (LPS), produced less curli. Regulation of the master biofilm regulator, CsgD, was diverse, and the screen revealed several proteins and small RNAs (sRNA) that regulate
csgD
messenger RNA (mRNA) levels. Using previously published studies, we found minimal overlap between the genes affecting curli biogenesis and genes known to impact swimming or swarming motility, underlying the distinction between motile and sessile lifestyles. Collectively, the diversity and number of elements required suggest curli production is part of a highly regulated and complex developmental pathway in
E. coli
.
View Full-Text
►

▼

Figures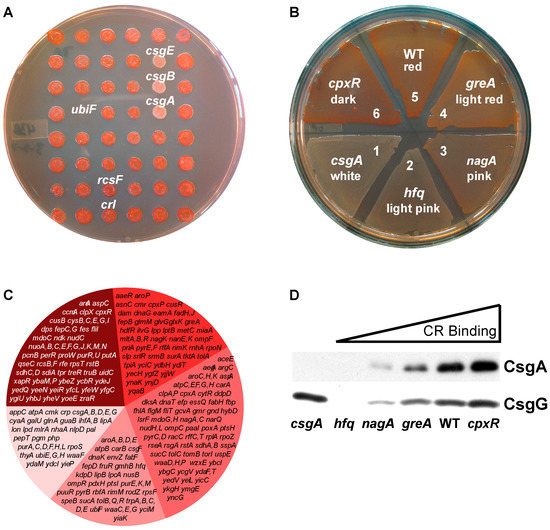 Figure 1
This is an open access article distributed under the
Creative Commons Attribution License
which permits unrestricted use, distribution, and reproduction in any medium, provided the original work is properly cited (CC BY 4.0).

Share & Cite This Article
MDPI and ACS Style
Smith, D.R.; Price, J.E.; Burby, P.E.; Blanco, L.P.; Chamberlain, J.; Chapman, M.R. The Production of Curli Amyloid Fibers Is Deeply Integrated into the Biology of Escherichia coli. Biomolecules 2017, 7, 75.
Note that from the first issue of 2016, MDPI journals use article numbers instead of page numbers. See further details here.
Related Articles
Comments
[Return to top]