Role of PGE-2 and Other Inflammatory Mediators in Skin Aging and Their Inhibition by Topical Natural Anti-Inflammatories
1
DermaMedics LLC, Oklahoma City, OK 73139, USA
2
Department of Biochemistry and Molecular Biology, University of Oklahoma Health Sciences Center, Oklahoma City, OK 73139, USA
Received: 23 November 2018 / Revised: 9 January 2019 / Accepted: 15 January 2019 / Published: 21 January 2019
Abstract
Human skin aging is due to two types of aging processes, "intrinsic" (chronological) aging and "extrinsic" (external factor mediated) aging. While inflammatory events, triggered mainly by sun exposure, but also by pollutants, smoking and stress, are the principle cause of rapid extrinsic aging, inflammation also plays a key role in intrinsic aging. Inflammatory events in the skin lead to a reduction in collagen gene activity but an increase in activity of the genes for matrix metalloproteinases. Inflammation also alters proliferation rates of cells in all skin layers, causes thinning of the epidermis, a flattening of the dermo-epidermal junction, an increase in irregular pigment production, and, finally, an increased incidence of skin cancer. While a large number of inflammatory mediators, including IL-1, TNF-alpha and PGE-2, are responsible for many of these damaging effects, this review will focus primarily on the role of PGE-2 in aging. Levels of this hormone-like mediator increase quickly when skin is exposed to ultraviolet radiation (UVR), causing changes in genes needed for normal skin structure and function. Further, PGE-2 levels in the skin gradually increase with age, regardless of whether or not the skin is protected from UVR, and this smoldering inflammation causes continuous damage to the dermal matrix. Finally, and perhaps most importantly, PGE-2 is strongly linked to skin cancer. This review will focus on: (1) the role of inflammation, and particularly the role of PGE-2, in accelerating skin aging, and (2) current research on natural compounds that inhibit PGE-2 production and how these can be developed into topical products to retard or even reverse the aging process, and to prevent skin cancer.
View Full-Text
►

▼

Figures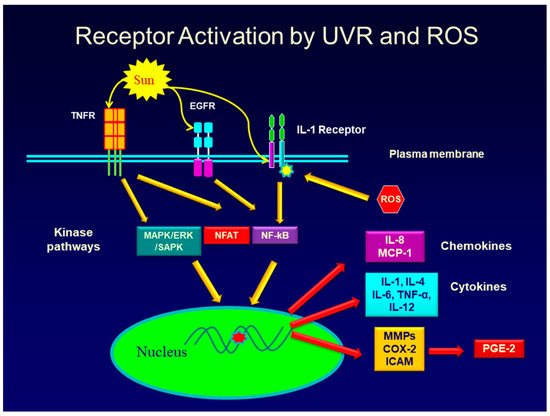 Figure 1
This is an open access article distributed under the
Creative Commons Attribution License
which permits unrestricted use, distribution, and reproduction in any medium, provided the original work is properly cited (CC BY 4.0).

Share & Cite This Article
MDPI and ACS Style
Fuller, B. Role of PGE-2 and Other Inflammatory Mediators in Skin Aging and Their Inhibition by Topical Natural Anti-Inflammatories. Cosmetics 2019, 6, 6.
Note that from the first issue of 2016, MDPI journals use article numbers instead of page numbers. See further details here.
Comments
[Return to top]