Open Access This article is
freely available
re-usable
Article
Perspective: Stabilizing the Microbiome Skin-Gut-Brain Axis with Natural Plant Botanical Ingredients in Cosmetics
1
BE MIND BODY SKIN, Integrative Aesthetics Ocean Township, NJ 07712, USA
2
Department of Biomedical Engineering, the State University of New Jersey, Piscataway, NJ 08854, USA
3
Center for Dermal Research, New Jersey Center for Biomaterials, Rutgers University, Piscataway, NJ 08854, USA
Received: 9 May 2018 / Accepted: 9 June 2018 / Published: 13 June 2018
Abstract
:
The microbiome of the gut and skin have recently been shown to have a strong connection through the host immune system. Various skin and gut inflammatory conditions are interrelated and connected through intricate immune pathways that affect the host barrier functions both in the skin and the gut. Microbiome 'dysbiosis' of the skin and gut leads to various alterations in host immune pathways that can alter the barrier and lead to disease. In this perspective article, we discuss the role of plant botanicals in cosmetics and their effect on the skin-gut-brain axis.
Keywords:
microbiome; skin-gut-brain axis; plant botanical ingredients
1. Introduction
The surface microbiome opens a new dimension in looking at the very intricate communication between the external environment and the human body [
1
]. With a unique signature to each host, the microbiome forms a cloud of microorganisms that have specific interactions with each other and with the immune system of the host. The neuroendocrine and immune pathways of the host play an important role in establishing communication between the microbial commensals and the internal host organs in a skin-gut-brain axis [
2
]. The human body perhaps can be looked at as being 40% human cells to about 60% bacterial microorganisms [
3
]. This fact leads us to take a more serious interest in how these microorganisms interact with their specific host to impact the regulatory functions of the host [
4
].
2. Microbiome–Host Interaction through Immune System
Microorganisms are present from the surface to the deeper layers of the skin as well as in the epithelial lining of the gut. The specificity of microorganisms to each host as elucidated through metagenomic sequencing has led to the recognition of the microbiome as a unique signature to each host [
4
]. Several factors have been implicated in affecting the surface microbial colonies both on the skin and in the gut, from birth to environmental changes, geographic location, and dietary changes as well as a modern lifestyle [
5
]. A shift towards more immunological health conditions affecting the population, e.g., allergies, autoimmune conditions, atopic skin conditions, etc. can be attributed to these factors, which can influence the host and microbial interaction [
5
]. It can be inferred that between the bacterial organisms and the host surface cells there exists a symbiotic relationship. A harmonious balance between their communication exists in a physiologic state. A "dysbiotic" state adversely impacts physiological functions such as barrier protection, and may therefore lead to pathologic states. The immune cells in the surface layer are primarily the mediators of this communication in the host through a complex immune signaling pathway. Both the innate and adaptive immune system play a role in this dialogue, affecting the various host immune organs like the lymph nodes, liver, and spleen as well as creating an interaction between the gut and skin [
1
,
5
]. Detailing the interaction of the host immune system and microorganisms is beyond the scope of this publication. However, several recent papers have elaborated the major role of Toll-like receptor (TLR) cells, dendritic cells, natural killer cells (NK cells), and Langerhans cells in microbial interactions and in passing on the effects of these interactions through an immunological cascade in the host [
1
,
2
,
3
,
4
,
5
].
3. Elaborating the Skin-Gut-Brain Axis and Various Host Neuroendocrine Pathways
Possible immunologic connections between the skin and the gut can be seen in conditions such as celiac disease, which often has an associated dermatitis, and psoriasis, where gut-associated bacteria can be more frequently found circulating in the bloodstream [
6
,
7
]. A study recently published in 2018 by Codoner et al. in Nature Scientific Reports presented data that showed a "psoriatic core intestinal microbiome" exists that clearly differs from the one present in the healthy population. They also reported that these patients had a higher incidence of gut to blood stream translocations of microbial components with poor immune and barrier functions in the gut. Recent findings have also indicated the effect of gut microbiome on atopic dermatitis [
7
,
8
].
Gut and skin both have a neuroendocrine pathway that influences the brain function. For example, dysbiosis of the skin and gut microbes in atopic dermatitis has been connected to mental states such as depression and anxiety [
9
]. An established gut-brain axis is understood by the communication through multiple parallel pathways including the autonomic nervous system as well as the pituitary-hypothalamus-adrenal axis [
9
]. In a recent publication, the author emphasized the role of gut bacteria in aiding the delivery of nutrients needed for absorption, for example, complex oligosaccharides that need gut microbes for processing, which then helps with the absorption of minerals like calcium, magnesium, and iron from the gut [
10
]. These nutrients are responsible for physiological effects such as protecting the gastric mucosa, improving emotional state, supplying energy in the sleeping state, and modulating subsequent behavior, leading to brain activation and behavioral modulation in response to signaling through the gut-brain axis [
9
,
10
]. Complex oligosaccharides, essential amino acids, and various minerals are absorbed in the gut with the help of healthy gut flora [
10
]. Certain factors that were noted to alter gut bacteria, for example in terms of biodiversity, include animal-based foods and products where the animal source was treated with antibiotics and hormones [
11
]. Plant-based foods have shown a positive influence on moderate acne vulgaris, the treatment of which up until now has been through antibiotics [
11
].
4. Plant Botanicals that Affect Gut and Skin
5. Conclusions: Future Considerations for Correlating Plant Botanicals to Surface Microbiome and Their Role in the Concept of "Vibrational Cosmetics" Innovation
With increased recognition in the presence and functionality of the microbiome, it is clear that the human body is not what we perceived. The evidence points to the fact that our microbiome proportionally occupies a more predominant structural and functional role in the human body than previously thought. When designing a cosmetic product for the future, we need to make a shift towards understanding and developing formulations that can influence the host–microbiome balance and create a more natural and symbiotic state. For centuries, Eastern medicine has used natural herbs with minimal processing in treatment and rejuvenation with the aim of balance between the patient and their environment. The creation of modern cosmetic formulations influenced by these ancient systems of medicine could be a consideration.
Currently in a high-quality extract these actives are standardized, thus enabling a uniform high-quality extract that will always have the same concentration of actives. In unprocessed plant raw material, the concentration of actives will vary, their availability may be limited, the concentration will most likely be lower when compared to an extract and there is also the risk or degradation of actives in the unprocessed cells due to the presence of degrading enzymes in the unprocessed plant raw material. It will be worth considering that just as the gut microbiome is better suited to natural unprocessed food, one can hypothesize that the skin microbiome is capable of adjusting to the fluctuation of actives in unprocessed ingredients in a similar manner that could lead to a symbiotic state.
Conflicts of Interest
The author declares no conflict of interest.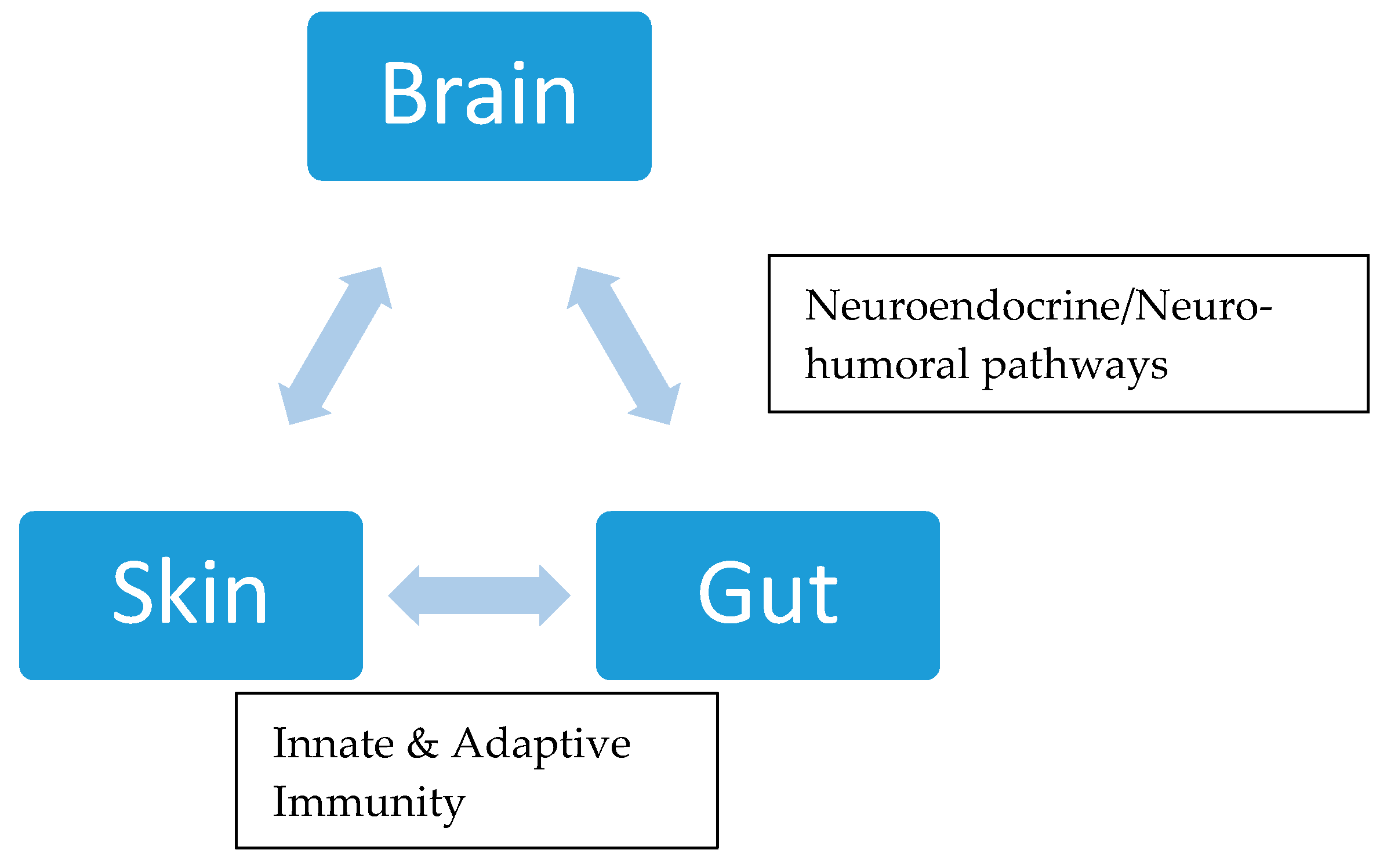 Plant Herb/Extract
Skin Effect
Gut Effect/Systemic Effect. Mechanism of Action
Amla (Indian Goose Berry)


Phyllanthus emblica


All parts of the plant and fruit are used for various symptoms in Ayurvedic medicine
Cooling effect, antioxidant
As has high concentrations of Ascorbic acid
Aids in digestion when ingested orally, often used as a post meal digestive drink in Ayurveda to balance the Dosha imbalance
Maintenance of telomere length is facilitated by an increase in telomerase activity *
Frankincense
Often used as tincture or essential oil
Genus

Boswellia

in the family Burseraceae
Stimulates dermal fibroblast
Improving tone texture and clarity
Inflammation, immune response, and tissue remodeling. Aromatic effects.
Rosehip seed
Rosehip, also called rose haw and rose hep, is the accessory fruit of the rose plant.
Used as oil/herbal Tea/tincture.
Antioxidant, carrier oil for other essential oils, stimulate collagen
Anti-inflammatory, high in vitamin A, oleic, linoleic essential amino acids.
Aloe vera gel/juice
Genus: Aloe.
Wound healing and regeneration
Reduces diabetic neuropathy *
Rose, genus Rosa
Rosewater/rose extract/rose essential oil/tincture
Aromatic, soothing and cooling effect
Immunomodulation, anti-inflammatory actions but needs more detailed testing to confirm.
Neem

Azadirachta indica


Tree in the mahogany family Meliaceae.
Antibacterial, anti-inflammatory, antioxidant, anti-diabetic, antihelminthic
Anticancer. Anti-inflammatory
Turmeric (

Curcuma longa

)
Anti-inflammatory, antimicrobial
Wound healing
Inflammatory bowel disease
Action via various pathways
Anticancer?
Grapeseed
Antioxidant, anti-pigment, anti-inflammatory
Ingested reduced blood pressure and cardiovascular risk
Anticancer, anti-inflammatory effects on cells.
Sandalwood genus Santalam
Oil/powder
Anti-inflammatory, anti-pigment
Known to act through multiple immune pathways.

© 2018 by the author. Licensee MDPI, Basel, Switzerland. This article is an open access article distributed under the terms and conditions of the Creative Commons Attribution (CC BY) license (http://creativecommons.org/licenses/by/4.0/).