Open Access This article is
freely available
re-usable
Review
Mitochondrial Transport and Turnover in the Pathogenesis of Amyotrophic Lateral Sclerosis
Feil Family Brain and Mind Research Institute, Weill Cornell Medicine, 407 East 61st Street, New York, NY 10065, USA
*
Author to whom correspondence should be addressed.
Received: 16 December 2018 / Accepted: 3 February 2019 / Published: 11 May 2019
Abstract
:
Neurons are high-energy consuming cells, heavily dependent on mitochondria for ATP generation and calcium buffering. These mitochondrial functions are particularly critical at specific cellular sites, where ionic currents impose a large energetic burden, such as at synapses. The highly polarized nature of neurons, with extremely large axoplasm relative to the cell body, requires mitochondria to be efficiently transported along microtubules to reach distant sites. Furthermore, neurons are post-mitotic cells that need to maintain pools of healthy mitochondria throughout their lifespan. Hence, mitochondrial transport and turnover are essential processes for neuronal survival and function. In neurodegenerative diseases, the maintenance of a healthy mitochondrial network is often compromised. Numerous lines of evidence indicate that mitochondrial impairment contributes to neuronal demise in a variety of neurodegenerative diseases, including amyotrophic lateral sclerosis (ALS), where degeneration of motor neurons causes a fatal muscle paralysis. Dysfunctional mitochondria accumulate in motor neurons affected by genetic or sporadic forms of ALS, strongly suggesting that the inability to maintain a healthy pool of mitochondria plays a pathophysiological role in the disease. This article critically reviews current hypotheses on mitochondrial involvement in the pathogenesis of ALS, focusing on the alterations of mitochondrial axonal transport and turnover in motor neurons.
Keywords:
mitochondria; ALS; axonal transport; mitophagy; SOD1; Miro1; PINK1; Parkin
Funding
This research was funded by grant NIH/NINDS R01NS062055.
Conflicts of Interest
The authors declare no conflict of interest.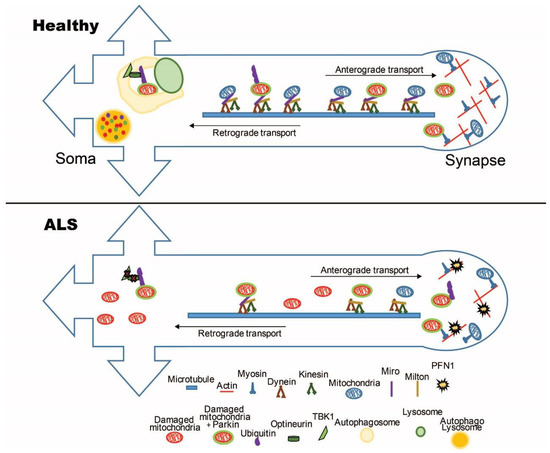 Figure 1. Schematic representation of key players in mitochondrial transport and turnover in healthy and amyotrophic lateral sclerosis (ALS) neurons. Mitochondria are transported in axons along microtubule tracks by dynein and kinesins, which are connected to mitochondria through cargo adaptors Milton and Miro. In ALS axons, the interactions between mitochondria and microtubules are disrupted, resulting in impaired transport. At synapses, mitochondria interact with the actin cytoskeleton, and mutations in proteins involved in actin dynamics, such as PFN1, can alter mitochondrial localization at this neuronal site. Ubiquitination of unhealthy mitochondria by Ub-ligases, such as Parkin, target mitochondria for degradation through the autophagy pathway. TBK1 and optineurin promote PINK1-Parkin ubiquitination of mitochondrial dynamics proteins, such as Miro. In ALS neurons, the quality control mechanisms are affected by dysfunction occurring at various steps of the mitophagy process.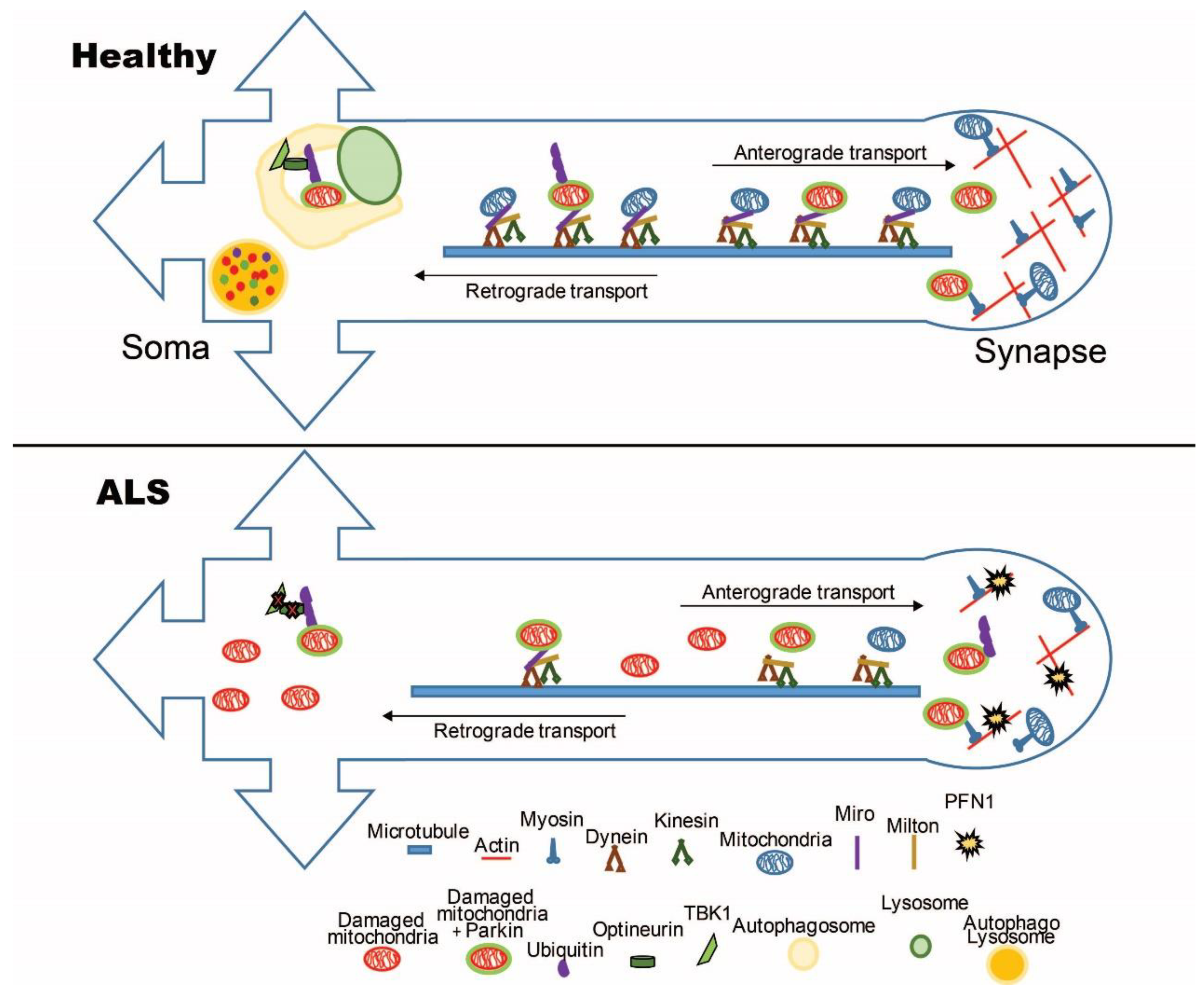 © 2019 by the authors. Licensee MDPI, Basel, Switzerland. This article is an open access article distributed under the terms and conditions of the Creative Commons Attribution (CC BY) license (http://creativecommons.org/licenses/by/4.0/).