Vitamin D Deficiency: Effects on Oxidative Stress, Epigenetics, Gene Regulation, and Aging
Professor of Medicine, Endocrinology & Nutrition, Cardio Metabolic and Endocrine Institute, NJ 08873, USA
Received: 1 January 2019 / Revised: 21 February 2019 / Accepted: 18 March 2019 / Published: 11 May 2019
Abstract
Recent advances in vitamin D research indicate that this vitamin, a secosteroid hormone, has beneficial effects on several body systems other than the musculoskeletal system. Both 25 dihydroxy vitamin D [25(OH)
2
D] and its active hormonal form, 1,25-dihydroxyvitamin D [1,25(OH)
2
D] are essential for human physiological functions, including damping down inflammation and the excessive intracellular oxidative stresses. Vitamin D is one of the key controllers of systemic inflammation, oxidative stress and mitochondrial respiratory function, and thus, the aging process in humans. In turn, molecular and cellular actions form 1,25(OH)
2
D slow down oxidative stress, cell and tissue damage, and the aging process. On the other hand, hypovitaminosis D impairs mitochondrial functions, and enhances oxidative stress and systemic inflammation. The interaction of 1,25(OH)
2
D with its intracellular receptors modulates vitamin D–dependent gene transcription and activation of vitamin D-responsive elements, which triggers multiple second messenger systems. Thus, it is not surprising that hypovitaminosis D increases the incidence and severity of several age-related common diseases, such as metabolic disorders that are linked to oxidative stress. These include obesity, insulin resistance, type 2 diabetes, hypertension, pregnancy complications, memory disorders, osteoporosis, autoimmune diseases, certain cancers, and systemic inflammatory diseases. Vitamin D adequacy leads to less oxidative stress and improves mitochondrial and endocrine functions, reducing the risks of disorders, such as autoimmunity, infections, metabolic derangements, and impairment of DNA repair; all of this aids a healthy, graceful aging process. Vitamin D is also a potent anti-oxidant that facilitates balanced mitochondrial activities, preventing oxidative stress-related protein oxidation, lipid peroxidation, and DNA damage. New understandings of vitamin D-related advances in metabolomics, transcriptomics, epigenetics, in relation to its ability to control oxidative stress in conjunction with micronutrients, vitamins, and antioxidants, following normalization of serum 25(OH)D and tissue 1,25(OH)
2
D concentrations, likely to promise cost-effective better clinical outcomes in humans.
View Full-Text
►

▼

Figures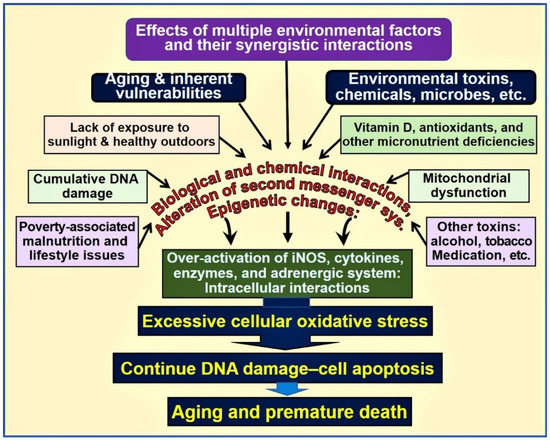 Figure 1
This is an open access article distributed under the
Creative Commons Attribution License
which permits unrestricted use, distribution, and reproduction in any medium, provided the original work is properly cited (CC BY 4.0).

Share & Cite This Article
MDPI and ACS Style
Wimalawansa, S.J. Vitamin D Deficiency: Effects on Oxidative Stress, Epigenetics, Gene Regulation, and Aging. Biology 2019, 8, 30.
Note that from the first issue of 2016, MDPI journals use article numbers instead of page numbers. See further details here.
Related Articles
Comments
[Return to top]