Open Access This article is
freely available
re-usable
Review
Deciphering White Adipose Tissue Heterogeneity
1
Department of Biomedical Sciences, Heritage College of Osteopathic Medicine, Ohio University, Athens, OH 45701, USA
2
The Diabetes Institute, Ohio University, Athens, OH 45701, USA
†
These authors contributed equally to this manuscript.

Received: 2 February 2019 / Accepted: 9 April 2019 / Published: 11 April 2019
Abstract
:
Adipose tissue not only stores energy, but also controls metabolism through secretion of hormones, cytokines, proteins, and microRNAs that affect the function of cells and tissues throughout the body. Adipose tissue is organized into discrete depots throughout the body, and these depots are differentially associated with insulin resistance and increased risk of metabolic disease. In addition to energy-dissipating brown and beige adipocytes, recent lineage tracing studies have demonstrated that individual adipose depots are composed of white adipocytes that are derived from distinct precursor populations, giving rise to distinct subpopulations of energy-storing white adipocytes. In this review, we discuss this developmental and functional heterogeneity of white adipocytes both between and within adipose depots. In particular, we will highlight findings from our recent manuscript in which we find and characterize three major subtypes of white adipocytes. We will discuss these data relating to the differences between subcutaneous and visceral white adipose tissue and in relationship to previous work deciphering adipocyte heterogeneity within adipose tissue depots. Finally, we will discuss the possible implications of adipocyte heterogeneity may have for the understanding of lipodystrophies.
Keywords:
development; obesity; adipose tissue; metabolic syndrome
1. Introduction
In 2015–2016, the Centers for Disease Control and Prevention (CDC) found that ~40% of adults in the United States of America, representing 93 million individuals, are obese (
https://www.cdc.gov/nchs/data/databriefs/db288.pdf
). This obesity pandemic and the associated co-morbidities of obesity including cardiovascular diseases, certain types of cancer, and type 2 diabetes have stimulated great interest in the understanding of adipose tissue. White adipose tissue (WAT) is the primary site for energy storage, and plays protective roles in thermal insulation and protection from mechanical stress [
1
]. WAT not only stores energy, but also controls metabolism through secretion of hormones, cytokines, proteins, specific lipid species, and microRNAs that affect the function of cells and tissues throughout the body [
2
,
3
,
4
,
5
,
6
,
7
,
8
]. The adipose organ consists of energy storing white adipose tissues (WAT), thermogenic brown adipose tissues (BAT), and thermogenic BAT-like adipocytes (brite/beige) interspersed within WAT. WAT adipocytes are histologically characterized by the appearance of large unilocular lipid droplet, low number of mitochondria, and small cytoplasmic space. BAT adipocytes are known for multiple small lipid droplets and high density of mitochondria. BAT and brite adipocytes have been the focus of much attention in recent studies, as the ability of BAT to dissipate energy through mitochondrial uncoupling could potentially burn excess calories and combat the epidemic of obesity [
9
]. Furthermore, recent studies have suggested that developmental and functional differences in adipocytes within distinct adipose tissue depots that influence the overall behavior of these depots [
10
,
11
,
12
].
In our recent study, we have used a combination of in vitro clonal cell analysis and lineage tracing in vivo to investigate heterogeneity of white adipocyte subpopulations. In this study, we identified at least three distinct subpopulations of white preadipocytes that are characterized by unique gene expression profiles and high expression of three different marker genes: Wilms tumor 1 (Wt1), transgelin (Tagln), and myxovirus 1 (Mx1), termed Types 1–3, respectively. These preadipocyte subpopulations give rise to adipocytes with unique metabolic properties and differentially respond to exogenous stimuli, including inflammatory cytokines, growth hormone, and insulin. In vivo, these three preadipocyte markers define three independent white adipocyte subpopulations that differentially contribute to the individual white adipose tissue depots [
10
]. Throughout this review, we will highlight findings from this manuscript. We will also introduce the different white adipose tissue depots and discuss their physiological contribution. In addition, we will discuss other studies that address the heterogeneity of adipocytes within adipose tissue depots. Finally, we will discuss the possible implications of adipocyte heterogeneity may have for the understanding and treatment of lipodystrophies.
2. Adipose Tissue Depots
In general, the majority of WAT is categorized as either subcutaneous (SAT) and visceral (VAT) adipose tissue, with the exception of smaller adipose depots including the dermal WAT (dWAT) and bone marrow adipose tissue (MAT) that are distinct from SAT and VAT (
Figure 1
). SAT is subdivided into anterior and posterior in rodents, which anatomically approximates upper and lower body subcutaneous fat in humans. Major VAT adipose depots include those that surround the heart (epicardial/pericardial) and the intraabdominal organs (mesenteric, omental, perigonadal, perirenal, and retroperitoneal) in both humans and rodents. One distinction between human and rodent VAT is that humans have detectable omental WAT (oWAT), whereas rodents have large perigonadal WAT (pgWAT). In addition to SAT and VAT, the physiological contribution of other fat depots has begun to be recognized. dWAT is comprised from the white adipocytes are associated with the dermal skin layers, and has functions in wound healing, generation of hair follicles, and thermogenesis [
13
,
14
,
15
]. The dWAT is developmentally distinct from SAT and is physically separated from SAT by the panniculus carnosus, a striated muscle layer that is only present in rodents and is not clearly defined in humans [
16
,
17
]. Another adipose tissue receiving recent attention is MAT [
18
]. There are two major subtypes of MAT. Constitutive MAT (cMAT) is concentrated in the distal skeletal, contains larger adipocytes, and is relatively devoid of active hematopoiesis. On the other hand, regulated MAT (rMAT) is found in more active sites of hematopoiesis including the spine and proximal limb bones. Adipocytes of the rMAT are more diffusely distributed and tend to increase or decrease in response to environmental or pathological factors [
19
,
20
]. MAT adipocytes populate bone marrow with increasing age [
21
] and resist depletion during caloric deficit states [
22
,
23
,
24
]. MAT may also play important role in bone metabolism, and during caloric restriction, MAT may be the major source of circulating adiponectin [
25
]. In clinical studies of healthy populations as well as in populations of individuals with metabolic disease, MAT has been shown to be inversely associated with bone mineral density. Furthermore, lipolysis from MAT adipocytes can provide osteoblasts with free fatty acid and thus directly affects bone turnover [
26
].
3. Metabolic Contributions of Visceral and Subcutaneous Adipose Tissues
Although the metabolic contributions from dWAT and BMAT are just beginning to be explored, the metabolic roles of SAT and VAT have been well-studied. VAT accumulation, i.e., central obesity, is associated with insulin resistance and increased risk of metabolic disease, while peripheral obesity from excess SAT accumulation may even be protective of metabolic syndrome [
27
,
28
,
29
,
30
,
31
]. Transplantation studies in mice demonstrate that these differential metabolic effects of SAT and WAT are at least partly cell-autonomous, as transplantation of SAT, but not VAT, improves metabolic parameters and insulin mediated glucose uptake [
32
,
33
], and underlying these effects are both molecular and phenotypic difference between adipocytes of different depots. Depot specific differences in both expression levels and release have been found for most adipokines between VAT and SAT [
34
]. On the molecular level, human or rodent preadipocytes and adipocytes from different depots and cultured under identical conditions retain distinct differences in gene expression patterns, even after many generations in culture. These included marked differences in the expression of developmental genes [
35
,
36
,
37
,
38
,
39
]. Homeobox A5 (HoxA5), Homeobox A4 (HoxA4), Homeobox C8 (HoxC8), Glypican 4 (Gpc4), and Nuclear receptor subfamily 2 group F member 1 (Nr2f1) levels are high in visceral fat, while Homeobox A10 (Hox10), Homeobox C9 (HoxC9), T-box (Tbx15), Short stature homeobox 2 (Shox2), Engrailed 1 (En1), and Secreted frizzled-related protein 2 (Sfpr2) levels are high in subcutaneous fat [
35
]. Our recent study on adipose lineages confirms these results, as cell lines derived from the stromal vascular fraction (SVF) of SAT depots have higher expression of Shox2 and Tbx15 mRNA levels and lower expression of HoxC9 and HoxA4 mRNA than those derived from VAT depots [
10
].
In addition to the expression of developmental genes, preadipocytes isolated from SAT also have increased basal levels of adipogenic genes including peroxisome proliferator-activated receptor gamma (PPARγ) and CCAAT/enhancer binding proteins (C/EBP) transcription factors [
38
,
40
] and lower levels of macrophage recruitment factors including C-C Motif Chemokine Ligand 2 (CCL2) and C-C chemokine receptor type 2 (CCR2) after exposure to high fat diet [
41
]. These differences in gene expression may explain many of the depot-specific phenotypic differences observed in adipocytes. Preadipocytes from SAT proliferate, differentiate, and have increased lipid accumulation compared to preadipocytes isolated from VAT [
37
,
39
,
42
,
43
,
44
,
45
]. On the other hand, VAT adipocytes are also characterized by an increased susceptibility to apoptosis, reduced lipoprotein lipase activity, and a high degree of catecholamine-induced lipolysis due to increased expression levels of beta-adrenoceptors [
46
,
47
,
48
,
49
]. Interestingly, functional differences between humans and mice WAT depots are found in the ability of these depots to give rise to brite adipocytes. In mice, SAT depots express higher expression of genes, including uncoupling protein 1 (Ucp1) involved in brown fat formation compared to VAT depots, while in WAT of human subjects, the opposite is true [
50
]. Similarly, exercise has been shown to induce browning of SAT in mice, while exercise in humans reduces markers of brown fat in human SAT [
51
,
52
]. This divergence in gene expression in fat depots between the two species strongly indicates that caution should be applied extrapolating mouse browning gene expression studies to human physiology.
In rodent models, the inguinal depot is most often used to be representative of SAT, and the deposition of gluteofemoral SAT, which anatomically roughly corresponds with inguinal fat in rodents, is associated with a protective lipid and glucose profile and decreased cardiovascular and metabolic risk [
53
]. However, in addition to gluteofemoral SAT, humans also have deep SAT (dSAT) found under the Scarpa's fascia in the abdominal area (
Figure 1
). The dSAT depot has increased expression of inflammatory cytokines, a more saturated fatty acid composition, and distinct molecular and morphological differences from superficial SAT [
54
,
55
,
56
,
57
]. Thus, there are distinct differences between superficial SAT and dSAT, and dSAT shares numerous similarities with VAT [
58
].
4. Preadipocytes Have Numerous Developmental Sources
5. Functional Heterogeneity of Adipocytes
6. Lipodystrophy
Abnormal distribution of adipose tissues, as seen in lipodystrophy, supports the idea of developmentally distinct adipose tissue depots. Lipodystrophy is a collective disorder that can be classified as familial or acquired. While congenital generalized lipodystrophies (subdivision of familial lipodystrophy) are characterized by near complete loss of fat at early childhood excluding the mechanical adipose depots [
109
], familial partial lipodystrophies (FPL) include loss and gain of fat in various regions. One of the most common forms of FPL is FPL2 (also known as Dunnigan variety), which is characterized by the loss of subcutaneous fat in the extremities and trunk, but an accrual of fat in the visceral, head, and neck regions [
110
,
111
]. The excess accumulation of fat in the cervical region gives the appearance of buffalo-hump similar to Cushing's syndrome. Although FPL forms are inheritable autosomal-dominant disorder involving mutations of vital adipocyte genes such as PPARG, PLN1, CIDEC, and AKT2 [
112
,
113
,
114
,
115
,
116
], the molecular mechanisms that selectively target adipocytes leading to loss or gain of fat in a particular region are currently unknown. Similarly, other forms of human WAT dystrophies, such as Barraquer–Simons syndrome, are characterized by facial fat loss and variable fat gain in the lower extremities suggests that this syndrome differentially affects cephalic SAT adipocytes derived from neural crest preadipocytes compared to mesodermal-derived adipocytes [
117
,
118
]. The phenotypes observed in Barraquer–Simons syndrome also suggests different origins for subcutaneous adipocytes in the lower versus upper body, and may also reflect different origins between deep and superficial SAT [
11
,
57
]. Thus, the selective loss and gain of fat in partial lipodystrophies, may, at least in part, be attributed to the heterogeneous nature of adipose tissues.
Our study showed that Mx1-Cre and Wt1-Cre-derived adipocytes are mostly distributed in the scapular and visceral depots, respectively. The increase of visceral, head, and neck regions in FPL2 potentially suggest a selective accumulation in these two subpopulations. Furthermore, acquired lipodystrophy such as seen in patient treated with protease inhibitors in highly active antiretroviral therapy (HAART) for HIV may also be related to the heterogeneity of adipose tissues. The HAART treatment decreases transcription factors involved in adipocyte differentiation and function, interferes with fat storage, and increases adipocyte apoptosis, leading to adipose tissue dysfunction [
119
]. These patients generally have regional lipoatrophy of facial adipocytes, development of a "buffalo hump" of massively increased dorsocervical adipose tissue, increase visceral fat, and elevating the risk of metabolic disease [
120
,
121
]. Studies in mice show numerous adipose subpopulations that are highly concentrated in a dorsoanterior manner, including the Meox1/Pax3, 7/Myf5 and Mx1-derived adipocytes. Thus, we hypothesize HAART may differentially affect some adipocyte subpopulations.
7. Conclusions
The obesity epidemic is a severe public health crisis. However, in recent years, great progress has been made in elucidating the contribution of white, brite, and brown adipose tissues to metabolism and whole body physiology. In addition, recent studies have begun to examine the developmental and functional heterogeneity found within the WAT, BAT, and brite adipocyte populations. This cellular heterogeneity is an emerging concept, and the physiological significance of this heterogeneity is just beginning to be explored. In this review we have touched upon numerous issues, including the metabolic contribution of different white adipose tissue depots, adipose tissue deposition, and partial lipodystrophies, in which these adipocyte subpopulations may play critical roles. These avenues of research hold promise to developing targeted interventions to combat the comorbidities associated with obesity.
Funding
This work was supported by start-up funds from the Ohio University College of Osteopathic Medicine (KYL), and the American Diabetes Association Junior Faculty Development Award 1-17-JDF-055 (KYL).
Conflicts of Interest
The authors declare no conflict of interest.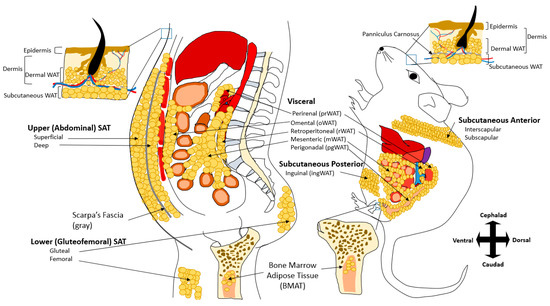 Figure 1. Comparison between Human and Rodent Adipose Tissues. White Adipose Tissues (WAT) are mostly visceral adipose tissue (VAT) and subcutaneous adipose tissue (SAT). Major visceral depots common in both humans and rodents include epicardial/pericardial (not shown), perirenal (prWAT), retroperitoneal (rWAT), and mesenteric WAT (mWAT). While humans have large omental (oWAT) fat, mice have large perigonadal (pgWAT) fat. SAT in humans can be divided into upper (abdominal) and lower (gluteofemoral). Abdominal fat in human can be further divided into superficial and deep, which are separated anatomically by Scarpa's Fascia. In mice, SAT is divided into anterior and posterior. Dermal WAT (dWAT) is another fat depot that exists in both humans and mice. dWAT is located in the dermis and above the SAT (note: this separation is visible by the presence of striated muscular layer known as panniculus carnosus only found in mice). Bone marrow adipose tissue (BMAT or MAT) is also another adipose depot common in both species. Cephalad and caudad are also referred to as anterior and posterior in mice, respectively.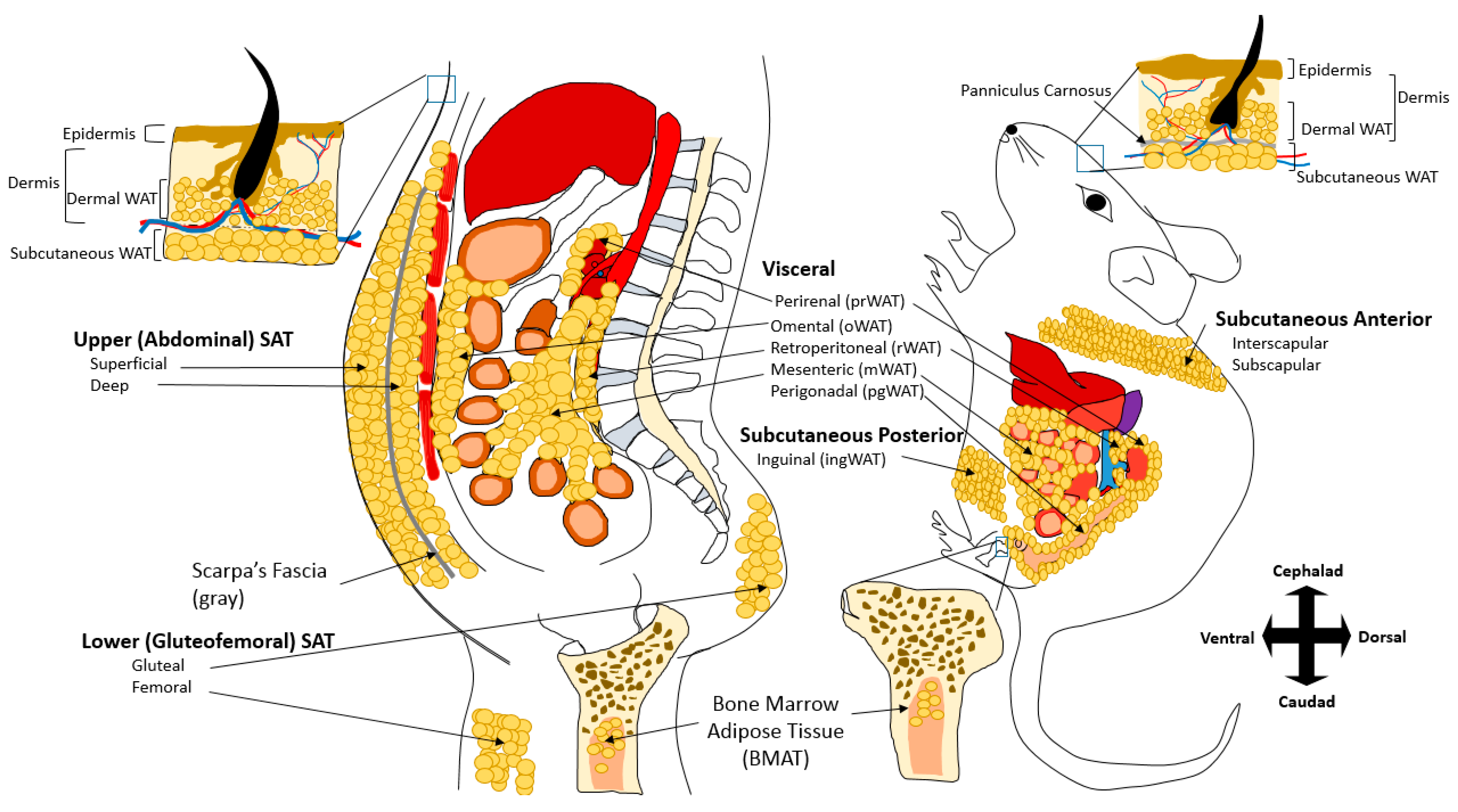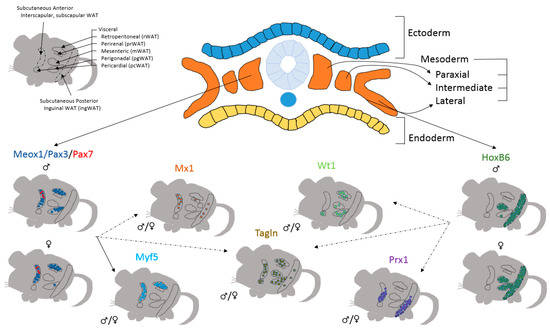 Figure 2. Heterogeneous Origins of White Adipose Tissue Depots. Adipose precursor cells of individual adipose depots originate from distinct areas of mesoderm. While Meox1/Pax3/Pax7- (from paraxial mesoderm) derived adipocytes predominate in the dorsoanterior depots, HoxB6- (lateral plate mesoderm) derived adipocytes are found largely in the ventral regions. Like Meox1/Pax3/Pax7 derived adipocytes, Mx1 and Myf5 derived adipocytes are also found in dorsoanterior depots. Adipocytes derived from the Prx1 lineage are found only subcutaneous depots, while adipocytes derived from the mesothelium and marked by Wt1 expression are only found in the visceral depots. Adipocytes derived from the Tagln lineage are found in all adipose tissue depots. Dotted lines indicate a potential connection among these lineages.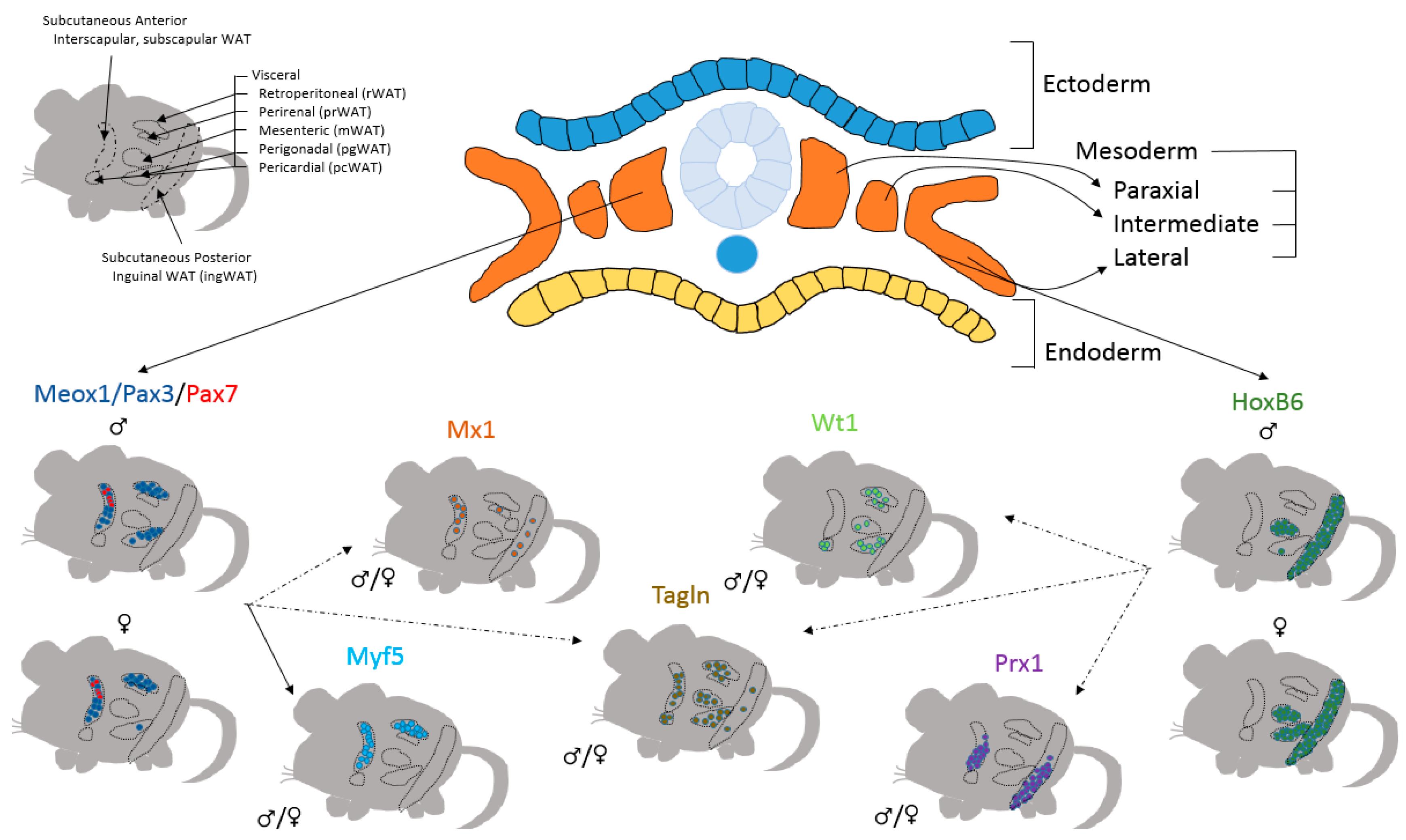 © 2019 by the authors. Licensee MDPI, Basel, Switzerland. This article is an open access article distributed under the terms and conditions of the Creative Commons Attribution (CC BY) license (http://creativecommons.org/licenses/by/4.0/).