Factors that May Protect the Native Hibernator Syrian Hamster Renal Tubular Epithelial Cells from Ferroptosis Due to Warm Anoxia-Reoxygenation
Department of Nephrology, Faculty of Medicine, University of Thessaly, 41110 Larissa, Greece
*
Author to whom correspondence should be addressed.
Received: 27 January 2019 / Revised: 26 March 2019 / Accepted: 27 March 2019 / Published: 31 March 2019
Abstract
Warm anoxia-reoxygenation induces ferroptotic cell death in mouse proximal renal tubular epithelial cells (RPTECs), whereas RPTECs of the native hibernator Syrian hamster resist cell death. Clarifying how hamster cells escape ferroptosis may reveal new molecular targets for preventing or ameliorating ischemia-reperfusion-induced human diseases or expanding the survival of organ transplants. Mouse or hamster RPTECs were subjected to anoxia and subsequent reoxygenation. Cell death was assessed with the lactated dehydrogenase (LDH) release assay and lipid peroxidation by measuring cellular malondialdehyde (MDA) fluorometrically. The effect of the ferroptosis inhibitor α-tocopherol on cell survival was assessed by the 2,3-bis (2-methoxy-4-nitro-5-sulfophenyl)-5-[(phenylamino) carbonyl]-2H-tetrazolium hydroxide (XTT) assay. The expression of the critical ferroptotic elements cystine-glutamate antiporter (xCT), ferritin, and glutathione peroxidase 4 (GPX4) was assessed by Western blot. Contrary to mouse RPTECs, hamster RPTECs resisted anoxia-reoxygenation-induced cell death and lipid peroxidation. In mouse RPTECs, α-tocopherol increased cell survival. Anoxia increased the levels of xCT, ferritin, and GPX4 in both cell types. During reoxygenation, at which reactive oxygen species overproduction occurs, xCT and ferritin decreased, whereas GPX4 increased in mouse RPTECs. In hamster RPTECs, reoxygenation raised xCT and ferritin, but lowered GPX4. Hamster RPTECs resist lipid peroxidation-induced cell death. From the three main evaluated components of the ferroptotic pathway, the increased expression of xCT and ferritin may contribute to the resistance of the hamster RPTECs to warm anoxia-reoxygenation.
View Full-Text
►

▼

Figures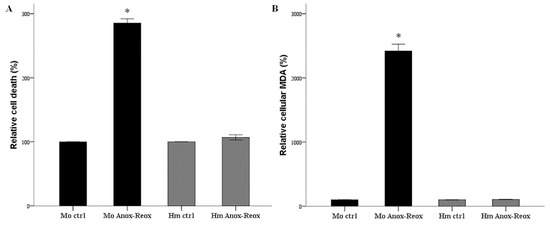 Figure 1
This is an open access article distributed under the
Creative Commons Attribution License
which permits unrestricted use, distribution, and reproduction in any medium, provided the original work is properly cited (CC BY 4.0).

Share & Cite This Article
MDPI and ACS Style
Eleftheriadis, T.; Pissas, G.; Liakopoulos, V.; Stefanidis, I. Factors that May Protect the Native Hibernator Syrian Hamster Renal Tubular Epithelial Cells from Ferroptosis Due to Warm Anoxia-Reoxygenation. Biology 2019, 8, 22.
Note that from the first issue of 2016, MDPI journals use article numbers instead of page numbers. See further details here.
Related Articles
Comments
[Return to top]