Sex Steroid-Mediated Control of Oviductal Function in Cattle
1
Department of Animal Sciences, University of Florida, PO Box 110910, Gainesville, FL 32611, USA
2
Departamento de Reprodução Animal, Faculdade de Medicina Veterinária e Zootecnia, Universidade de São Paulo, Rua Duque de Caxias Norte, 255, Bairro: Jardim Elite, Pirassununga 13635-900, SP, Brazil
3
Curso de Medicina Veterinária, Universidade Federal do Pampa, UNIPAMPA, BR 472-Km 592, Uruguaiana 97508-000, RS, Brazil
4
Faculdade de Ciências Agrárias Tecnológicas—FCAT, Universidade Estadual Paulista "Júlio de Mesquita", Rodovia Comandante João Ribeiro de Barros (SP 294), Km 651, Dracena 17900-000, SP, Brazil
*
Author to whom correspondence should be addressed.
Received: 21 November 2017 / Revised: 10 January 2018 / Accepted: 29 January 2018 / Published: 2 February 2018
Abstract
In cattle, the oviduct is a tubular organ that connects the ovary and the uterus. The oviduct lumen stages a dynamic set of cellular and molecular interactions to fulfill the noble role of generating a new individual. Specific anatomical niches along the oviduct lumen provide the appropriate microenvironment for final sperm capacitation, oocyte capture and fertilization, and early embryo development and transport. To accomplish such complex tasks, the oviduct undergoes spatially and temporally-regulated morphological, biochemical, and physiological changes that are associated with endocrine events of the estrous cycle. Specifically, elevated periovulatory concentrations of estradiol (E2) and progesterone (P4) influence gene expression and morphological changes that have been associated positively to fertility in beef cattle. In this review, we explore how E2 and P4 influence oviductal function in the beginning of the estrous cycle, and prepare the oviductal lumen for interactions with gametes and embryos.
View Full-Text
►

▼

Figures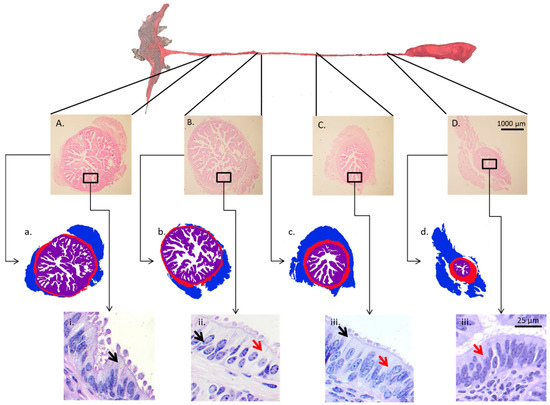 Figure 1
This is an open access article distributed under the
Creative Commons Attribution License
which permits unrestricted use, distribution, and reproduction in any medium, provided the original work is properly cited (CC BY 4.0).

Share & Cite This Article
MDPI and ACS Style
Binelli, M.; Gonella-Diaza, A.M.; Mesquita, F.S.; Membrive, C.M.B. Sex Steroid-Mediated Control of Oviductal Function in Cattle. Biology 2018, 7, 15.
Note that from the first issue of 2016, MDPI journals use article numbers instead of page numbers. See further details here.
Related Articles
Comments
[Return to top]