Potential of New Isolates of
Dunaliella Salina

for Natural β-Carotene Production

1

Department of Life Science, Faculty of Engineering and Science, University of Greenwich, Kent ME4 4TB, UK

2

Nature Beta Technologies (NBT) Ltd., Eilat 88106, Israel

*

Author to whom correspondence should be addressed.

†

Current address: Department of Biochemistry and Purdue Center for Plant Biology, Purdue University, West Lafayette, IN 47907, USA.

Received: 15 December 2017 / Revised: 23 January 2018 / Accepted: 29 January 2018 / Published: 1 February 2018
Abstract
The halotolerant microalga
Dunaliella salina
has been widely studied for natural β-carotene production. This work shows biochemical characterization of three newly isolated
Dunaliella
salina
strains, DF15, DF17, and DF40, compared with
D. salina
CCAP 19/30 and
D. salina
UTEX 2538 (also known as
D. bardawil
). Although all three new strains have been genetically characterized as
Dunaliella salina
strains, their ability to accumulate carotenoids and their capacity for photoprotection against high light stress are different. DF15 and UTEX 2538 reveal great potential for producing a large amount of β-carotene and maintained a high rate of photosynthesis under light of high intensity; however, DF17, DF40, and CCAP 19/30 showed increasing photoinhibition with increasing light intensity, and reduced contents of carotenoids, in particular β-carotene, suggesting that the capacity of photoprotection is dependent on the cellular content of carotenoids, in particular β-carotene. Strong positive correlations were found between the cellular content of
all-trans
β-carotene, 9-
cis
β-carotene,
all-trans
α-carotene and zeaxanthin but not lutein in the
D. salina
strains. Lutein was strongly correlated with respiration in photosynthetic cells and strongly related to photosynthesis, chlorophyll and respiration, suggesting an important and not hitherto identified role for lutein in coordinated control of the cellular functions of photosynthesis and respiration in response to changes in light conditions, which is broadly conserved in
Dunaliella
strains. Statistical analysis based on biochemical data revealed a different grouping strategy from the genetic classification of the strains. The significance of these data for strain selection for commercial carotenoid production is discussed.
View Full-Text
►

▼

Figures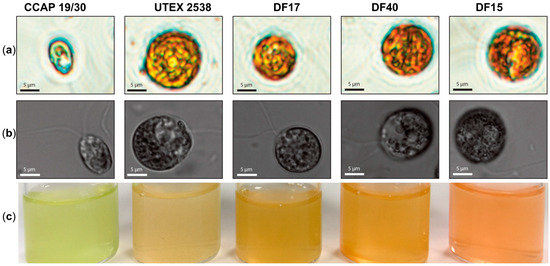 Figure 1
This is an open access article distributed under the
Creative Commons Attribution License
which permits unrestricted use, distribution, and reproduction in any medium, provided the original work is properly cited (CC BY 4.0).

Share & Cite This Article
MDPI and ACS Style
Xu, Y.; Ibrahim, I.M.; Wosu, C.I.; Ben-Amotz, A.; Harvey, P.J. Potential of New Isolates of Dunaliella Salina for Natural β-Carotene Production. Biology 2018, 7, 14.
Note that from the first issue of 2016, MDPI journals use article numbers instead of page numbers. See further details here.
Related Articles
Comments
[Return to top]