Ornithine Aminotransferase, an Important Glutamate-Metabolizing Enzyme at the Crossroads of Multiple Metabolic Pathways
1
Clinical Chemistry, Cochin Hospital, GH HUPC, AP-HP, 75014 Paris, France
2
Laboratory of Biological Nutrition, EA 4466 PRETRAM, Faculté de Pharmacie, Université Paris Descartes, 75006 Paris, France
3
Laboratoire de biomathématiques, plateau iB², Faculté de Pharmacie, Université Paris Descartes, 75006 Paris, France
4
UMR 1144, INSERM, Université Paris Descartes, 75006 Paris, France
5
UMR 1144, Université Paris Descartes, 75006 Paris, France
6
Service de biostatistiques et d'informatique médicales, hôpital Saint-Louis, Assistance publique-hôpitaux de Paris, 75010 Paris, France
7
EA 4064 "Épidémiologie environnementale: Impact sanitaire des pollutions", Faculté de Pharmacie, Université Paris Descartes, 75006 Paris, France
*
Author to whom correspondence should be addressed.
Academic Editors: Arthur J.L. Cooper and Thomas M. Jeitner
Received: 26 October 2016 / Revised: 23 February 2017 / Accepted: 24 February 2017 / Published: 7 March 2017
Abstract
Ornithine δ-aminotransferase (OAT, E.C. 2.6.1.13) catalyzes the transfer of the δ-amino group from ornithine (Orn) to α-ketoglutarate (aKG), yielding glutamate-5-semialdehyde and glutamate (Glu), and vice versa. In mammals, OAT is a mitochondrial enzyme, mainly located in the liver, intestine, brain, and kidney. In general, OAT serves to form glutamate from ornithine, with the notable exception of the intestine, where citrulline (Cit) or arginine (Arg) are end products. Its main function is to control the production of signaling molecules and mediators, such as Glu itself, Cit, GABA, and aliphatic polyamines. It is also involved in proline (Pro) synthesis. Deficiency in OAT causes gyrate atrophy, a rare but serious inherited disease, a further measure of the importance of this enzyme.
View Full-Text
►

▼

Figures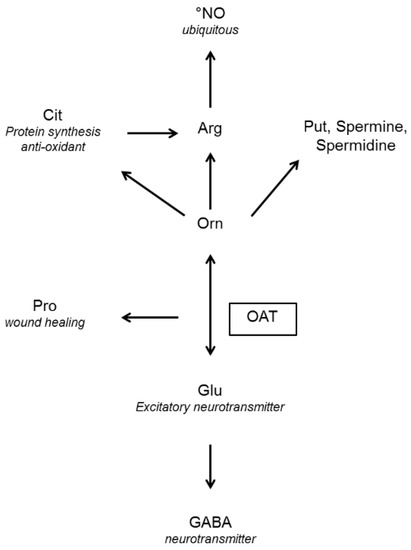 Figure 1
This is an open access article distributed under the
Creative Commons Attribution License
which permits unrestricted use, distribution, and reproduction in any medium, provided the original work is properly cited (CC BY 4.0).

Share & Cite This Article
MDPI and ACS Style
Ginguay, A.; Cynober, L.; Curis, E.; Nicolis, I. Ornithine Aminotransferase, an Important Glutamate-Metabolizing Enzyme at the Crossroads of Multiple Metabolic Pathways. Biology 2017, 6, 18.
Note that from the first issue of 2016, MDPI journals use article numbers instead of page numbers. See further details here.
Related Articles
Comments
[Return to top]