Glutamine-Glutamate Cycle Flux Is Similar in Cultured Astrocytes and Brain and Both Glutamate Production and Oxidation Are Mainly Catalyzed by Aspartate Aminotransferase
1
Laboratory of Brain Metabolic Diseases, Institute of Metabolic Disease Research and Drug Development, China Medical University, Liaoning 110000, China
2
Magnetic Resonance Research Center, Radiology and Biomedical Engineering, Yale University, New Haven, CT 06520, USA
*
Author to whom correspondence should be addressed.
†
Private address: RR2, Box 245, Gilmour, ON K0L 1W0, Canada.
Academic Editors: Arthur J.L. Cooper and Thomas M. Jeitner
Received: 20 December 2016 / Revised: 6 February 2017 / Accepted: 14 February 2017 / Published: 24 February 2017
Abstract
The glutamine-glutamate cycle provides neurons with astrocyte-generated glutamate/γ-aminobutyric acid (GABA) and oxidizes glutamate in astrocytes, and it returns released transmitter glutamate/GABA to neurons after astrocytic uptake. This review deals primarily with the glutamate/GABA generation/oxidation, although it also shows similarity between metabolic rates in cultured astrocytes and intact brain. A key point is identification of the enzyme(s) converting astrocytic α-ketoglutarate to glutamate and vice versa. Most experiments in cultured astrocytes, including those by one of us, suggest that glutamate formation is catalyzed by aspartate aminotransferase (AAT) and its degradation by glutamate dehydrogenase (GDH). Strongly supported by results shown in
Table 1
we now propose that both reactions are primarily catalyzed by AAT. This is possible because the formation occurs in the cytosol and the degradation in mitochondria and they are temporally separate. High glutamate/glutamine concentrations abolish the need for glutamate production from α-ketoglutarate and due to metabolic coupling between glutamate synthesis and oxidation these high concentrations render AAT-mediated glutamate oxidation impossible. This necessitates the use of GDH under these conditions, shown by insensitivity of the oxidation to the transamination inhibitor aminooxyacetic acid (AOAA). Experiments using lower glutamate/glutamine concentration show inhibition of glutamate oxidation by AOAA, consistent with the coupled transamination reactions described here.
View Full-Text
►

▼

Figures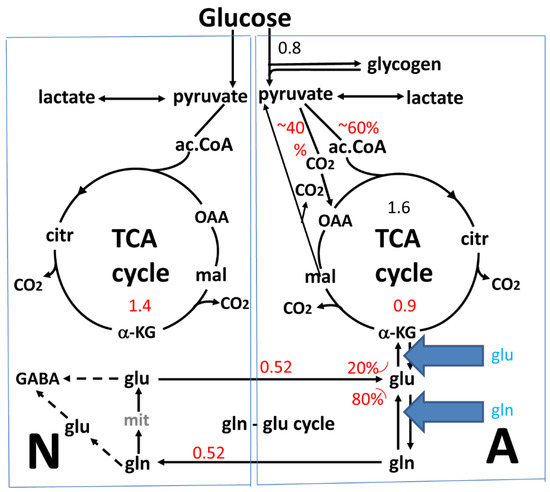 Figure 1
This is an open access article distributed under the
Creative Commons Attribution License
which permits unrestricted use, distribution, and reproduction in any medium, provided the original work is properly cited (CC BY 4.0).

Share & Cite This Article
MDPI and ACS Style
Hertz, L.; Rothman, D.L. Glutamine-Glutamate Cycle Flux Is Similar in Cultured Astrocytes and Brain and Both Glutamate Production and Oxidation Are Mainly Catalyzed by Aspartate Aminotransferase. Biology 2017, 6, 17.
Note that from the first issue of 2016, MDPI journals use article numbers instead of page numbers. See further details here.
Related Articles
Comments
[Return to top]