Open Access This article is
freely available
re-usable
Commentary
The Emergence of Physiology and Form: Natural Selection Revisited
Evolutionary Medicine Program, University of California, Los Angeles, CA 90502, USA
Academic Editor: Jukka Finne
Received: 17 February 2016 / Accepted: 25 March 2016 / Published: 1 April 2016
Abstract
:
Natural Selection describes how species have evolved differentially, but it is descriptive, non-mechanistic. What mechanisms does Nature use to accomplish this feat? One known way in which ancient natural forces affect development, phylogeny and physiology is through gravitational effects that have evolved as mechanotransduction, seen in the lung, kidney and bone, linking as molecular homologies to skin and brain. Tracing the ontogenetic and phylogenetic changes that have facilitated mechanotransduction identifies specific homologous cell-types and functional molecular markers for lung homeostasis that reveal how and why complex physiologic traits have evolved from the unicellular to the multicellular state. Such data are reinforced by their reverse-evolutionary patterns in chronic degenerative diseases. The physiologic responses of model organisms like
Dictyostelium
and yeast to gravity provide deep comparative molecular phenotypic homologies, revealing mammalian Target of Rapamycin (mTOR) as the final common pathway for vertical integration of vertebrate physiologic evolution; mTOR integrates calcium/lipid epistatic balance as both the proximate and ultimate positive selection pressure for vertebrate physiologic evolution. The commonality of all vertebrate structure-function relationships can be reduced to calcium/lipid homeostatic regulation as the fractal unit of vertebrate physiology, demonstrating the primacy of the unicellular state as the fundament of physiologic evolution.
Keywords:
Natural Selection; mechanotransduction; calcium; lipid; evolution; cell-cell interaction; fractal; ultimate; proximate
Acknowledgments
John Torday has been funded by National Heart Lung and Blood Institute Grant HL055268.
Conflicts of Interest
The author declares no conflict of interest.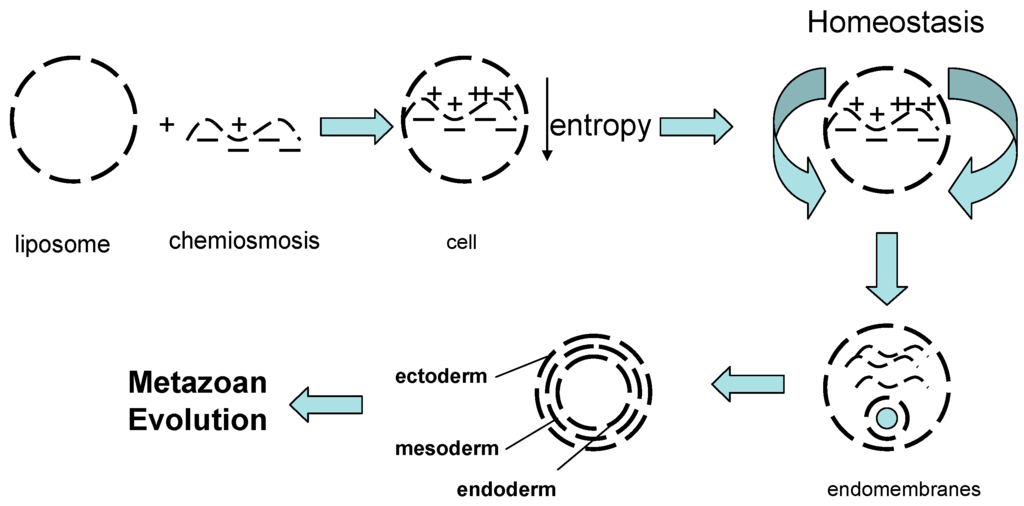 Figure 1. On the evolution of form and function. Starting with the formation of micelles and chemiosmosis, life began as the reduction in entropy, maintained by homeostasis. The generation of endomembranes (nuclear envelope, endoplasmic reticulum, golgi) created intracellular compartments; compartmentation gave rise to the germ lines (ectoderm, mesoderm endoderm) which monitor environmental changes and facilitate cellular Evolution accordingly. This is the basis for "fractal physiology".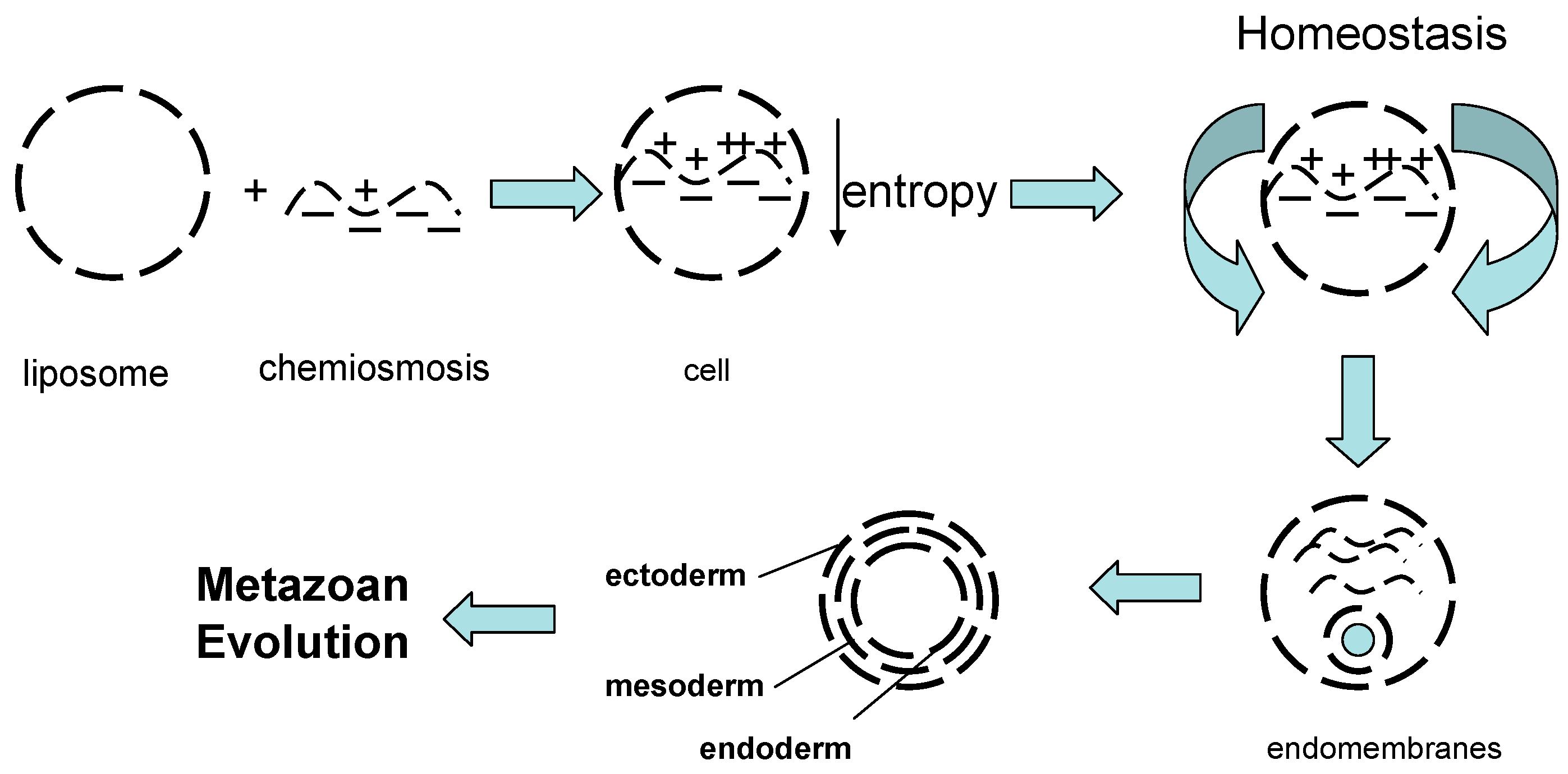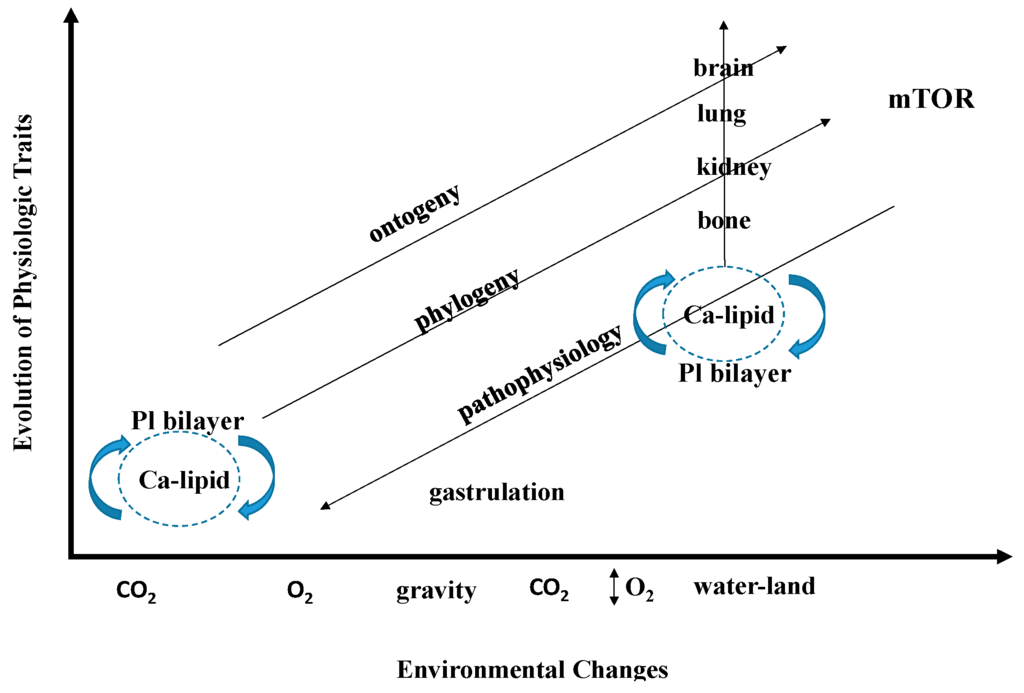 Figure 2. Physiologic evolution as one continuous Arc. from the inception of micelles from phospholipid bilayers (lower left corner, "Pl bilayer") ontogeny, phylogeny and pathophysiology have formed parallel lines for the generation (or degeneration) of physiologic traits (Y-axis). Under selection pressure due to environmental changes (X-axis), exaptations have occurred, referring back to the unicellular First Principles of Physiology. This process of evolution gave rise to complex traits (bone, kidney, lung, brain), all of which funnel through the mammalian Target of Rapamycin (mTOR) gene, shown in the upper right.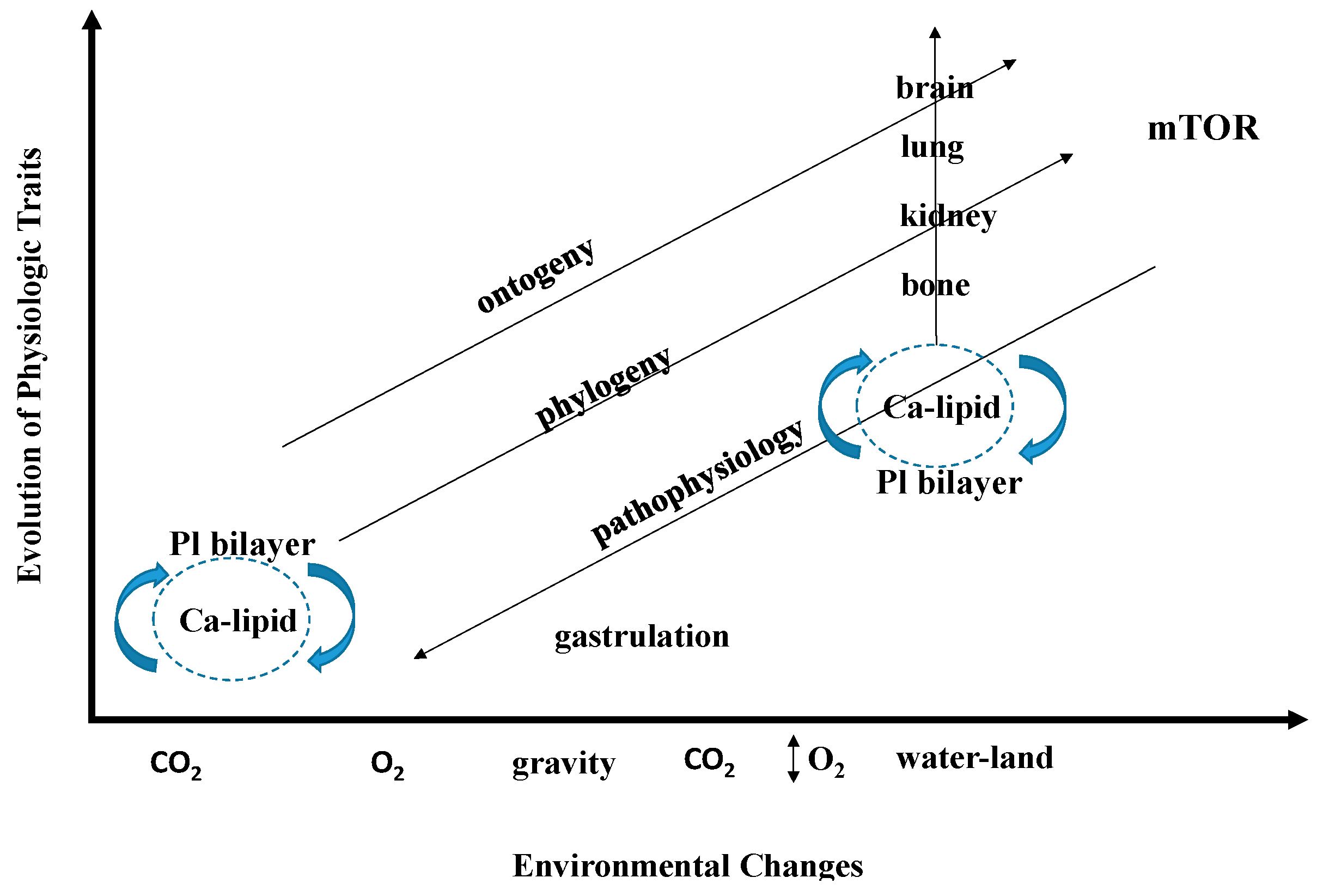 © 2016 by the author; licensee MDPI, Basel, Switzerland. This article is an open access article distributed under the terms and conditions of the Creative Commons by Attribution (CC-BY) license (http://creativecommons.org/licenses/by/4.0/).