Along the Axis between Type 1 and Type 2 Immunity; Principles Conserved in Evolution from Fish to Mammals
1
Laboratory of Fish Immunology, Institute of Infectology, Friedrich-Loeffler-Institut, Südufer 10, Greifswald-Insel Riems 17493, Germany
2
Department of Pathobiology, School of Veterinary Medicine, University of Pennsylvania, Philadelphia, PA 19104, USA
3
Institute for Comprehensive Medical Science, Fujita Health University, Dengakugakubo 1-98, Toyoake, Aichi 470-1192, Japan
†
These authors contributed equally to this works.
*
Author to whom correspondence should be addressed.
Academic Editor: Brian Dixon
Received: 8 September 2015 / Revised: 10 October 2015 / Accepted: 19 October 2015 / Published: 17 November 2015
Abstract
A phenomenon already discovered more than 25 years ago is the possibility of naïve helper T cells to polarize into T
H
1 or T
H
2 populations. In a simplified model, these polarizations occur at opposite ends of an "immune 1-2 axis" (i1-i2 axis) of possible conditions. Additional polarizations of helper/regulatory T cells were discovered later, such as for example T
H
17 and T
reg
phenotypes; although these polarizations are not selected by the axis-end conditions, they are affected by i1-i2 axis factors, and may retain more potential for change than the relatively stable T
H
1 and T
H
2 phenotypes. I1-i2 axis conditions are also relevant for polarizations of other types of leukocytes, such as for example macrophages. Tissue milieus with "type 1 immunity" ("i1") are biased towards cell-mediated cytotoxicity, while the term "type 2 immunity" ("i2") is used for a variety of conditions which have in common that they inhibit type 1 immunity. The immune milieus of some tissues, like the gills in fish and the uterus in pregnant mammals, probably are skewed towards type 2 immunity. An i2-skewed milieu is also created by many tumors, which allows them to escape eradication by type 1 immunity. In this review we compare a number of i1-i2 axis factors between fish and mammals, and conclude that several principles of the i1-i2 axis system seem to be ancient and shared between all classes of jawed vertebrates. Furthermore, the present study is the first to identify a canonical T
H
2 cytokine locus in a bony fish, namely spotted gar, in the sense that it includes
RAD50
and bona fide genes of both
IL-4/13
and
IL-3
/ IL-5/GM-CSF
families.
View Full-Text
►

▼

Figures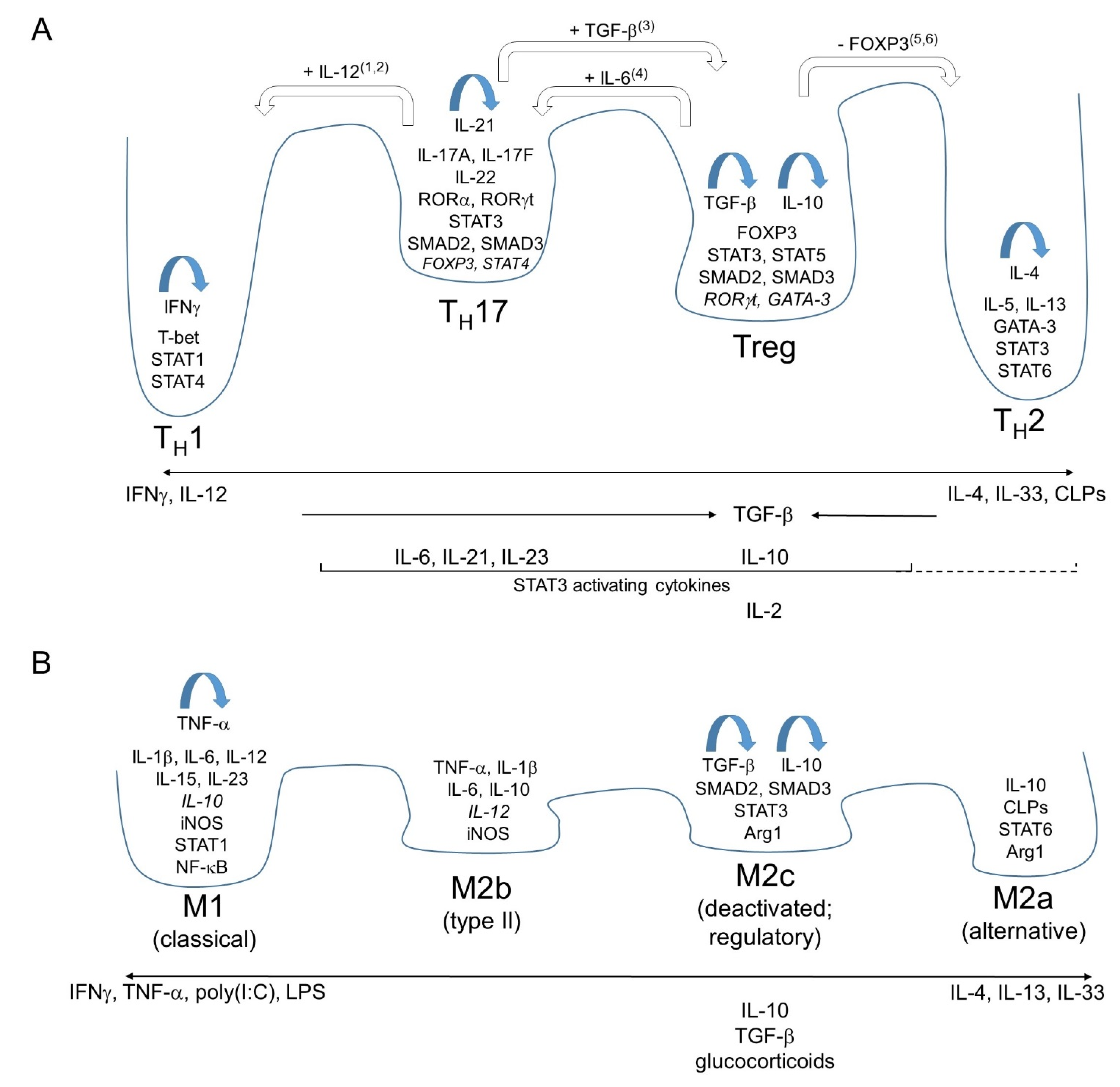 Figure 1
This is an open access article distributed under the
Creative Commons Attribution License
which permits unrestricted use, distribution, and reproduction in any medium, provided the original work is properly cited (CC BY 4.0).

Share & Cite This Article
MDPI and ACS Style
Yamaguchi, T.; Takizawa, F.; Fischer, U.; Dijkstra, J.M. Along the Axis between Type 1 and Type 2 Immunity; Principles Conserved in Evolution from Fish to Mammals. Biology 2015, 4, 814-859.
Related Articles
Comments
[Return to top]