The Effect of Nutritional Status in the Pathogenesis of Critical Illness Myopathy (CIM)
1
Department of Neuroscience, Clinical Neurophysiology, Uppsala University, Uppsala, SE-751 85, Sweden
2
Department of Biobehavioral Health, The Pennsylvania State University, University Park, PA 16802, USA
*
Author to whom correspondence should be addressed.
Received: 10 February 2014 / Revised: 22 May 2014 / Accepted: 27 May 2014 / Published: 30 May 2014
Abstract
The muscle wasting and loss of specific force associated with Critical Illness Myopathy (CIM) is, at least in part, due to a preferential loss of the molecular motor protein myosin. This acquired myopathy is common in critically ill immobilized and mechanically ventilated intensive care patients (ICU). There is a growing understanding of the mechanisms underlying CIM, but the role of nutritional factors triggering this serious complication of modern intensive care remains unknown. This study aims at establishing the effect of nutritional status in the pathogenesis of CIM. An experimental ICU model was used where animals are mechanically ventilated, pharmacologically paralysed post-synaptically and extensively monitored for up to 14 days. Due to the complexity of the experimental model, the number of animals included is small. After exposure to this ICU condition, animals develop a phenotype similar to patients with CIM. The results from this study show that the preferential myosin loss, decline in specific force and muscle fiber atrophy did not differ between low
vs
. eucaloric animals. In both experimental groups, passive mechanical loading had a sparing effect of muscle weight independent on nutritional status. Thus, this study confirms the strong impact of the mechanical silencing associated with the ICU condition in triggering CIM, overriding any potential effects of caloric intake in triggering CIM. In addition, the positive effects of passive mechanical loading on muscle fiber size and force generating capacity was not affected by the nutritional status in this study. However, due to the small sample size these pilot results need to be validated in a larger cohort.
View Full-Text
►

▼

Figures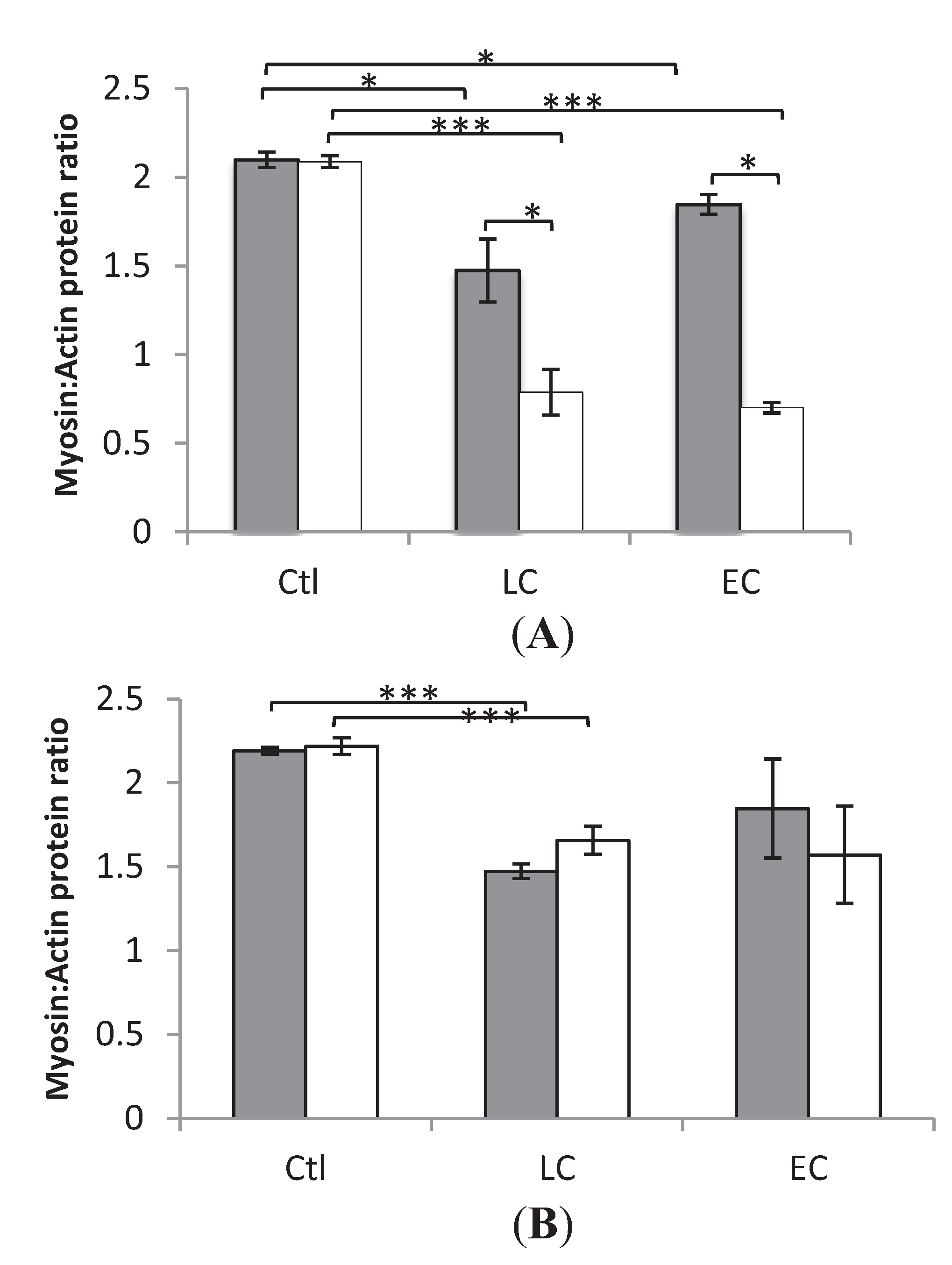 Figure 1

Share & Cite This Article
MDPI and ACS Style
Ogilvie, H.; Larsson, L. The Effect of Nutritional Status in the Pathogenesis of Critical Illness Myopathy (CIM). Biology 2014, 3, 368-382.
Related Articles
Comments
[Return to top]