Open Access This article is
freely available
re-usable
Article
Mechanical Properties of a Water Hyacinth Nanofiber Cellulose Reinforced Thermoplastic Starch Bionanocomposite: Effect of Ultrasonic Vibration during Processing
1
Department of Mechanical Engineering, Andalas University, 25163 Padang, Sumatera Barat, Indonesia
2
Department of Agriculture Technology, Andalas University, 25163 Padang, Sumatera Barat, Indonesia
*
Author to whom correspondence should be addressed.
Received: 12 March 2018 / Accepted: 5 June 2018 / Published: 8 June 2018
Abstract
:
Thermoplastic starch (TPS) reinforced by 1 wt % nanofiber cellulose (NFC) reinforcing from water hyacinth was produced. Ultrasonic vibration time (UVT) was applied to bionanocomposites during gelation for 0, 15, 30 and 60 min. Morphology of the NFC was investigated using Transmission Electron Microscopy (TEM). Scanning Electron Microscopy (SEM) and tensile tests were performed to identify the fracture surface and determine the mechanical properties of the bionanocomposites, respectively. The Crystallinity index (CI) of untreated and treated bionanocomposites was measured using X-ray Diffraction (XRD). The average diameter of NFC water hyacinth was 10–20 nm. The maximum tensile strength (TS) and modulus elasticity (ME) of the bionanocomposite was 11.4 MPa and 443 MPa respectively, after 60 min UVT. This result was supported by SEM which indicated good dispersion and compact structure.
Keywords:
nanofiber cellulose; water hyacinth; thermoplastic starch; bionanocomposites; ultrasonic vibration time
1. Introduction
Therefore, we chose to investigate the properties of a biocomposite manufactured from a low loading of nanofiber cellulose (NFC) from water hyacinth in a TPS matrix from yam beans (YB) in this study. To attempt to produce a bioplastic free from agglomerations and hence even better properties, we used ultrasonic vibration during gelation. To date, there are no published studies on the effect of UVT during the gelation of TPS from YB starch reinforced by water hyacinth NFC. Morphological, mechanical properties and crystallinity index have been analyzed in this study.
2. Materials and Methods
2.1. Materials
Water hyacinth fiber was obtained from a river in Payakumbuh, Indonesia. The content of cellulose, hemicellulose, and lignin was 43%, 29%, and 7%, respectively. Yam bean (YB) starch (43% amylose and 57% amylopectin), glycerol (density: 1.255–1.260 g/mL; Brataco brand), and distilled water were supplied by the Mechanic Metallurgy Laboratory, Andalas University.
2.2. NFC Preparation
The water hyacinth NFC preparation was carried out as in [
21
] with certain modifications in the mechanical treatment. In this study, we used ultrasonic crusher treatment to obtain the NFC. The cellulose suspension was sonicated using ultrasonic cell crusher (SJIA-1200W) at 600 W for 1 h after chemical treatment. The temperature of the cellulose suspension was kept below 50 °C.
2.3. Production of TPS Bionanocomposites
A mixture of 2 mL glycerin, 100 mL distilled water, 10 wt % YB starch and 1 wt % NFC was heated on a hot plate in a glass beaker with a magnetic stirrer at 60 °C, 500 rpm for 25–30 min until gelation. During gelation, the bionanocomposite gel was treated in an ultrasonic bath (model number PS-70AL, 40 kHz, and 420 W). The treatment was conducted at 40 kHz, 250 W, and 100% amplitude on four different samples with UVT of 0, 15, 30 and 60 min. The water temperature in the bath was kept under 40 °C. The gel was cast in a petri dish (diameter: 15 cm) and dried in a Memert UN50 oven at 50 °C for 20 h.
2.4. Characterization
2.4.1. Morphology of Untreated and Treated Water Hyacinth Fiber
The morphology of raw (untreated), bleached, and acid hydrolysis fiber was observed by using the SEM Hitachi 3400 N instrument. It was observed at 10 kV and room temperature.
2.4.2. Morphology of NFC Water Hyacinth
The fiber was studied 1 h after sonication using TEM (JEOL JEM-1400). The fiber suspension was dripped onto a copper grid coated by carbon film and dried at room temperature. It was observed using TEM at 100 keV.
2.4.3. Fracture Surface Bionanocomposites
The fracture surface of all bionanocomposite films after the tensile test was observed by SEM VEGA3 TESCAN at room temperature. The operation voltage was HV 10 kV. Before characterization, all films were coated with Palladium-Gold (Pd-Au).
2.4.4. Mechanical Properties
Tensile tests were performed to determine the mechanical properties of the bionanocomposite films using COM-TEN 95T Series 5K (maximum capacity: 5000 pounds) testing machine. The output of the tensile test was tensile strength, modulus elasticity, and elongation at break. All samples were fabricated in rectangular profile according to American Society for Testing and Materials (ASTM) D882 standard. Length and width overall of sample were 100 and 15 mm, respectively. The gage length was 50 mm. Before testing, all samples tested were conditioned in a desiccator for 2 days (Relative Humidity (RH): 50%). During testing, the speed and RH were maintained at 5 mm/min and 80%, respectively. There were five repeats used for each UVT variation.
Tensile test results were obtained by dividing maximum force by the average cross-sectional area of the sample which was measured at five different points using a micrometer and vernier caliper (accuracy: 0.001 mm) for thickness and width.
2.4.5. Crystallinity Index Calculation
A PANalytical X'pert PRO instrument was used to perform the XRD of all samples tested. The peak intensity was recorded at (2θ = 10–80°) (λ = 0.154 nm) using 40 kV and 35 mA. Crystallinity index (
CI
) of the NFC water hyacinth samples was calculated by the Segal's Equation (1) [
26
]:
where,
I
002
was maximum crystalline peak intensity at (2θ = 22.6°) and
Iam
the amorphous diffraction intensity at (2θ = 18°). Meanwhile, the
CI
of all bionanocomposites was determined by Hulleman's method [
27
].
3. Results and Discussion
3.1. Morphology of Untreated and Treated Water Hyacinth Fiber
Figure 1
presents the appearance of raw water hyacinth, bleaching fiber, acid hydrolysis fiber, and water hyacinth NFC processed by ultrasonic cell crusher for 1 h. It can be seen that; raw fiber forms several fiber bundles and has a smooth surface due to the presence of cementing material such as waxes and oils (
Figure 1
a) [
28
]. After bleaching, the water hyacinth fiber disintegrated due to the hydrolyzation of hemicellulose and partial removal of the lignin [
29
]. Acid hydrolysis of the fiber then depolymerized it by breaking up the cellulose chains [
18
,
29
]. The resulting fibers have diameters of 1–10 micron. After 1 h sonication (
Figure 1
d), fibers took the form of short fibrils with average diameter and length of 10–20 nm and 90–250 nm, respectively as has been observed in previous reports [
30
,
31
].
3.2. Fractured Surface of Bionanocomposites
Figure 2
displays SEM imaging of TPS and all fractured bionanocomposite samples after the tensile test.
Figure 2
a shows the fracture surface of the TPS film. It looks to be a smooth surface and there is no aggregation due to good interaction between starch and glycerol during the fabrication process [
32
]. The addition of NFC 1 wt % in TPS (untreated) is displayed by
Figure 2
b,c. As can be seen, there is porosity formation at several spots. The NFC also seems undistributed in starch matrix. This is due to a bad interaction between starch and NFC during fabrication [
33
]. This would appear to be a cause of the low tensile strength. For 15 min UVT (
Figure 2
d), the sample NFC agglomerates at one spot due to bad dispersion in the matrix [
33
,
34
]. A similar phenomenon was also reported by a previous report [
5
,
6
]. After 30 and 60 min UVT, the samples display good nanocellulose dispersion throughout the matrix and compact structure with no porosity or agglomeration formation (
Figure 2
e,f). The kinetic energy from the ultrasonic bath disperses the agglomerated fiber well resulting in a good distribution throughout the matrix leading to good mechanical properties [
6
,
20
,
35
].
3.3. Mechanical Properties
The effect of UVT on mechanical properties of bionanocomposite is displayed in
Figure 3
. The TS and ME increased significantly with longer UVT. The 0 min UVT (untreated) bionanocomposite (
Figure 3
a) had a TS of 4 MPa. This result was lower than in the treated bionanocomposite due to porosities formation and poorly distributed fiber in the starch matrix (see
Figure 2
b,c). After 15 min UVT, the TS was increased by 45%. Longer UVT for 30 and 60 min increased TS to 82% and 185%, respectively.
Longer UVT also increased ME and decreased EB of the bionanocomposite (
Figure 3
b,c). The ME after 30 and 60 min UVT was increased by 107% and 254% compared to the untreated bionanocomposite due to good adhesion bonding between nanofiber cellulose and starch matrix [
35
,
36
]. UVT also compacts the structure [
5
]. This fact was supported by SEM observation of the fracture surface (
Figure 2
e,f). Previous research has reported that ultrasonic treatment reduces the porosities, improves the dispersion of fiber in matrix, the adhesion between matrix and fiber which results in high tensile strength [
6
]. The treated bionanocomposite in this research had a TS two times higher than water hyacinth microfiber reinforced TPS in a previous study [
5
], suggesting that nano-sized fibers and UVT treatment significantly improves the properties of bionanocomposites.
3.4. Crystallinity Index Analysis
4. Conclusions
UVT of yam bean TPS reinforced with a 1 wt % loading of water hyacinth NFC improved its mechanical properties. A 1 wt % loading of water hyacinth NFC reinforcement improved the mechanical properties of UVT of yam bean TPS. The maximum value tensile strength obtained was 11.4 MPa after 60 min UVT. The highest crystallinity index was 35% after 60 min UVT. Values obtained were in the same range as non-sonicated biocomposites from similar materials but with much higher nanofiber loadings. The improvement of mechanical properties and crystallinity index due to ultrasonication could enable a significant reduction of the amount of filler loading required in a matrix.
Author Contributions
M.A. conducted the experiments, wrote the paper and analyzed the data; H.A. as the supervisor of this research provides the addition of in-depth addition analyzed the data, improved the paper quality; A.K. and A.P. as the co-promotor provide additional explanation of characterization, M.M. and F.H. gave their energy and time to help the fabrication of bionanocomposite samples during experiment.
Acknowledgments
This research was funded by Directorate General of Higher Education Ministry of National Education (KEMENRISTEK DIKTI), Indonesia, with project name The Research of Master Program Leading to Doctoral Degree for Excellent Students (PMDSU Batch-2) in the year of 2018. We also thank Fay Farley for her proofreading.
Conflicts of Interest
The authors declare no conflict of interest.
Figure 1. SEM images of morphological: (a) raw water hyacinth; (b) bleached fiber; (c) acid hydrolysis fiber; (d) TEM images of nanofiber cellulose (NFC) water hyacinth after sonication for 1 h.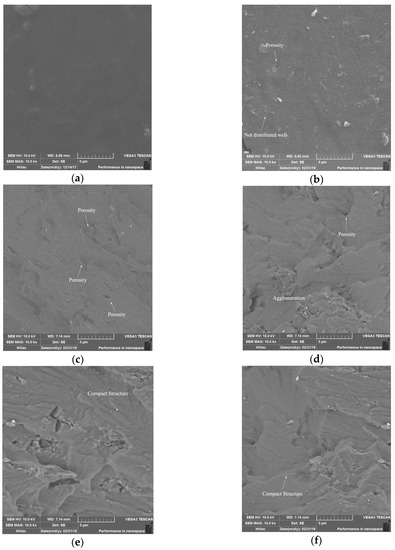 Figure 2. SEM images of fractured surface: (a) pure thermoplastic starch (TPS) film; (b) TPS reinforced 1 wt %; bionanocomposites with different UVT: (c) 0 min (untreated); (d) 15 min; (e) 30 min; and (f) 60 min.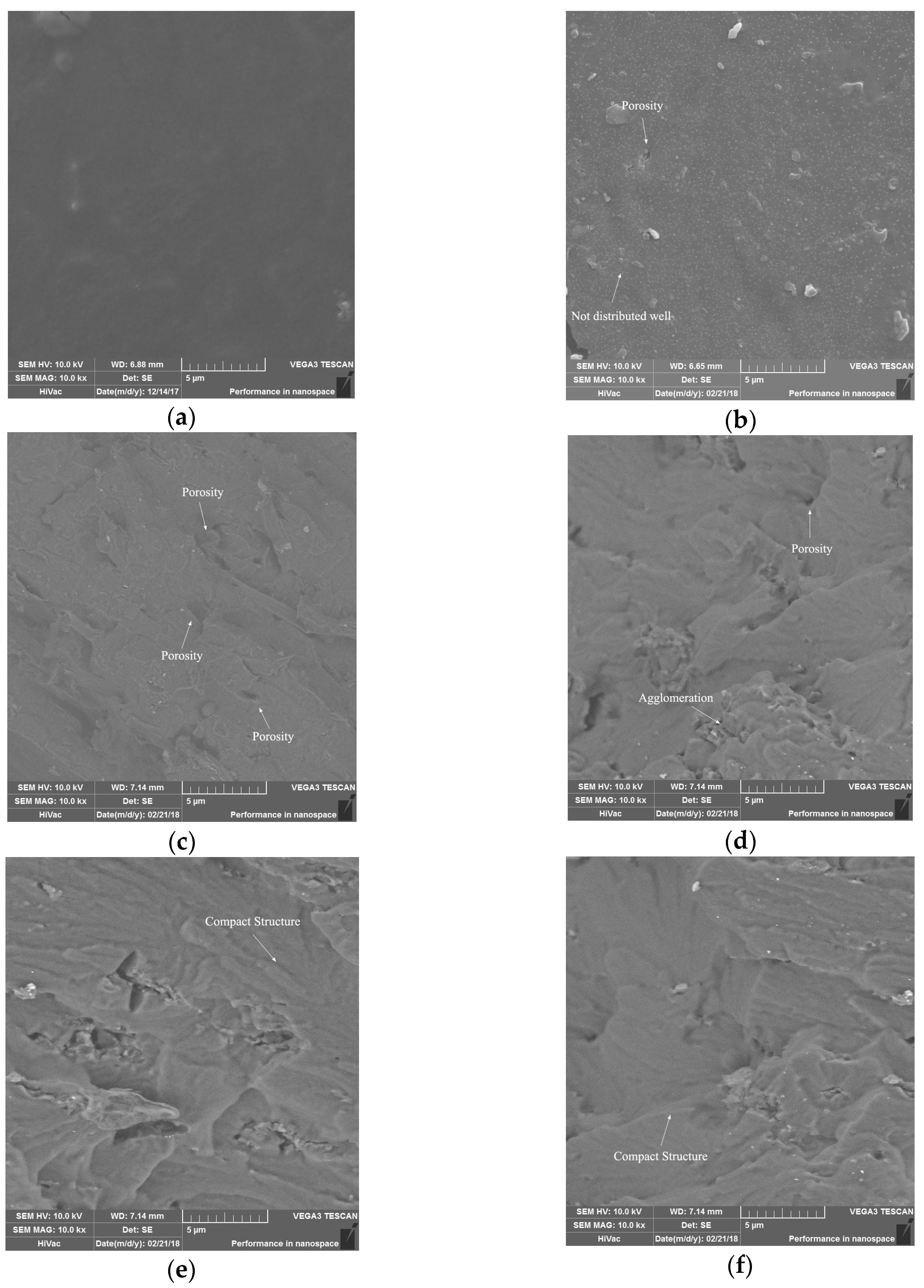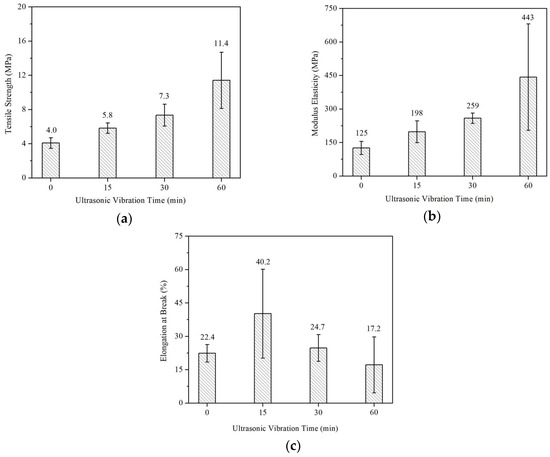 Figure 3. Effect ultrasonic vibration time (UVT) on: (a) Tensile Strength (TS); (b) Modulus Elasticity (ME); and (c) Elongation of break (EB) of bionanocomposite samples.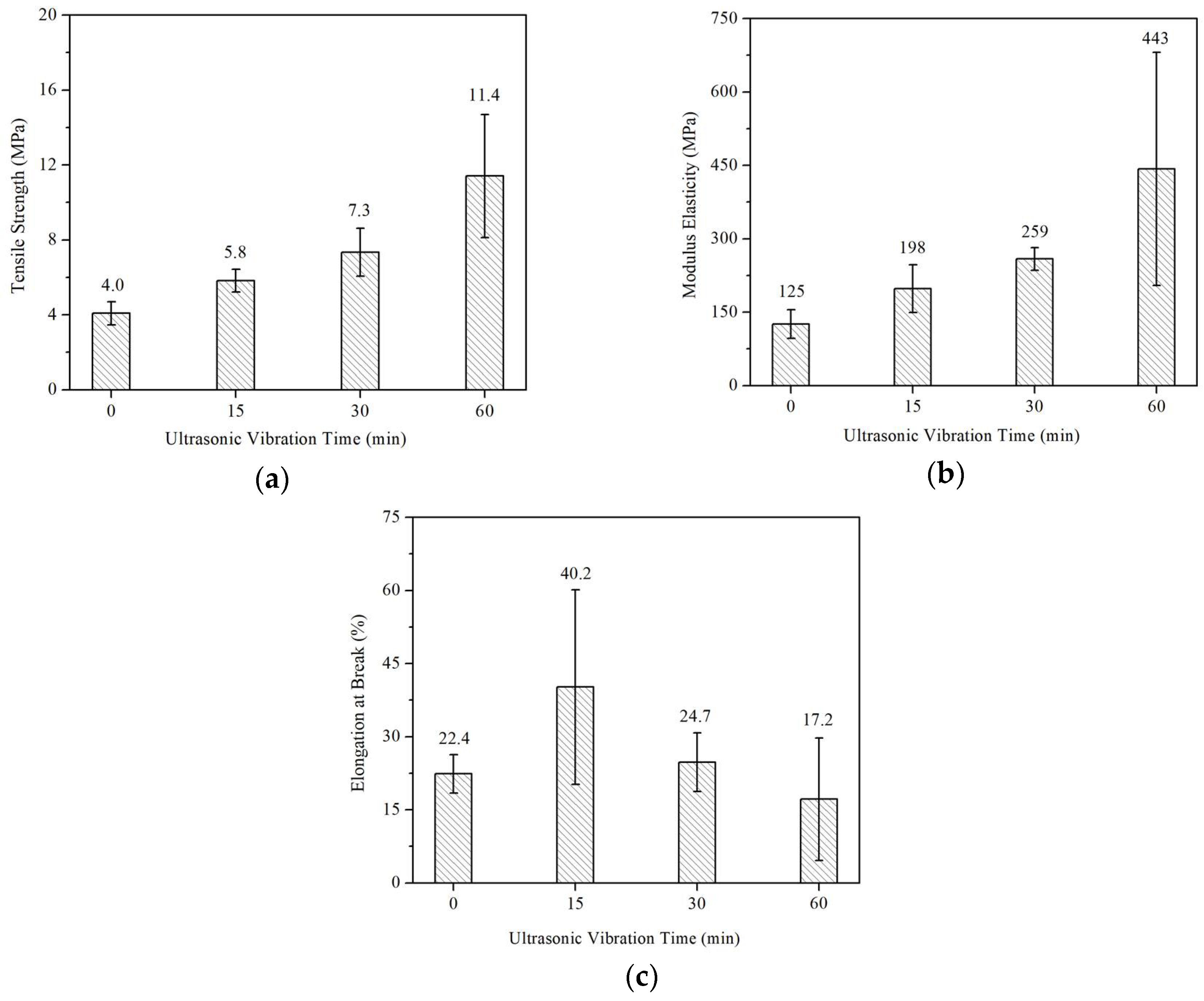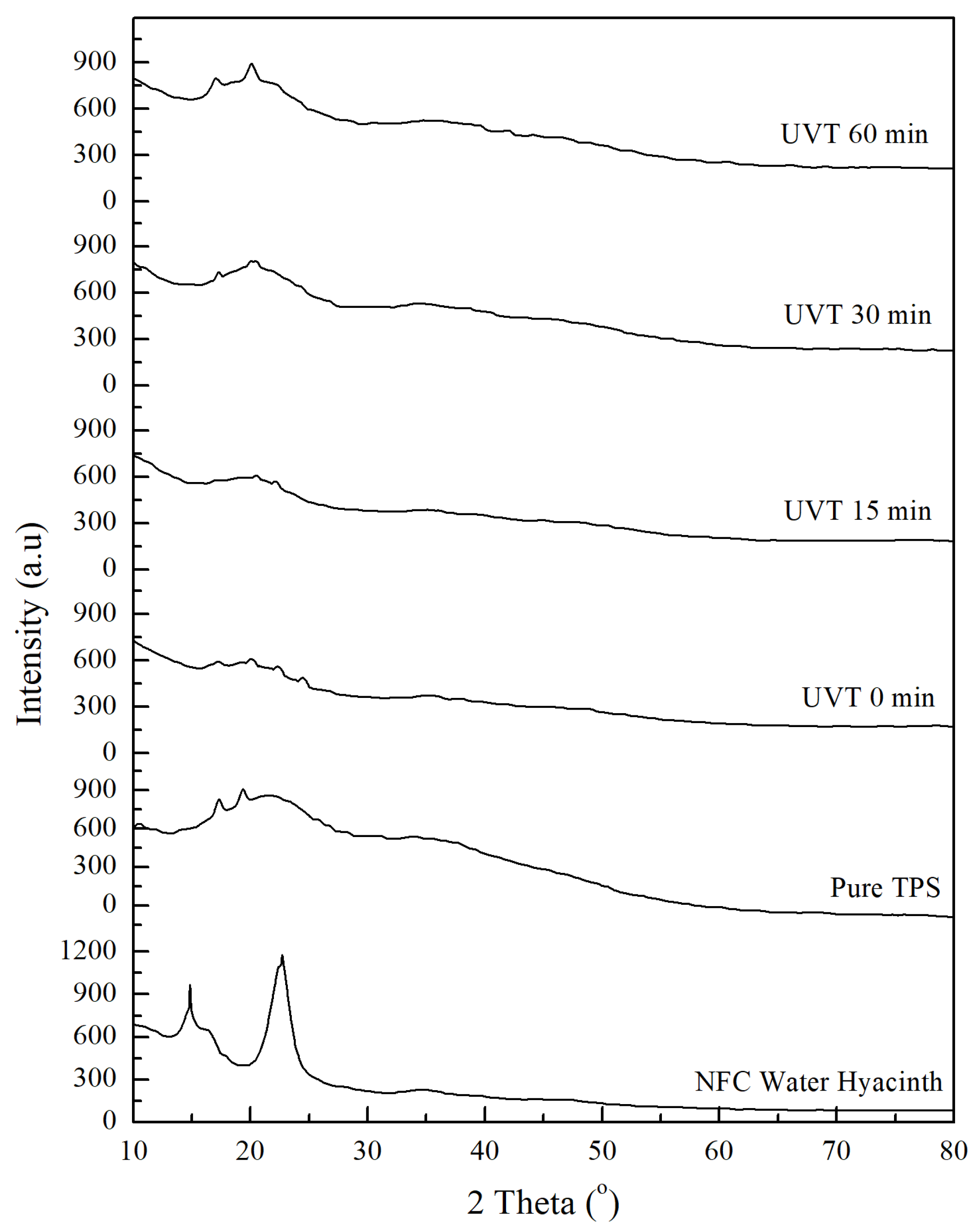 © 2018 by the authors. Licensee MDPI, Basel, Switzerland. This article is an open access article distributed under the terms and conditions of the Creative Commons Attribution (CC BY) license (http://creativecommons.org/licenses/by/4.0/).