Chromium Carbide Growth by Direct Liquid Injection Chemical Vapor Deposition in Long and Narrow Tubes, Experiments, Modeling and Simulation
1
DEN Service d'Etudes Analytiques et de Réactivité des Surfaces (SEARS), CEA, Université Paris-Saclay, 91191 Gif Sur Yvette, France
2
CIRIMAT, Université de Toulouse, CNRS/INPT/UPS, 4 allée E. Monso, 31030 Toulouse, France
3
Cross-Cutting Program on Materials and Processes Skills Department, CEA, Université Paris-Saclay, 91191 Gif Sur Yvette, France
4
Institute of Engineering, Université Grenoble Alps, CNRS, Grenoble INP, SIMAP, 38000 Grenoble, France
*
Author to whom correspondence should be addressed.
Received: 24 May 2018 / Revised: 7 June 2018 / Accepted: 8 June 2018 / Published: 13 June 2018
Abstract
Chromium carbide layers were deposited using liquid-injection metal-organic chemical vapor deposition inside long (0.3 to 1 m) and narrow (8 to 24 mm in diameter) metallic tubes. The deposition was carried out using a molecular single-source, bis(benzene)chromium (BBC), as representative of the bis(arene)metal family diluted in toluene and injected with N
2
as carrier gas. A multicomponent mass transport model for the simulation of the coupled fluid flow, heat transfer and chemistry was built. The kinetic mechanism of the growth of CrC
x
films was developed with the help of large-scale experiments to study the depletion of the precursors along the inner wall of the tube. The model fits well in the 400–550 °C temperature range and in the 1.3 × 10
2
to 7 × 10
3
Pa pressure range. The pressure is shown to have a pronounced effect on the deposition rate and thickness uniformity of the resulting coating. Below 525 °C the structure, composition and morphology of the films are not affected by changes of total pressure or deposition temperature. The coatings are amorphous and their Cr:C ratio is about 2:1, i.e., intermediate between Cr
7
C
3
and Cr
3
C
2
. The model was applied to the design of a long reactor (1 m), with a double injection successively and alternatively undertaken at each end to ensure the best uniformity with sufficient thickness. This innovative concept can be used to optimize industrial deposition processes inside long and narrow tubes and channels.
View Full-Text
►

▼

Figures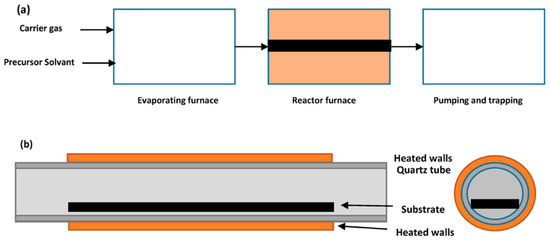 Figure 1
This is an open access article distributed under the
Creative Commons Attribution License
which permits unrestricted use, distribution, and reproduction in any medium, provided the original work is properly cited (CC BY 4.0).

Share & Cite This Article
MDPI and ACS Style
Michau, A.; Maury, F.; Schuster, F.; Nuta, I.; Gazal, Y.; Boichot, R.; Pons, M. Chromium Carbide Growth by Direct Liquid Injection Chemical Vapor Deposition in Long and Narrow Tubes, Experiments, Modeling and Simulation. Coatings 2018, 8, 220.
Note that from the first issue of 2016, MDPI journals use article numbers instead of page numbers. See further details here.
Related Articles
Comments
[Return to top]