Open Access This article is
freely available
re-usable
Article
Self-Assembled Composite Langmuir Films via Fluorine-Containing Bola-Type Derivative with Metal Ions
1
Hebei Key Laboratory of Applied Chemistry, School of Environmental and Chemical Engineering, Yanshan University, Qinhuangdao 066004, China
2
State Key Laboratory of Metastable Materials Science and Technology, Yanshan University, Qinhuangdao 066004, China
3
State Key Laboratory of Biochemical Engineering, Institute of Process Engineering, Chinese Academy of Sciences, Beijing 100190, China
*
Author to whom correspondence should be addressed.
Received: 17 January 2018 / Accepted: 12 April 2018 / Published: 14 April 2018
Abstract
:
The design and preparation of functional bolaamphiphile-based composite films are of key importance for application in a wide variety of fields. This study demonstrates a new approach to constructing composite films by the Langmuir-Blodgett (LB) method using a fluorine-containing bola-type diacid derivative with different metal ions. The bola-type molecule we used could be spread on water surfaces and metal ion subphases to fabricate various nanostructured ultrathin films. The obtained data demonstrated that the employed metal ions, including Ag(I), Cu(II), and Eu(III) ions in subphase solutions, can regulate the organized molecular stacking and form interfacial nanostructures deposited in LB films. It was found that the interfacial coordinating interactions can easily occur between carboxyl groups in a molecular skeleton with metal ions in the formed composite films. The formation of composite films was confirmed by changes in the surface pressure-area isotherms, morphologies, and spectra of the transferred LB films. While various research works have achieved the regulation of functions and nanostructures of sophisticated bola-type compounds, we here demonstrate a simple routine to modulate the nanostructures and organized packing of bola-type compounds composite films by changing the metal ions in subphase solutions.
Keywords:
composite Langmuir film; nanostructure; bola-type diacid; fluorine-containing spacer; self-assembly; metal ion coordination
1. Introduction
Bolaamphiphiles, which include two functional headgroups generally connected by some alkyl chains [
1
,
2
,
3
,
4
,
5
,
6
,
7
], have attracted much attention due to their special chemical and interfacial behaviors in different self-assembled nanostructures [
8
,
9
,
10
]. Different from typical amphiphilic compounds, bola-type molecules demonstrate changeable conformations at different interfacial situations [
11
,
12
,
13
]. These properties make them extremely suitable for applications in in nanotechnology, electronics, and gene and drug delivery [
14
,
15
,
16
,
17
,
18
]. For example, Lin et al. reported the preparation of a dual-responsive bola-type supramolecular amphiphile via complexation between pillar[5]arene and bolaform naphthalimide, which demonstrated good drug-loading efficiency and obvious improved anticancer properties [
15
].
In addition, the air/water interface can provide a good environment for many molecules/building blocks to construct supramolecular assemblies in a controlled manner [
19
,
20
,
21
,
22
]. To date, Langmuir and Langmuir-Blodgett (LB) techniques are considered well-known methods to fabricate organized ultrathin films at the air/water interface [
23
,
24
,
25
,
26
,
27
,
28
,
29
,
30
,
31
,
32
]. Moreover, in comparison to other self-assembly techniques [
33
,
34
], special two-dimensional (2D) and three-dimensional (3D) nanostructures can also be fabricated by the LB technique [
35
,
36
,
37
]. In our previous report, some bola-type diacid compounds with an alkyl spacer could react with metal ions to obtain new nanostructures in organized films [
38
]. Due to the novel ability of carboxylic groups to fabricate interfacial 2D patterns with metal ions, as a subsequent and interesting work, here we have designed and prepared self-assembled composite films of aromatic diacid with large conjugated spacers on different metal ion subphases.
In this paper, we investigated a new compound, 4,4′-(hexafluoroisopropylidene)bis(benzoic acid) (abbreviated as FA), which contains benzoic acid units as headgroups connected with a fluorine-containing CF3 spacer. We characterized this bola-type compound in organized Langmuir films based on the following. Firstly, the functional carboxylic headgroups demonstrated coordinating reactions with various metal ions and could be utilized to fabricate new interfacial nanostructures. Secondly, to investigate the possible packing of bolaform molecules with special spacers, we added the CF3 segment to the spacer in the molecular skeleton. Finally, owing to various coordinating modes with metal ions, the formed interfacial morphologies changed significantly. The investigation of the interfacial self-assembly of different bola-type amphiphiles in Langmuir films demonstrated an important driving force to finish this work.
By utilizing the Langmuir–Blodgett technique, the self-assembled composite films from FA molecules and different metal ions were fabricated and investigated. The prepared nanostructures can be regulated via interfacial coordination with various metal ions. The interfacial interactions and surface structures in the obtained LB films were characterized by many spectral and morphological methods. Lastly, a reasonable model was speculated. Our present research work could provide a platform for new explorations into the fabrication of self-assembled composite films using bola-type compounds.
2. Materials and Methods
2.1. Materials
The materials used in the experiment, including 4,4'-(hexafluoroisopropylidene)bis(benzoic acid) (98%, abbreviated as FA), silver nitrate (AR, 99.8%), copper nitrate trihydrate (Cu(NO3)2·3H2O), and Europium chloride hexahydrate (EuCl3·6H2O), were purchased from Sigma-Aldrich Chemicals (Shanghai, China), Aladdin Chemicals (Shanghai, China), and TCI Shanghai Chemicals, and used as received. The water we employed was prepared from a Millipore Milli-Q Plus purification system. The solvents used throughout the experimental procedure, such as ethanol and chloroform, were obtained from Sinopharm Chemical Reagent Co., Ltd. (Beijing, China).
2.2. Preparation of Composite Langmuir Films
The fabrications of spreading Langmuir films were prepared using a KSV-NIMA Mini-trough LB system [
39
,
40
,
41
]. The trough was thoroughly cleaned using solvents such as chloroform and ethanol, and then filled with pure water or metal ion solutions (0.50 mM) as subphases. Some amount of chloroform solution of FA (0.90 mg/mL) was carefully spread onto the surface using a glass syringe. After waiting 20 min for solvent evaporation and interfacial reaction with metal ions, the surface pressure-area (π–A) isotherms were obtained with a fixed compression speed of 10 cm
2
/min at room temperature. The FA monolayers were transferred by a horizontal lifting method onto quartz, glass, and CaF
2
plates for UV-Vis, XRD, and FT-IR spectral measurements, respectively. One layer of the monolayer film was transferred onto the fresh cleaved mica surface by vertically dipping with a speed of 2 mm/min [
42
,
43
].
2.3. Characterization
The nanostructures of the obtained Langmuir films were characterized by a field-emission scanning electron microscope (SEM, S-4800II, Hitachi, Ibaraki, Japan) as well as a transmission electron microscope (TEM, HT7700, Hitachi High-Technologies Corporation, Ibaraki, Japan). The components in films were characterized via a scanning electron microscope (SEM) Field Emission Gun FEI QUANTA FEG 250 (FEI Corporate, Hillsboro, OR, USA) with energy dispersive spectroscopy (EDS) for qualitative chemical analysis. Atomic force microscopy (AFM) images were obtained by a Nanoscope model Multimode 8 Scanning Probe Microscope (Veeco Instrument, Santa Barbara, CA, USA). X-ray photoelectron spectroscopy (XPS) studies were measured on an ESCALab 250Xi (Thermo Fisher Scientific, San Jose, CA, USA) using a 200 W Al Ká monochromated radiation source. X-ray diffraction was measured on an X-ray diffractometer (SMART LAB, Rigaku, Akishima, Japan) using Cu Kα X-ray radiation. FT-IR spectra were conducted on a Fourier infrared spectroscopy (Thermo Nicolet Corporation, Madison, WI, USA) by transferring the obtained multilayer films on CaF2 plates as substrates.
3. Results and Discussion
4. Conclusions
In summary, here we designed and investigated the spreading behaviors of a self-assembled fluorine-containing bola-type diacid derivative at the air/water interface. The used bola-type molecules could fabricate organized composite ultrathin films with Ag(I), Cu(II), and Eu(III) ions in subphase solutions. It was interesting to find that different coordinating modes could regulate the stacking modes of the used bolaform molecules in the prepared composite films. The obtained composite films were characterized by various morphological and spectral methods and demonstrated different nanostructures and aggregations. Some rational interfacial self-assembly mechanisms were proposed to explain the formation process of the prepared composite films. Various composite films fabricated via interfacial self-assembly have been designed and prepared to construct organized arrays for use in potential applications, such as catalytic materials, sensors, etc. [
54
,
55
,
56
,
57
,
58
,
59
,
60
,
61
,
62
,
63
]. The present research provides a platform for new explorations into the construction of self-assembled composite films via interfacial coordination using LB techniques.
Acknowledgments
This work was financially supported by the National Natural Science Foundation of China (Nos. 21473153 and 51771162), the Support Program for the Top Young Talents of Hebei Province, China Postdoctoral Science Foundation (No. 2015M580214), and the Scientific and Technological Research and Development Program of Qinhuangdao City (No. 201701B004).
Author Contributions
Tifeng Jiao and Jingxin Zhou conceived and designed the experiments; Nianrui Qu, Shuxin Sun, Qianran Zhao, and Ruirui Xing performed the experiments; Nianrui Qu, Tifeng Jiao, and Jingxin Zhou analyzed the data; Faming Gao, Lexin Zhang, and Qiuming Peng contributed reagents/materials/analysis tools; Nianrui Qu and Tifeng Jiao wrote the paper.
Conflicts of Interest
The authors declare no conflict of interest.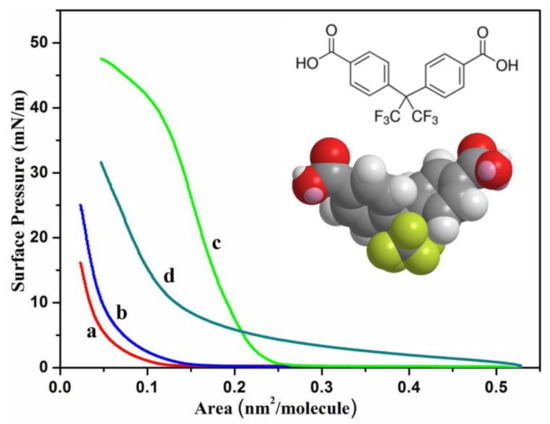 Figure 1. Surface pressure-area isotherms of Langmuir films of compound FA on pure water surface (a) and metal ions subphases with a concentration of 0.5 mM (b, AgNO3; c, Cu(NO3)2; d, EuCl3). The inserted picture represents the molecular structure and the three-dimensional (3D) space-filling model of the FA molecule.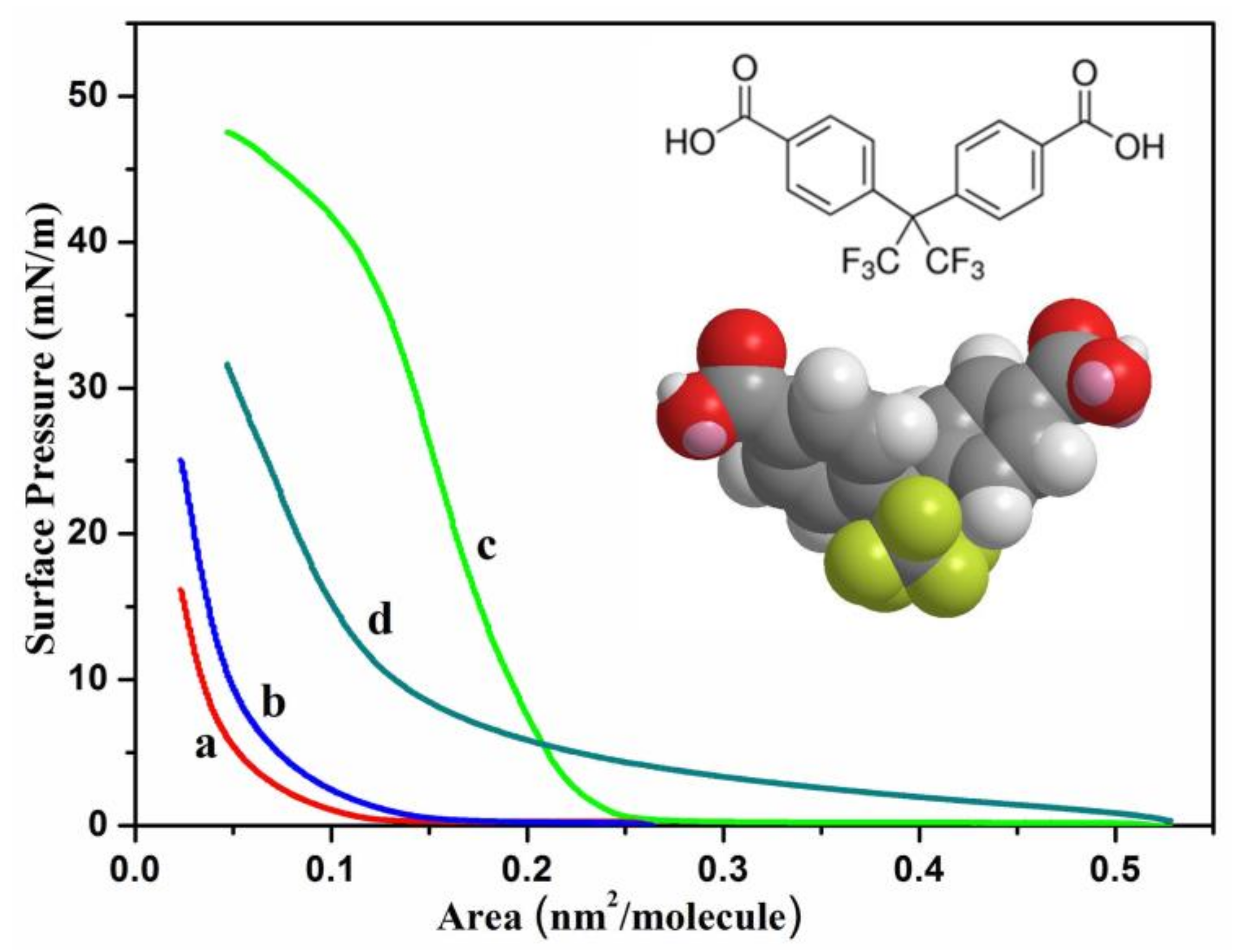 Figure 2. Atomic force microscopy (AFM) image with section analysis of the transferred monolayer film of compound FA from pure water at a pressure of 8 mN/m.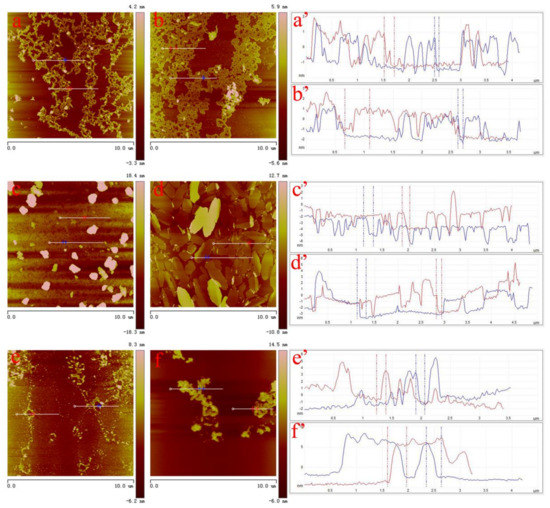 Figure 3. AFM images with section analysis of the transferred monolayer Langmuir-Blodgett (LB) films of compound FA from different metal ion subphases: (a,b), 5 and 15 mN/m, Ag(I) ions; (c,d), 5 and 25 mN/m, Cu(II) ions; (e,f), 5 and 15 mN/m, Eu(III) ions.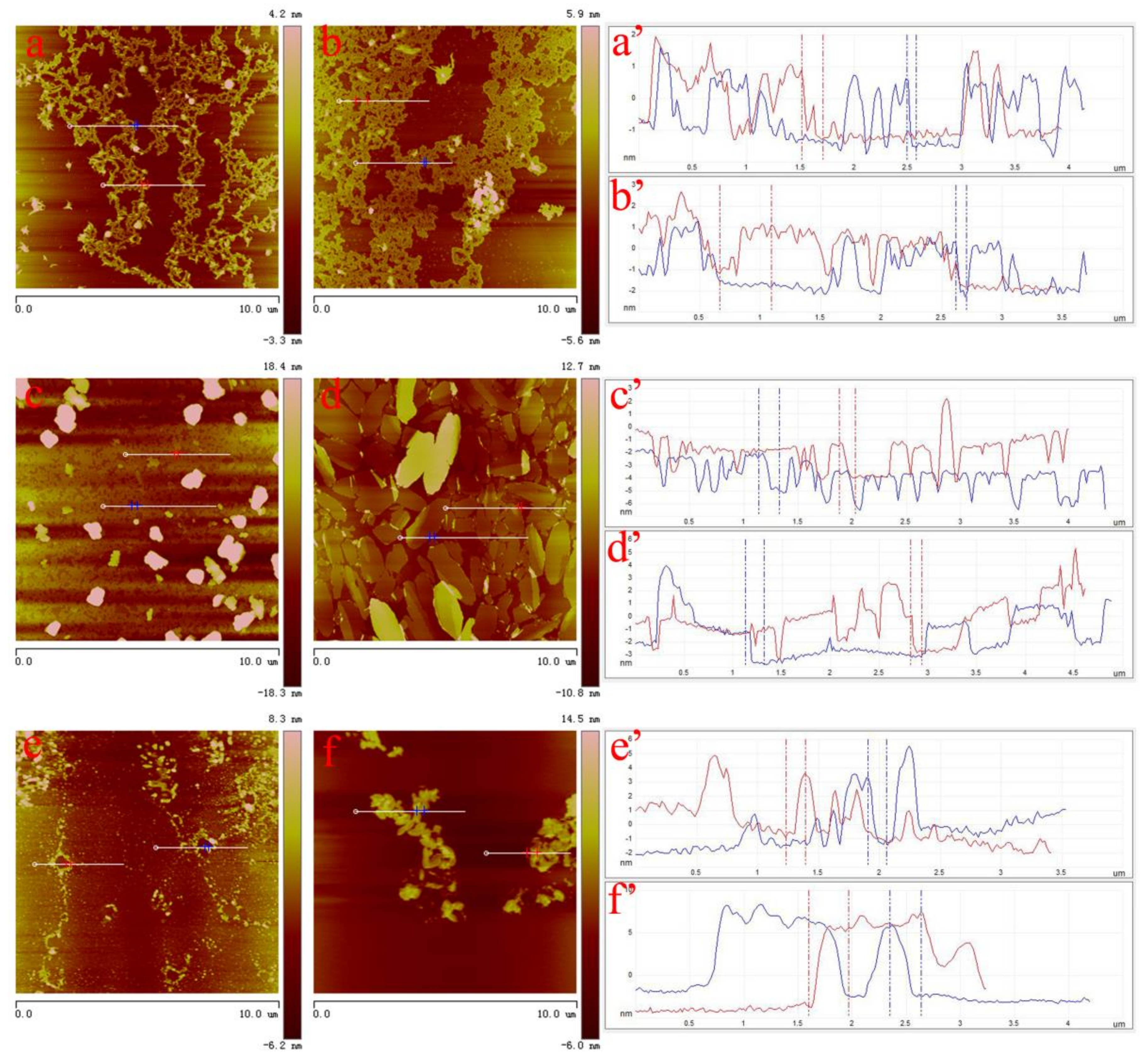 Figure 4. SEM images of the transferred multilayer and TEM images of the transferred monolayer films of compound FA from different subphases: (a,e), 8mN/m, pure water surface; (b,f), 15 mN/m, Ag(I) ions; (c,g), 25 mN/m, Cu(II) ions; (d,h), 15 mN/m, Eu(III) ions.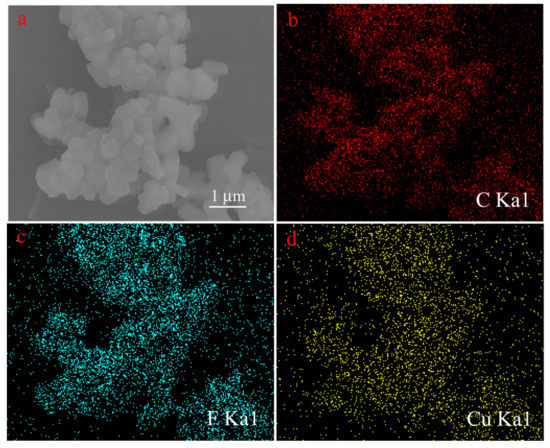 Figure 5. SEM image of the prepared monolayer FA-Cu composite film (a), and C/F/Cu elemental mapping (b–d).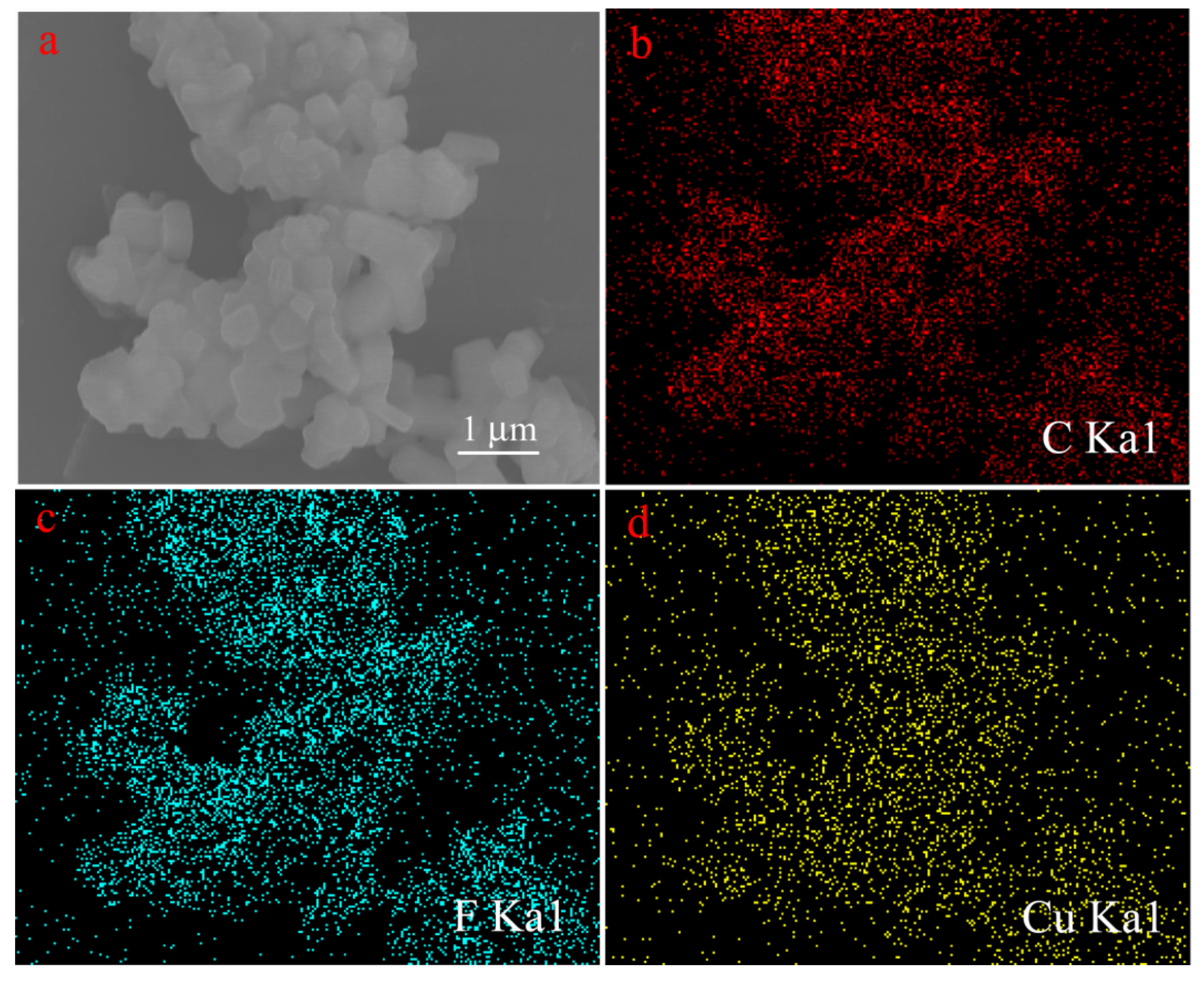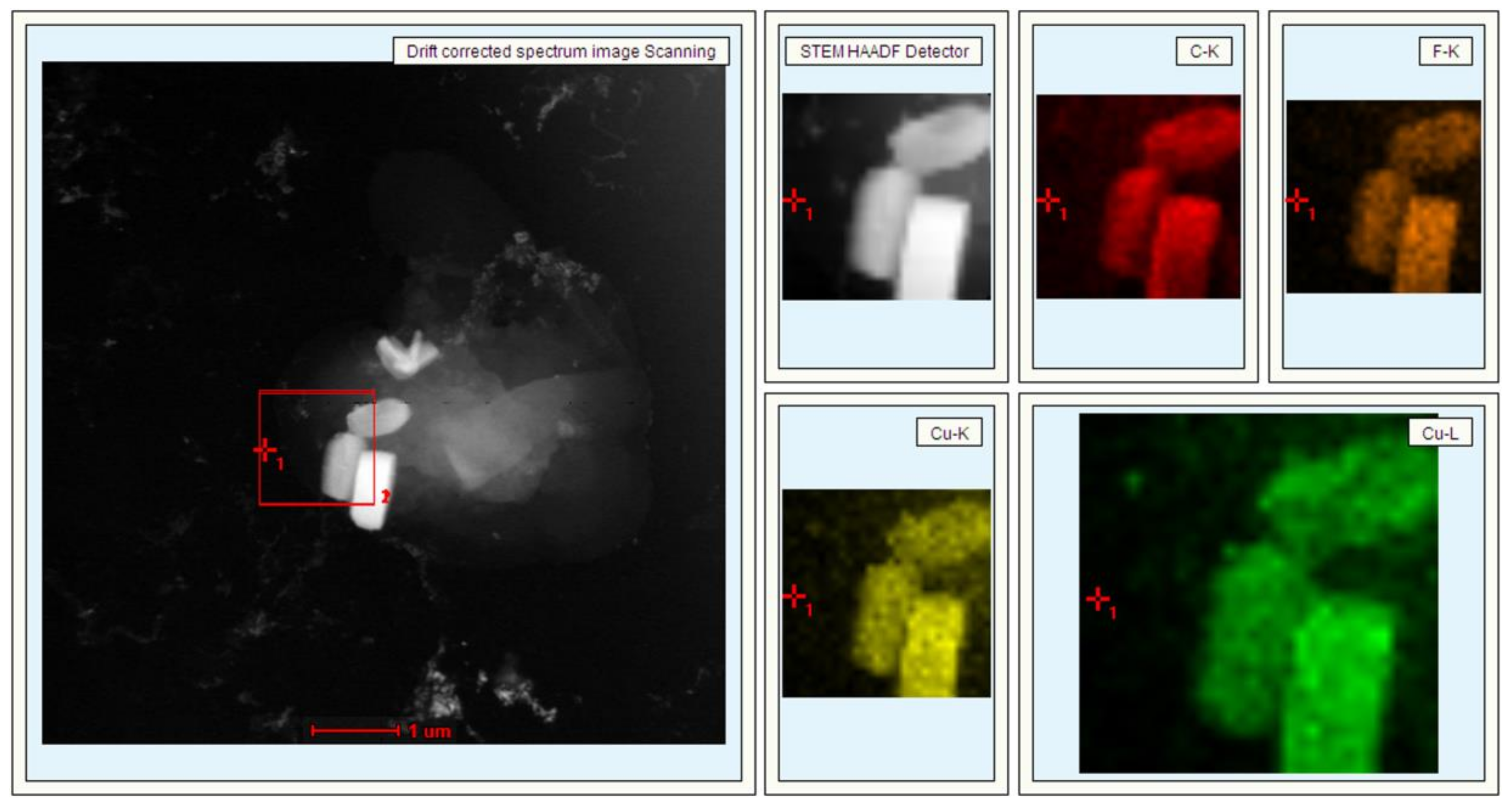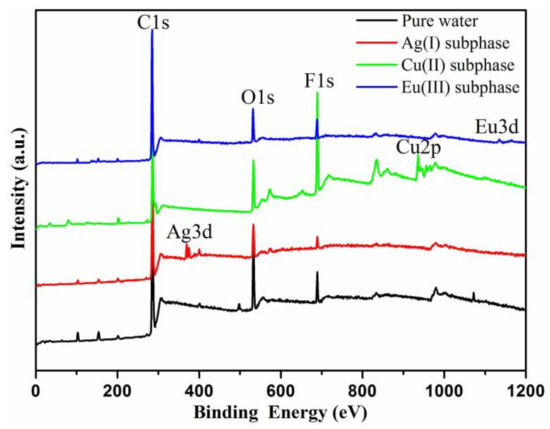 Figure 7. X-ray photoelectron spectroscopy (XPS) curves of the transferred multilayer LB films of compound FA from different subphases.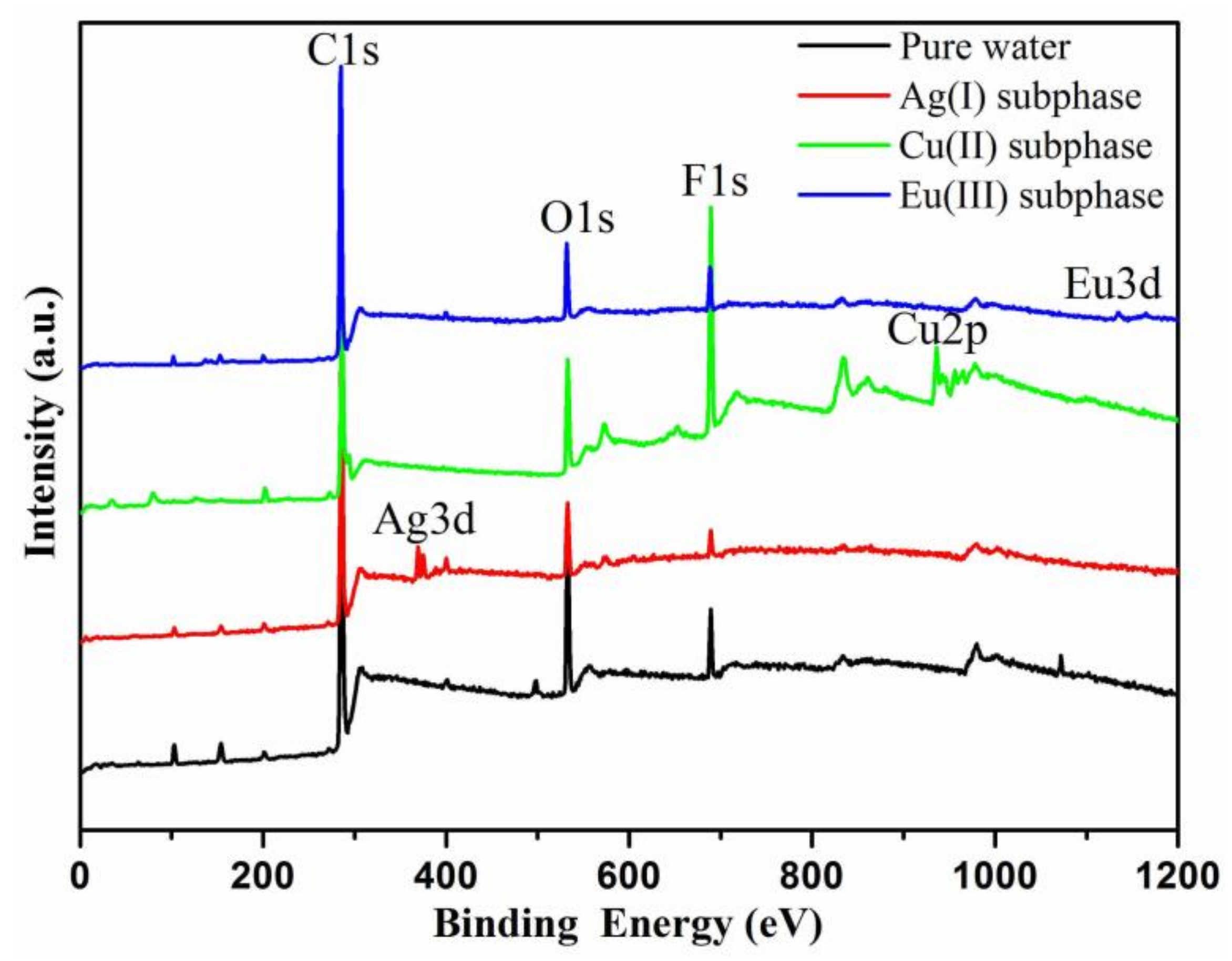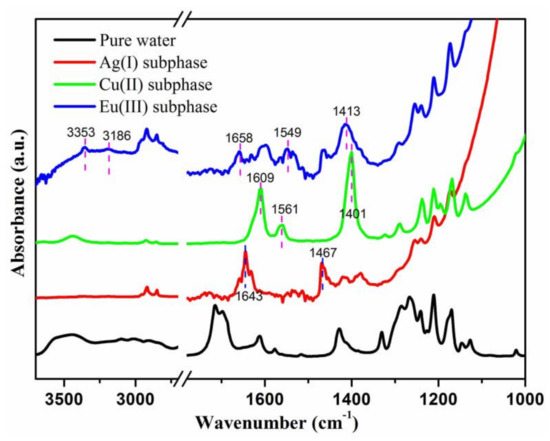 Figure 8. IR spectra of the transferred multilayer FA composite films from various subphase solutions.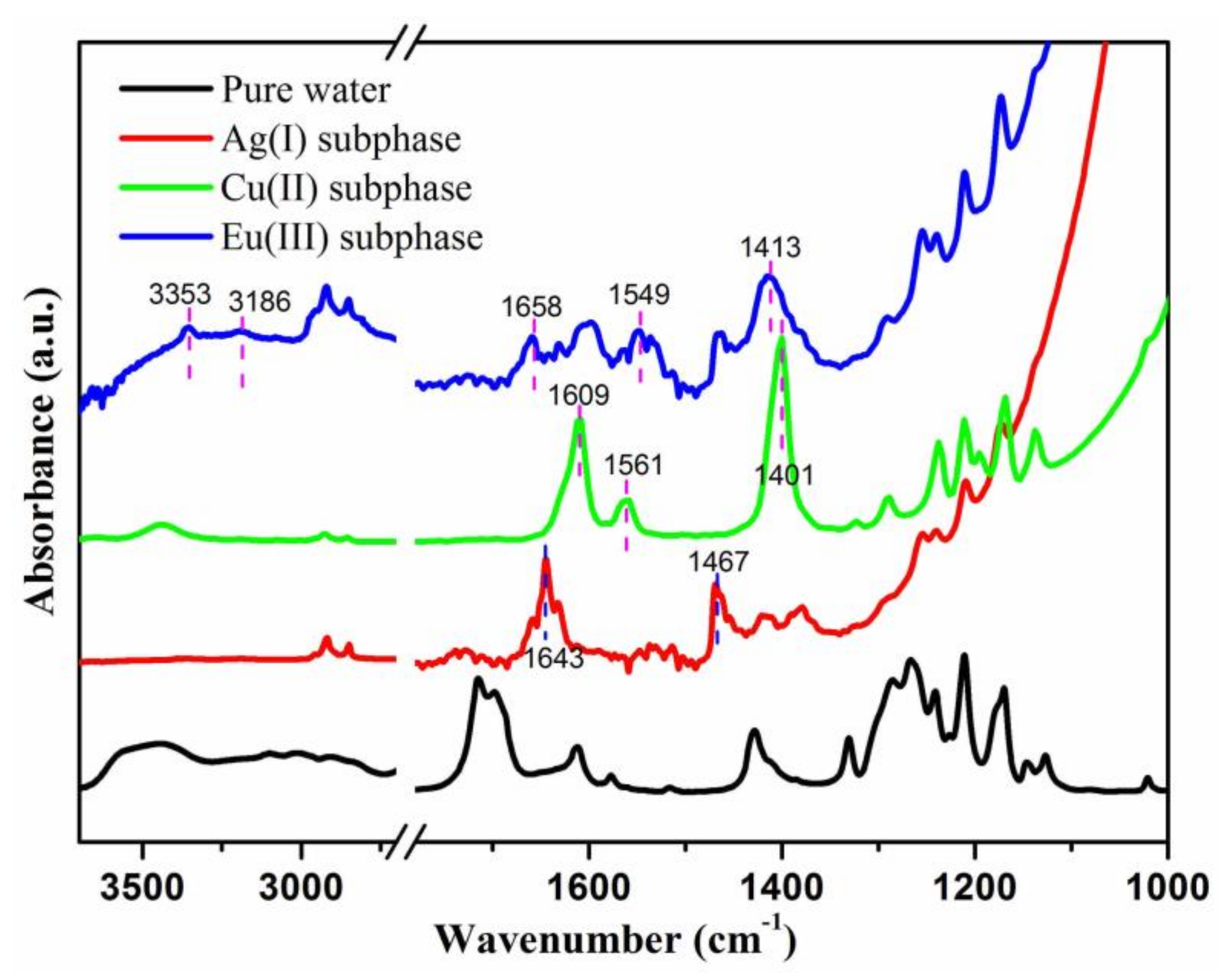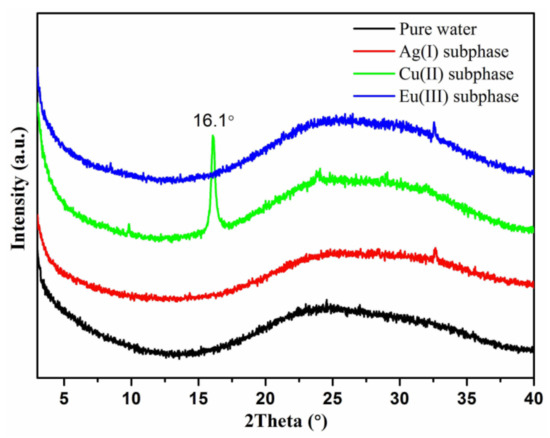 Figure 9. XRD patterns of the transferred multilayer LB films of compound FA from different subphases.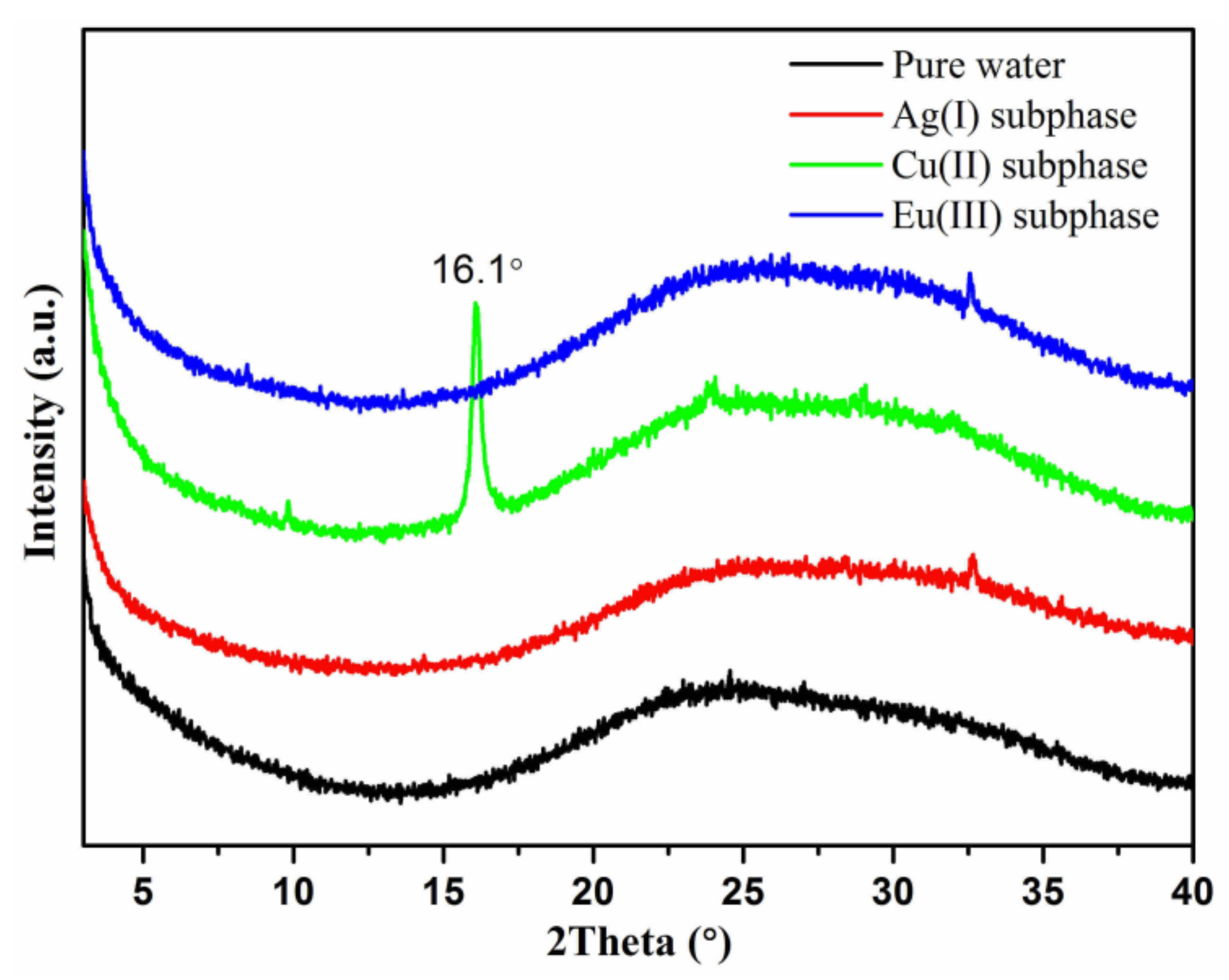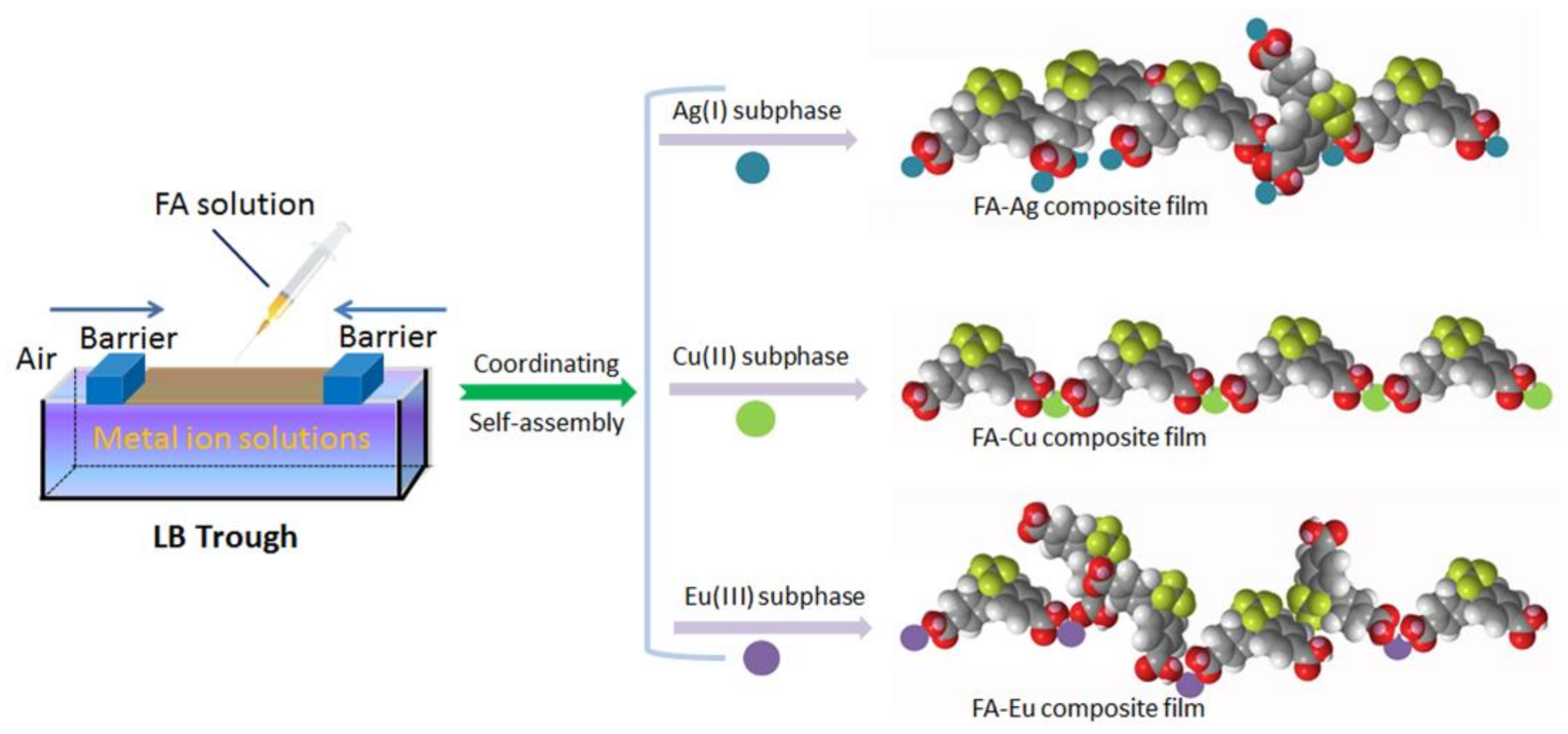 © 2018 by the authors. Licensee MDPI, Basel, Switzerland. This article is an open access article distributed under the terms and conditions of the Creative Commons Attribution (CC BY) license (http://creativecommons.org/licenses/by/4.0/).